A simple preserves of aronia berries or chokeberries (Aronia melanocarpa) you can make that actually tastes good. If you've tried to make preserves from this fruit in the past and thought it tasted terrible and astringent, this is the recipe you've been looking for.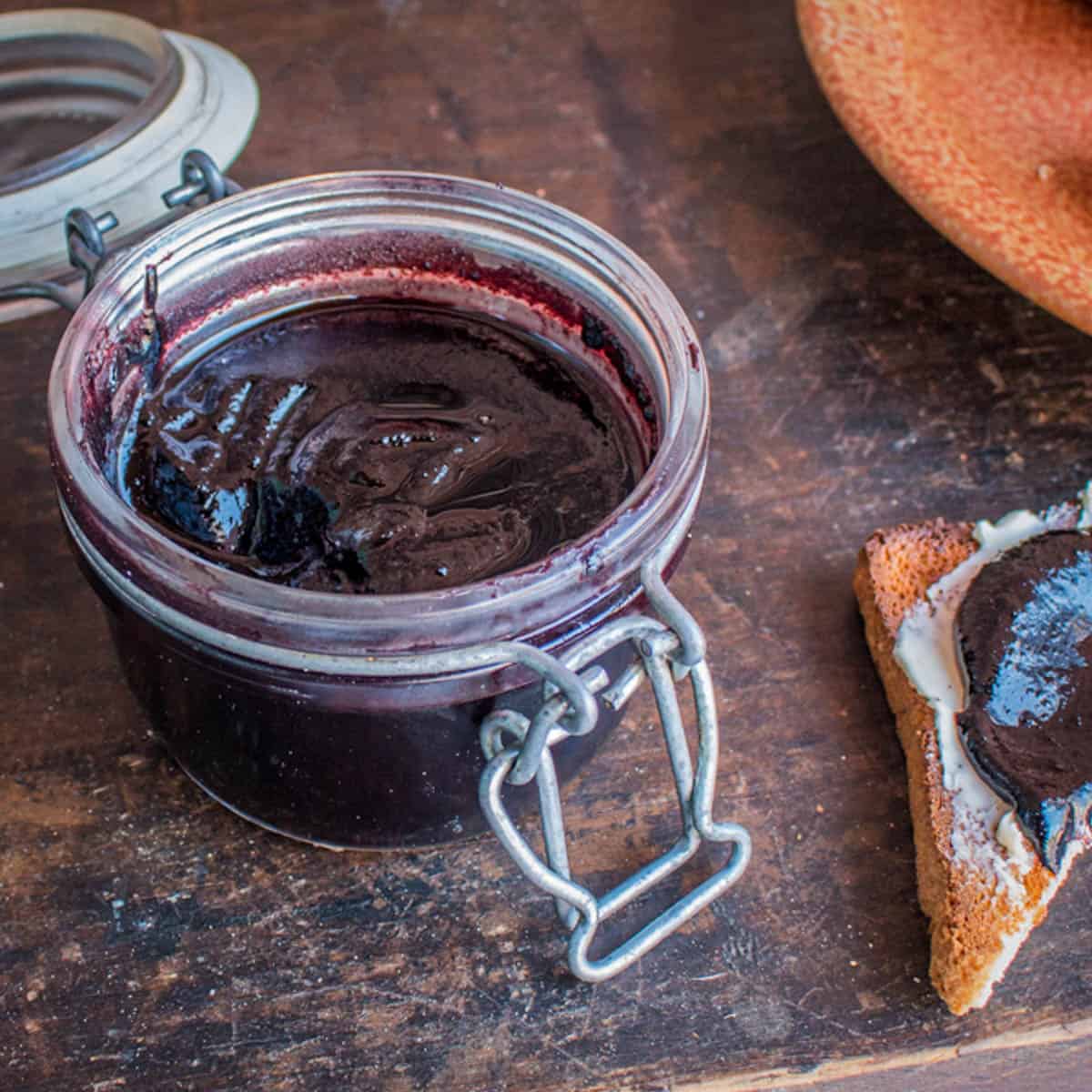 Why This Recipe Works
Aronia juice has neither rich flavor or natural pectin. Here I help the flavor by adding citrus zest and spices. Texture and a little natural pectin come from the secret ingredient: apple sauce.
Commercial Aronia Juice
Since the skin and flesh of chokeberries / Aronia melanocarpa are more tannic than other berries, they're usually  just processed into juice or jelly, and most of the time that's how you'll see them sold commercially, or online.
If you haven't ever looked, go look at some products, especially the price tag (30$/12oz of juice!) then come back here, maybe after checking around for a local nursery that can supply you saplings to plant in your yard and avoid being robbed at gunpoint for what amounts to fruit juice.
Anyway you cut it, anything made from aronia juice is expensive. I prefer to forage mine for free, instead of paying 30$ for under 2 cups of juice.
How to Make It
First the aronia berries are cooked with water and mashed to make aronia juice. The juice is strained and allowed to cool.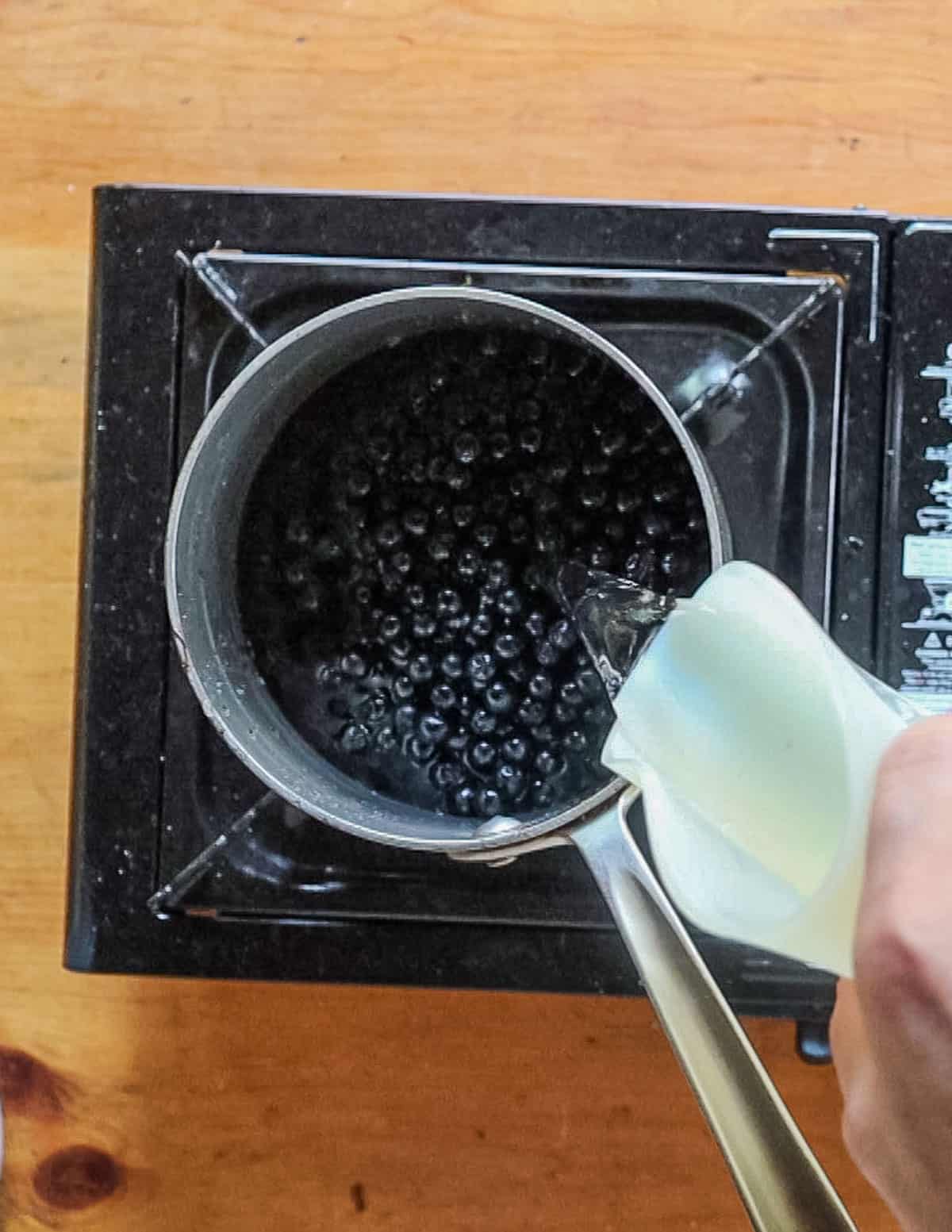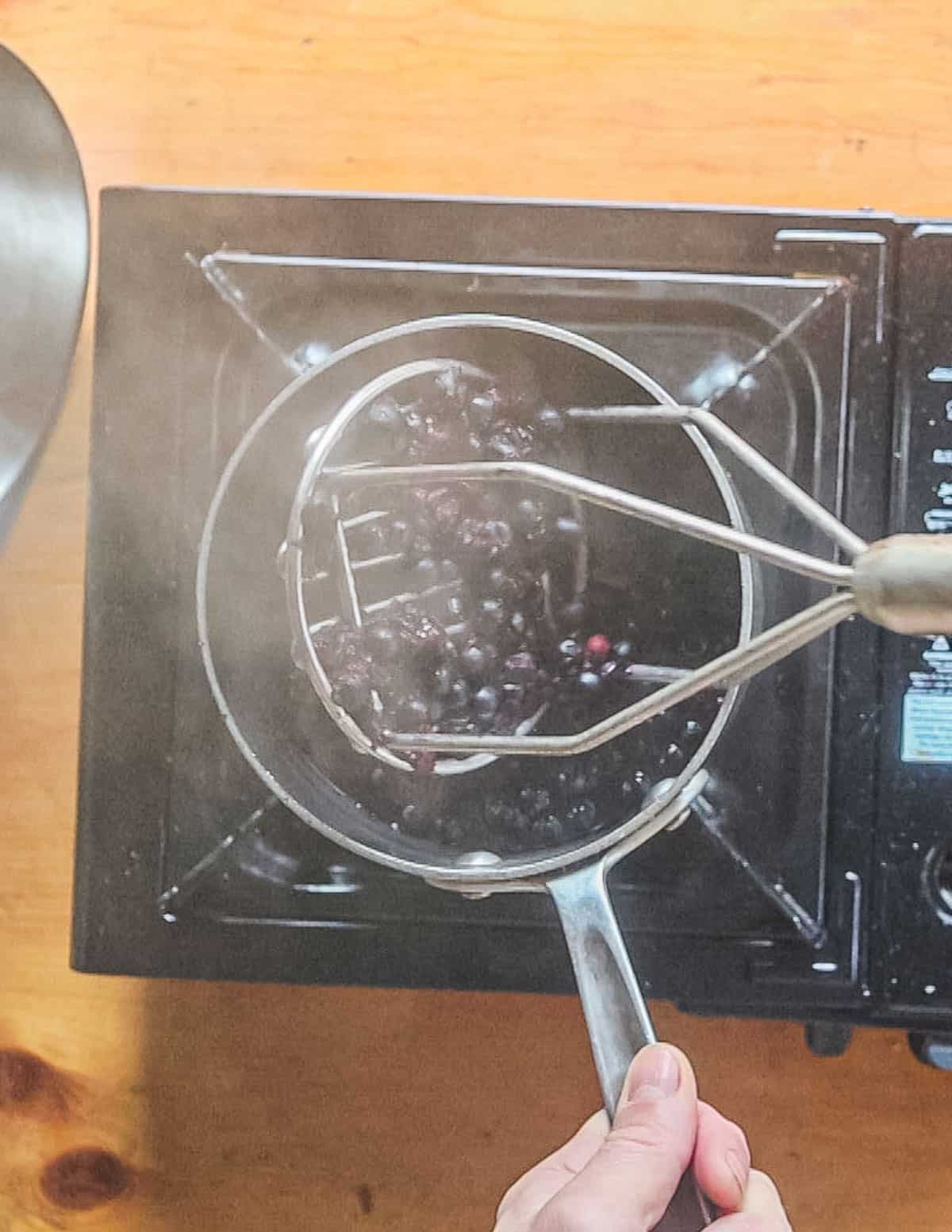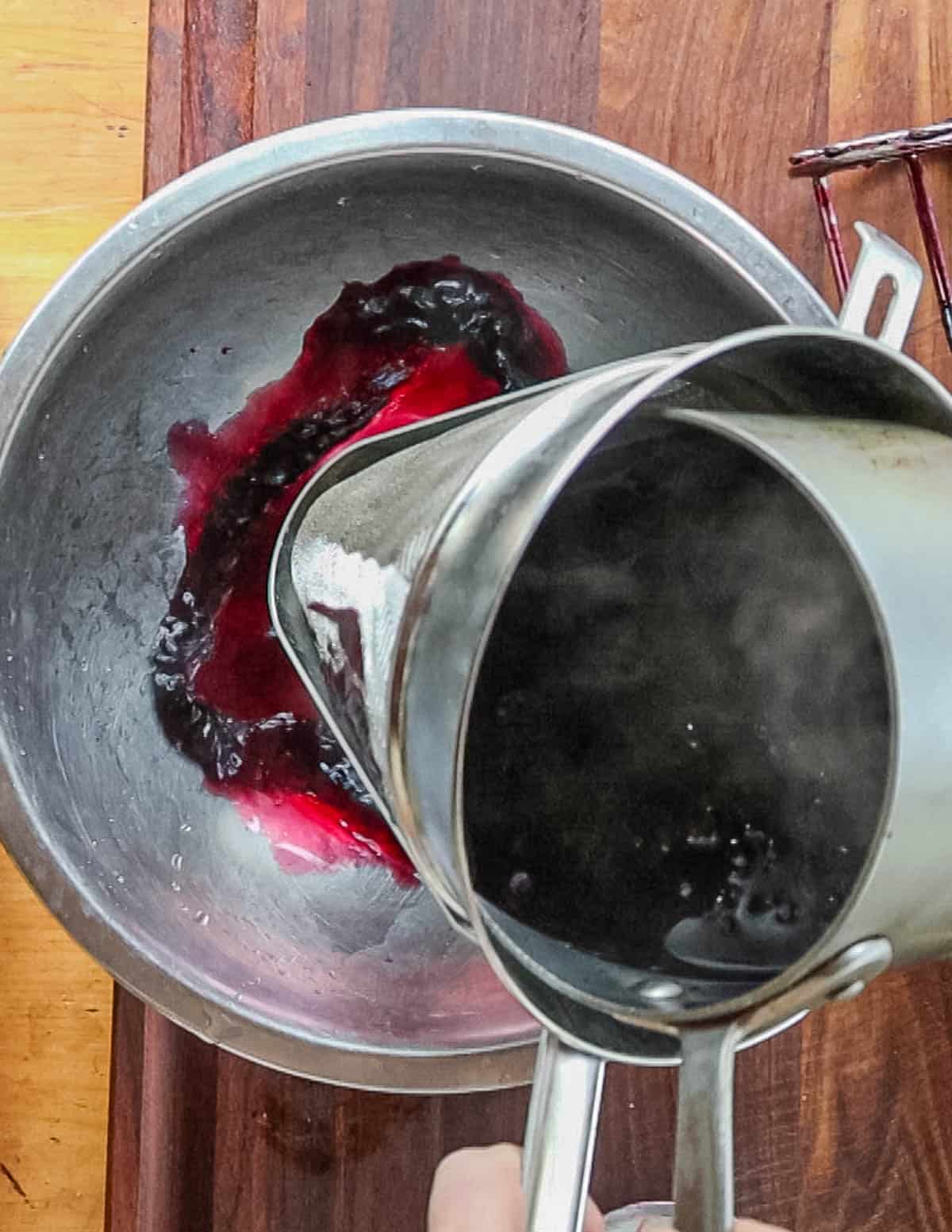 Next the sugar is mixed with unsweetened pectin. You'll zest an orange and a lemon too.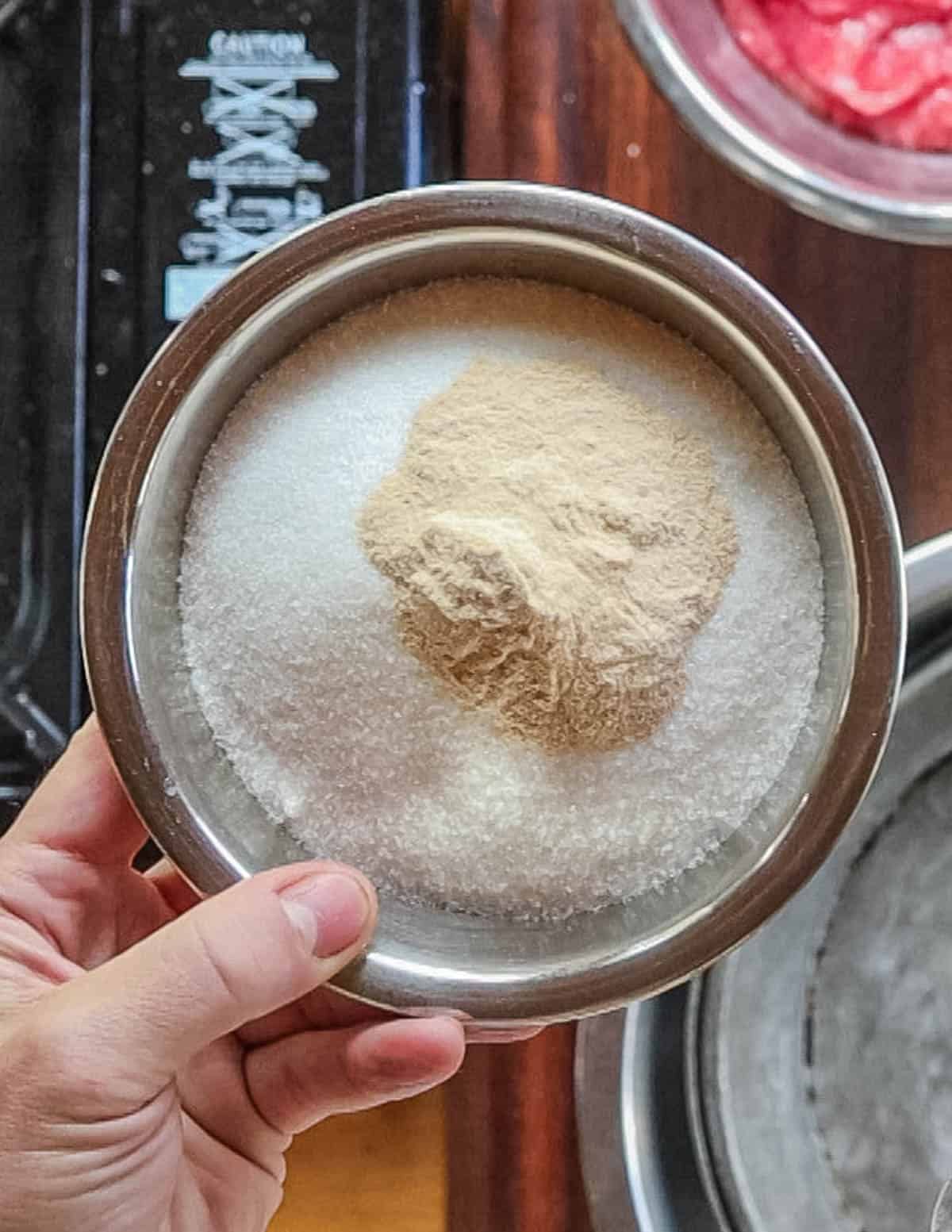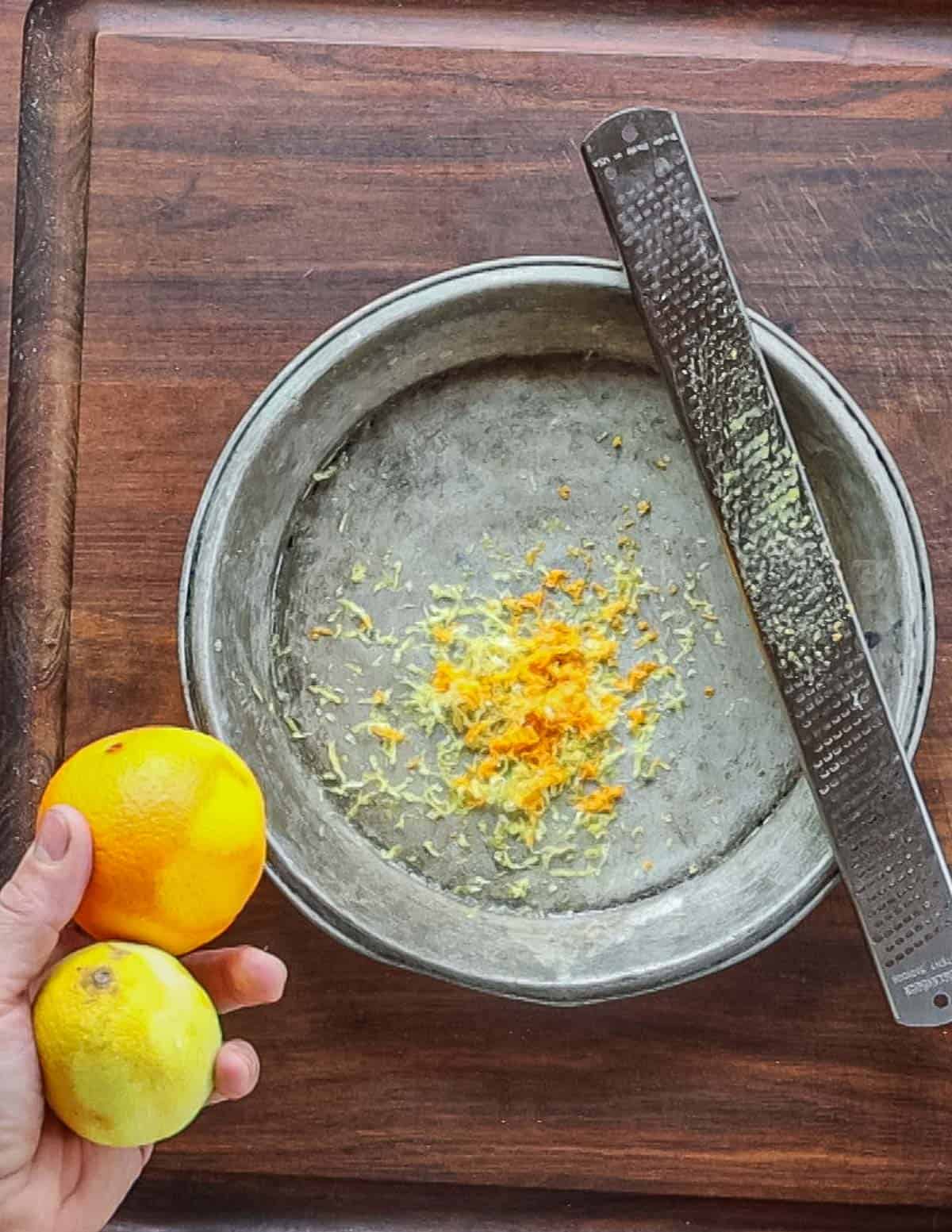 The aronia juice, sugar-pectin mixture and apple sauce and are mixed, along with some citrus zest and a pinch of cinnamon.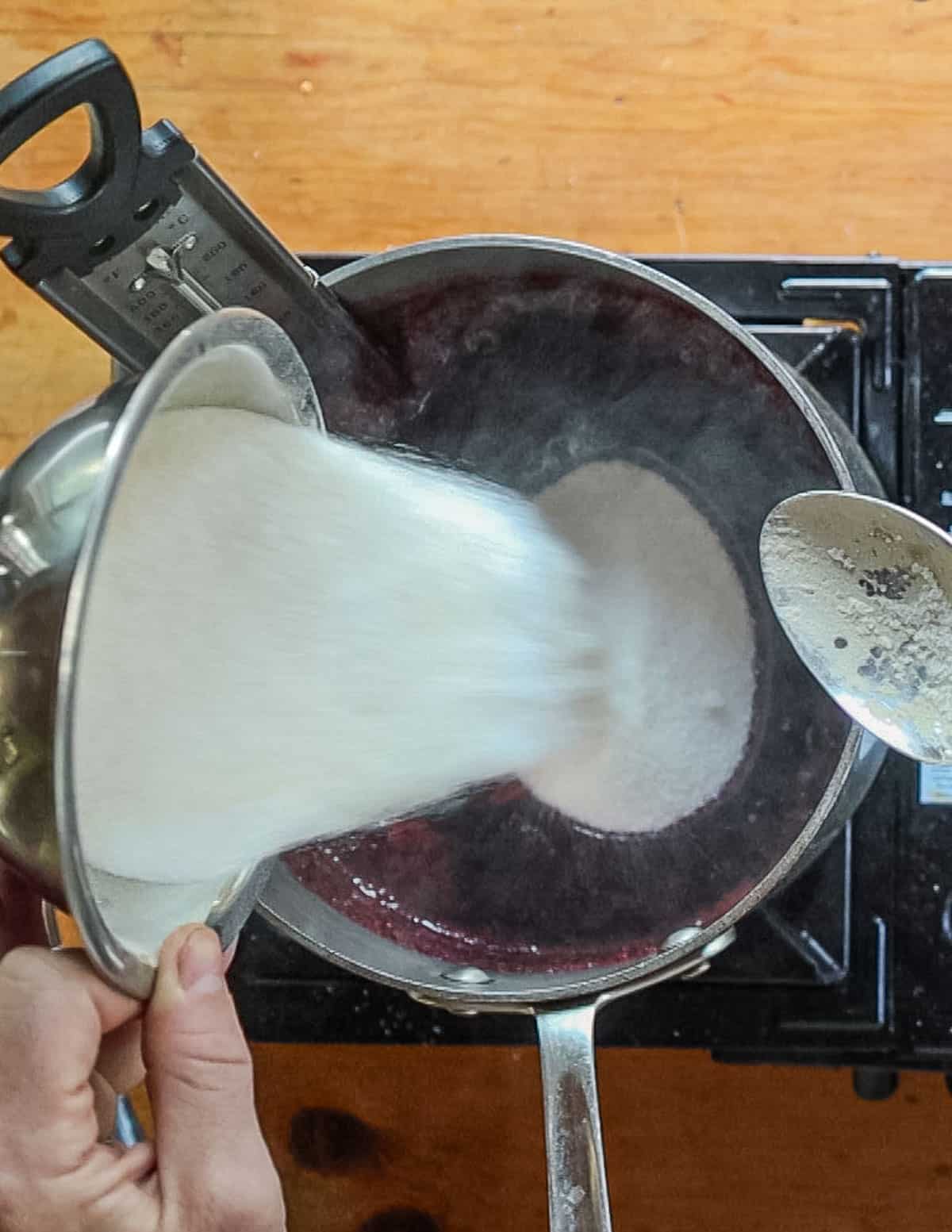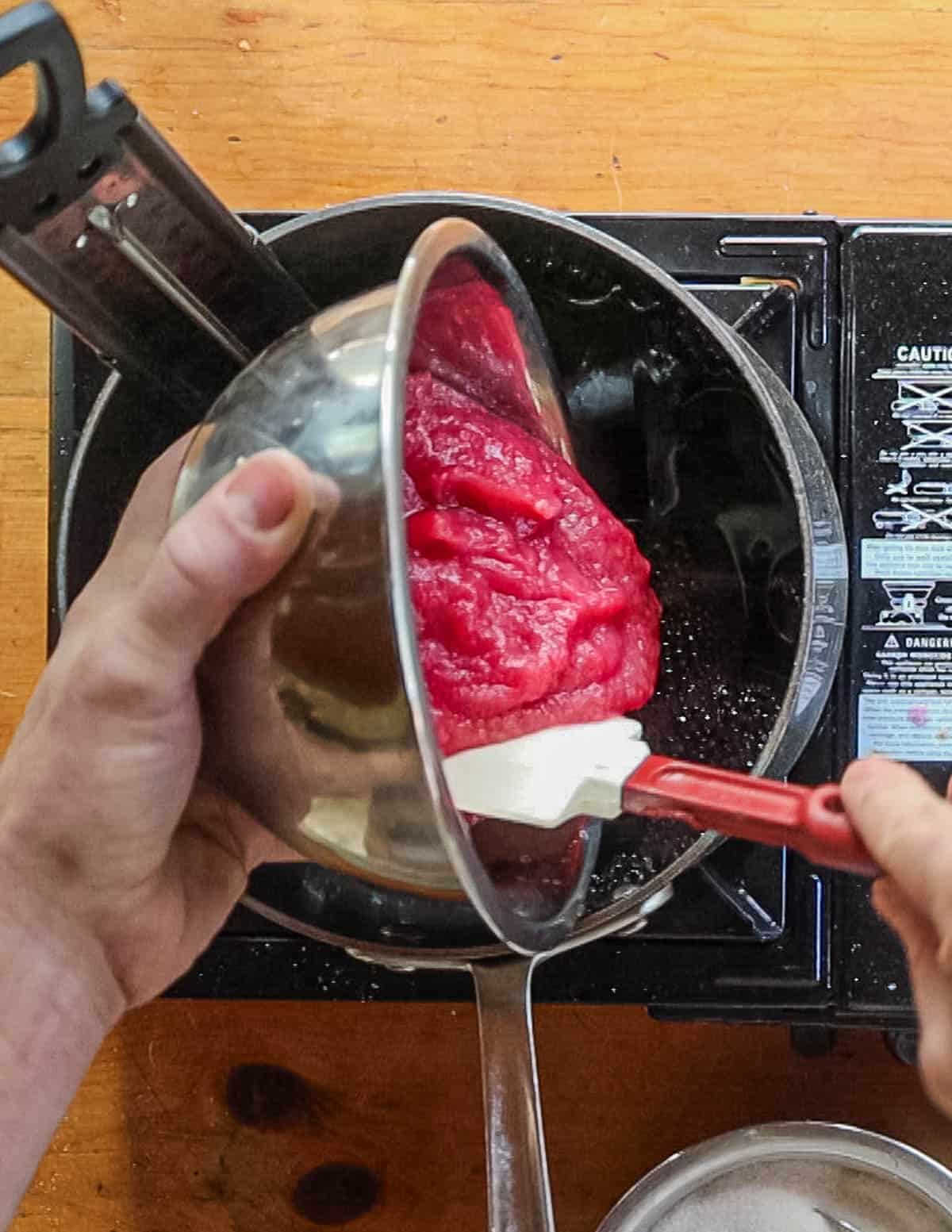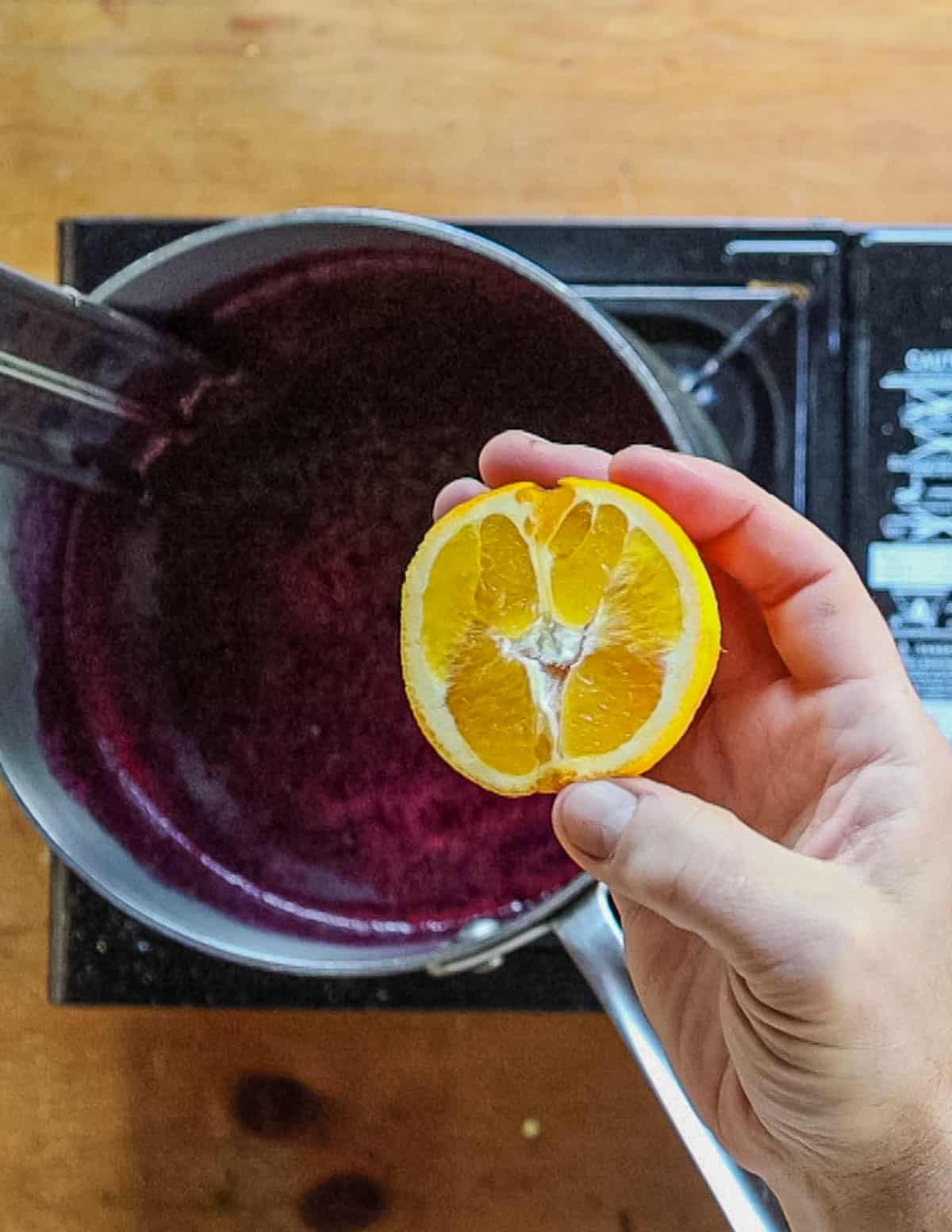 The juice is brought to a boil. When the mixture holds its shape when it's dropped on a chilled plate and the temperature is right around 220 F (about 10 minutes of boiling) it's done. Beat in the lemon juice, pour the preserve into canning jars and process in a water bath.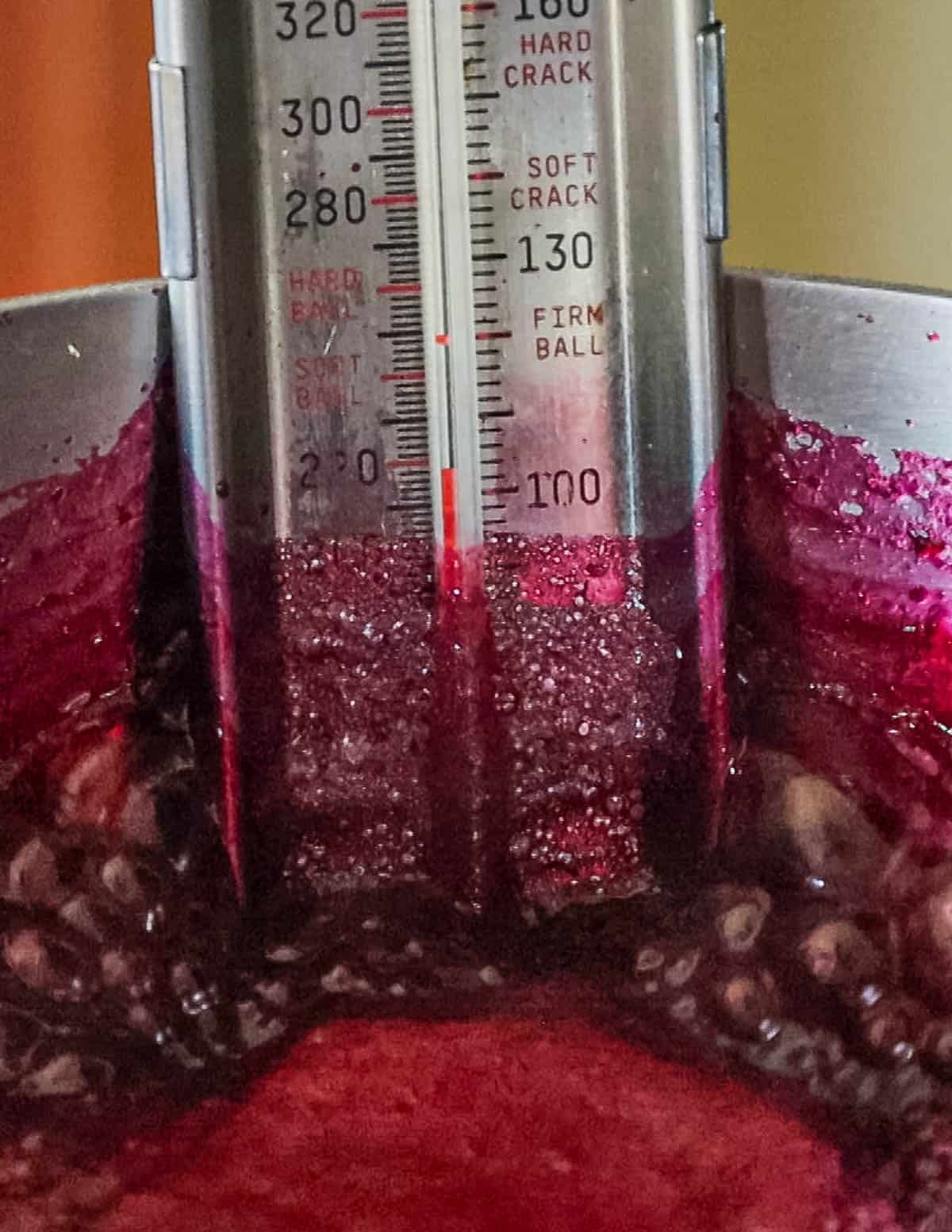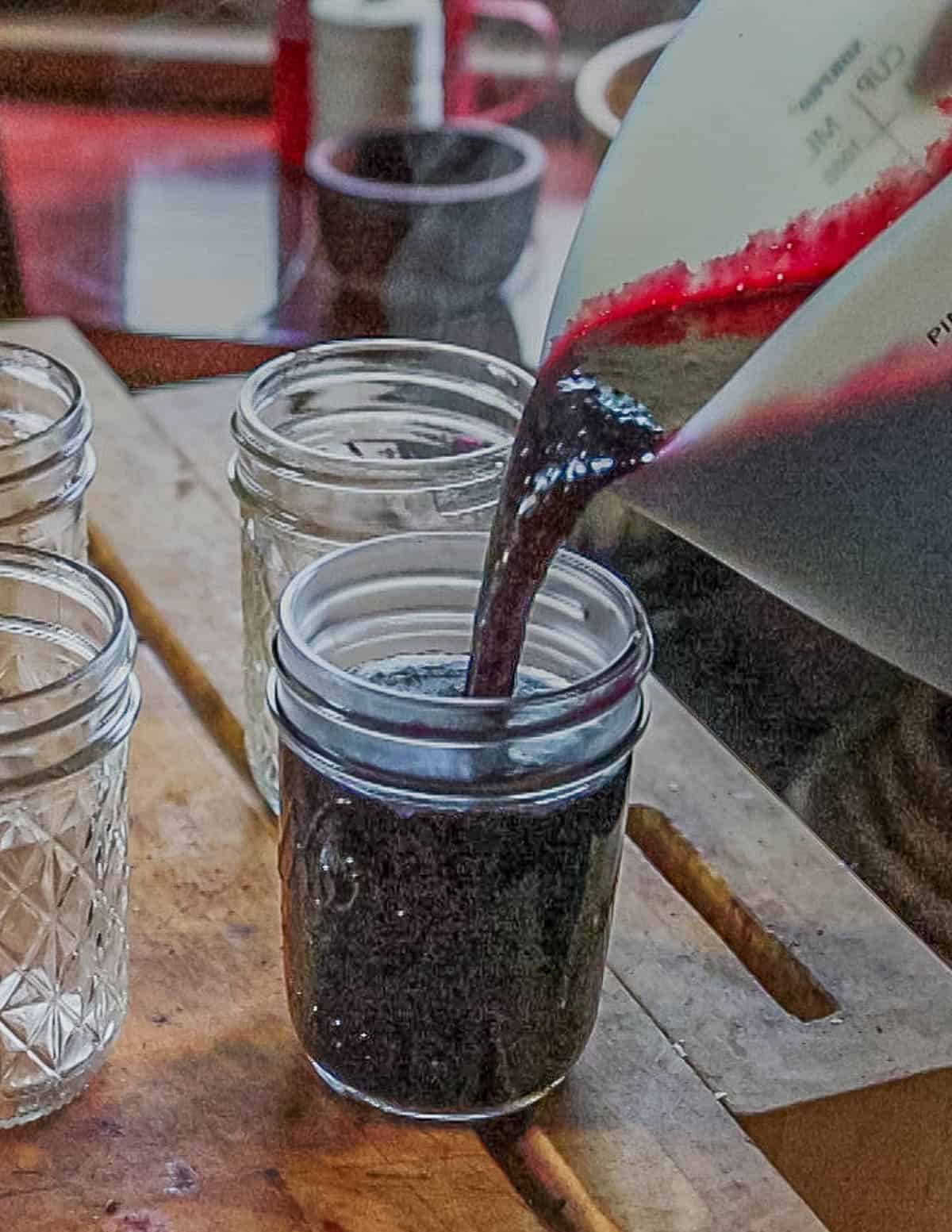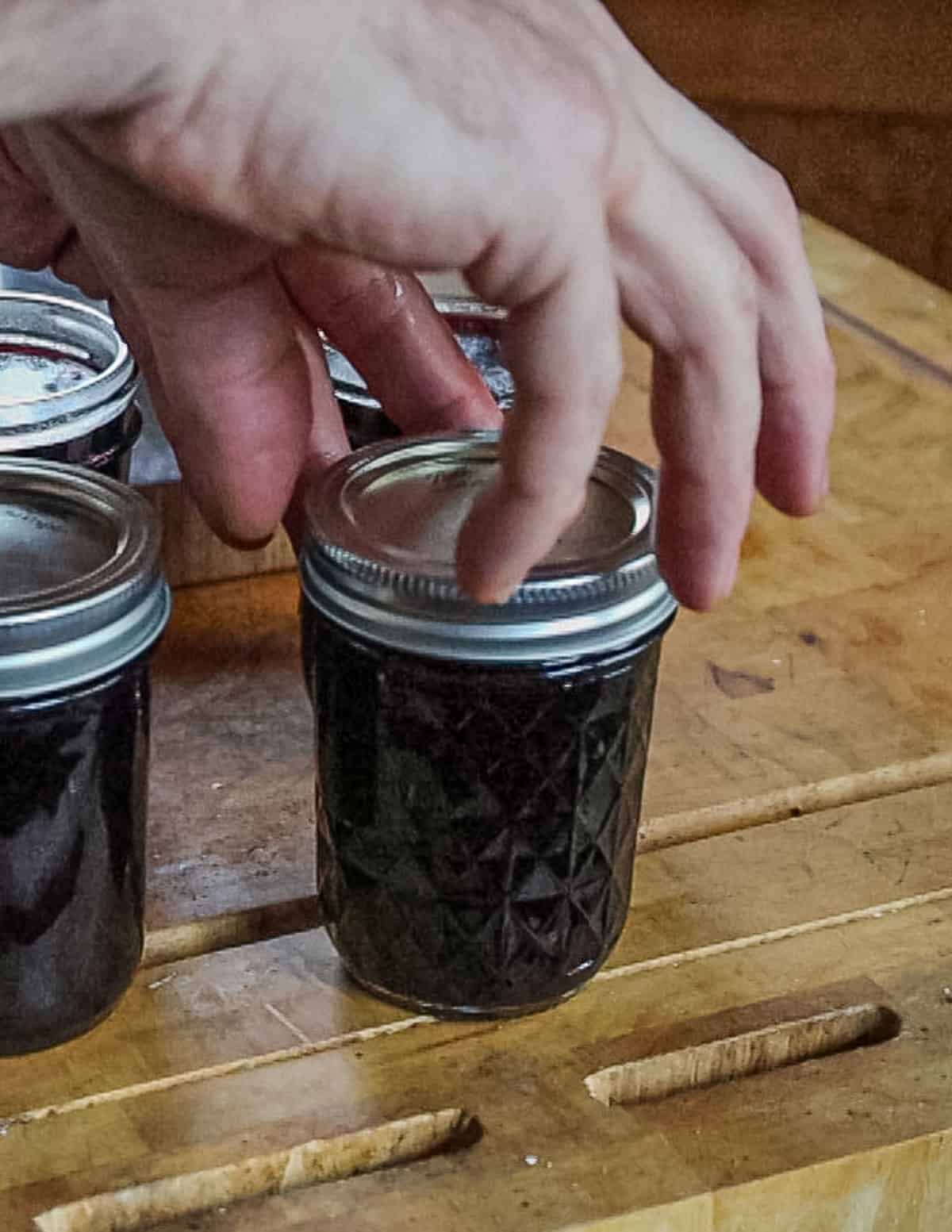 How to Use it
It's great on toast but can also be used to add color and flavor to desserts like a mousse or fruit filling.
One of my favorites you could try is something like an aronia fool , which you could make by whisking the preserves into warm cream with some breadcrumbs or sponge cake, mashing it up, then whipping, and chilling--It's a bit like a chilled fruity mousse.
I've put some spices in this (orange, lemon and a pinch of cinnamon) as the flavor of aronia is mild and slightly astringent-it benefits from some background flavors. But, if blank slate is the way you roll, it's fine with just vinegar, sugar, berries, pectin and water.
I often cook with preserves like this, especially if there's game in the freezer that might benefit from a glaze, mixing the preserves with warm stock, butter, a splash of red wine vinegar, and a good pinch of cayenne. Duck, goose, and grouse are the best partners I've used it with.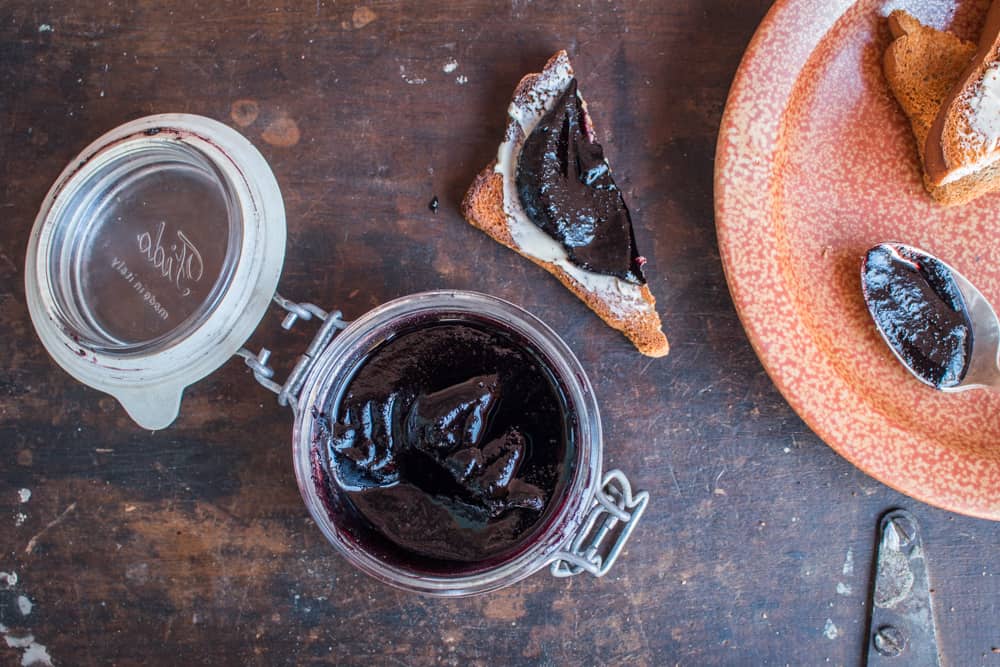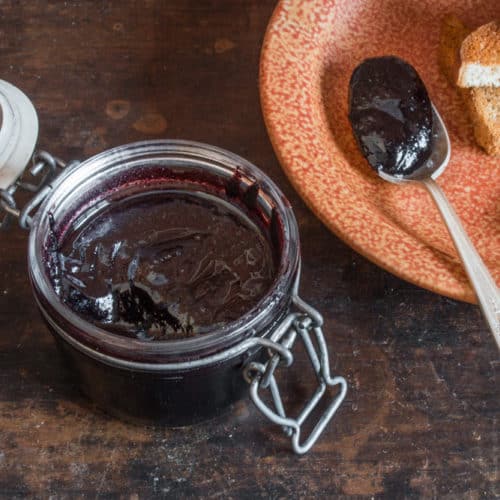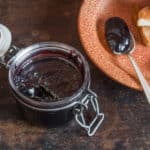 Print Recipe
Simple Chokeberry or Aronia Berry Preserves
A rustic apple and aronia or chokeberry preserve you can cook with or just enjoy on toast with jam. Makes 4 cups or 4 half pint jars.
Equipment
1 1 gallon pot

1 grater or zester

4 half pint canning jars
Ingredients
1

lb

(~ 3 cups) aronia berries / chokeberries

either fresh or frozen

16

oz

water

2

oz

red wine vinegar

or homemade vinegar

Zest of half a lemon and orange

2

teaspoons

lemon juice

or ¼ teaspoon citric acid

16

oz

(2 cups) apple sauce

preferably homemade

4

teaspoons

unsweetened apple pectin

such as Cuisine Tech brand

24

oz

(3 cups) sugar

Tiny pinch kosher salt
Instructions
Cover the aronia berries with water to clean them, then drain. Combine the aronia berries with the water and vinegar and bring to a boil, then turn the heat off. Mash the berries and allow the mixture to cool to room temperature.

Meanwhile, mix the sugar, salt and pectin.

Strain the juice from the aronia berries. Discard the berries or save them to make fruit scrap vinegar.

Mix the apple sauce and aronia juice, then whisk in the pectin, cinnamon, lemon and orange zest. For a silky smooth preserve, you can puree it now with a hand blender.

Bring the mixture to a rolling boil and cook until the temperature hovers around 220 F. It should take around 10-15 minutes at a rolling boil, on high heat.

Do set tests occasionally by dropping ½ teaspoons of the aronia-apple liquid onto a chilled plate over a bowl of ice.

When the mixture doesn't run like water and threatens to hold it's shape it's done. Whisk in the lemon juice and divide the mixture between four 8 oz canning jars.

Process the preserves in a water bath for 10 minutes, then store in a pantry.
Notes
This is a low(ish)-sugar preserve, so it will take  a little longer to reach 220 F than you may be used to with other jams and jellies. 
If you use crab apple butter like I do here, you can probably make this without adding pectin. 
As far as pectin, I use only Cuisine-Tech brand. You can order it online, or substitute another powdered pectin, just make sure it's unsweetened. 
Nutrition
Serving:
2
oz
|
Calories:
929
kcal
|
Carbohydrates:
213
g
|
Protein:
5
g
|
Fat:
0.4
g
|
Sodium:
15
mg
|
Potassium:
5
mg
|
Fiber:
11
g
|
Sugar:
154
g
|
Vitamin C:
25
mg
|
Calcium:
2
mg
|
Iron:
4
mg