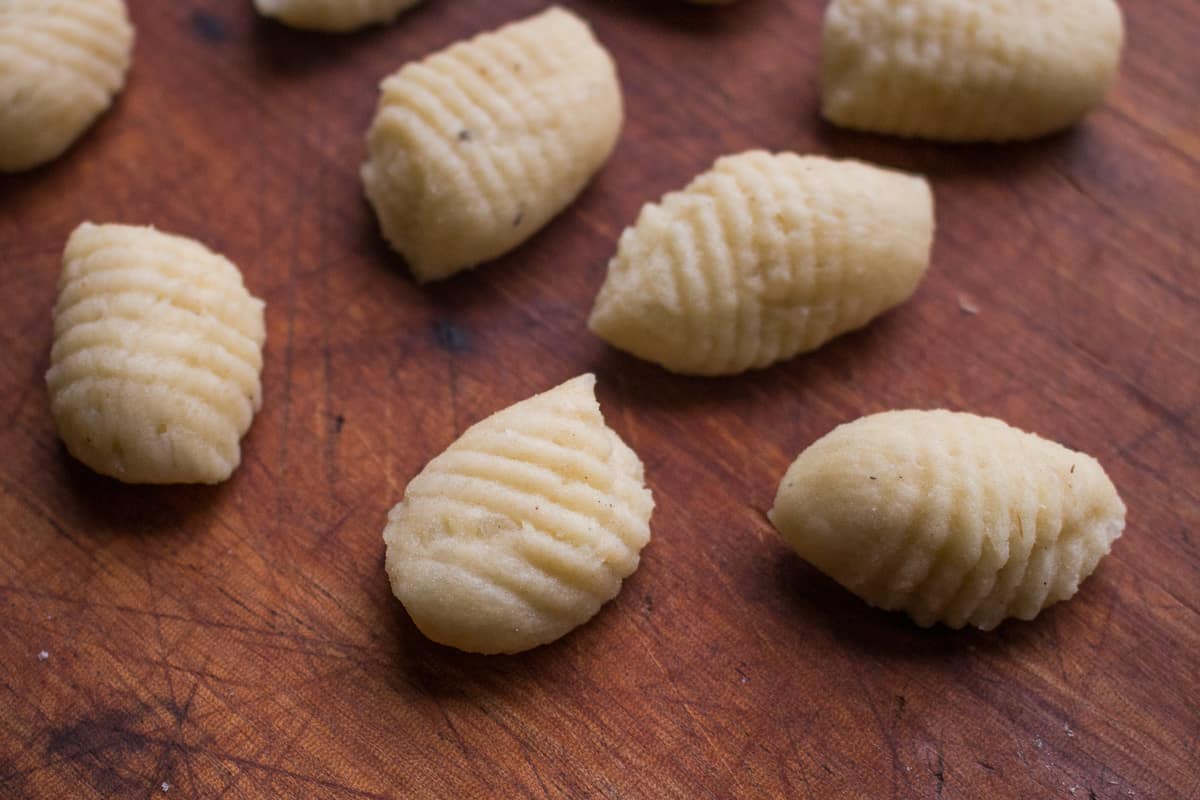 I've made fresh pasta since I was a teenager, but one of the most tried and true recipes I have are those for gnocchi. The recipes I use have changed over the years a bit, but now, there's essentially two that I reach for.
The first recipe is pretty traditional in that it includes both egg and flour, and, if I have to pick, I'd say it's my favorite. It's important to note that egg means egg yolks here—absolutely not egg whites which will oxidize a dough faster than the pure fat of yolks alone, along with adding excess water that's unnecessary, and can cause you to add more flour than you need for the dough to come together, which means tough gnocchi.
The second recipe is a special one that I reserve for vegan diners, and, as I don't cook for vegans much anymore, means that it's not used as much. Vegan means that it's made without egg. A specialty of my old chef Angelo from Rome, it's still a great recipe, just different, and requires more of a deft hand as you need to incorporate a little more flour than the egg-flour recipe. Here's a few tips for great gnocchi.
Chef's tips for perfect gnocchi
This is finely ground flour perfect for dumplings and pizza dough. This is a luxury, all purpose or cake flour can do in a pinch.
I prefer these to manual rotary ricers, which can gum up quickly, and ruin your whole product if you're not careful.
Egg yolks, not whole eggs
No exceptions here. Egg whites oxidize, turn brown, and add unnecessary water to doughs.
Gnocchi boards are great tools that make forming attractive gnocchi easy--just roll them off the board and go. Using a fork can be a little putsy, so if you really like to make gnocchi, order a board.
Yes, steaming. If you have a steamer basket it'll work well, but you can also bake them, covered. Under no circumstances should you boil the potatoes in water. Wrapping the potatoes in foil also works.
There basically two schools as to when the dough should be mixed. Some will say only mix the dough when the potatoes are warm. Some recipes will say you can use old baked potatoes and make them the next day. For the record, both methods work, but, once the potatoes are mixed with the flour, they need to be rolled out and cooked. The dough itself cannot be stored overnight, or wait for a couple hours for you to do other things.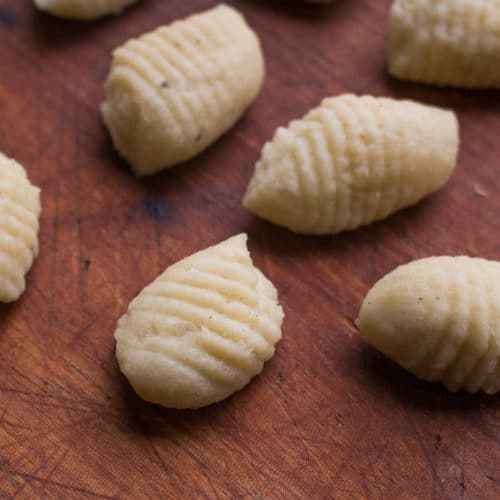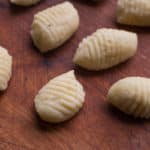 Print Recipe
Basic Potato Gnocchi
Yield: enough gnocchi to serve a dinner for 4 after dressing with a sauce and some other ingredients.
Ingredients
1

lb

russet potatoes

¾

cup

all purpose flour

½

teaspoon

salt

1

large egg yolk

Kosher salt and pepper
Instructions
Wrap the potatoes in foil and bake at 350 until they can be easily pierced with a knife, about 30-45 minutes depending on size. Remove the potatoes from the oven and cool completely.

The potatoes can be riced the next day after chilling in the fridge as well. Skin the potatoes with a paring knife, Then cut into pieces and press through a ricer.

If you have a circular rotating ricer, work in small batches to avoid making the potatoes gummy. Put the riced potatoes on a bowl, add the salt, numeg, and egg yolk and mix until combined, then add the flour and mix (don't knead) until an even dough is formed.

Transfer the dough to a cutting board, cover with a towel and allow to rest for 5 minutes before rolling out. Roll the dough into logs about 1 inch in diameter, then cut using a bench knife and roll off a fork or gnocchi board if desired.

As you cut the gnocchi, toss them lightly in flour and either boil fresh, toss with oil and reserve for dinner, or freeze, lightly floured on cookie sheets, transferring to freezer or vacuum bags for cooking straight from the freezer.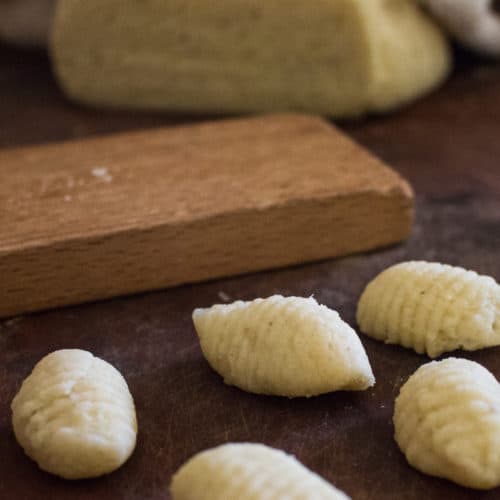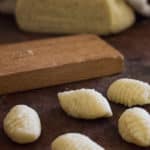 Print Recipe
Roman Eggless Gnocchi
Traditional Roman gnocchi made with potatoes, flour, nutmeg and salt.
Ingredients
1

lb

russet potatoes

½

teaspoon

kosher salt

1.5

cups

00 flour or all purpose flour

Suggestion of fresh grated nutmeg
Instructions
Steam the potatoes until tender when poked with a knife, about 30 minutes. Peel the potatoes and rice them.

Lay the riced potatoes out on a cutting board and cover with the flour, nutmeg, and salt. Incorporate the flour and seasonings into the riced potato, but do not knead it hard like bread. The gluten must not be developed in the four, otherwise the gnocchi will be soft when rolled, and then hard and chewy when cooked. Instead of kneading, press the flour into the potatoes, and try to sort of just press it together into a mass.

Continue gathering the flour that falls off and pressing it into the potatoes until the mixture is an amalgamated, even mass.

Allow the dough to rest for 5 minutes wrapped in plastic, then quickly roll out into logs, cut into 1 inch pieces with a bench knife, toss in flour lightly to coat, and freeze on a cookie sheet.

When the gnocchi are completely frozen, transfer them to a tightly sealed container and freeze. The gnocchi, if tightly sealed, will last for months in the freezer. To cook, simply drop them into a large pot or rapidly boiling salted water (a gallon of boiling water would be great for this whole recipe) and cook per usual.