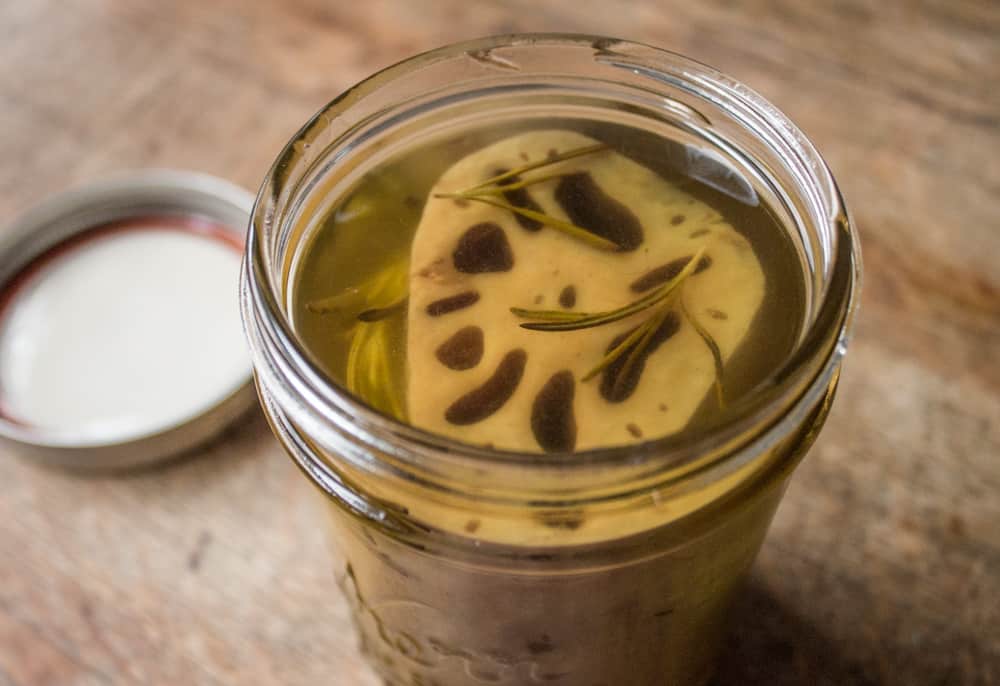 From what I can tell, Americans don't think of lotus root as something that grows in the U.S., or even as something to eat, but the lotus has always been here. They're a little tricky to cook, but what I've learned is that they kind of like to be done either hot and fast (deep frying, stir-frying) or low and slow (braise, confit).
I've fried these things and made chips six ways to Sunday, and they're great like that, but I'd been meaning to dial in a confit method for them too, because everything is better aged in lard with salt and herbs, and because I will confit anything, given the chance. The confit is a nod to my old sous chef from Argentina, who, if I remember correctly, told me he learned the technique at a hotel in Dubai.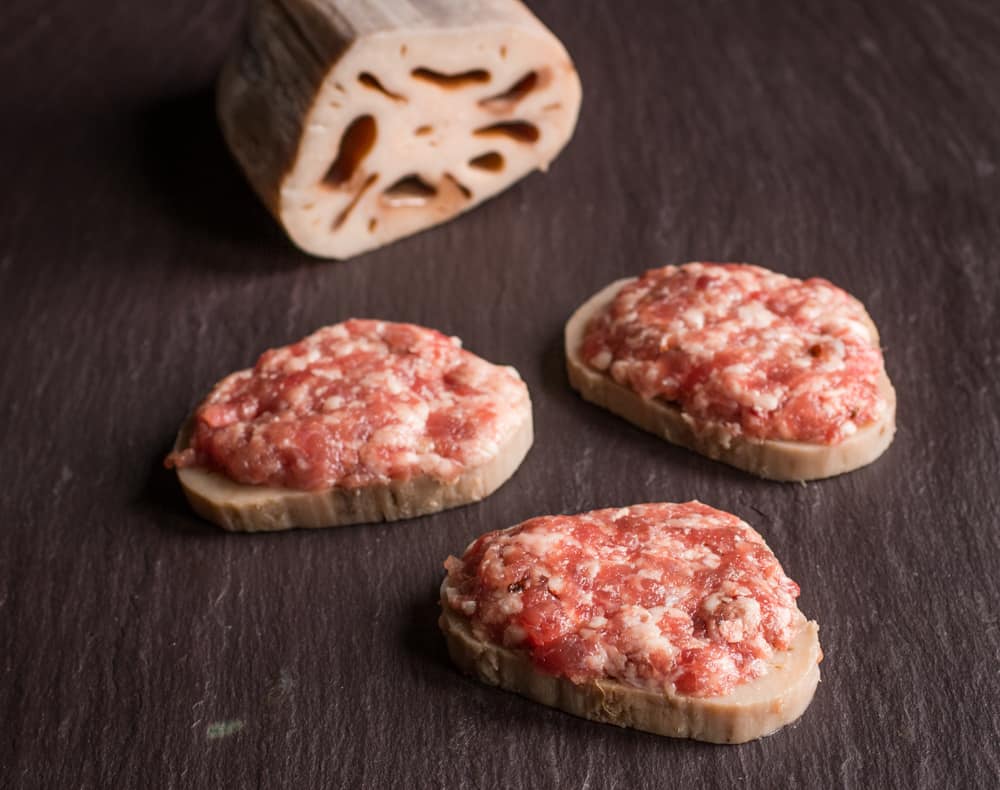 The confit lotus root was my favorite reccipe so far, as much for the more mellow/less-crisp texture as for the fact that deep frying anything can seem like kind of a cop-out. Don't get me wrong, shaved lotus chips are delicious fried crisp, their slightly sweet taste reminiscent of, but superior to those terra root vegetable chips that are everywhere. I knew frying wasn't the only trick they can do though.
Cooked low and slow, seasoned with salt and perfumed with herbs the lotus root changes it's character and goes from ultra-crunchy-thing to only slightly-crunchy-thing, a bit like a wide slice of water chestnut with holes in it. After they're cooked, you can just toss them in a pan, slap'em on a plate and call it a day, and they'll be great, but they're even better if you stuff them with sausage and fry them a second time. The air channels kind of beg to be stuffed.
The couple lotus root I tried first I confit'd in a mason jar to save on the amount of lard I was dedicating to the project, but you could always cover them in vegetable oil and bake them in the oven if there's no lard available, and, of course, they can always just be braised until they reach the same point of tenderness. If you have a sous-vide machine, you could eliminate a lot of cooking fat that way too.
If you're thinking, Alan, sure, whatever, I'm not going to go harvest tubers from the mud in my local pond, and even if I wanted to, I don't know the regulations or where I could physically do such a thing, don't worry. Asian markets sell them all the time and they're relatively cheap. Make darn sure to inspect them though, contrary to what websites online might tell you lotus roots do have a long shelf life, but most of the time in the States they've undergone quite a journey.
Lotus roots you would pick to eat should be smooth, without blemishes, and pure white/cream colored when sliced, so reject any that have sticky patches or soft spots. That being said, commercial lotus roots, from my experience, also take the best to stuffing like in the picture above as their air channels are larger than the truly wild ones, for what it's worth.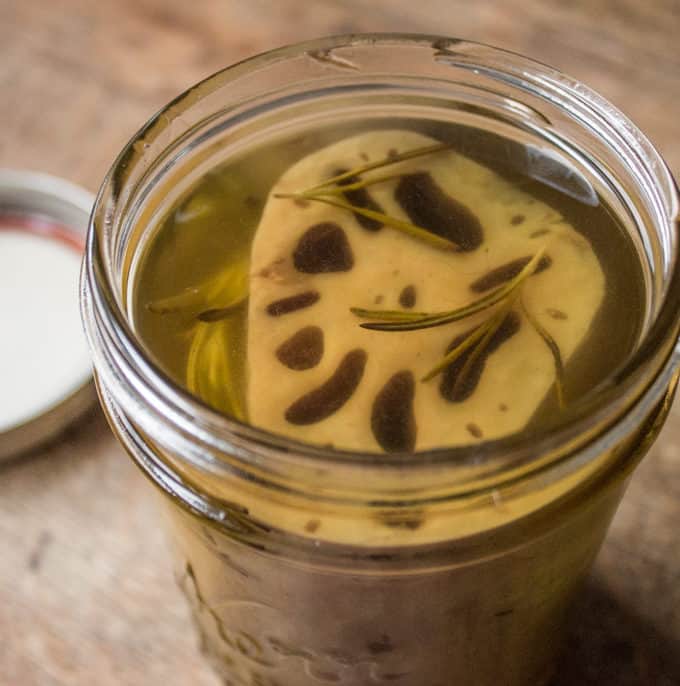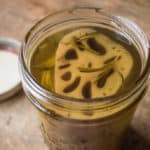 Print Recipe
Lotus Root Confit 
Slow cooked lotus root preserved in fat, a flavorful way to enjoy the waterchestnut-like texture of this vegetable
Ingredients
1.5

cups

water 

330 grams mixed with a scant tablespoon of fine salt (16.5 grams) to make a 5% brine

Rendered lard

enough to cover the lotus root in the jar (substitute oil in a pinch)

Herbs

like thyme, bay or rosemary, a small sprig each for a pint jar

1

lotus root that can fit inside of a mason jar

peeled
Instructions
Put the lotus root in the jar with the salt water and allow to sit overnignt.

The next day, preheat the oven to 250, melt the lard, drain the lotus root, add the herbs to the jar, cover with the lard, seal with a lid and cook in a pot of simmering water like you're going to can it for 30 minutes, then turn off the heat, remove the jar and allow it to cool on the counter.

Label and date the lotus root, then refrigerate until needed. Traditionally confit is aged for a few weeks underneath the layer of fat, if you want to do that, make 100% sure the lotus root is completely underneath the solidified lard.