Fried lotus root with the air channels stuffed with ground meat or sausage may not be traditional, but it's one of my favorite lotus root recipes. The air channels are just begging to be stuffed! You'll need commercial and not wild lotus root, unless you got some huge pond monster here.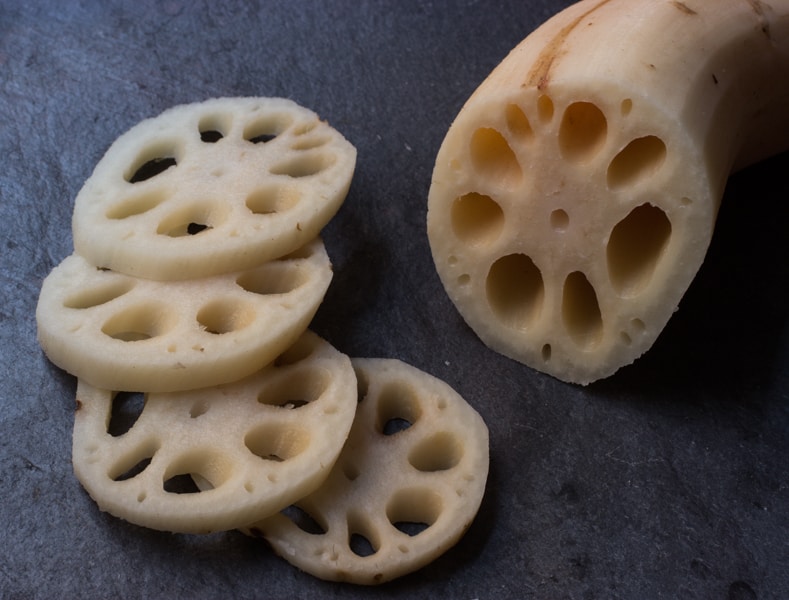 It's a great way to use these interesting tubers, especially if you're skeptical about anything that has the texture of a water chestnut, like I was when I was a kid.
To sweeten the deal, you get impress your friends with your appreciation of an under-used vegetable, that, if you live in the Midwest, like me, is actually a part of the culinary terroir we don't often think of.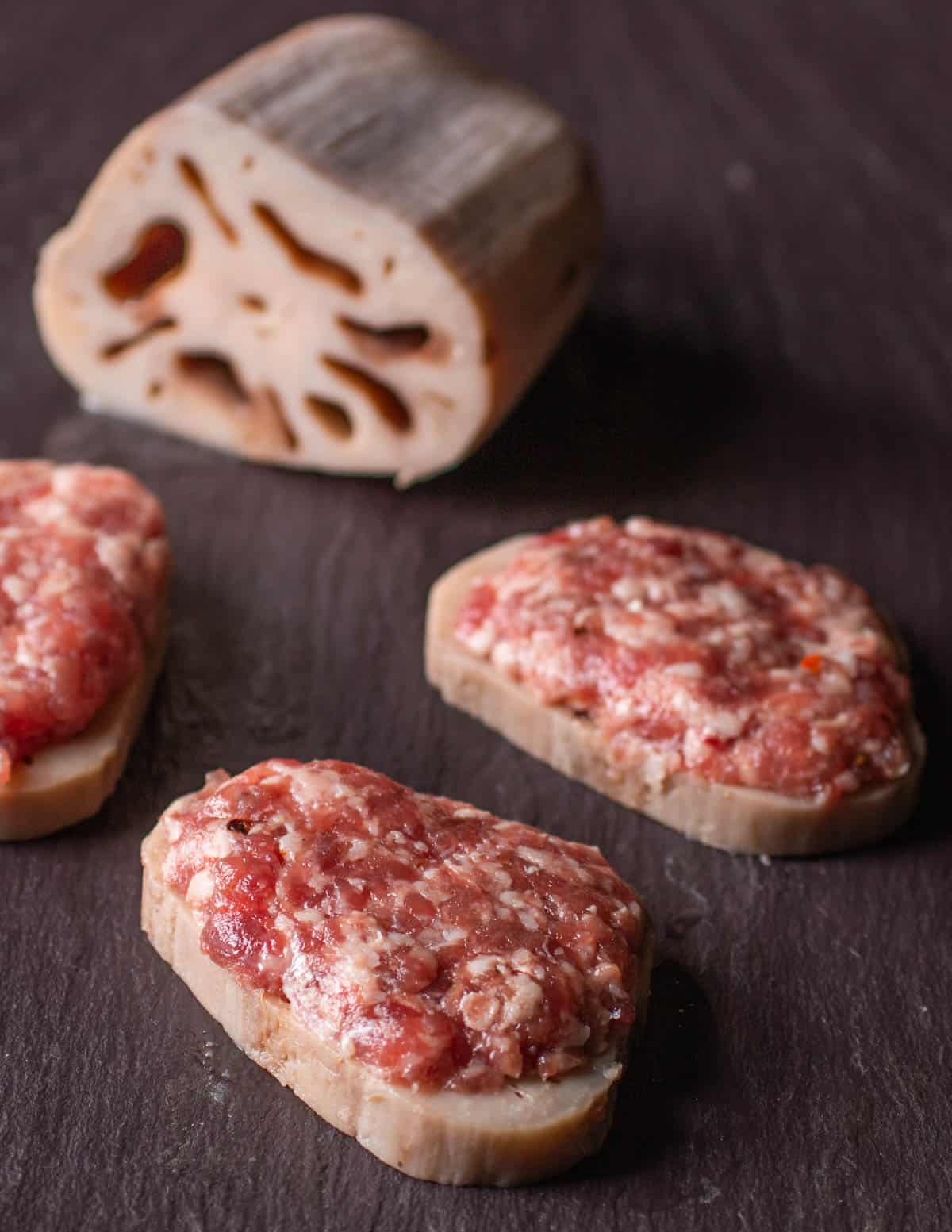 The method is easy, to make stuffed lotus roots you cook peeled, sliced tubers until tender, then pat dry and press the air-channels of each one full with a nugget of ground pork sausage, then dredge and fry them in a pan.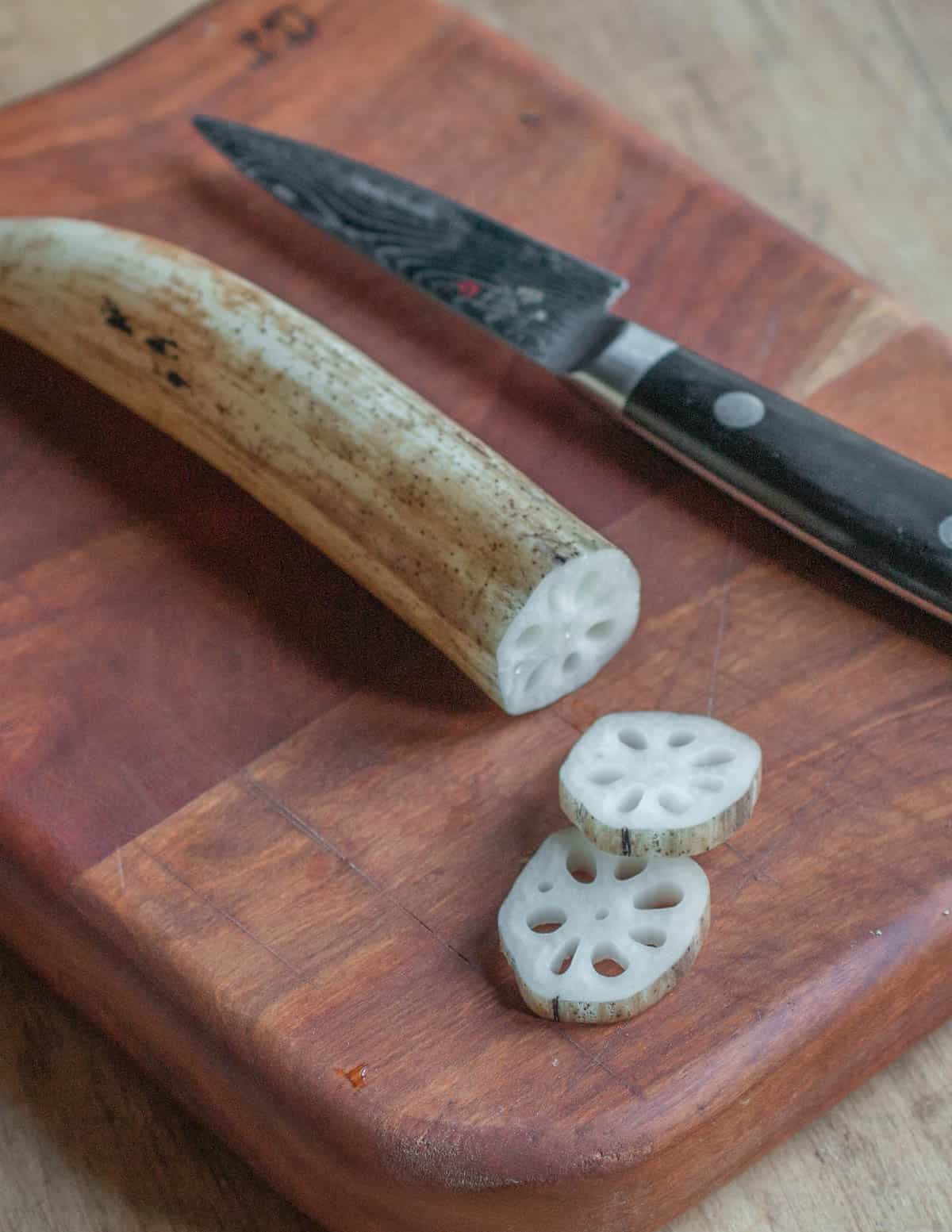 To add some interest and additional pond flavor, I crusted this batch with some wild rice flour-one of my favorite dredges.
They're a great twist on a breakfast plate en lieu of sausage. No measurements here: just make sure you cut the slices of lotus root thick enough so they can hold some sausage.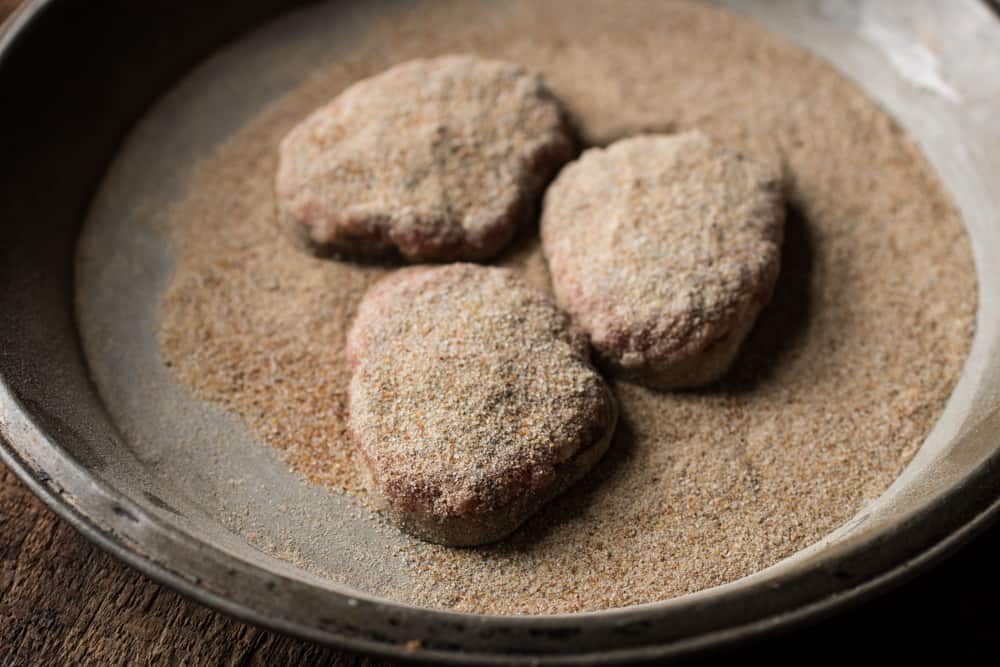 Typically when I think of fried lotus root, many people might think of Chinese cooking, where lotus root slices are often stir-fried or deep fried, or cooked quickly and tossed with soy sauce as with Japanese Kinpira.
This recipe isn't traditional for most people that know this vegetable, but it is for me: I learned it from my old sous chef Katriel from Argentina, who learned to make it from a chef in Dubai. Katriel described it to me as stuffed renkon, which is a synonym for lotus. 
Serving
I've been eating the fried roots with cooked greens seasoned with a splash of soy and rice vinegar, but you can use them as an interesting side dish all by themselves too. 

Where to Buy 
If you're not familiar and want to get your own, you can buy lotus root at your local Asian market.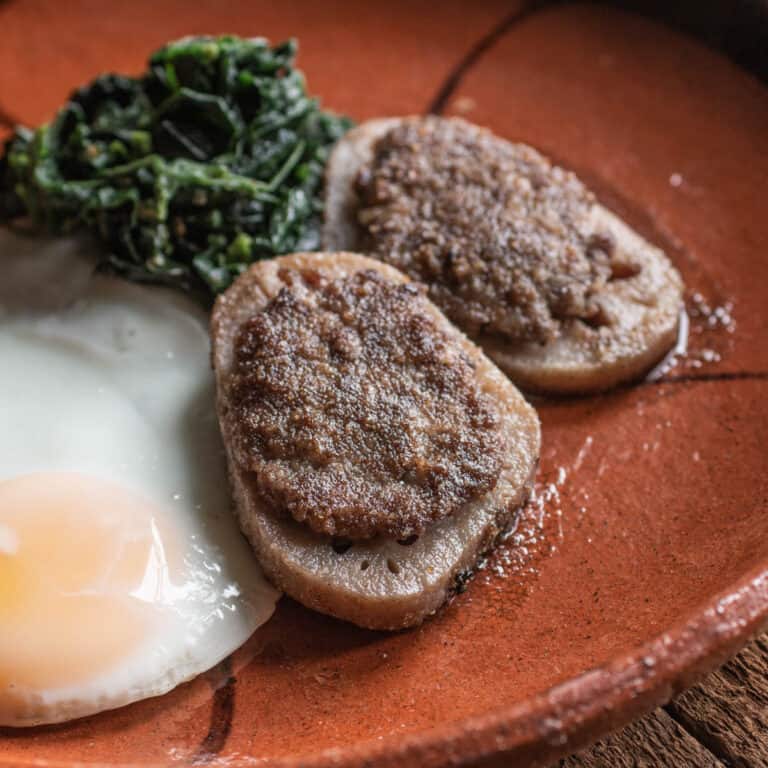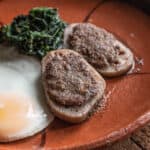 Print Recipe
Fried Lotus Root Stuffed with Sausage
Slow cooked lotus root stuffed with sauasage, and crusted with wild rice flour
Ingredients
1

lb

lotus root

Peeled, cut into half-inch slices and cooked until tender-crisp. Refer to recipe here.

8

oz

lump sausage, or as needed

sausages flavored with lemongrass like Hmong sausage are good.

all purpose flour

For dredging. I used wild rice flour.

Kosher salt and fresh ground black pepper

to taste
Instructions
Peel the roots. Cut the lotus roots into ½ inch slices. Cover with water by an inch, add a good pinch of salt and simmer until tender-crisp, about 20 minutes. Remove the roots and drain on a paper towel.

Pack a tablespoon or two of sausage into air channels as good as you can, then press down firmly into the flour.

Brown the stuffed confit on both sides in a small amount of fat. Serve for breakfast or lunch, or as a small plate/appetizer.
Notes
Different ways of cooking the roots 
The lotus root pictured here were poached in oil before cooking, but you can also simmer them in water until they're tender crisp for the same amount of time (roughly an hour) as my recipe for lotus root confit. 
Nutrition
Serving:
2
slices
|
Calories:
1025
kcal
|
Carbohydrates:
78
g
|
Protein:
46
g
|
Fat:
10
g
|
Saturated Fat:
20
g
|
Polyunsaturated Fat:
8
g
|
Monounsaturated Fat:
27
g
|
Trans Fat:
0.5
g
|
Cholesterol:
163
mg
|
Sodium:
1624
mg
|
Potassium:
3084
mg
|
Fiber:
22
g
|
Vitamin A:
170
IU
|
Vitamin C:
201
mg
|
Calcium:
225
mg
|
Iron:
8
mg