One of my favorite salads to make from wild greens is often made of only two different types of greens: lamb's quarter and chickweed, or Stellaria as I call it on restaurant menus. As the season progresses, I'll add different mild greens too, in mid summer I might add young amaranth, a few nasturtiums, purslane, whole leaves of herbs like cilantro and basil, chive blossoms, you get the picture.
One thing generally stays the same though: the backbone of lamb's quarter and chickweed. Both of these greens are super mild and versatile, there's no bitterness (bitter not necessarily being a bad thing) and I know that I can serve them to just about anyone and they'll love them.
This is a fun variation I made this year with a few extra garnishes: young elm samaras and currants I preserved from last season in a cold solution of vinegar, sugar and water, flavored with a few sprigs of wild peppermint. I keep a jar of the solution (you can make it as sweet or less sweet as you like, but I like to use at least 25% vinegar to ensure the pH stays below 4.6 to help preserve it in the fridge without using hot water bath canning, which would make the berries soft, ending up with more of a jam consistency. During the season, I just pick the berries as I get them and plop them in the jar in the fridge, they'll keep for a long time underneath the liquid.
The elm samaras are great too, they have a super short season, but when they're still nice and green you can pick large amounts of them from trees in a short period of time. They make a beautiful addition to any salad, and you don't have to do anything to them, just sprinkle them wherever you want.
The basic salad is so simple you really don't need a formal recipe. I'm going to list the ingredients I like to use, as they do make a big difference. The key to a great salad made from wild greens like chickweed and lamb's quarters is to use really good oil and vinegar, or a vinaigrette that you like.
The secret: great oil and vinegar, a little sweet 
A lot of times I like my wild green salads a teency bit on the sweet side-a great counterpoint to the verdant, green flavor of the greens. Regular old balsamic vinegar is good, and I use it often, but I like white balsamic even more since it doesn't darken the color of the finished product, used in a salad with the elm samaras it would make them look unattractive if they were tossed together.
Chef tip: before you make a salad, soak the greens in cold water 
The method is easy: refresh the greens in cold water to wash and restore their life if they've been refrigerated, dry them well, then season to taste with the oil, vinegar, salt and pepper to taste until you like it, you cant go wrong.
Smudes Sunflower Oil 
As far as the oil, one of my favorites is Smude's Virgin Sunflower Oil, I've tasted a lot of different sunflower oils on the market, and there really isn't any comparison. Smude's oil has a very strong sunflower flavor that other sunflower oils lack, it tastes like the essence of sunflower: I like to call it the olive oil of the Midwest.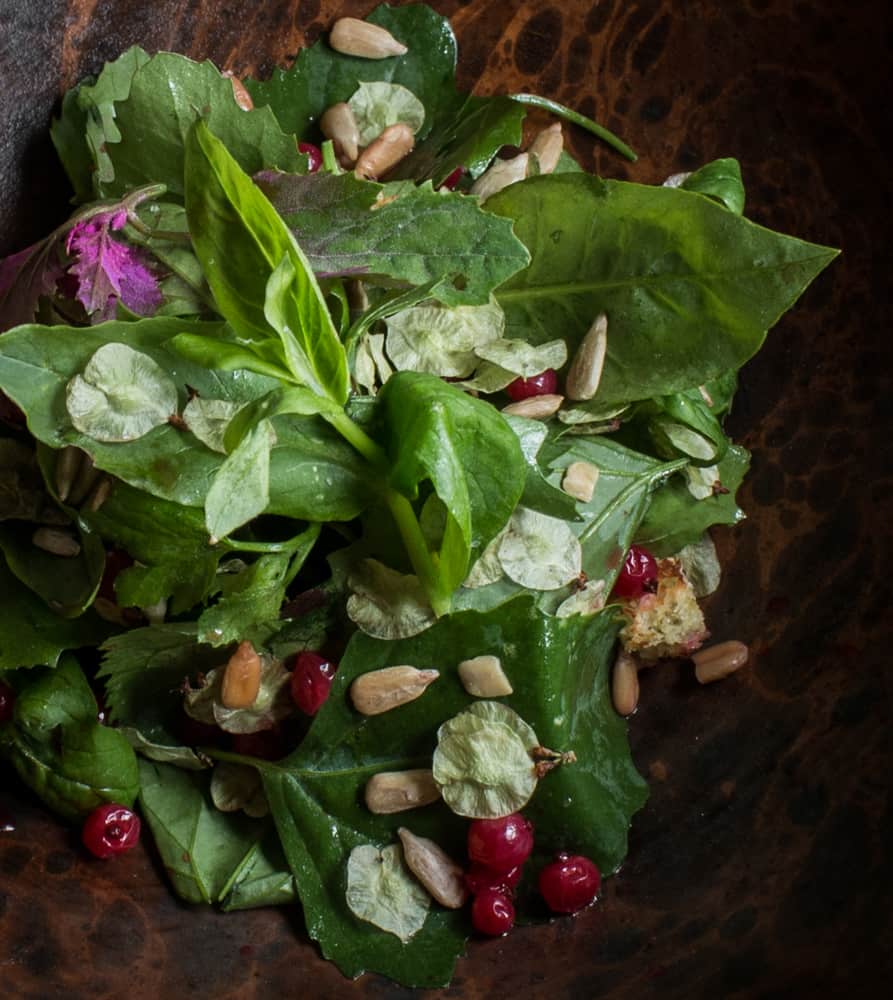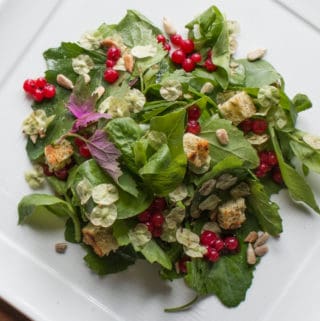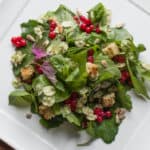 Print Recipe
Lambsquarter and Chickweed Salad with Elm Samaras and Currants
A simple salad of lambsquarters, chickweed, and elm samaras, use it as inspiration and make it your own.
Ingredients
Lamb's quarter

trimmed into 2 inch pieces

Chickweed

tender tops only (usually an inch or two long, or the first one of two sets of leaves

Elm Samaras

picked over for bugs or other intruders (I generally don't wash mine)

Small amount of fresh berries like raspberries

currants, etc (I used some red currants I'd preserved)

Toasted

cooled sunflower seeds or another nut or seed of your choice

Flavorful oil

like Smudes Sunflower oil, or another great tasting oil, like high quality extra virgin olive oil

White balsamic vinegar

to taste

Kosher salt and fresh ground black pepper

to taste
Instructions
In a wide salad bowl, toss the greens with a small amount of the oil, vinegar, salt and pepper to taste. Very gently toss the greens just to coat with the dressing, then taste and adjust the seasoning until you're happy with it.

Divide the salad between chilled salad plates, then garnish with the preserved currants, seeds and elm samaras and serve immediately.
Notes
As I mentioned, use any blend of greens you like, but I prefer mild, nuetral greens for eating raw. For this salad I used about 20% chickweed and 80 % lamb's quarter, since the chickweed was pretty large.