Here's a fun twist on classic fruit leather using a basic puree of knotweed I mention in my post on Japanese Knotweed. It has a nice, slightly tight apple flavor and is one of the best knotweed recipes to serve to people who may not like the texture of the plant when cooked like rhubarb.

Lately my pastry chef has been cutting these into strips, tying them in knots, and serving them on the complimentary petit fours plate we serve at The Salt Cellar to finish each meal.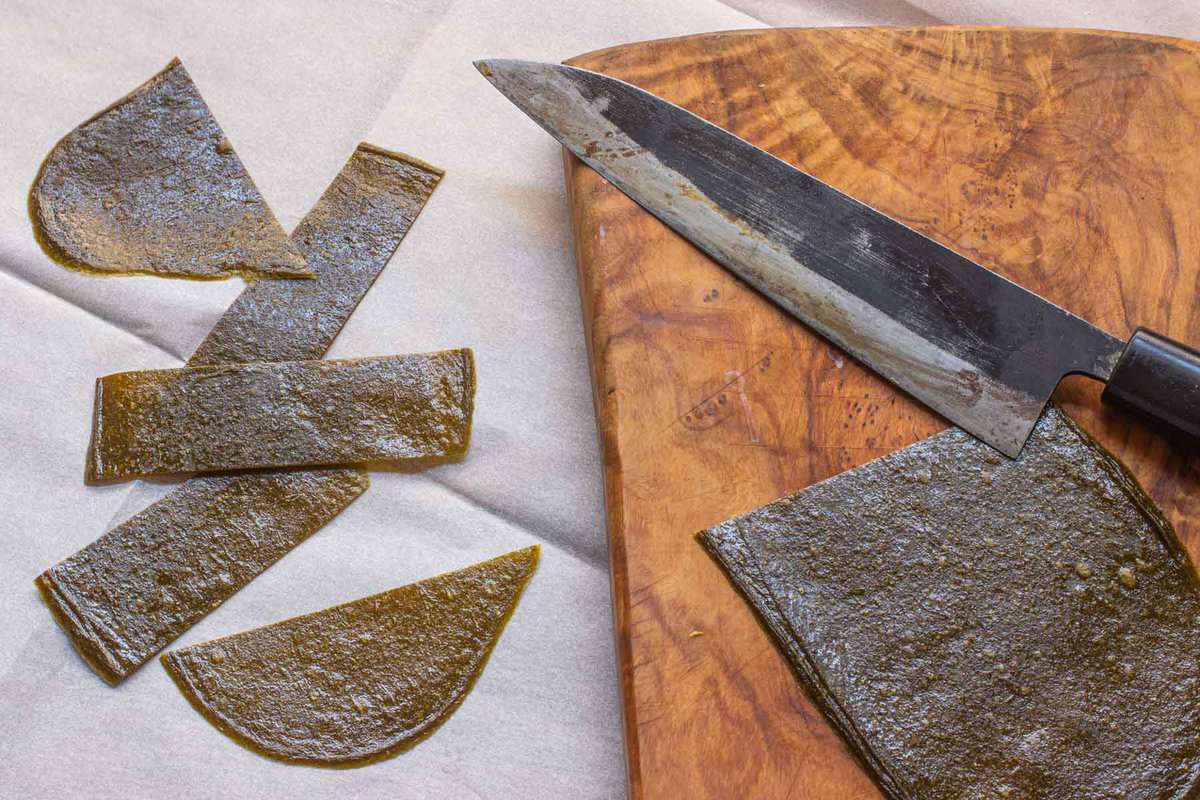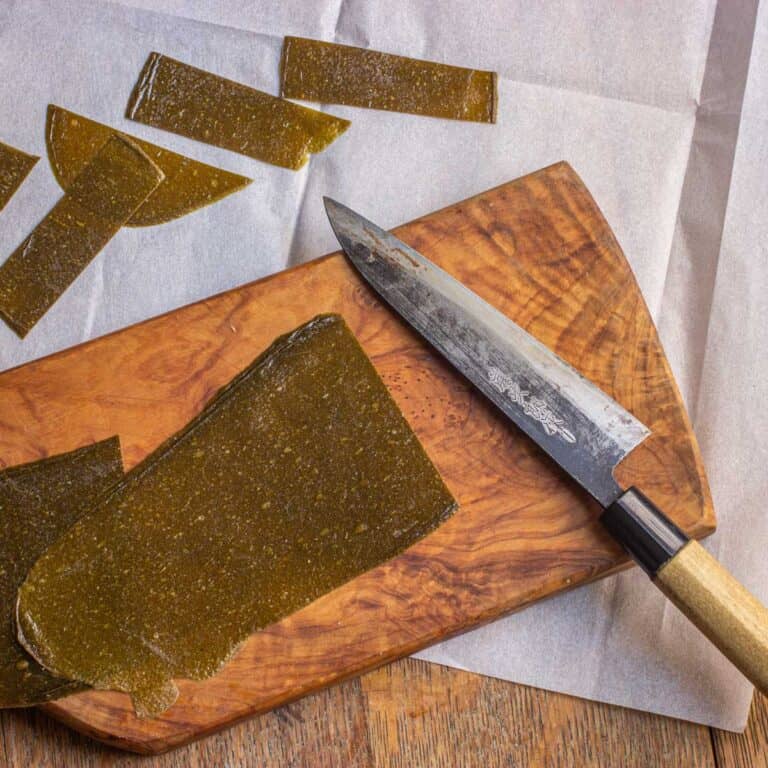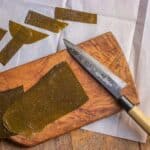 Print Recipe
Knotweed Fruit Leather
Japanese Knotweed Fruit Leather, made from knotweed and apples. Makes enough for 6-8 people as a snack.
Ingredients
3

lbs

Japanese Knotweed

3

lbs

baking apples

like granny smith

2

tablespoons

fresh wild peppermint leaves

torn (optional, spearmint could be substituted)
Instructions
Peel the fruit. Chop the knotweed and fruit into 1 inch pieces. Put the apples and knotweed into a deep sided pan and cook on medium heat, stirring occasionally. Cook the fruit and knotweed until completely soft and the knotweed has given up it's juice, about 20 minutes. If the mixture looks very watery, reduce a bit longer. Transfer to a blender, add the mint leaves and puree until as smooth as possible. You should be left with a thick, smooth puree.

On a nonstick baking sheet, (silicon works like a dream) spread the knotweed puree with an off-set spatula until even and smooth, about ⅛ in is great. Now all you do is dry it completely and it's done, easy-peasy.

At the restaurant, I put the knotweed on silicon sheets and dry it in an oven turned off with the fan still running, which takes just a few hours. At home, you could put the silicon sheets in a dehydrator, or for an old school approach, place the fruit puree in the sun with a fan on it too. Drying slow in an oven on the warm setting would work fine too.

The knotweed is done when it's completely dried, it should still be somewhat pliable when bent. Store the knotweed in a labeled, airtight container, it will keep, unrefrigerated for a long time.
Notes
Equal parts knotweed and fruit, cooked and pureed, then spread thin and dried. I'm use a highspeed vita-mix blender for this, if you have a regular blender, you might need to add a little more water to get it to be perfectly smooth. I added apples as a natural sweetener, pears would also be great. This can also be made with only knotweed, but you will want to sweeten it somehow or it will be brittle. 
Nutrition
Calories:
99
kcal
|
Carbohydrates:
25
g
|
Protein:
2
g
|
Fat:
1
g
|
Saturated Fat:
0.1
g
|
Polyunsaturated Fat:
0.2
g
|
Monounsaturated Fat:
0.1
g
|
Sodium:
7
mg
|
Potassium:
538
mg
|
Fiber:
6
g
|
Sugar:
16
g
|
Vitamin A:
212
IU
|
Vitamin C:
17
mg
|
Calcium:
125
mg
|
Iron:
0.5
mg