For a lot of people, Goldenrod probably conjures up images of brilliant yellow blooms in the middle of summer. I like seeing goldenrod flowers too (for their color-not culinary purposes as the flowers are tough, with the exception of the well-known goldenrod tea) but the shoots and young growing tips are actually a vegetable that you can harvest in decent quantity, eat, and, possibly enjoy, if you can take some strong-flavored greens.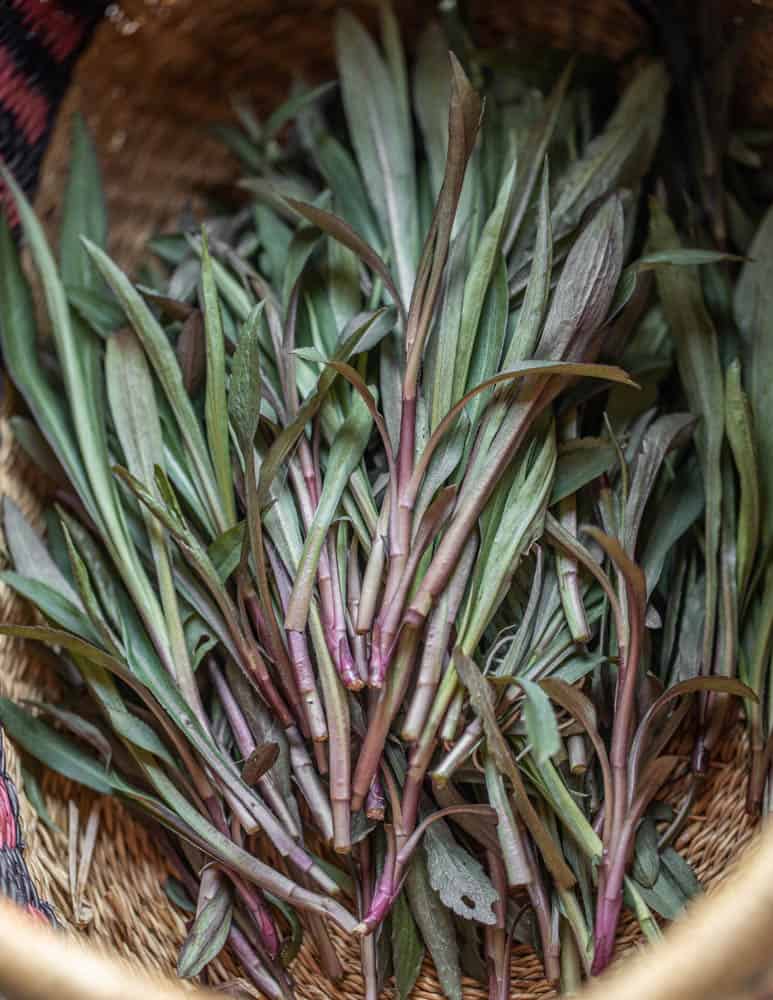 My first experience with goldenrod came a few years ago during one of my outings before my chef kitchen shift started. I was scouting a patch of Japanese knotweed someone had tipped me off to, and, everything looked great, until I got closer and noticed the plants looked sickly, with some irregularly yellowed and wilted-a sign plants have been sprayed. I knew I wouldn't be bringing those in for restaurant service.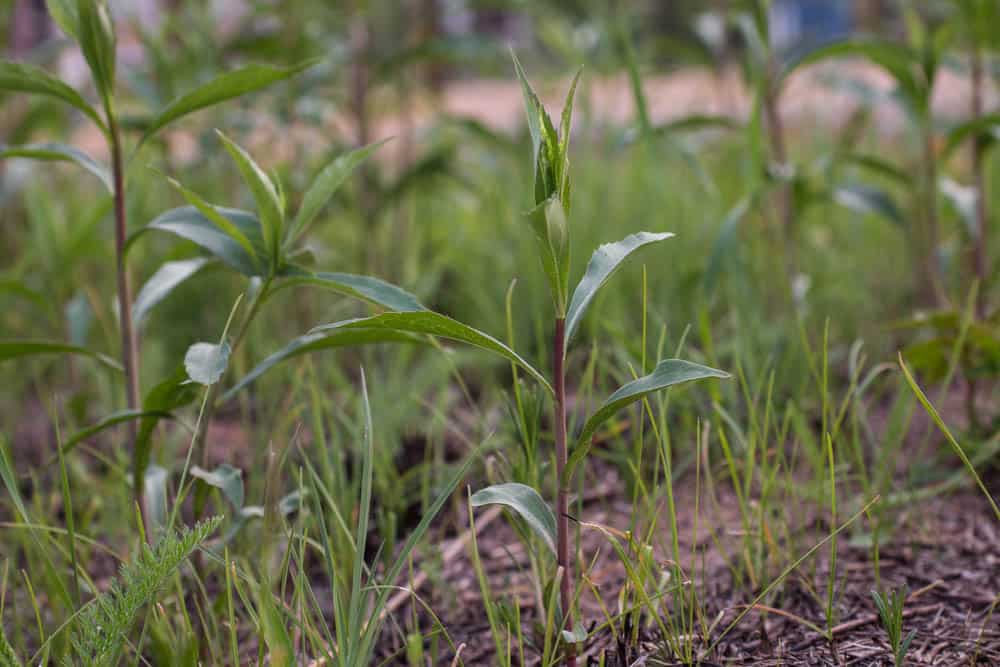 On the way back to the car, defeated, and not at all curious about what a meal seasoned with Glyphosate would taste like, I spied a few goldenrod shoots. I'd heard a few people mention that they eat the young shoots, so I brought a handful home as a consolation prize.
A nibble of some of the fresh leaves revealed a strong flavor, but I'd tasted worse. In fact, cooked up with some fish sauce, sesame oil and hot chili I thought the shoots were decent enough to eat a whole two-ounce serving.
Last year, on a Foray with my friend Linda Black Elk, a Native American Ethnobotanist, I was reminded of goldenrod again when she told me she enjoyed eating the tender tips/tops in early summer, comparing the flavor of the ones we sampled in Wisconsin to cilantro, which gave me another part of the plant to try.
For the record I think both tender shoots and tips are fine, but if pressed, I'd say I prefer the shoots with their larger amount of tender stem.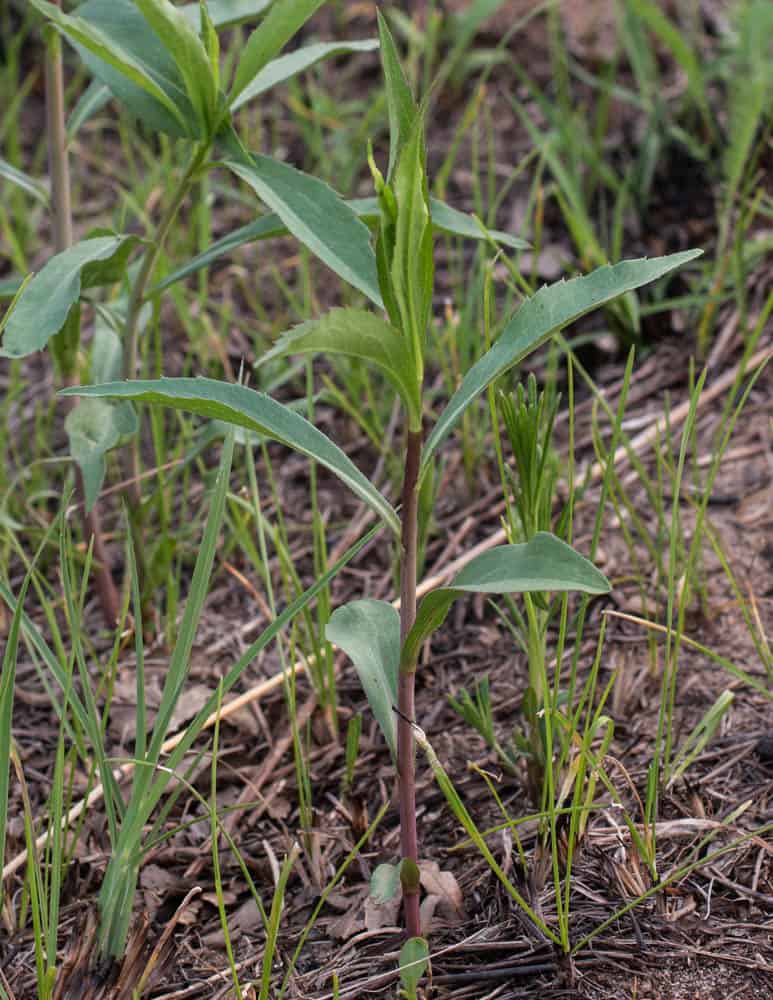 There's a lot of different species of Goldenrod, and flavor can apparently vary between them, so, know that for the purposes here, I've only eaten from the Canada Goldenrod complex (what I'd assume are Solidago canadensis and maybe one other).
I obviously can't speak for all species of them, but the ones I've eaten were fine: just don't judge them on a raw nibble from the field, and don't expect to eat half a pound of them like a hungry person could with a mild tasting plant like nettles.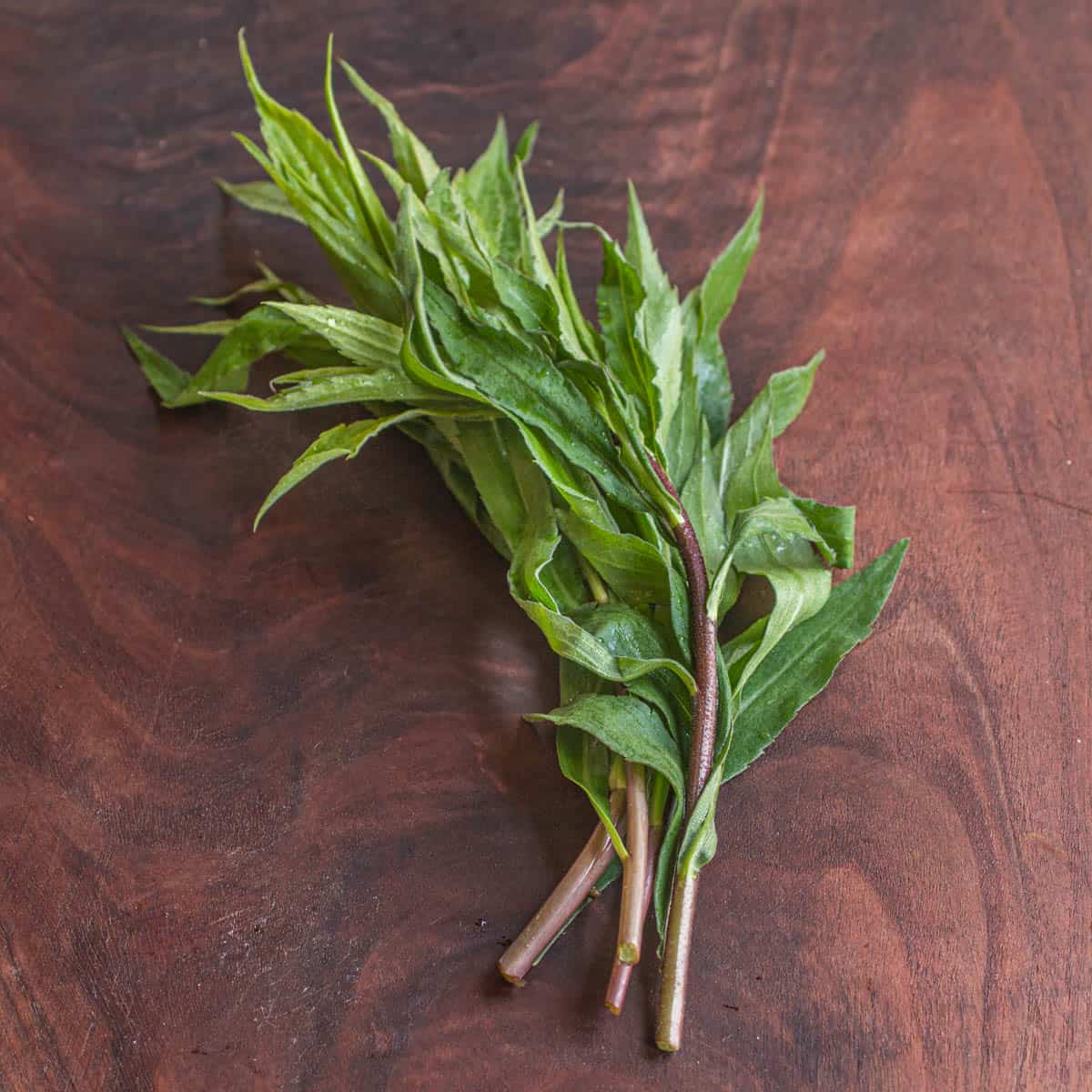 The Aster Flavor
Goldenrod shoots and young growing tips of the plant I've eaten are a good example of the taste I think is best described as "aster flavor". It's a strong taste, reminiscent of the herbaceous (albeit much milder) taste of celery to some. I taste aster flavor in a number of different plants in the Asteraceae / daisy family.
To clarify here, I'm not talking about plants in the genus asters here (they could very well have some of the same flavor, I just haven't tried them) but rather their cousins in the Asteraceae family that include many different plants like sochan, dandelions, sunflowers, and others.
Sunflower sprouts and high quality sunflower seed oil like the one produced by Smudes of Pierz Minnesota share notes of the flavor I'm describing here too, but in them the taste mingles with the flavor of sunflower.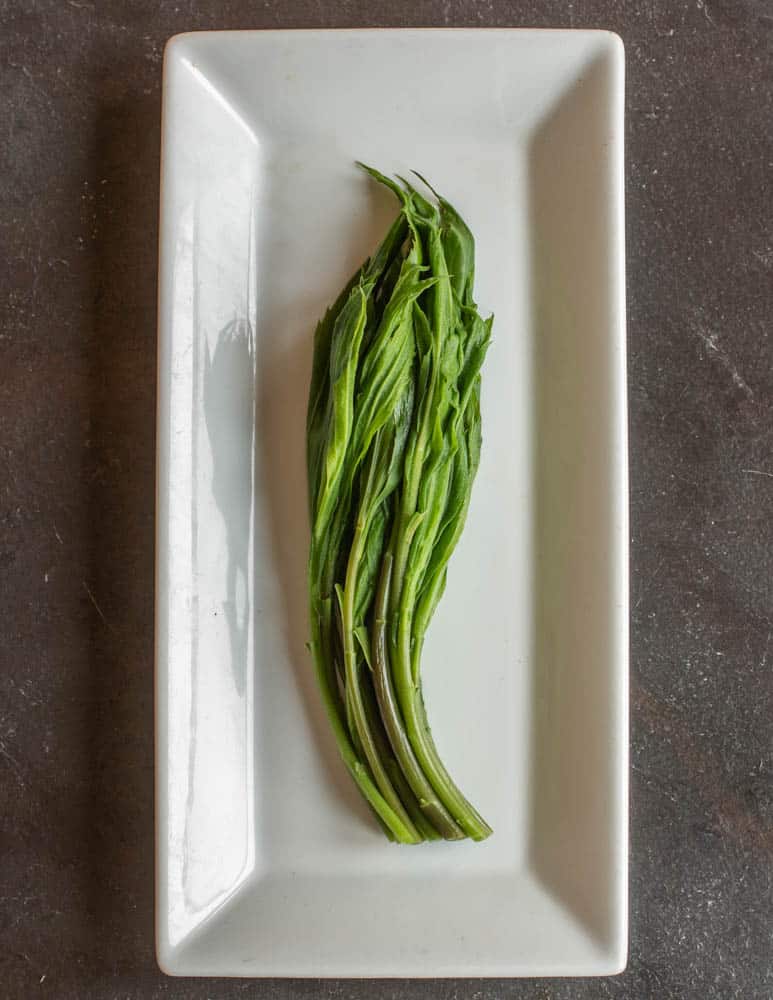 Tasting experiment
Out of all the plants I've tasted that have aster flavor, goldenrod shoots are one of the strongest tasting examples, sochan harvested at it's height maturity (and toughness) probably being a contender. But, dressed with some tasty sauce, or mixed with some other greens and seasoned, they're much more mild. With that in mind, I have a fun tasting experiment for you to try.
Here's the jist of the experiment: blanch a handful of shoots for a minute or two in salted water, then drain them and eat one, maybe two. As you eat, notice the flavor, and your reaction to it-good, bad, interesting, nice texture but too strong tasting, all-around awful, etc.
Next, take one of the same shoots and dip it or dress with a condiment you like. I've been eating ramp salsa verde on things again this year, but garlicky aioli, spicy mayonnaise spiked with sriracha or just your favorite aggressively seasoned, creamy, or acidic saucy thing will do. As you eat the shoot(s) dressed with a condiment, consider the flavor.
I think you'll find it much more mild and palatable, and, if you like strong-tasting greens like I do, maybe even (gasp) pleasurable, or at least interesting.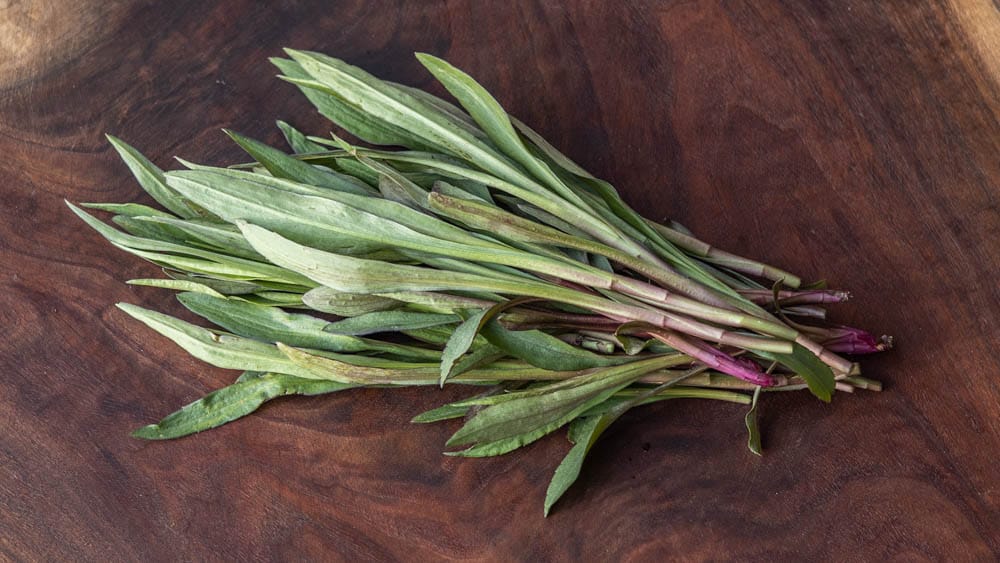 I used to have my cooks mindfully taste things like this: noticing how flavors work and compliment each other on the palate, specifically how adding one thing to another often isn't as simple as 1+1.
One thing I learned over all my years in the kitchen is that sometimes I don't truly know how something is going to come together and work until I put it in my mouth, chew it, and go through the entire eating process.
However you end up feeling about them, I think it's helpful to keep in mind that some of the Japanese sansai plants (a catch-all term for a variety of spring plants ranging from Knotweed, hostas, and shoots of the Japanese angelica tree) are probably much stronger tasting than any goldenrod shoots, and are eaten with relish every year, despite, or even because of the strong flavors every year in Japan.
Side note, I wrote a blurb for a great little book on the subject of Sansai (Eating Wild Japan) that just came out. I found it an interesting glimpse into another culinary world with plenty of obscure tidbits and preparations for sansai, many of which I'd never heard of before-it's a good read if you're interested on the topic.
The recipe here is a fun one loosely based on Japanese and Korean combinations. It's good with many different greens, but especially good with stronger tasting ones as it has a lot going on: fish sauce umami, nutty seeds, flavorful oil, acid, and heat from the chili. You could substitute many different nuts of seeds in the sauce, but sunflowers, and Smudes oil are local to me, and a combination I really enjoy.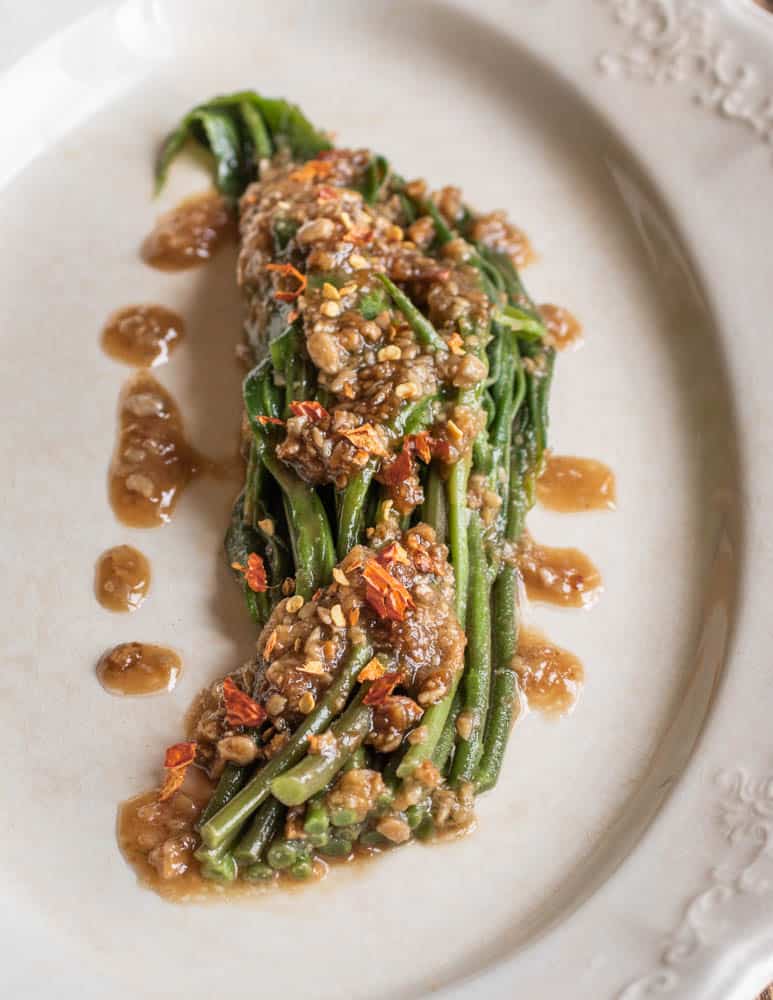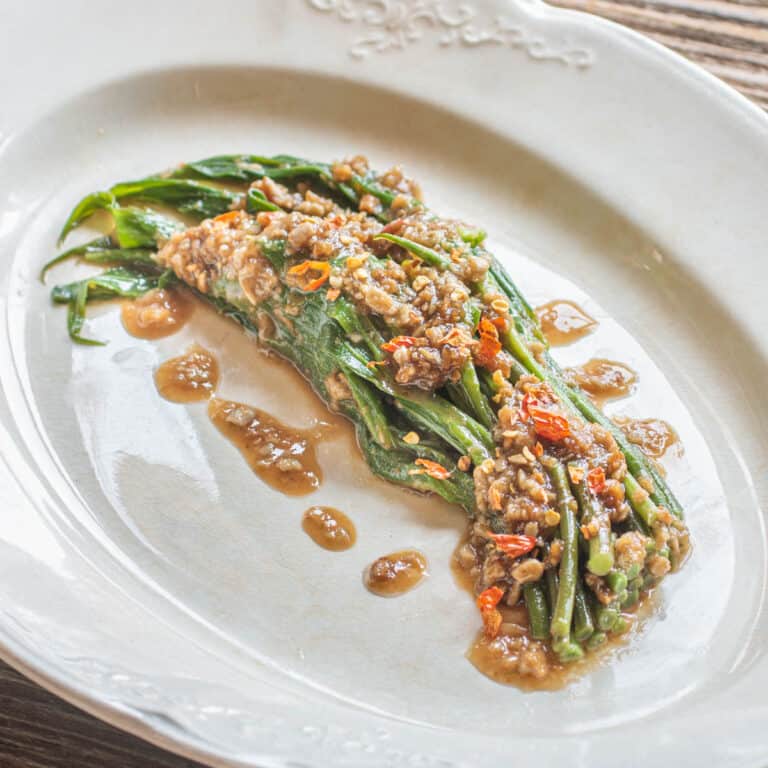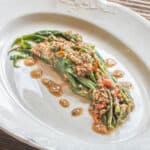 Print Recipe
Goldenrod Shoots with Sunflower Vinaigrette
Young goldenrod shoots with a sauce made from sunflower seeds, oil, fish sauce, maple syrup and chili. makes enough to dress 2-4 servings
Equipment
1 3 quart soup pot or similar for blanching
Ingredients
4

tablespoons

sunflower seeds or your favorite nuts or seeds

1

tablespoon

fish sauce

½

tablespoon

apple cider vinegar

or rice wine vinegar

1

tablespoon

Smude's sunflower oil

1

tablespoon

maple syrup

2-4

oz

Goldenrod shoots

lower leaves removed to reveal the "shoot" (optional)

Hot chili

preferably crushed red pepper flakes but a dash of hot sauce can do*
Instructions
Blanch the goldenrod shoots or other greens in boiling salted water until just tender (1 min or to your taste) then spread out on a towel to drain.

Toast the seeds or nuts, then grind to a paste in a mortar and pestle, and stir in the remaining ingredients.

Toss the sauce well with the greens, double check the seasoning, adjust as you see fit for salt and sugar, and serve room temperature or cooled.
Notes
*In the image I garnished the shoots with some dried Thai chilies, sprinkled to control their intense heat.
Nutrition
Calories:
153
kcal
|
Carbohydrates:
12
g
|
Protein:
5
g
|
Fat:
10
g
|
Saturated Fat:
1
g
|
Polyunsaturated Fat:
5
g
|
Monounsaturated Fat:
4
g
|
Sodium:
710
mg
|
Potassium:
237
mg
|
Fiber:
2
g
|
Sugar:
7
g
|
Vitamin A:
225
IU
|
Vitamin C:
2
mg
|
Calcium:
37
mg
|
Iron:
2
mg