If you've read mushroom field guides, or have spent any time watching mushroom flavored media, you're probably familiar with Cordyceps: the group of mushroom species famous for taking over the bodies and minds of insects to do their reproductive bidding.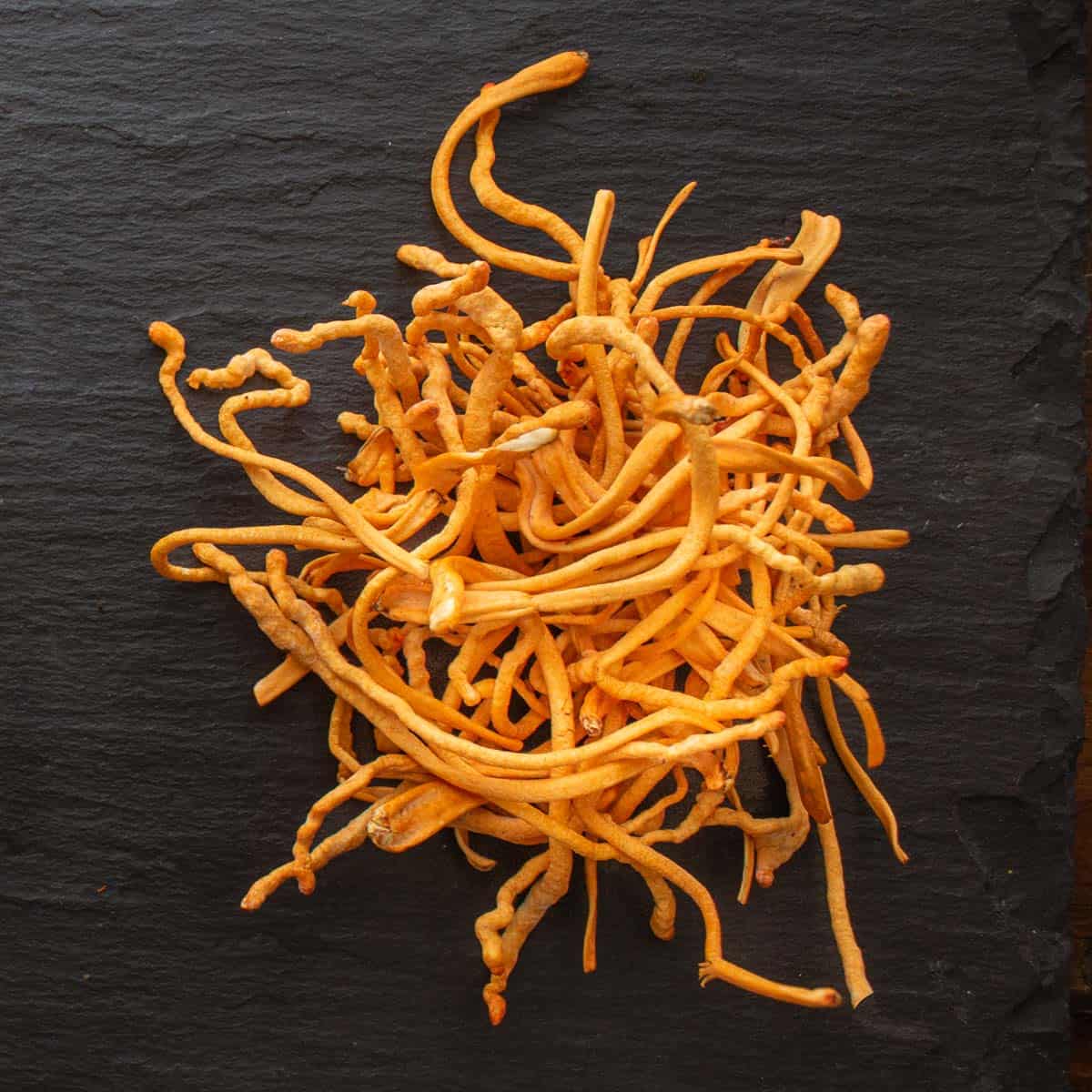 Long story short, the fungus infects insects (ants seem to be the most well known) and controls their movements, sending them to a high perch, where a metamorphasis begins. The mushroom kills the insect, then sprouts a fruiting body from their head, spreading the spores to all the unsuspecting insects below, hopefully repeating the process.
That's the lifecycle that most mushroomers are aware of, especially those interested in medicinal mushrooms, as cordyceps are said to have a number of different positive properties, and are what they're most well known for in the area of human consumption/ingestion. What I wasn't aware of about Cordyceps, is that they can apparently be grown on substrates that aren't insects. There's some solid information online, but I never thought to look it up. That changed when I walked by my favorite mushroom store in San Francisco a few weeks ago: Far West Fungi.
The store always has an impressive amount of fresh, wild and cultivated mushrooms for sale, but today they had baskets of thin, orange club mushrooms I hadn't seen in addition to the usual suspect. I saw the label said Cordyceps, and I thought to my self: "are they selling them as medicine, or what? I didn't have any reason to, but I doubted they were for eating.
While I browsed through jars of preserves and related fungus flavored swag, I saw a chef come up in his whites walk up to the register. He walked with a quick pace, dirty towels tucked in the tie of his apron, and ask if they had more Cordyceps than what was visible for sale, informing the woman behind the counter that he had them on one of his specials that day.
Another customer heard what he said and inquired "you can eat Cordyceps!?" "Yes" the woman behind the counter replied, mentioning something about them being grown on rice instead of the whole insect-zombie scenario. They had my attention now, I grabbed a little basket of the noodle-y orange fungus and got in line behind the chef, to make sure that he didn't clean the place out.
I put the mushrooms in a plastic box from Japan Town (they have everything you'd ever need made of plastic and ridiculous packaging), packed it full of some damp paper towels and put it in my luggage. After I got back to Minnesota, I took them out and threw a few in a pan. The mushrooms taste, like mild mushrooms, but they finish with a sweet note. it's not the sort of sweet that makes you want to put them in a dessert, it's more like the savory sweetness a tomato can have when it's nice and ripe, or a an onion after it's been cooked down, honey mushrooms have a similar sweetness, I think. Club mushrooms I've eaten can have a similar sweetness.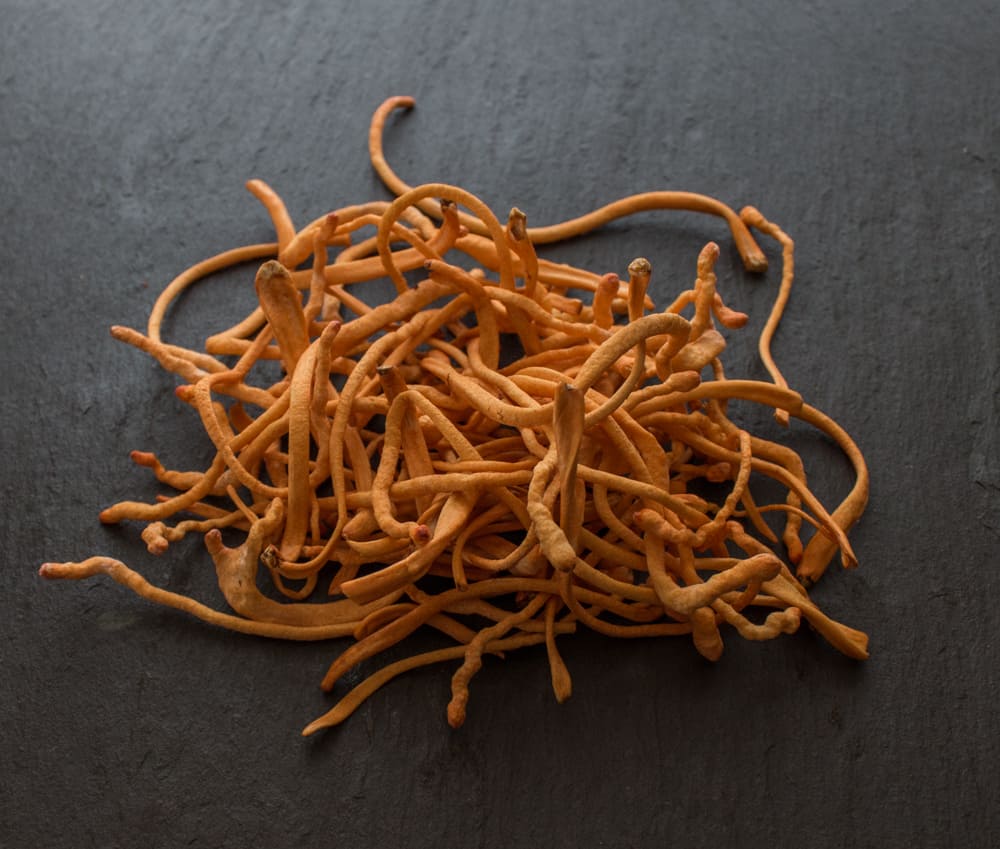 Wanting to know the exact species, I did some digging. I didn't see a lot of accounts of eating them online, but a quick google for orange Cordyceps told me what I had was some sort of Cordyceps militaris. After I figured out the basic species, I consulted my guides. The only book I have to even mention them was Mushrooms Demystified, the stay at home Bible guide that any shroomer should have. Arora mentions their fruiting mechanism, predilection for ant mind control, the basic things you'd suspect, but under the edibility portion of the species profile it read...unknown. I think the only lingering question I might have is of course, if you can eat other cordyceps, but considering that in the kitchen they were kind of a novelty (a tasty one, don't get me wrong) and have pretty scarce availability, I'm content with the taste of them I got.
The cordyceps weren't mind blowing, but they definitely weren't bad, I do wonder though, how different the wild species must taste compared to the cultivated rice strains.
Since the mushrooms are long, spindly, and look a bit like noodles, I tossed a hefty ratio (almost 50/50 by volume) with some pasta and chowed down, note how the recipe is labeled "Cordyceps with linguine, not linguine with cordyceps. It was great, but it would be great without the pasta, too, for a multicourse dinner. For a pasta-less version the warm Cordyceps twirled around a fork on top of some dressed watercress or salad greens would make a fun app.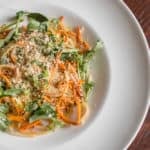 Print Recipe
Cordyceps with Linguine, Shallots, Watercress and Chives
Serves 2 as a light entree
Ingredients
2

ounces

fresh Cordyceps mushrooms

whole

3

ounces

dried

high quality linguine or spaghetti, preferably Rustichella, or Masciarelli

1

tablespoon

toasted breadcrumbs

2

tablespoons

extra virgin olive oil

plus more for finishing

1

large shallot

cut in half, then juliened thinly

2

tablespoons

fresh sliced chives

¼

cup

dry white wine

Kosher salt and pepper

to taste

A good handful of fresh watercress

trimmed into 1-2 inch pieces

Dried red pepper flakes

optional, to taste
Instructions
Gently cook the shallot and oil in an 8 inch saute pan, stirring occasionally, until the shallot is wilted and soft. Add the wine and reduce by half.

Add the cordyceps to the pan and wilt, then turn off the heat. Meanwhile, bring a pot of salted water to a boil and cook the pasta until al dente.

Drain the pasta, then toss with the mushrooms in the pan. Double check the seasoning for salt, add some of the chili flakes to taste if using, then toss in the watercress and chives, season with a little more olive oil to taste, return the pan to the heat just to warm through, to avoid over cooking the cress and the mushrooms, and divide the pasta between two warmed bowls, garnishing with the breadcrumbs and chives.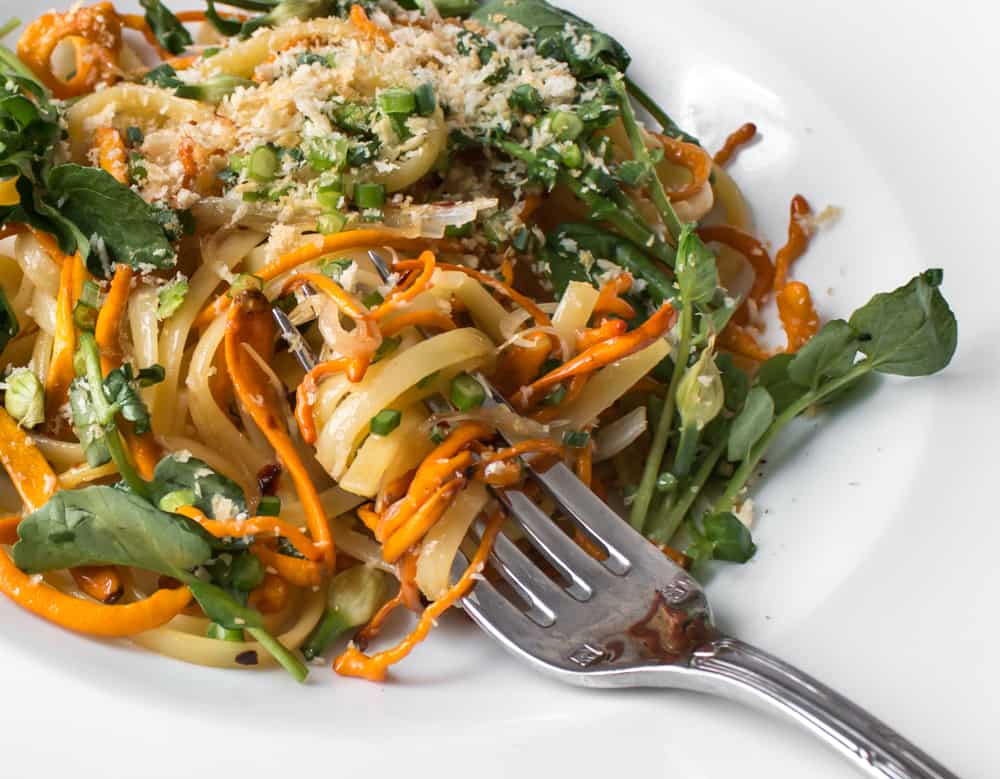 Cordyceps Videos
Here's a couple good videos of Cordyceps doing their thing. My favorite is Planet Earth.