One of the best ways to serve coral mushrooms is in broth. You can change the other ingredients up depending on what you have. Here I've used hominy and wild chervil, but you can add all lots of different things.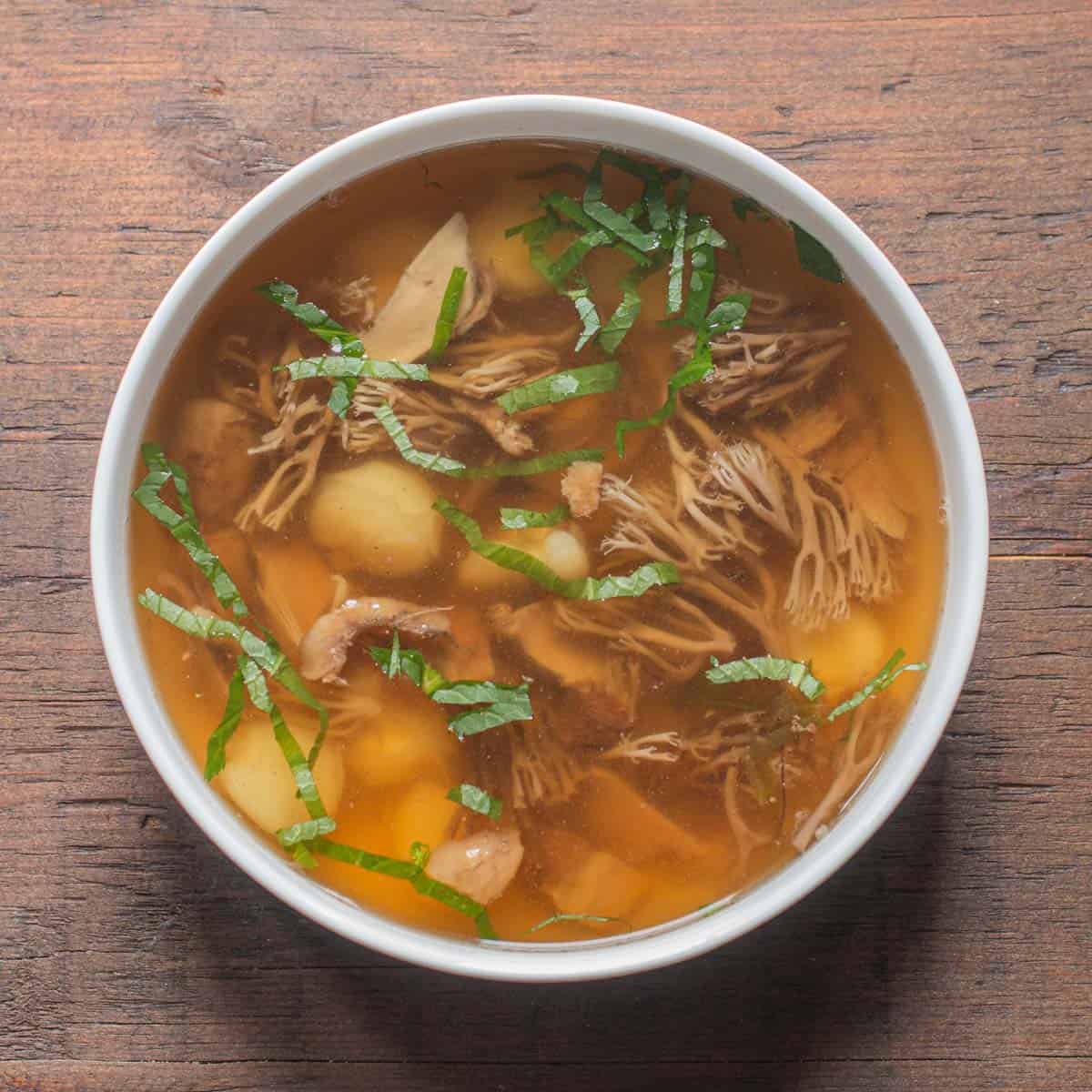 Crown coral mushrooms (Artomyces pyxidatus) are, ok. People might pick them and be unimpressed when the mushrooms hit a pan, deflate, and cook down to an off-grey nothing. Crown corals will always lose a lot of volume sauteed or browned up like most people are used to cooking mushrooms, it's just what they do.
I don't harvest them every time I see them, but if I see a good pearly white cluster, I'll take them, and if I want to show them off, just like with yellowfoot chanterelles, that also lose volume when cooked, I'll have them with broth. Simmering delicate mushrooms like crown corals or yellowfeet in broth is good as the mushrooms aren't caramelizing, so they will keep a certain amount of color and a better texture.
For a good broth, all you really need is a piece of meat attached to some bones, and small game is great for this. Squirrel, rabbit, pigeon, anything small, or even something like a cornish hen or a couple pheasant legs would be good too.
To make the simple broth the example here I added a few garnishes, things that will look good in a clear broth and not make it cloudy. I had some hominy, but a lot of things would be good here, just make sure they won't cloud up the broth. Pre-cooked garnishes are great in broths: cauliflower florets, peas, small pieces of carrot, you get the idea.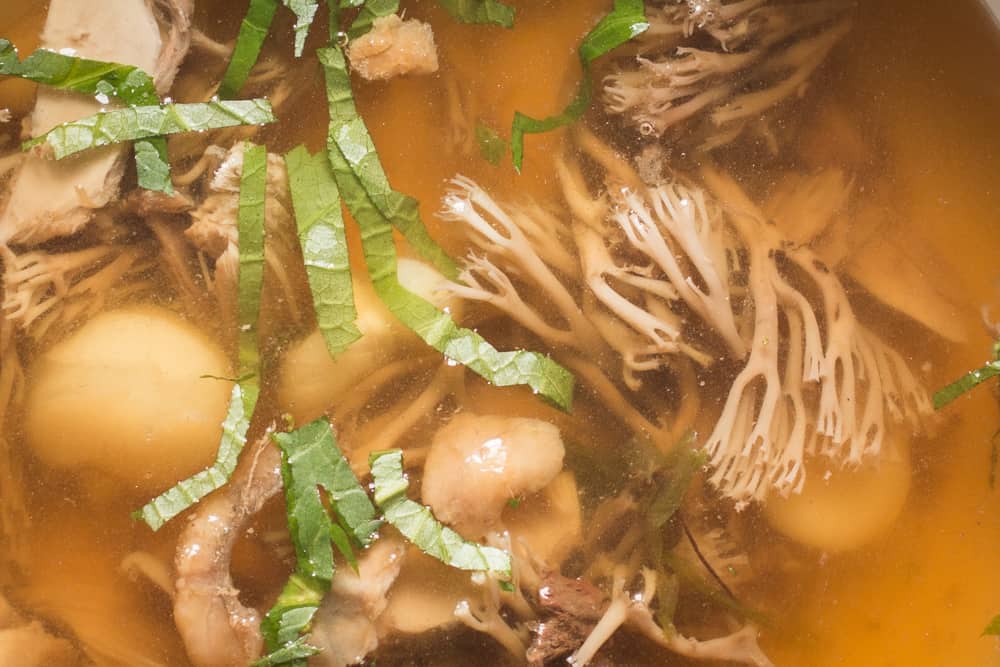 Finally I added some mitsuba (Cryptotaenia canadensis) instead of parsley, but a little parsley or another fresh herb would be fine too, and larger pieces of torn leaves will give more of a flavor pop.
This is meant to be a light entree, or lunch, but if you add some extra vegetables, or ladle it over wild rice, or another cooked grain, it will be more substantial. Since broth with mushrooms and a couple ingredients is so easy to make I'm just going to outline a method, without specific proportions here. 4 cups of broth and garnishes will serve 4-6 people.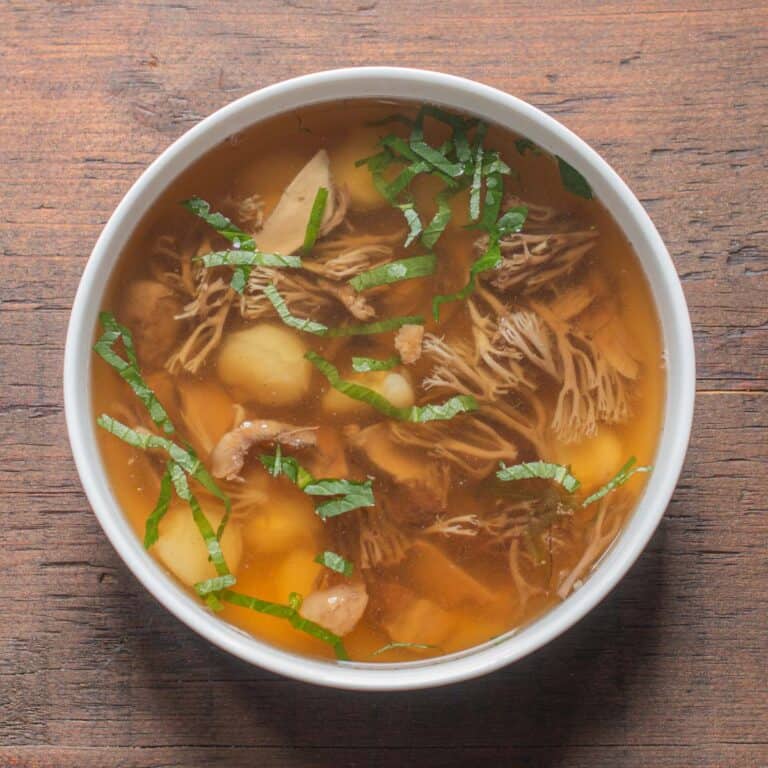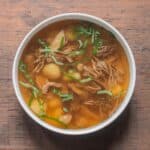 Print Recipe
Crown Coral Mushrooms in Broth with Mitsuba
Crown coral mushrooms in meat broth with mitsuba or Japanese parsley. Using 4 cups of broth will feed about 4-6 people.
Ingredients
2

oz

Tender leftover cooked meat

(I used squirrel confit) or leftover braised meat, roughly chopped, to garnish

4

cups

Meat or vegetable stock

As needed for cooking

2

oz

Crown coral mushrooms

a couple handfuls

Mitsuba

parsley, or cilantro, finely shredded or coarsely chopped, to garnish

3

oz

Cooked or canned hominy

to garnish

Kosher salt

to taste

1

oz

Cooked wild rice or another grain

on the side (optional)

Extra virgin olive oil

or another finishing oil, for garnishing (optional)

Dash of fresh lemon juice

to taste
Instructions
Clean the coral mushrooms and cut into 1 inch pieces that can fit in a spoon.

Heat up some broth, about 1 cup per person, then add the hominy (if you use canned hominy, rinse it).

Simmer for 5-10 minutes until the mushrooms are completely cooked and wilted, then double check the seasoning for salt, adjust until it tastes good to you, add a dash of fresh lemon juice and the mitsuba, and serve.
Notes
Other mushrooms that are great in broths are Ramaria, and Winter Chanterelles. 
Nutrition
Serving:
5
oz
|
Calories:
570
kcal
|
Carbohydrates:
14
g
|
Protein:
2
g
|
Fat:
57
g
|
Saturated Fat:
17
g
|
Polyunsaturated Fat:
12
g
|
Monounsaturated Fat:
25
g
|
Cholesterol:
48
mg
|
Sodium:
3763
mg
|
Potassium:
180
mg
|
Fiber:
1
g
|
Sugar:
9
g
|
Vitamin A:
2002
IU
|
Vitamin C:
1
mg
|
Calcium:
2
mg
|
Iron:
0.3
mg