With it's beautiful emerald green color, crisp and refreshing texture, with delicious, mild, and faintly nutty taste and smell, Celtuce is the best vegetable you're not eating.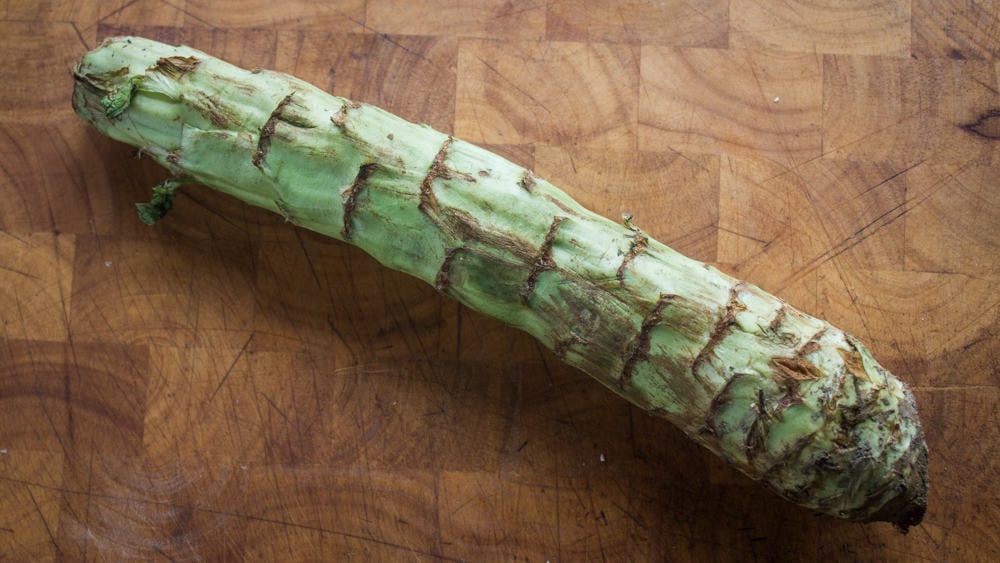 What the heck is it? Well, besides from resembling a strange green wand, often with runty little lettuce leaves on top, celtuce is what I'd describe as a stem vegetable, a type of food that we're not used to eating in the U.S..
I learned about celtuce from Chef Michel Bras (his cook book is old school, and probably the most valuable as a reference for professional chefs) but it's most commonly known in asian cuisine. 
Basically, celtuce is indeed a type of lettuce, but, instead of the lettuce being grown for it's leaves, the stem is harvested and cooked instead. The leaves are edible too, but as celtuce often has quite a journey to get to specialty grocery stores and ethnic markets, the leaves will usually be wilted and unattractive by the time the get to market.
If you're wondering why you've never seen it, it's probably because this stuff can be hard to find, especially if you shop at American grocery stores.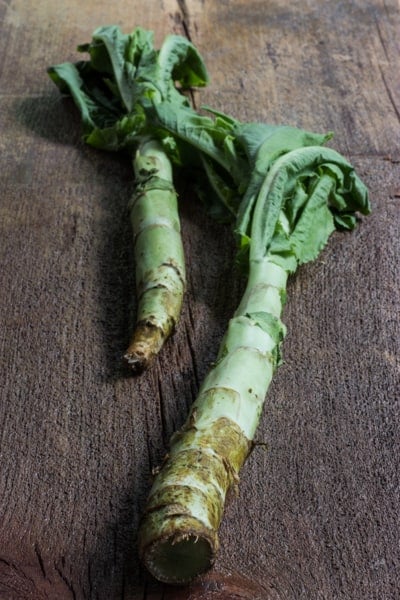 Find celtuce at an Asian grocery store
Americans, as a general rule, don't have an appreciation for vegetables compared to many other cultures around the world.
To get exposed to some new, exciting ingredients, take a trip to a local Asian market. You'll find the vegetables lack a homogenous quality, and, are generally super cheap. A cheap price for veggies does not insinuate a lack of quality, but thats another story.
All their veggies are subject to the same inspection as other U.S. grocery stores. I shop at Asian markets for most of my vegetables (not meat though) and have never had a problem, just be choosy like you would anywhere else.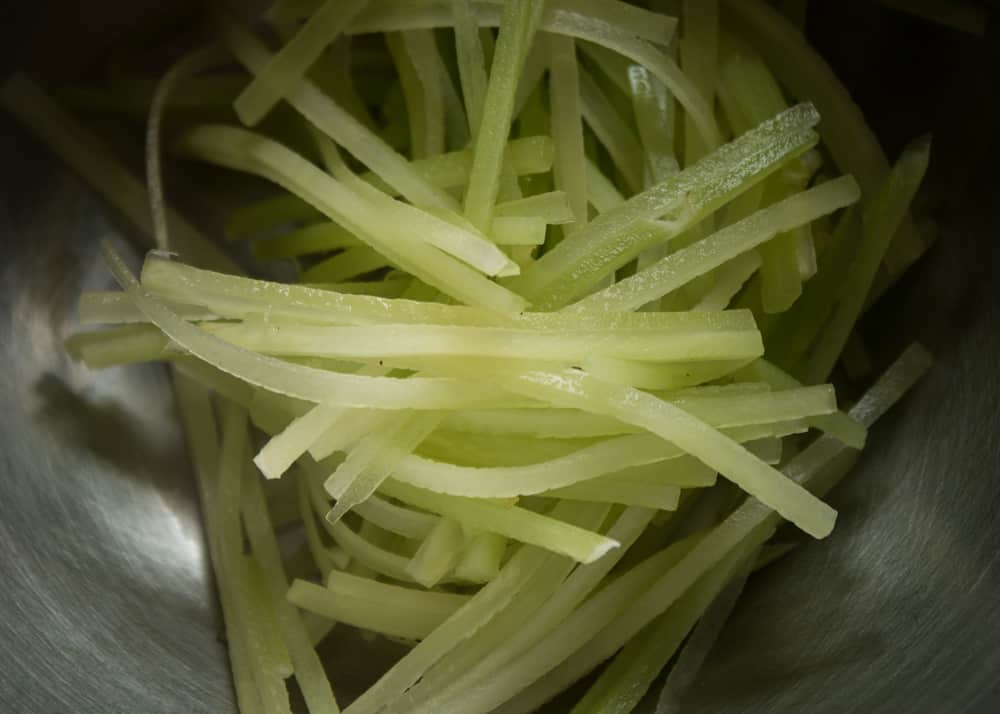 Bitter Celtuce
One year, I bought celtuce from an adventurous farmer in Wisconsin. The celtuce looked exactly like the stuff I purchased from the asian market, but, eaten raw, it was intensely bitter.
After cooking though, it had a superior flavor to the asian market celtuce, a bit like toasted sunflower seeds or creamy nuts. I haven't tasted a variety with a similar flavor since.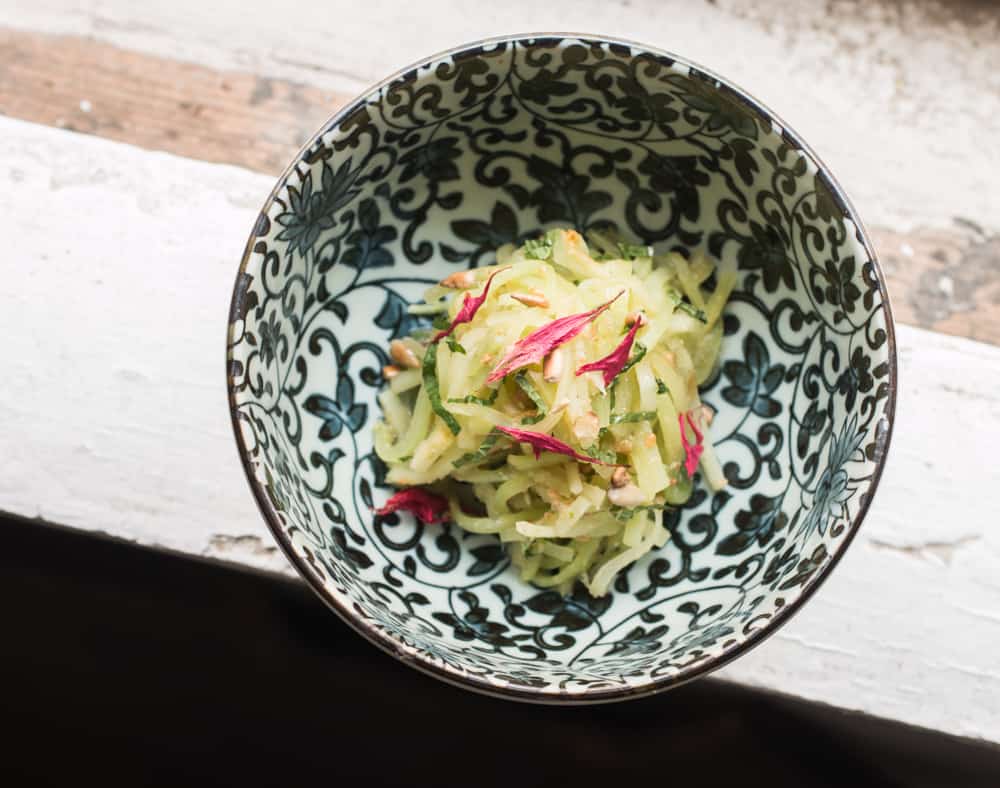 How to peel and cook
Preparing this stuff is easy, but know that the outer skin is tough, and you'll struggle to peel it without a quality peeler. After you peel it, you'll need to peel it again to get underneath the fibers that lie under the skin to reveal the beautiful, jewel-colored heart.
You can also just cut it into sections with a sharp paring knife, and make it square, which makes the cutting and shaving on a mandoline I'm going to describe for you is really easy.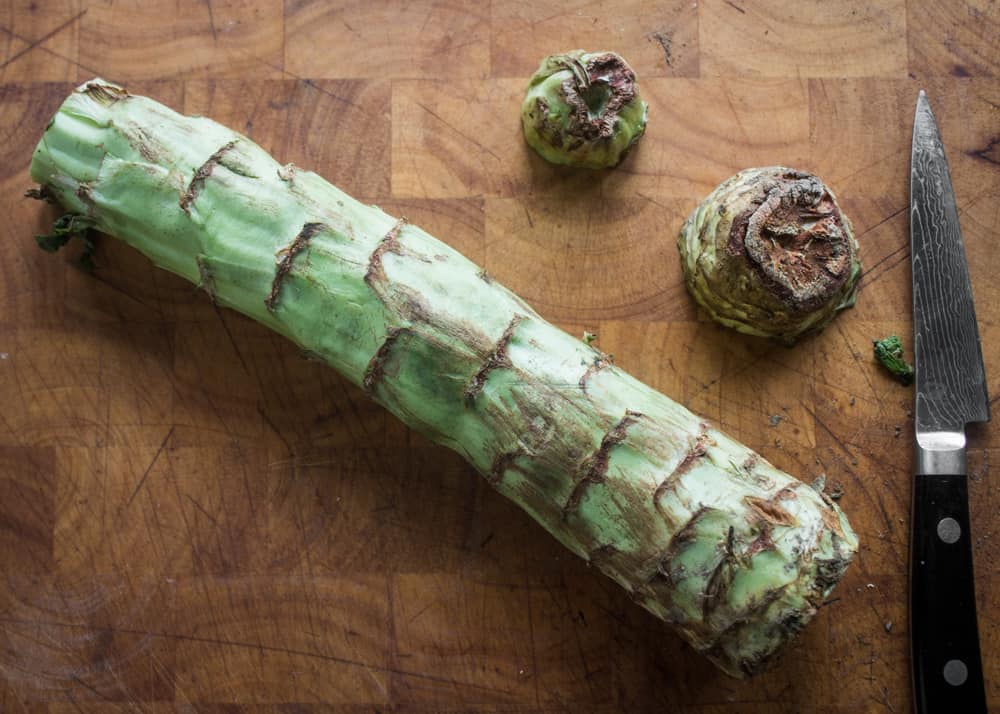 Three easy techniques: shaved, julienned, and peeled
Shaved
Shaving is the most even, and also the first step of a nice julienne, or matchstick cut. To make it easier, you can cut the celtuce stalk into a rectangle for perfect square sides, if you like.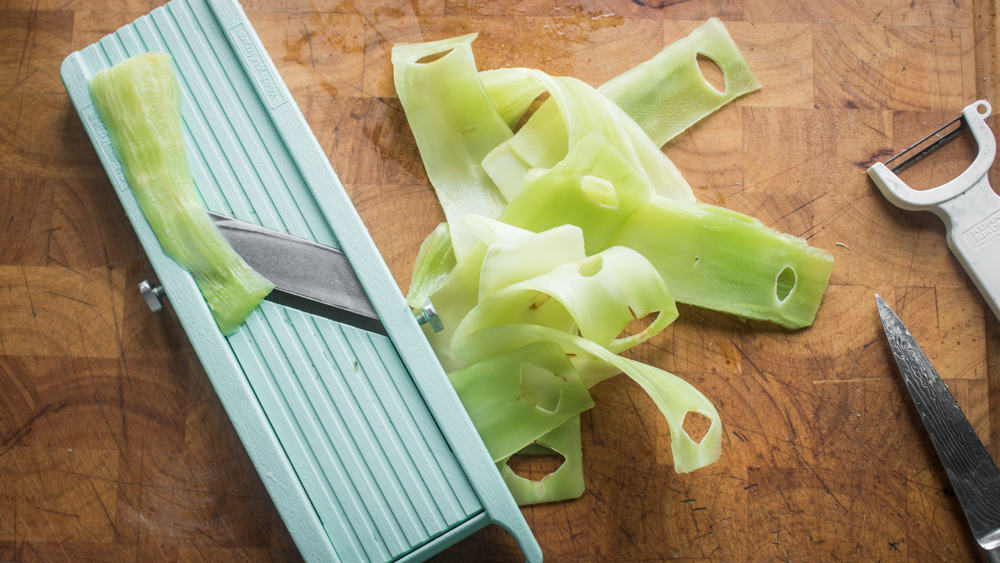 Julienned
After you shave the celtuce on a mandoline, you can cut them into lengths of a few inches, stack the slices together, and cut into matchsticks as fine as you like. The finer the julienne, the more delicate the texture will be.
This is a great beginning for a cole-slaw, but don't even think about adding mayonnaise to it!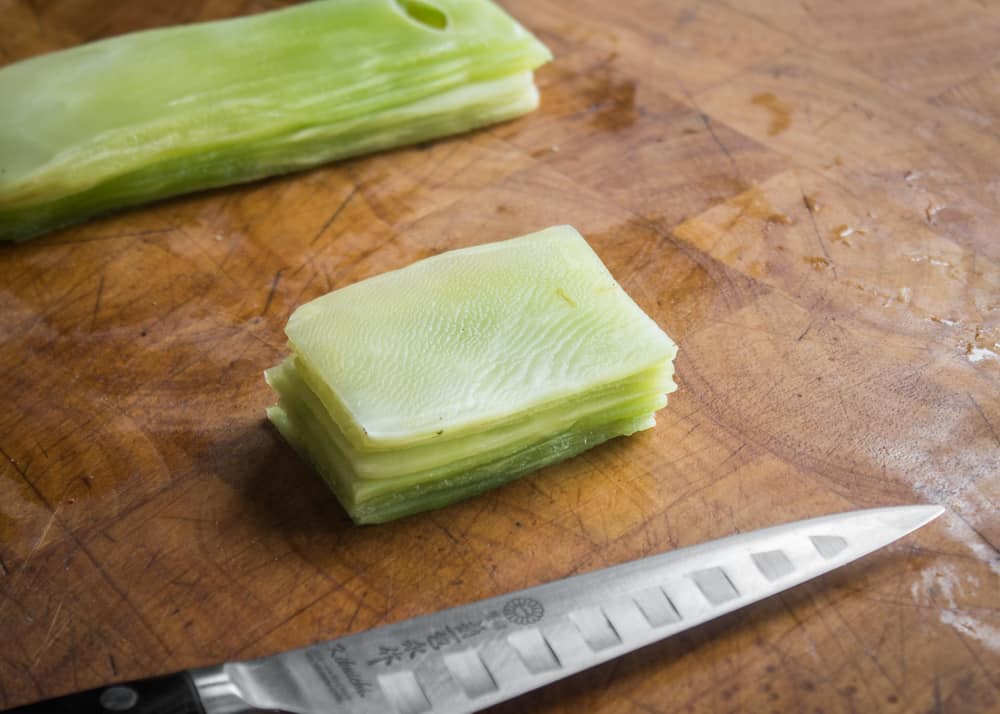 Peeled
This is the easiest way to make a shaved celtuce salad, which could also double as chilled vegetable noodles. Cut the celtuce into manageable lengths, then sqaure them off, and use a vegetable peeler to make paper-thin ribbons.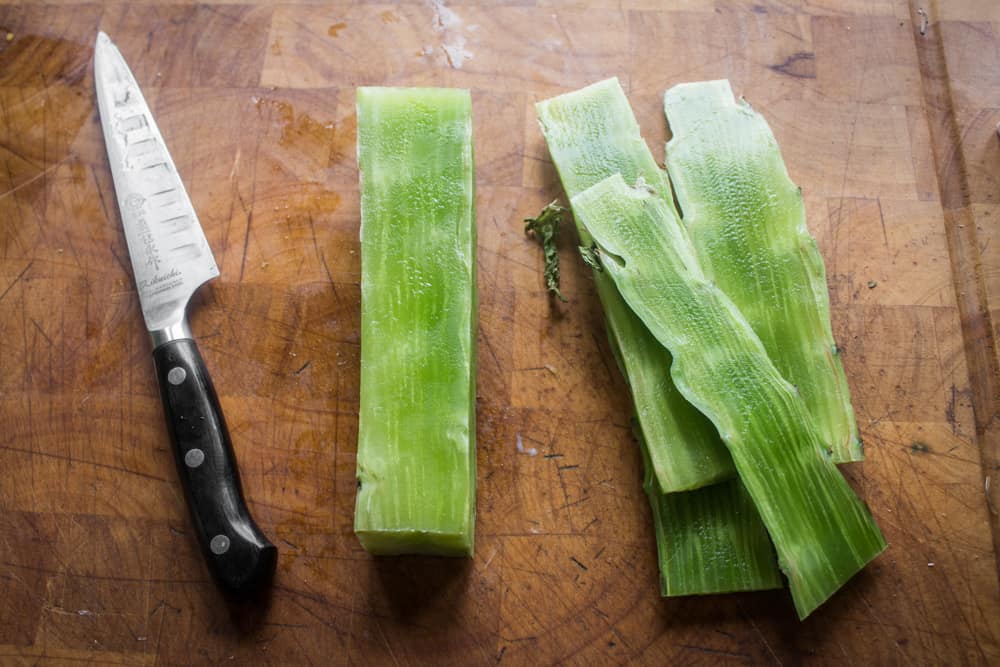 Recipes
The best thing you can do to taste celtuce's sutble, slightly nutty taste is to do as little as possible to it, season it lightly, and don't get too creative.
Also, some sources online might suggest soaking cut celtuce in water to make it crisp, but this will ruin and dilute the flavor, leaving you with a crisp, but watery, bland finished product. For inspiration, look to China, and other vegetables with a similar texture. For example, you could use celtuce anywhere you'd use the following vegetables:
Kohlrabi
Cucumbers
Celery
Radishes
For flavor pairings, think cool, refreshing, and cold preparations. Celtuce would love to be shaved into a vegetable slaw, or quickly tossed with a light, oil-based dressing, and a dash of something sweet. The first time I worked with it, I thought it smelled a bit like sunflower seeds, so I used that as my inspiration.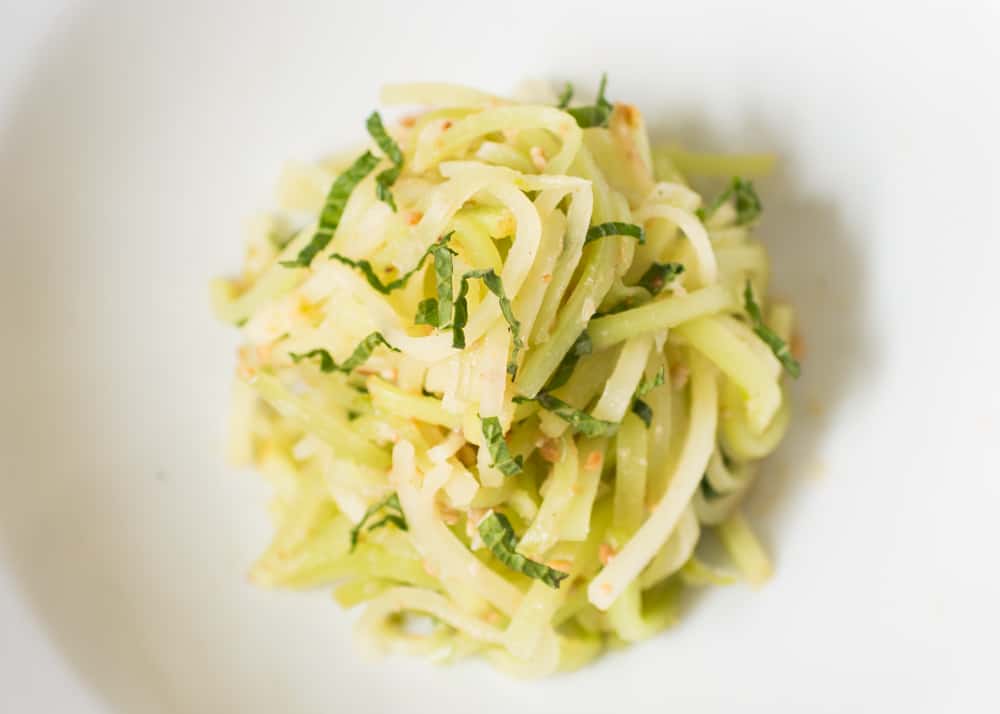 Traditionally you might see celtuce paired with sesame, and that's great too, but as sesame is stronger tasting than sunflower seeds, you won't taste the natural flavor as much, which isn't necessarily a bad thing.
My favorite prep for these so far is a fine julienne, seasoned with a paste of sunflower seeds, a touch of maple sugar, and virgin sunflower oil, similar to Japanese gomae made with spinach.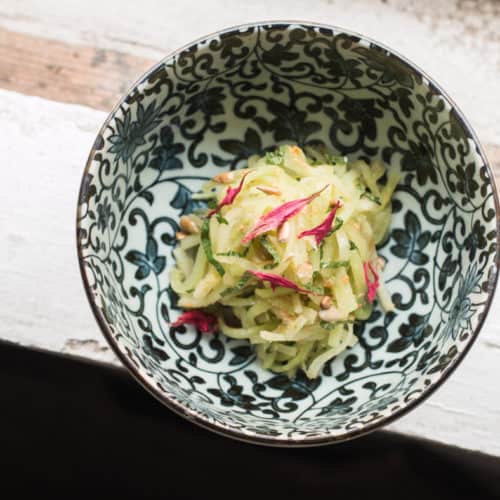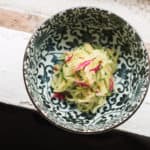 Print Recipe
Celtuce Salad with Sunflower Dressing and Mint
A quick, refreshing salad made with julienned celtuce with a sunflower seed dressing
Ingredients
8

ounces

julienned celtuce

see my tutorial for how to do this

½

cup

raw

unsalted sunflower seeds

4

tablespoons

Smudes sunflower oil

or substitute toasted sesame oil, or another nut oil, like walnut

1

tablespoon

maple syrup or maple sugar

or a sweetener of your choice

1

tablespoon

champagne or apple cider vinegar

Kosher salt

to taste

A few leaves of finely sliced fresh spearmint
Instructions
Toast the sunflower seeds, then pound in a mortar and pestle or food processor, drizzling in the maple, vinegar, and then the oil to make a paste.

Toss the paste with the celtuce, mix in the mint leaves, double check the seasoning for salt and acid, and serve.