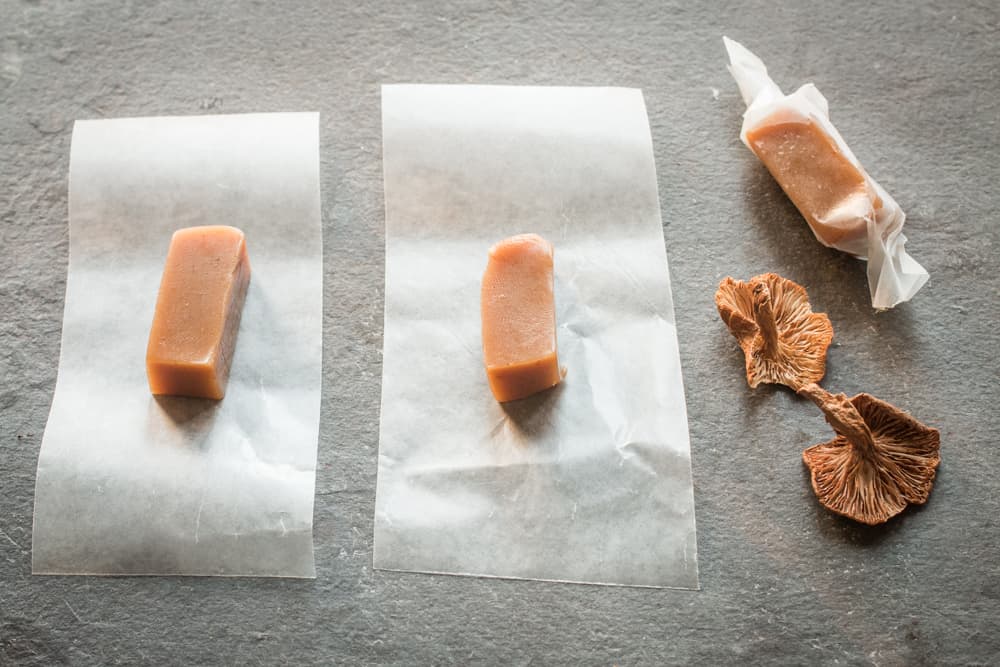 Holidays remind me of seeing butter caramels sitting out on the counter at Grandma's, or being wrapped for sale in the corner nook that's always populated by different sweets at her house. I never ate a ton of them, but I've been having fun dreaming up caramels for a mignardise platter, a tray of small candies and sweets made out of different things. After a few different versions, I settled on caramels flavored with dried candy cap mushrooms.
Exploding candy thermometers
Since we're talking temperature sensitive sugar work here, if you use a candy thermometer from a grocery store like I was (not anymore) check out these handy ones from Polder. The problem with the classic sugar thermometer is the bottom of the probe, if it touches the bottom of a pan that gets hot (like while working with sugar) it can blow up, inside the caramel, which is as much fun as it sounds like. The culprit is pictured below.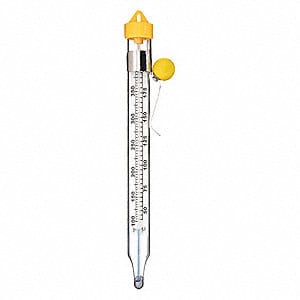 Thermometer detonation happened to me during my first batch, and I wasn't happy about having to toss gobs of sugar, butter and cream after I pulled the therm out and noticed the glass nodule at the bottom had exploded.
Thermometer problems aside, I found I almost didnt need one after a couple rounds, since dropping a bit of hot caramel off of a spoon in a cup of ice water next to the stove tells you pretty quick where you're at with the setting process. A drop of caramel in cold water should hold it's shape-but just barely and should still be a bit squishy.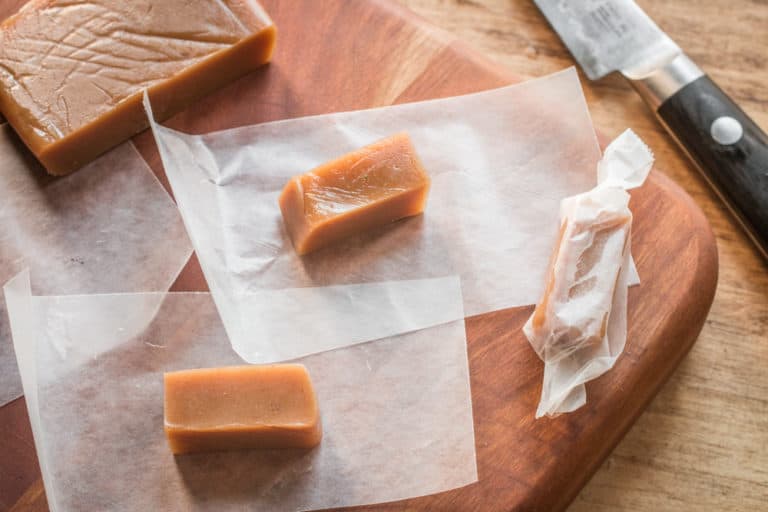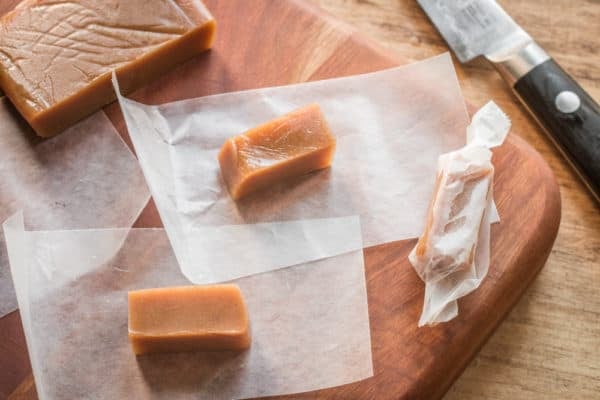 Candy caps love cream and sugar
Candy caps and caramel is a super combo, with the flavor of the butterscotch-y mushroom transferring like a dream into any syrup or cream, or, in the case of carmels, both. Interestingly enough with the flavor, I liked powdered candy caps raw whipped in at the end instead of infusing them in the beginning, which was a little counter intuitive for me.
Are they expensive compared to regular carmels that get doled out during the holidays? Absolutely, and worth every penny. These are powerful little things. You can smell them a couple feet away as people eat them, you can smell them through layers of cling film, and you can smell them on your fingers long after they're gone. More than one person has told me they were the best caramel they'd ever had, and I've only been making them for a month.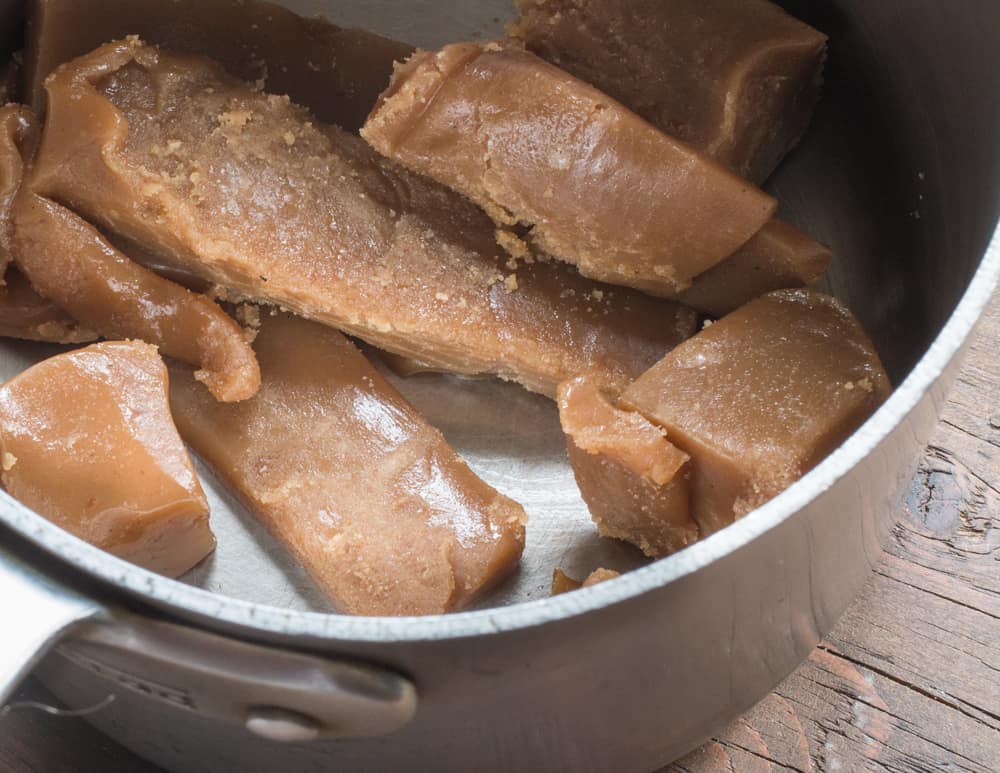 Troubleshooting
When you get to the point where the sugar starts to set, things get touchy, and a small variation in degrees can mean the difference between tooth cracking hard, and a sticky mess fit for a toddler. Luckily caramel is forgiving, and I learned a couple things.
Caramel set too firm?
Re-melt it gently in a double boiler with a splash of cream or water, or a couple splashes depending on how gentle you need to be, then transfer to a saucepan and cook until set to your liking.
Caramel set too soft?
Cut it into pieces and put it in a bowl on top of a pot of gently simmering water, then transfer to a pot and cook again, dropping some in ice water to test if it's set.
Don't scrape the pan
It's hard, but you have to resist the urge to scrape the pan of excess caramel, especially if you don't use corn syrup. I crystallized two different batches of caramels I was making this way-one of them was made with pure maple syrup and maple sugar, so you can imagine my joy. The caramel that is stuck to the sides of the pan seems like it can infect the nicely-set caramel like a cancer, crystallizing it from the inside out.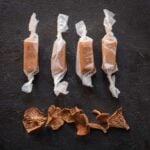 Print Recipe
Candy Cap Butter Caramels
Yield: around 25, 2-inch caramels 
Ingredients
6

grams

dried candy cap mushrooms

ground to a fine powder, roughly 1 finely ground tablespoon

4

oz

/ 1 stick unsalted butter

Good pinch of fine salt

1

cup

heavy cream

1

cup

light corn syrup

You can also use a blend of half maple syrup, half corn syrup.

1

cup

light brown sugar
Instructions
Before starting, read through the whole recipe, and make sure you have the mise-en-place ready.

lightly grease a loaf pan with butter or oil. I like a loaf pan. In a wide heavy pot that will transfer heat evenly, melt all ingredients but the candy caps, stirring with a heat proof spatula or wooden utensil. A cast iron dutch oven or enameled cast iron pan is perfect for high heat sugar work, but a good, heavy stainless steel (I don't reccommend aluminum) pot will work too.

Cook the mixture on medium heat stirring occasionally until the carmel hits exactly 240--soft ball stage. Pour a drop of caramel into a small cup of iced or cold water to test if it's set, you want it to hold it's shape, but still be soft. As long as it's hit 240 F, you're fine, don't cook it further.

When the caramel is set, do the next steps quickly: turn the heat off, remove the thermometer from the pot, stir in the candy caps,, then pour the mixture into your prepared pan using one motion--do not scrape the remaining caramel from the cooking pan. I use a loaf pan for these, or a square cake pan for double batches.

Allow the carmels to cool naturally on the counter. Hash temperature swings can break the emulsion, and make a grainy caramel, meaning you'll have to remelt them. Re-melting can work, but it can be annoying.