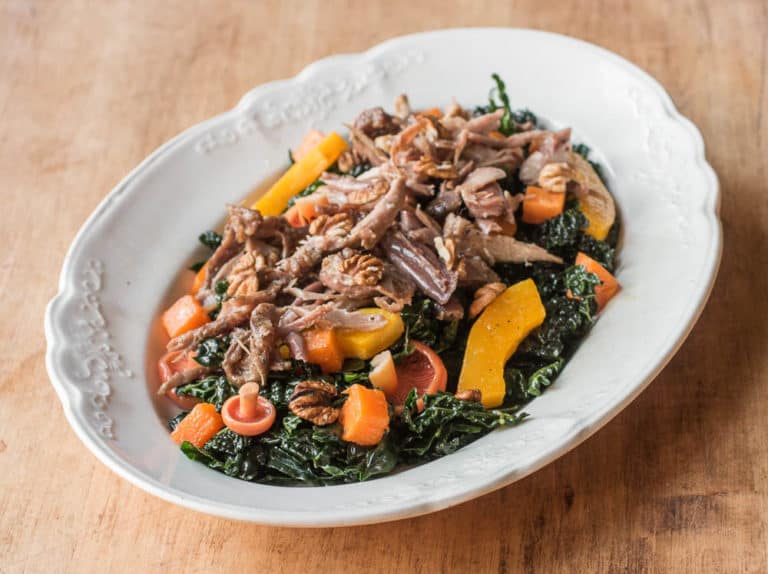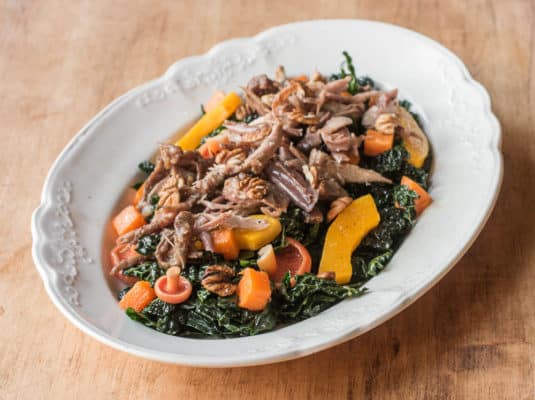 When I was in Costa Rica I ordered a tuna salad at a little restaurant and throwing the cautionary tales of eating only cooked food to the wind (which I later paid for after drinking a couple drinks with ice) in order to have as big a variety of local food as possible.
The salad was a little dissapointing when it arrived, a little shredded lettuce with some tomato and cucumber, and what I can only assume was canned tuna. It ended up being a lot better than I expected, and made me want to make something light along the same lines when I got back.
Lettuce season is gone here, but there is still lots of fall and winter greens. Eating them raw can be a bit of a challenge though, kale especially is not good raw unless you're having dino/lacinato kale, and even then you should make sure to take the ribs out. Shredded and seasoned though, dinosaur kale is great to have raw after a quick massage with acid, oil and salt.
Confit: One of the Best Recipes for Small Game Arms & Legs
Instead of tuna, I used woodchuck confit I'd packed away in some pork lard before I left. Picked off the bone and warmed up gently in a little of the lard It was preserved in, and it made a great lunch. (For my most popular woodchuck recipe, see my simple groundhog stew here.)
Obviously not alot of people have woodchuck confit laying around, but the confit'd legs of any small creature are fine, and are a great way to use parts that often get thrown away, especially in the case of pheasants and game birds.
Putting my salad together, I rummaged around the apartment turned up some Georgia candy roaster squash and a hunk of Musque de Provence. A quick drizzle of Sam Thayer's Hickory nut oil, and a couple hickory nuts was a great touch to finish. I had some marinated milkcaps I added too, but they were gilding the lily.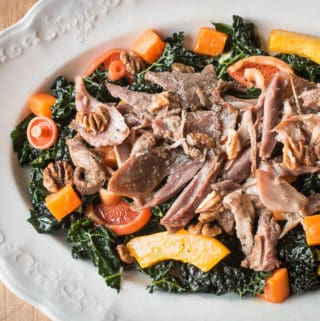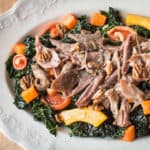 Print Recipe
Confit Woodchuck Salad, with Heirloom Squash and Hickory Nut Oil
Slow cooked, shredded woodchuck confit with squash, kale, and hickory nut oil
Equipment
Small baking dish, like ceramic or cast iron
Ingredients
3

oz

winter squash

peeled and cut into medium-sized pieces, roughly ¾ cup if you're dicing it

1

tablespoon

hickory nut oil

or walnut oil, or another richly flavored seed oil, like Smude's

Sprinkling of toasted hickory nuts

or walnuts, preferably the same as the oil you're using

7-8

leaves

of lacinato kale

ribs removed, leaves cut into ¼ inch julienne

Kosher salt and fresh ground black pepper

Fresh squeezed lemon juice

or apple cider vinegar, to taste

4-5

ounces

of confit from a small game animal

commerical chicken or pheasant legs make a good sub if no game is available picked from the bones, warmed gently in some of it's fat

A few salted or marinated milk cap mushrooms

optional
Instructions
10 minutes before serving, season the kale with the hickory nut oil, salt, pepper, and a good dash of lemon juice. Massage the kale around with your hands in a bowl to break it down a bit, then allow to rest until you're ready to serve. You can massage the kale up to a couple hours ahead of time.

Season and saute the squash until just done and tender in some of the confit oil. Reserve the squash.

To serve, toss the kale with the squash and mushrooms, then double check the seasoning for salt and lemon and spread out on a serving or entree plate.

Scatter the just warm woodchuck confit over the kale, then crack some black pepper over everything, drizzle with a little extra lemon, scatter over some toasted hickory nuts and serve immediately.