I bounced around Italian kitchens for years and I picked up a few tricks and special dishes. Cappellini alla Checca with Wild Mushrooms is a contender for my all-time favorite pasta, and I've been meaning to share it with you since I started this website nearly 10 years ago.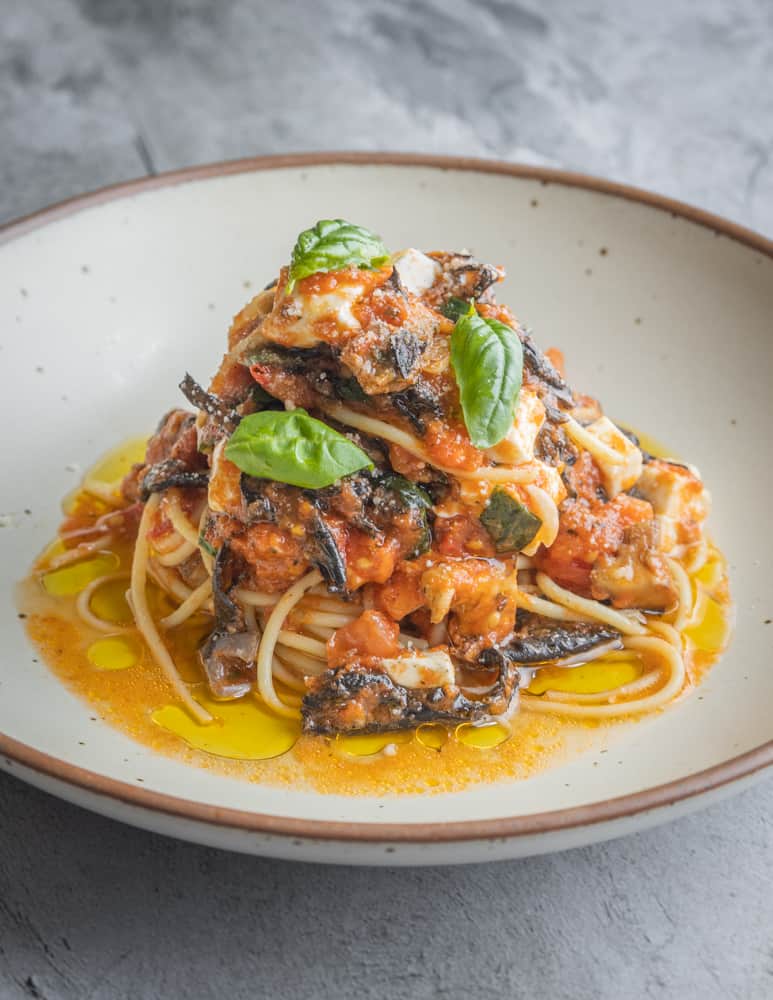 This was hands-down the best selling pasta on the menu at Trattoria Da Vinci where I learned to make it from Chef Angelo Volpicelli. It wasn't just the guests who liked it though, it was also the staff favorite.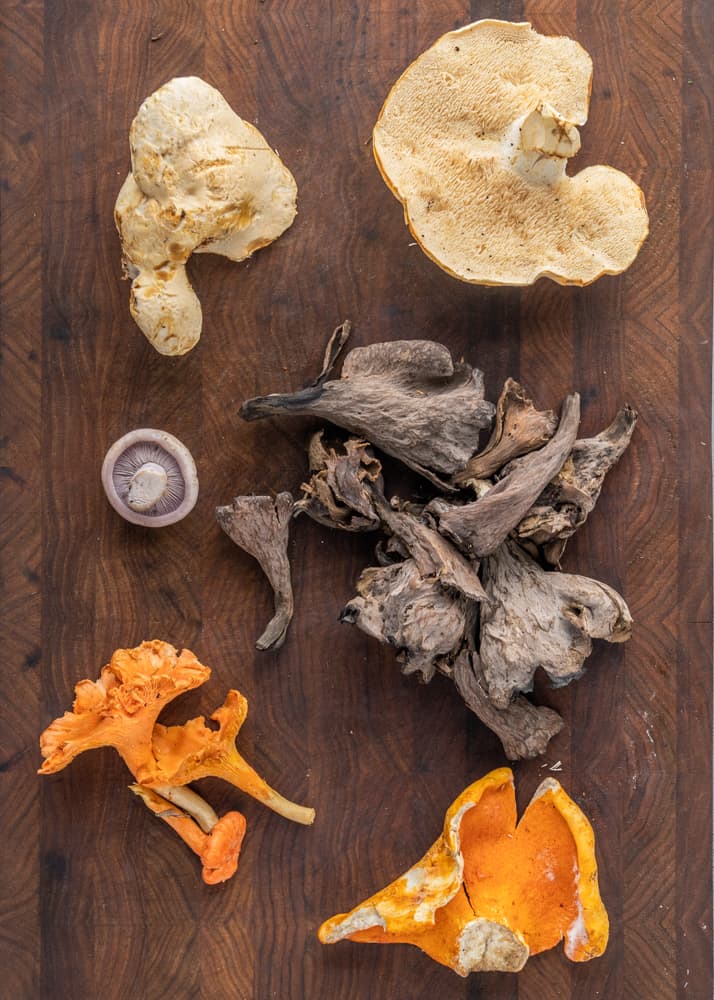 After we cooked the dish all day on the line, we'd always have a stream of checcas (pronounced kaykah) come in, all with modifiers and add-ons for the front of house staff, bussers and management who each liked it a different way.
After we made pastas for the staff, we'd make food for ourselves, and I'd wager I ate a bowl of checca at least twice a week.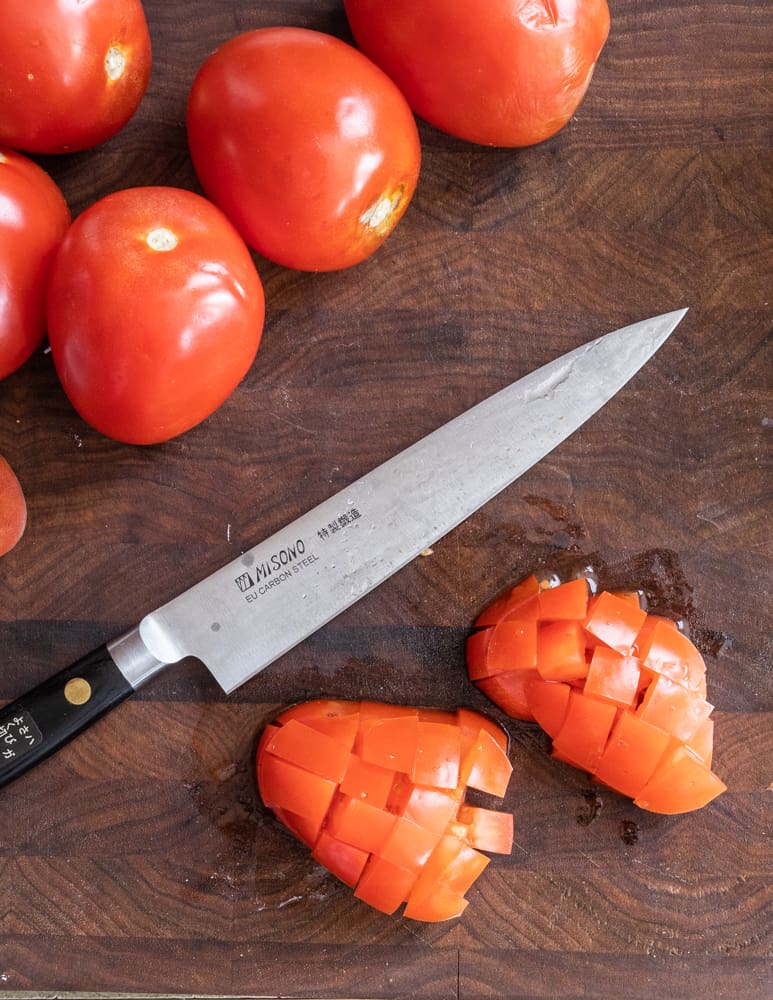 The Basics
At the end of the day this is nothing more than thin noodles in the style of a typical spaghetti pomodoro. The pasta's dressed with a simple sauce of diced plum tomatoes, garlic, tomato sauce, basil and fresh mozzarella.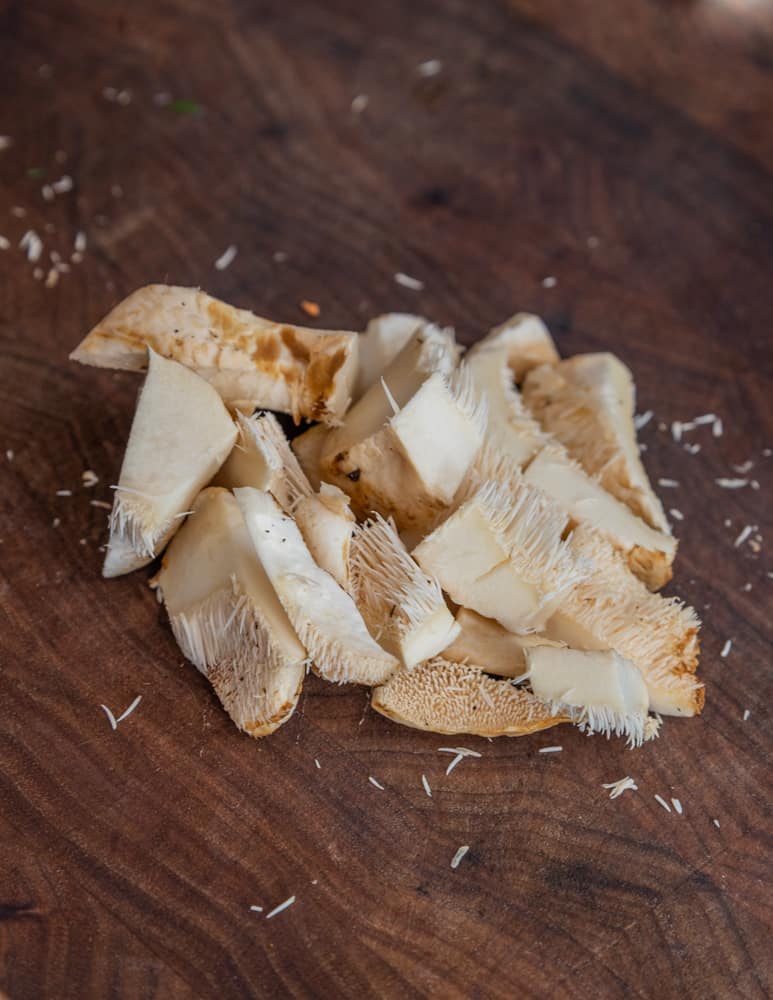 There were add-ons too. Toss in some shrimp, a handful of rendered pancetta nuggets, or, my favorite: a spoonful of a juicy mushroom ragu scented with dried porcini.
With everything that's going on here, this is a great wild mushroom pasta recipe for people that may not be crazy about mushrooms. Tomato and cheese help the medicine go down.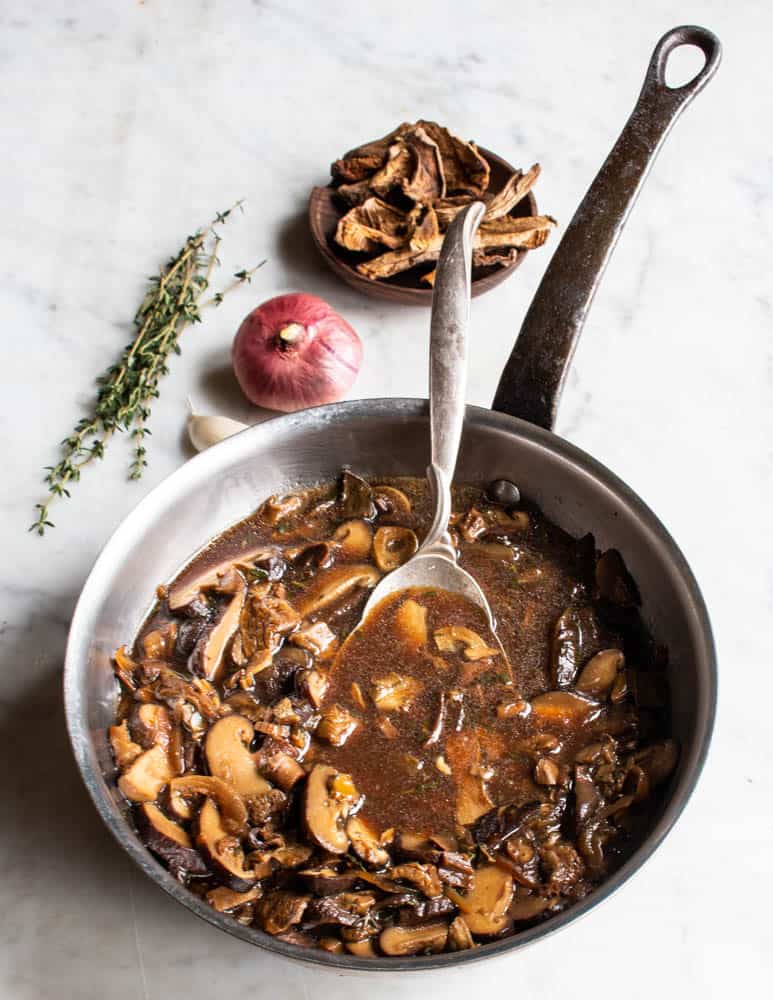 Since making Angelos mushroom ragu is a separate thing, and was streamlined for restaurant service I skip it here and use fresh wild mushrooms instead (if you want to try it sometime the recipe's here) . I rarely made it for myself the same way twice, and it's hard for me to try and present you with an exact recipe. After making 100 pans of it a week the recipe was just instinct, touch and feel.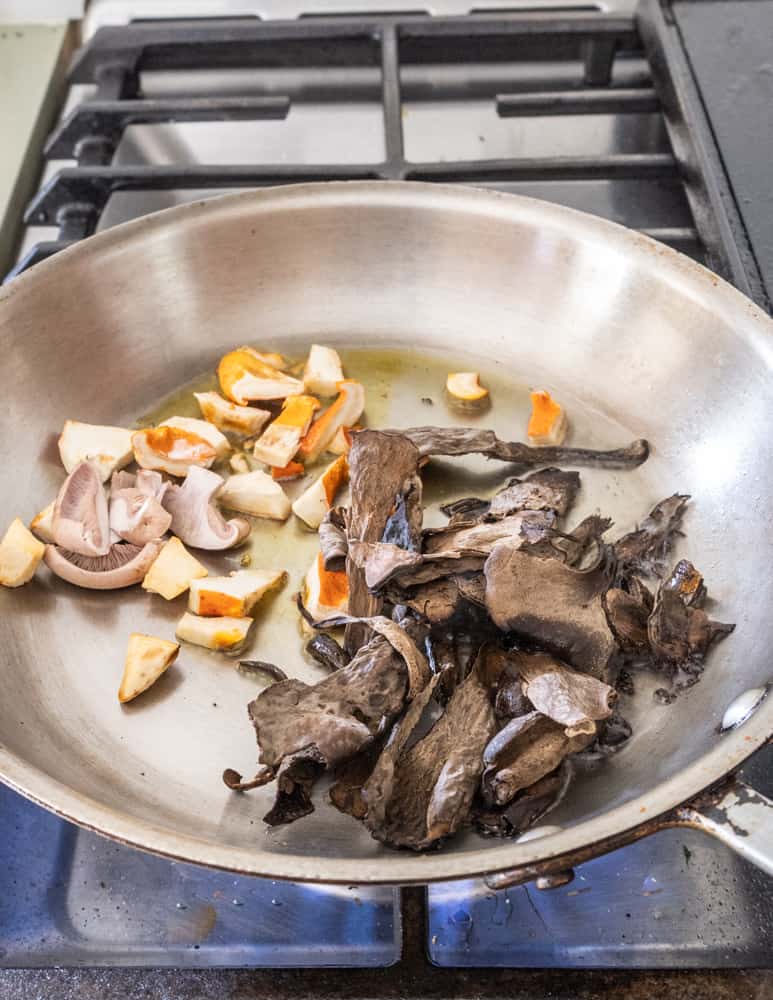 Plating
How you plate this is important, and making the dish as I describe here will teach you one of the most important things about making and serving pasta at home I know. The big takeaway is twirling the noodles and putting the sauce on top when you plate.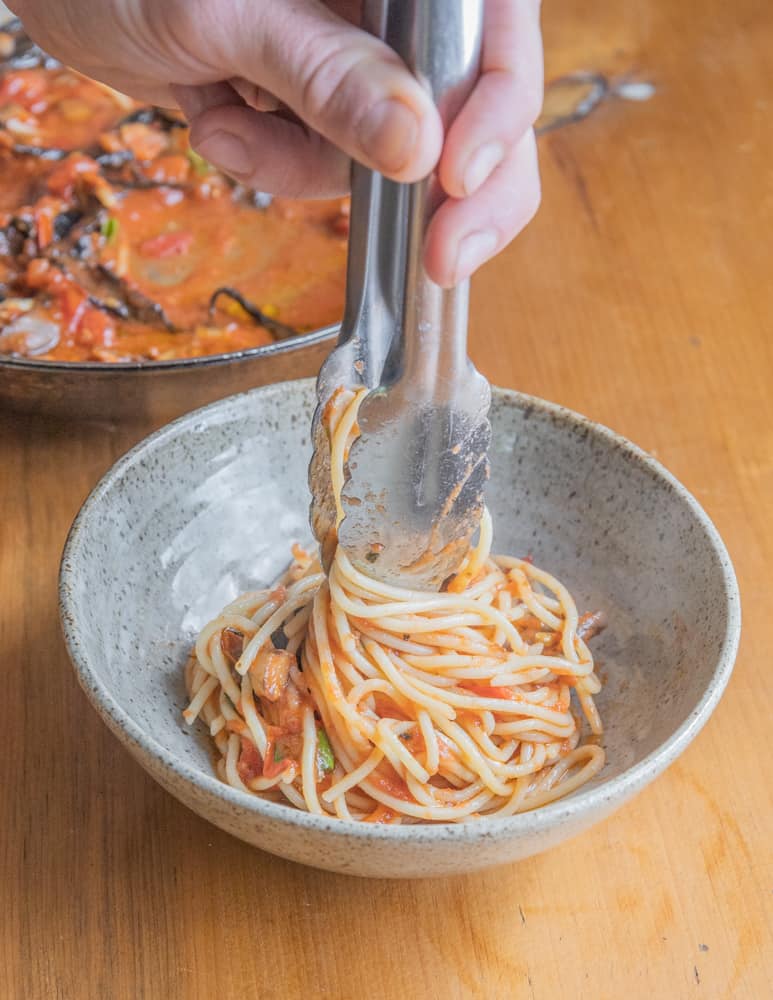 It doesn't sound like a huge thing, but it is. The simple act of putting the pasta in the sauce in the pan before serving is probably the biggest difference between how pasta is plated at a restaurant compared to how people enjoy pasta at home. Once you try it, you may never go back.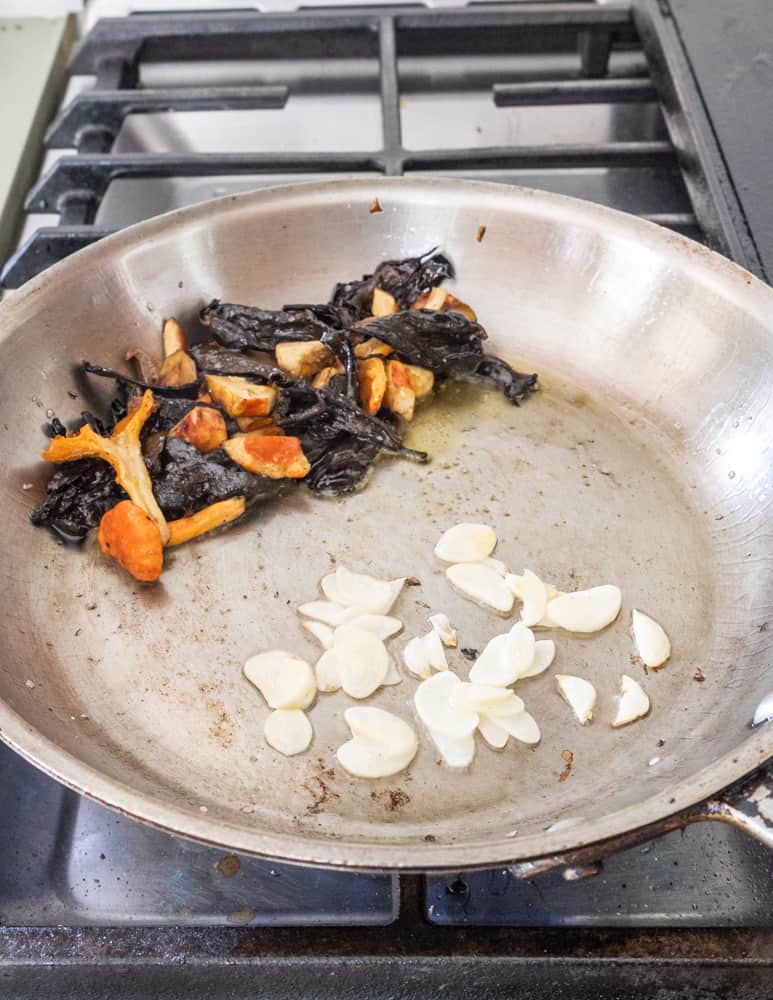 Adapting the recipe
At the restaurant we made this with capellini di angelo, or very thing angel hair. In the dish pictured here I use regular capellini, which is a little more forgiving and eats more like spaghetti.
The exact noodle here is less important than carefully seasoning and tasting the sauce before you serve though, and you can get away with regular old spaghetti. Ideally you'll use this as a sauce for long noodles, although occasionally for buffets I think we used penne.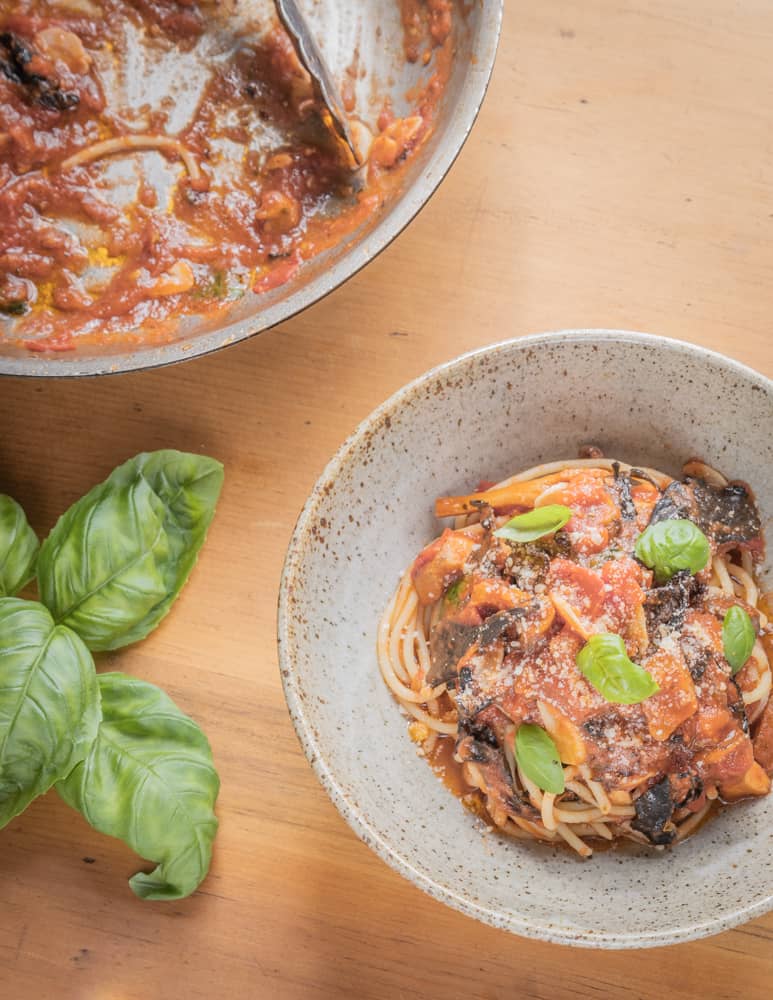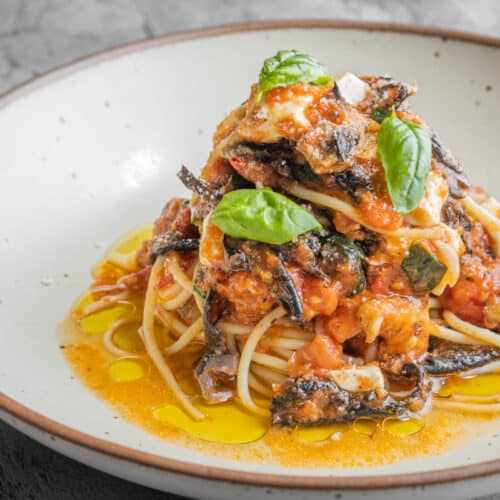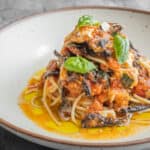 Print Recipe
Capellini alla Checca with Wild Mushrooms
Capellini or spaghetti with a sauce of fresh tomatoes, basil, fresh mozzarella, and wild mushrooms. Serves 1 hungry person as an entrée or two as a pasta course
Ingredients
Sauce
1.5

tablespoons

cooking oil

3

oz

wild mushrooms

preferably with some black trumpets

¼

teaspoon

kosher salt

1-2

large cloves garlic

thinly sliced

Pinch

of crushed red pepper flakes

Pinch

of dried bee balm or oregano

6

oz

(2 medium) diced roma tomatoes

6

oz

¾ cup homemade tomato sauce
Serving and finishing
3

large leaves of fresh basil

torn

1

tablespoon

extra virgin olive oil

1

oz

fresh mozzarella

diced

1

tablespoon

grated parmesan

6

oz

cooked capellini, capellini di angelo, or spaghetti
Instructions
Build the sauce
In a 10 inch saute pan, heat the cooking oil, then add the mushrooms and cook for a few minutes over high heat until wilted. Add the salt and stir.

Push the mushrooms to the side of the pan, turn the heat to medium-low, add a drizzle of oil and the garlic. Cook the garlic slices until they're just starting to brown around the edges, minding the heat and being careful not to burn them.

Add the diced tomatoes, oregano, crushed red pepper flakes, another pinch of salt, and cook for a few minutes over high heat to evaporate some of the liquid.

Add the tomato sauce and simmer a few minutes more. Add the pasta, toss and heat through, double check the seasoning for salt and pepper and adjust as needed, then toss, add the extra virgin olive oil, basil and mozzarella, remove from the heat and toss again.
Plating
Using tongs, twirl the pasta and remove to a preheated pasta bowl. Twirl the pasta again in the bowl to give it some height, then pour the mushroom sauce from the pan over the top. Garnish with a few basil leaves, a little more extra virgin olive oil if you want, and some grated parm. Serve hot.