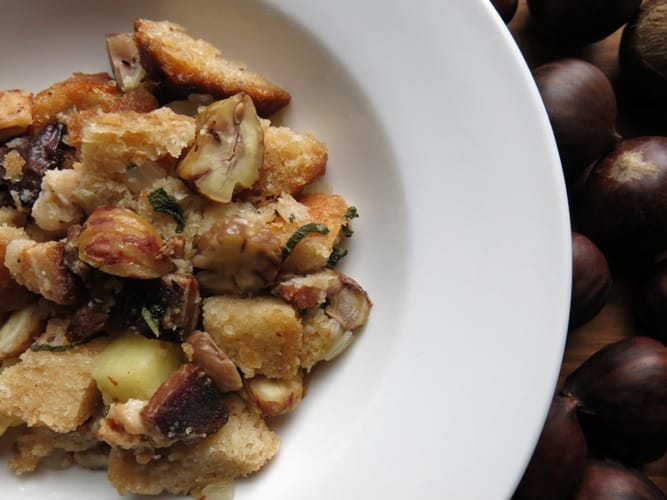 Thanksgiving is fast approaching, pretty soon everyone will gather with their families and sit down to a giant meal full of all the trimmings, turkey, mashed potatoes, cranberries, and no Thanksgiving feast could be complete without a giant bowl of stuffing.
Digging into my archaic culinary library over the years has shown me lots about historical dressings/stuffings. Often I came across recipes including organs, which makes perfect sense. There is much less offal (organs) contained in a bird than there is meat. Cutting up the livers, hearts, gizzards, and other things is a great way to use the whole bird in a dish.
Online research will show you much about the differences between stuffing and dressing (I would call something dressing if it is cooked in a separate vessel, and stuffing it is placed inside of a bird). For right now, I use the word stuffing to describe both, since where I come from stuffing is more readily recognized. Historically, stuffings were probably used as an outlet to use up stale bread, a cornerstone of poverty cuisine. When stale bread is moistened with water or stock it eventually becomes edible again, soft, but with a bit of chew from it's staleness, which is very good. Using bread that is not stale, or is of cheap quality will result in stuffing that doesn't hold it's shape and becomes a crumbly, soggy mess.
I've made plenty of different types of holiday stuffings over the years, but one that stands out from it's rave reviews was my first chestnut stuffing. I know much more about chestnuts than I did back then, now I can use chestnuts to make purees, soups, and one of the greatest chestnut inventions ever: a chestnut glace de viande, or reduction of meat stock made by cooking chestnuts and chestnut blossom honey with the stock until it gets syrupy, then mounting with a bit of butter and serving with meat. The chestnut glace will take about 2 days to make, but can be frozen, itis especially good with duck, game, and fowl.
This first time I worked with chestnuts was about 5 years ago, I hadn't cooked them yet in a restaurant, but knew they were a symbolic fall food, and I was curious to see what they tasted like. Following some instructions I found in an old Italian book, my family and I scored the chestnuts with a knife and then roasted them for around 40 minutes or so in an oven. After words, the chestnuts were wrapped in a dishcloth soaked in red wine, which was supposed to flavor them and make easier to peel. Unfortunately it did neither. The chestnuts were a total bear to peel, thankfully I had an inquisitive family who was willing to help in the name of Thanksgiving. We must have spent an hour or so peeling them together, most of the chestnuts came out of their shells are broken shards, still with remnants of their brown papery husk attached.
The end result though was the stuff dreams were made of, the little bits of chestnut added a soft. sweet component to a dressing already rich with dried fruits, onions, and plenty of butter. For years afterword I recall my family remarking about how good the chestnuts were. Here is a basic recipe for chestnut dressing/stuffing, scaled down from a recent 5 gallon batch I made.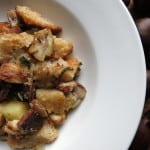 Print Recipe
Chestnut Stuffing, Apples, Bacon, And Sage
Ingredients
8

cups

dry

stale bread, cut into cubes and left out overnight to harden

2

cups

sweet onions

diced

2

tablespoon

fresh sage

1

stick

4 oz unsalted butter

4

cups

honeycrisp apples

diced ½ inch

1

lb

slab bacon

diced into ½ inch cubes

2 

cups

chicken stock

unsalted, preferably homemade

20

large chestnuts

blanched, peeled, and sliced into ¼ inch pieces
Instructions
The day beforehand, chop the bread and leave it out uncovered to harden

First peel the chestnuts according to my method HERE, then slice the chestnuts or chop them. Next put the chestnuts in a pot with the chicken stock and cook until tender, soft and sweet, add a pinch of sugar to the stock if the chestnuts are not tasting too sweet after they are soft and tender, this will make their flavor "pop" a bit, and make them more noticeable. Cooking the chestnuts in the chicken stock should take about 30 minutes.

While the chestnuts are cooking you can assemble the rest of the ingredients

Cook the bacon until it is nice and crisp, discard the fat or save it to cook your onions in if you are feeling particularly devious, set the bacon aside and reserve until needed

Cook the onions and sage in the butter, seasoning to taste with salt and pepper until the onions are translucent and soft, when they are soft, add the honeycrisp apples and just heat through, you don't want to cook them yet since the mixture will be reheated  at a later date

Combine the bread with the sage-apple-onion mixture, then add the bacon

Add all of the chicken stock with the chestnuts in it to the stuffing mixture, mix the mixture lightly to make sure that the stock is absorbed, then taste a piece of the stuffing and season the mixture for salt and pepper if needed. (If the bread you are using has a higher amount of salt in it than others, you may want to only season it lightly.)
Notes
Makes a little more than two quarts, which will feed 8  people  generously, this is rich stuff