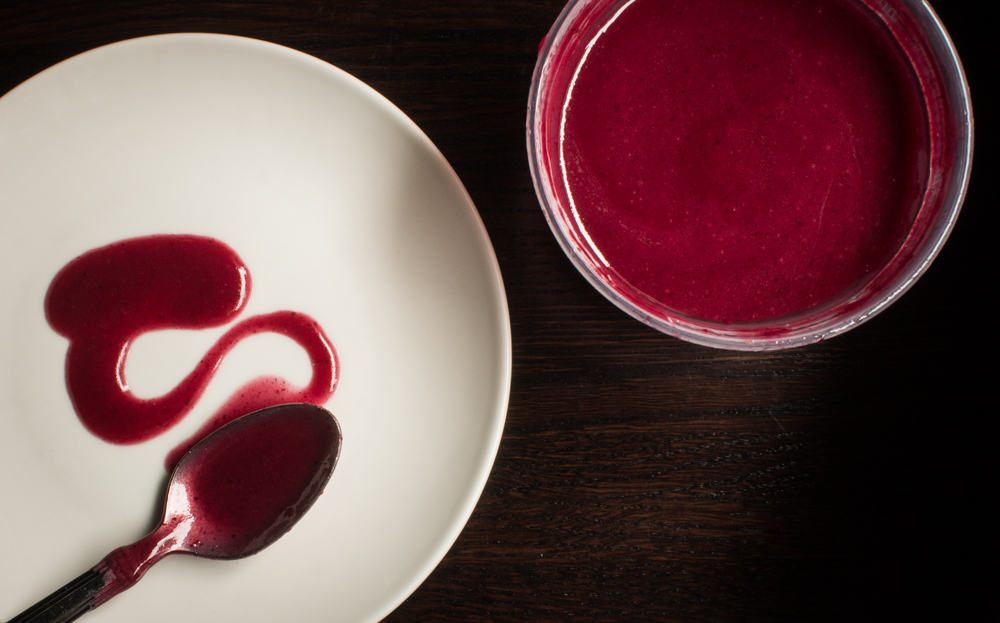 Making true vinegar from berries is a long process that can be filled with challenges, requiring you to know particular things abour fermentation, and how things need to be stored, and possibly buy new equipment depending on how dedicated you are. At the end of the fermentation process, even if you use shortcuts and clip the time down to a couple months instead of the traditional hands-off process that can take 9 months or more depending on your conditions, vinegar made from berries is great, but you actually get more berry flavor in my opinion from a fresh infusion. This is why I shared the recipe for infused vinegar with wild berries in the first place a couple years ago.
Don't get me wrong, I'm not knocking traditional fermentation at all-I do much more classic fermentation than I do shortcuts. But I know that most homecooks are more likely to experiment with something they have a good chance of succeeding at, and I want them to experiment.
You can use a lot of wild berries for this, but I prefer those with seeds
This simple vinaigrette is a recipe you can make after you infuse some vinegar, a derivitive recipe, so to speak. I use the term "wild berry" here as you can make the basic vinegar from any wild berries you have. Obviously I haven't made it with every single berry known to man, but I've made it with a lot of them. The best ones in my opinion are wild berries with a good, rich color, especially wild cherries and wild grapes. Wild cherries, black raspberries and grapes are great because you're left with a bunch of pits and seeds after you juice or cook them, pits and seeds that have a lot of flavor attached. To infuse the vinegar, you just take scraps you would toss anyway and pour vinegar over them in equal proportions.
Wild berries without seeds: aronia, blueberries, etc
Some berries are better than others though. Berries without seeds, especially aronia berries, or something like blueberries, can be pureed immediatley into a dressing, without waiting to get the flavor infused off of the pits. See a version of that here. Infused vinegars made from seedless or nearly seedless berries are easily made by using some squished up or past prime berries in place of scrap or trim.
As I was experimenting myself with different berry infused vinegars I had made, I noticed that the flavor changed and deepened when I cooked the vinegars down a bit after infusing. They still had plenty of bite, but their flavor rounded out a bit and the fruit notes were enhanced.
This is great used as the base of a simple salad, but one of my favorite ways to use it has been with roasted beets, either warm or cold.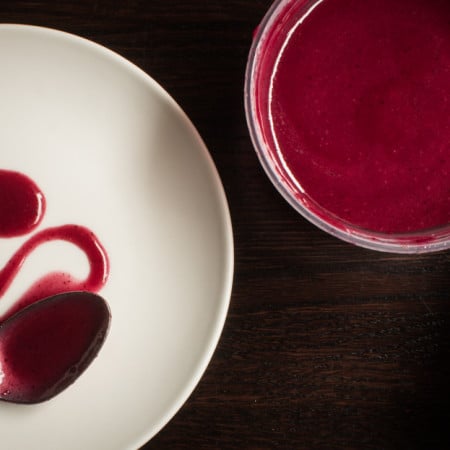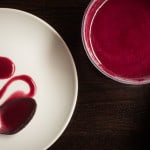 Print Recipe
Wild Berry Vinaigrette
A vinaigrette flavored with your choice of wild fruit infused vinegar
Ingredients
2

cups

infused berry vinegar 

see recipe

3

tablespoons

whole grain mustard

¼

cup

shallot

diced ¼ inch

1 ¼

cups

mild salad oil

¼ cup nut oil can be substituted

1-2

tablespoons

of maple syrup
Instructions
Reduce the vinegar by half in a non-reactive saucepot, then chill completely and reserve.

In the bowl of a food processor, combine the mustard, vinegar and shallot and maple if using.

Begin processing the mixture, drizzling in the oil in a steady stream until a thick emulsion is formed. Transfer to a labeled, dated container and reserve until needed.
Notes
If you don't feel like infusing your own vinegar, commercially available raspberry vinegar is a decent substitute.
The recipe below is made completely with nuetral tasting salad oil, but I originally made it using ¼ cup of hazelnut oil for a smoked quail salad that I was running at the Salt Cellar. I removed the nut oil from the master recipe, but that shouldn't stop you from adding some if you like as it's a great touch.