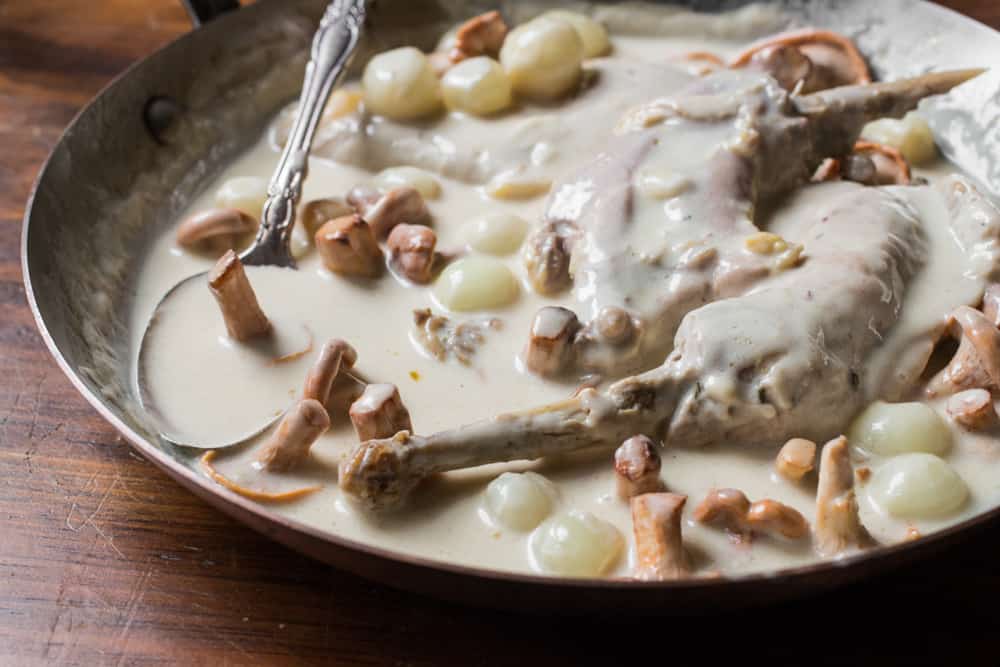 After Anthony Bourdain passed away I spent the following week tearing through his first book and then his cookbook, a sort of half mourning, half refresher course on one my favorite chefs I've always looked up to. The days after his passsing were announced for me were sullen, as they were for a lot of people. How could someone who seems to have everything take their own life? He had creative control, fame, fortune and, most importantly, the one thing that we all share: demons.
There's still a lot of golden nuggets in his writing, and I'm sure I'll keep finding some here and there. The first recipe I wanted to make out of Les Halles was blanquette, the old fashioned white stew with veal, mushrooms, onions, and mashed potatoes or rice. I'd been thinking that it would be a great treatment for the first little chanterelle buttons of the season.
Traditional blanquette recipes usually start with an interesting method: blanching meat in water. Blanching meat in water before cooking it in a recipe, by alot of standards could seem weird, or downright heretical, but the quick shock of heat removes some of the colored liquids from the meat that would prevent the sauce from ending up nice and blonde.
You end up with a mellow flavor from the meat, and the chanterelles fill the void perfectly, although it isn't really a void so to speak at all: it's subtle and refined. Sometimes a gentle hand is better than a fist in the forehead. Don't get me wrong, I like aggressive seasonings as much as the next sriracha t-shirt wearing kitchen troll, but a change of pace is good, especially when it's filled with little chewy chanterelle buttons that almost squeek like cheesecurds.
I didn't follow a recipe for this, I just made it and it's easy to do with what ever you have on hand as long as the colors stay light, and you don't get too creative. I put a couple substitution notes, etc below as examples.
Heirloom Rice from Mushroom Mike LLC
Rice is a traditional garnish for blanquette and since I was fresh out of Uncle Ben's I used up some of the stellar heirloom rice that my friend Mike has been sourcing from a farm in Milkwaukee of all places. The stuff looks like green jewels, and eats like nutty brown rice. It follows from there that it's as good as it is expensive. Follow the link to check his site out, he sells all kinds of wild and cultivated stuff to the public occasionally via air-freight. Mushroom Mike LLC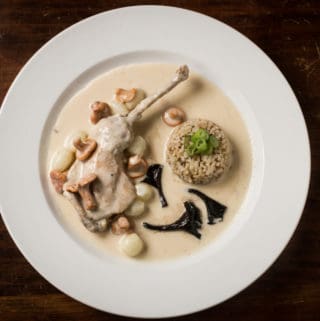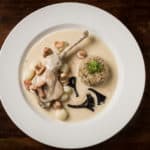 Print Recipe
White Pheasant Stew with Chanterelles and Black Trumpets
A blanquette, or white stew made with pheasant legs, chanterelle, and black trumpet mushrooms
Ingredients
1

whole pheasant or very small chicken

with legs (plucked or not, you won't be needing skin on the breasts)

1

cup

pearl onions or other small onions

like cipollini

5-6

ounces

fresh chanterelle mushroom buttons

washed trimmed and cleaned

3

tablespoon

unsalted butter

½

cup

dry white wine

½

cup

heavy cream

you could get by with ¼ cup if you really want

1

tablespoon

all purpose flour

1

cup

cooked rice

mashed potatoes or baby potatoes

Kosher salt and white pepper

optional to taste

Sliced green onions

to garnish (optional)

1

ounce

fresh black trumpet mushrooms

to garnish (optional)

A few scrapes of fresh nutmeg

optional

Bouquet Garnie

tie these in cheesecloth

A few sprigs of thyme

1 crushed clove of garlic, 1 dried bay leaf, 10 black peppercorns
Instructions
French the pheasant legs by slicing around the bone 3 inches up from the bottom of the leg to expose the sharp bones on the bottom of the leg. Remove the bones with a pliers or with sturdy fingers. This makes for a nice presentation, but you can also remove the bones after cooking and cooling if you want, just be careful since they can fall apart.

Marinate the pheasant overnight in the white wine and ¼ teaspoon of salt in a Ziploc or other container. If you're in a pinch you don't have to marinate it, but It adds good depth.

Cut off the ends of the pearl onions, blanch in lightly salted water for 3-4 minutes, then shock in an ice bath, peel and reserve. The onions can be done a day ahead of time, when you marinate the pheasant.

Knead together 2 tablespoons of the butter with the flour and reserve. This is called beurre manie, or kneaded roux, and it makes the gravy of the gods.

3 hours before serving, preheat the oven to 300F, then put the pheasant legs, bouquet garni, and 3 cups of stock in an 8 inch pan with high sides, like a cast iron skillet. Cover with a tight fitting lid, or with parchment and another pan, and bake until the meat is just fork tender, about 1.5 hours. Carefully transfer the pheasant legs and all the juice into a container and reserve. You should have about 1-1.5 cups of cooking liquid left.

Heat the two tablespoons of butter in the pan (you don't need to wipe it dry) and add the onions and chanterelles. Cook on medium heat for 10 minutes or until the chanterelles are wilted. Add the reserved pheasant cooking liquid, bring the mixture to a simmer, then whisk in the kneaded roux and the cream.

Add the pheasant legs, breasts, then reduce the heat to medium-low and simmer until the pheasant breasts are just done. Double check the seasoning, finish with a little white pepper and a scrape or two of nutmeg, then plate.
Plating
Warm up the rice, then pack ¼ -½ cup (depending on how much starch you want) into ramekins, pressing down so that it will pop out looking like a cake. Invert the molded rice onto each of two preheated dinner plates with wide rims at 12 o'clock. Arrange a pheasant leg and/or breast on each plate, spoon the sauce and mushrooms around, sprinkle on a few scallions or chives. Finally garnish with a few sautéed black trumpets (optional-make sure to blot them on a paper towel before plating so they don't bleed black into the white sauce) and serve immediately.
Notes
I used an heirloom rice grown in milwaukee to garnish the finished dish, but jasmine rice or mashed potatoes are fine too. You can make this as complicated or simple as you want: fresh out of pheasant? Use chicken. Don't want to marinate the bird overnight? Skip it. Don't have ingredients for a bouquet garni? Skip it and just use decent stock. Don't have both chanterelles and black trumpets? Skip one.
There's a good amount of prep here, but as it's a braise you can cook the whole thing ahead of time without the breasts, then just poach them in the liquid before serving for super easy execution. 
Serves 2-4 as an entrée depending on the size of your bird, and if you use pheasant or not. Chicken would yield 4 entree portions as pheasant legs are smaller and have a proportionately lower yield of meat. 
More