A rich, mushroom aioli made from dried, toasted porcini mushrooms is a creative way to use up your dried mushroom stash. Read on and I'll explain what it is, how to make it and use it.
During the Winter after a really good year for boletes (likely the legendary Pallidoroseus haul of 2013) I started making all kinds of things with my dried shrooms. Cooking with European porcini is easy: just throw them in anything and the flavor will take over. The porcini I pick in Minnesota (Boletus atkinsonii, or whatever mix of porcini-type fungus they are) though, don't share the intense flavor of their European cousins, but they're our porcini, and, they're free.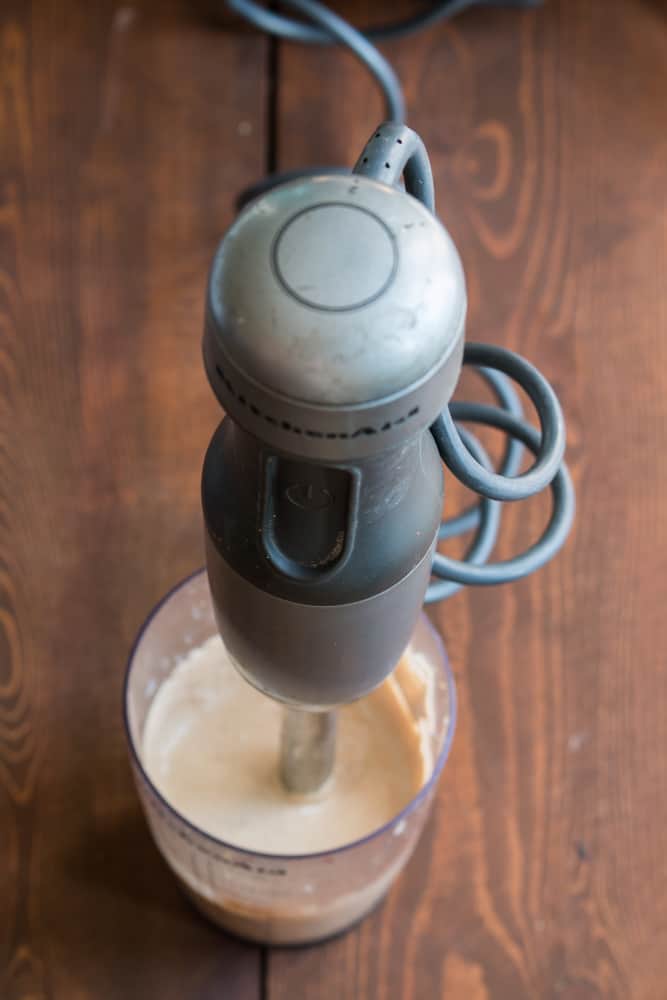 One thing that worked well was this toasted porcini aioli. Typically you might not thing of using mushrooms to make a condiment, but cooking the garlic to calm it, and toasting the mushrooms makes their flavor punchy enough to dress up just about anything that would taste good with a mayonnaise-y something.
Boletes still being precious, I'm more likely to use it as a condiment for roasted potatoes or a bite of whitefish than I am to smear it on a sandwich.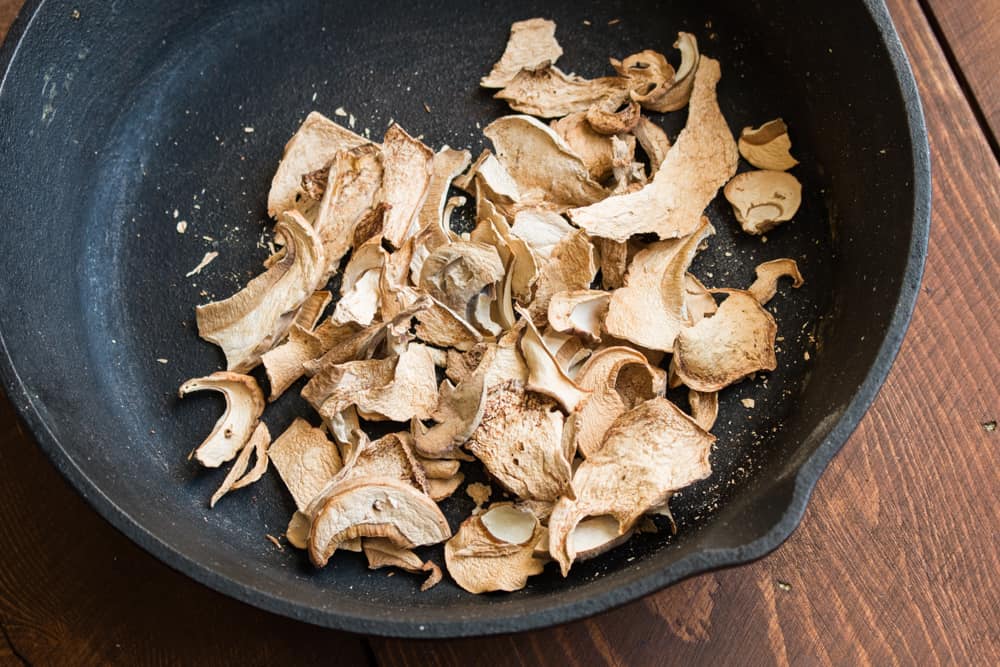 On Toasting Mushrooms
The key idea here: toasting the porcini to help bring out different, fresh aromas, will coax rich flavors from even the lightest tasting boletus, and (if you like them) I'd wager toasting your favorite species of Suillus would help it not taste as skunky as they do naturally, too.
Basically, toasting mushrooms makes them taste good, and here, makes the porcini flavor strong enough to make a decent condiment. Make sure not to overcook the mushrooms in the oven though (easier said than done), since dried things burn, very fast.
Try setting a timer at 2-3 minute intervals, and inspecting the mushrooms as they gently change color and the flavor changes. Watch them closely and you'll understand the process, and you'll know exactly when they start to smell toasty and delicious.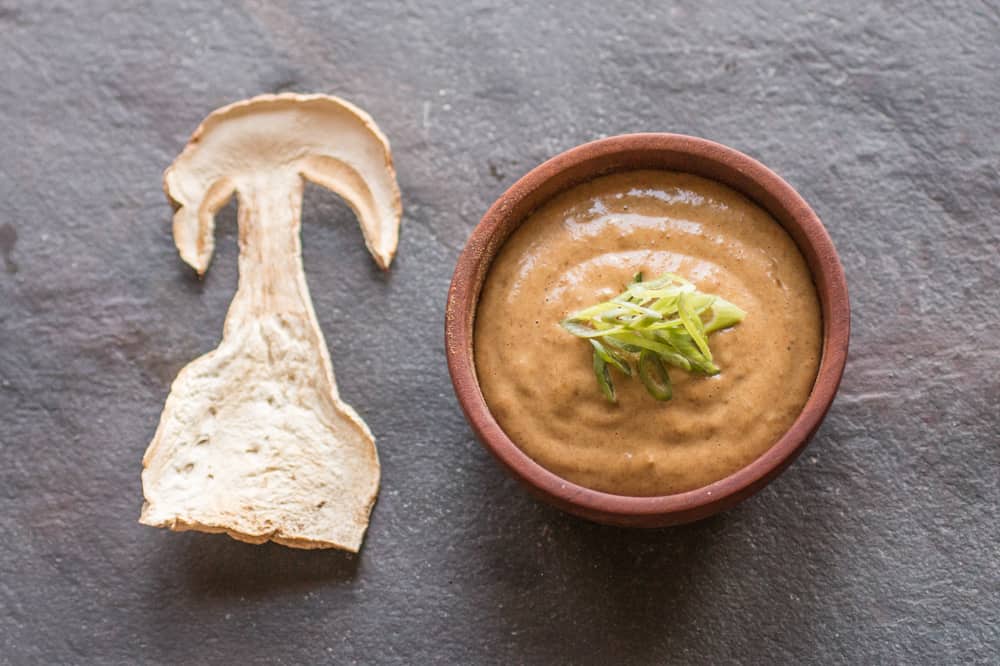 Like a typical flavored mayonnaise, the other flavors you'd expect here, namely garlic, oil and acid are along for the ride with a few capers to add a little funk, as well as some extra mass.
Correctly pureeing and adding the oil isn't difficult, but if you're never done it before, it may be a little awkward, since you'll be doing this with a hand blender and it's basically the smallest amount of aioli you can possibly make. If you add the oil too fast and break it you'll end up with a loose, soupy mess, but have faith in yourself-it's not rocket science.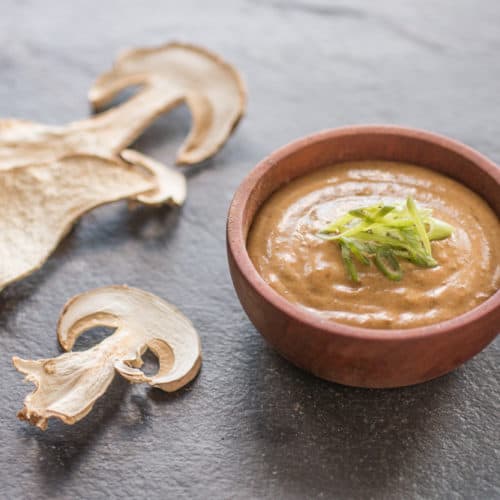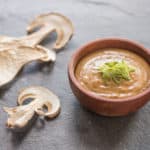 Print Recipe
Toasted Porcini Aioli
Yield: 1.5 cups
Equipment
Hand blender, or small food processor
Ingredients
¾

cup

mild tasting oil

add a little more or less to adjust the consistency

½

oz

dried porcini

about ½ cup crumbled dried mushrooms

20

grams

garlic cloves

about 2 large cloves

5

g

capers

1

large egg

2

Tablespoons

Hot water

¾

oz

or 2 Tablespoons fresh lemon juice

½

teaspoon

salt

plus more to taste
Instructions
Toast the lightly porcini in the oven until fragrant and lightly browned, be careful not to over-toast, which could make the aioli bitter. Grind to a powder and reserve, and put the powder in a container you will blend the aioli. Add 2 Tablespoons of hot water to the mushrooms.

Meanwhile, cook the garlic cloves in a few inches of water until soft, about 15 minutes, then remove and cool, discarding the cooking liquid.

In a food processor or with a hand blender, combine the lemon, capers, egg, garlic, and porcini powder and puree, then begin drizzling in the oil.

When the oil has been added and the mixture is thick and velvety, transfer to a container and refrigerate. If you like it a little thicker, you can probably fit a little extra oil in the aioli, just take it slow. The aioli will keep for 5 days.
Notes
This is a small batch made with a handblender. If you don't have a hand/stick blender, you can do it in a food processor if it's a small model, otherwise increase the quantities here by 50% for larger capacity processors. 
Nutrition
Serving:
1
oz
|
Calories:
203
kcal
|
Carbohydrates:
2
g
|
Protein:
1
g
|
Fat:
22
g
|
Saturated Fat:
2
g
|
Polyunsaturated Fat:
6
g
|
Monounsaturated Fat:
13
g
|
Trans Fat:
0.1
g
|
Cholesterol:
20
mg
|
Sodium:
171
mg
|
Potassium:
45
mg
|
Fiber:
0.3
g
|
Sugar:
0.1
g
|
Vitamin A:
31
IU
|
Vitamin C:
1
mg
|
Calcium:
8
mg
|
Iron:
0.2
mg