Episode six is the last entry in The Wild Harvest for 2020.
From the start, back in April, Jesse and I had planned on featuring hen of the woods for this episode, along with whatever else I could come up with. Eventually hens turned into maitake when we got closer to the shoot date and I figured we could also get matsutake if we were lucky.
The mushrooms, both being loved in Japan, along with my hunch I could still get enough roots to make kinpira gobo, was enough to convince us the episode should have a similar culinary theme to pay homage to the ingredients. We ended up deciding on burdock kinpira with grilled matsutake, hen of the woods with prickly ash sauce, wild greens and sunchokes, and wild plum sorbet scented with lemon balm. With our limited time, and working with what we had, I thought the theme worked out well, all things considered.
Scouting ingredients is always the kicker. Matsutake were ok—someone had cleaned up about 75% of my patch just 2 days after I scouted it, but, we were able to get enough to film. Once I had those safe and sound, I scouted for the hens. I scouted for a good 2 days, and, wouldn't you know it, none of my spots were giving me any. Well, there were a few hens from my champion trees, but they'd just started, and wouldn't be large enough to have the grandiose feel the featured hen should have for at least 5 days. There is some serious irony that we were able to film one of the rarest mushrooms in the Midwest on the first try, but the hen of the woods, of all the mushrooms, were eluding me.
Then there was thievery. The last day of my scouting, right before sunset, I found the perfect hen in a remote location of one of my favorite parks. Having marked it with GPS, I walked out of the woods triumphantly, only to see two other hunters working their way through the woods right to where my marked tree was. Nervous, I circled behind them, following them from a distance until I came back to my marked tree, and, sure enough, they'd knicked it. Feeling silly for spending all day and the day before looking for the perfect hen with no luck, the universe sent me a poem, I hope you like it.
Requiem for a Stolen Mushroom
What is that?
At the base of the tree
Could it be?
The most perfect hen
Nestled and roosting
Meant just for me!
I jump up and down
These woods are the best!
So I mark that red oak with the GPS
Later I return
But with the worst luck
All I found was a stump
Seriously, WTF?!
So deeper I hike, flagulating myself for mistakes
And imagining the hen thief
In a pit full of snakes!
So I searched and I looked
For the hen that I lacked
But all I found were more stumps and one slippery jack!
Oh agony, oh tragedy
foul day of foul play
Whatever, I didn't like mushroom hunting anyway!
I'll yell and I'll hollar and I'll beat on my chest
I'd pay a million dollars just to see a single hen in its nest!
Sourness and remorse of the bitterest kind
I know it's public land but that mushroom was mine
Enjoy the show, and, if you want to see it keep going, please share with your friends.
Recipes
Kinpira Gobo with Grilled Matsutake and Waterpepper
An addictive salad of burdock root and carrots. Matsutake and watercress are optional garnishes. Serves 4 as a side.
Ingredients
½

lb

gobo root

1 large

½

lb

Carrot

1 large

1

Tablespoon

maple syrup or sugar

1

Tablespoon

apple cider vinegar

2

Tablespoons

soy sauce

1

teaspoon

fish sauce

such as Red Boat brand

1 ¼

cup

water

2

tablespoons

toasted sesame oil

½ inch piece

finely grated, about ½ teaspoon

Optional

2

teaspoons

toasted sesame seeds

Optional, to garnish

fresh waterpepper leaves

Optional, to garnish

2

teaspoons

Chinese chives, sliced

Optional, to garnish
Instructions
Wash the burdock well to remove dirt.

Have a bowl of cold water ready. Trim the ends off of the gobo, then cut into manageable lengths, about 6 inches long. Peel the lengths one at a time, then cut on the diagonal into ¼ inch-thick long ovals. Stack the ovals on each other a few at a time, then cut into ¼ inch match sticks.

Repeat with the rest of the gobo, putting the cut sticks into the water as you go. Repeat the process with the carrots, reserving them separate from the gobo (they don't need to sit in water).

In a 10 inch pan, such as cast iron, or wide skillet, bring the gobo and 1 cup of water to a boil and cook for 5 minutes, covered. Pour off the water. Add the carrots, maple, ginger, vinegar, fish sauce, soy, half the sesame oil and the remaining ¼ of water and cook rapidly on high heat, until the pan is nearly dry.

Turn off the heat, stir in the remaining sesame oil and chives, then transfer to a serving bowl. Garnish with the sesame seeds, and sliced herbs if using and serve warm, cool, or at room temperature.
Grilled Hen of the Woods with Prickly Ash Sauce, Sunchokes and Wild Greens
Grilled hen of the woods steaks with wild greens, sunchokes, and spicy prickly ash chili sauce.
Ingredients
Hens, Sunchokes and Greens
8

oz

hen of the woods

meticulously cleaned or very young and pristine

3

tablespoons

cooking oil

6

ounces

fresh sunchokes

6

oz

mixed fall wild greens

such as waterleaf, mallow, nettles and or watercress

Kosher salt

to taste

Fresh lemon wedges

¼

cup

pricky ash oil

see recipe
Prickly Ash Oil
½

cup

pricky ash chili oil

see recipe

2

teaspoons

dried Szechuan peppercorns

¼

cup

chopped persicaria odorata

rau ram/Vietnamese coriander or cilantro or parsley

2

large large cloves garlic

1

x 2 inch piece ginger
Instructions
Prep
If you use larger sunchokes, cut them into 2 inch pieces, otherwise leave them whole, trimming any long ends. Pour boiling water over the sunchokes, cool and reserve.

For the prickly ash oil, toast the Szechuan peppercorns, then pound in a mortar and pestle. Grate the garlic and ginger very fine into the oil, then mix with the remaining ingredients and reserve.
Chokes, hens, greens
Prepare a grill with wood. Cut the hen of the woods into 2 pieces, oil and season them with salt and pepper and reserve.

Ball the greens up and slice into ¼-1/2 inch wide ribbons. Cook the sunchokes gently in a pan with oil until just tender.

Meanwhile, grill the hen until cook lightly browned, and hot throughout. When both the hen and the sunchokes are just don't, quickly wilt the greens in a dash of oil, stirring well and adding a splash of water to help the greens cook quickly. Very lightly season the greens
Plating
Mound the greens in the middle of two dinner plates, arrange a chunk of grilled hen on the greens pretty side up, scatter the sunchokes around, drizzle with the chili oil and serve with fresh lemon on the side.
Szechuan peppercorn chili oil
Oil scented with hot chilis and szechuan peppercorns, similar to the one you see on the tables at some Asian restaurants. Yield: ¾ cup
Ingredients
½

cup

oil

2

teaspoons

Szechuan peppercorns

4-5

large cloves garlic

1

inch

piece of ginger

2

Tablespoons

crushed red pepper flakes

2

Tablespoons

dried mild chilis

like chili japones, or dried bell peppers

¼

teaspoon

salt
Instructions
Grind the Szechuan peppercorns in a spice grinder or highspeed blender until very fine-they won't be totally powdered.

Slice the garlic and ginger thin, then combine with the oil and heat gently, until the garlic is lightly browned, and the oil is hot and bubbling. Add the remaining ingredients and pour into a bowl to cool, then strain and reserve the oil. Store the infused oil in the fridge after cooling.
Wild Plum Sorbet with Lemon Balm (or Shiso)
A tart-sweet sorbet made from American wild plums. Enjoy like a palate cleanser in small scoops or after a meal of fish. To enhance the color, consider adding 1-2 oz (⅛-14 cup) of raspberry or another red fruit puree. I garnish it with chokecherry gastrique to enliven the color.
Equipment
Ice cream or sorbet machine
Ingredients
3.5

lbs

very ripe wild plums

1

cup

water

6

oz

maple syrup

or to taste

1

teaspoon

lime juice

Small handful of lemon balm leaves*

See note

chokecherry gastrique

see recipe in link
Instructions
Make the plum coulis

Freeze or gently warm the plums in a 250 degree oven until softened. Cool the plums until you can handle them, then mash in a bowl. Gradually add 1 cup of luke warm water and mix to help extract the wild plum puree. Mash the mixture through a colander, then reserve the puree. Discard the pits and skins, or save to make plum vinegar. You should have about 2.5 cups of plum puree.

Infuse the coulis

Tie the lemon balm leaves with twine into a bundle, mush them up a bit to release their aroma.

Heat 50% of the plum puree with the maple syrup and lemon balm bouquet and bring to a simmer, then turn off the heat, cool to room temperature, add the lime juice and salt, then refrigerate overnight, covered.

Spin/Churn

The next day, discard the herbs and spin in an ice cream maker until thickened, like soft serve, then freeze. When the plum sorbet freezes, it will be firm, allow it to sit at room temperature for a bit to soften it and make it scoop-able.
Notes
This was supposed to be made with shiso, but the frost took it before we were able to film, so, I used lemon balm instead.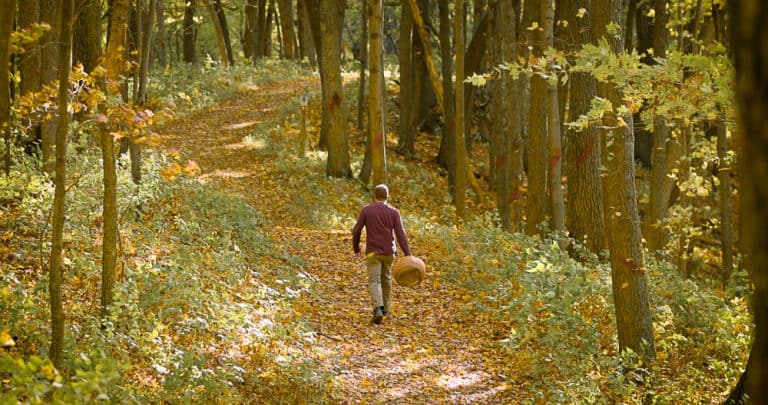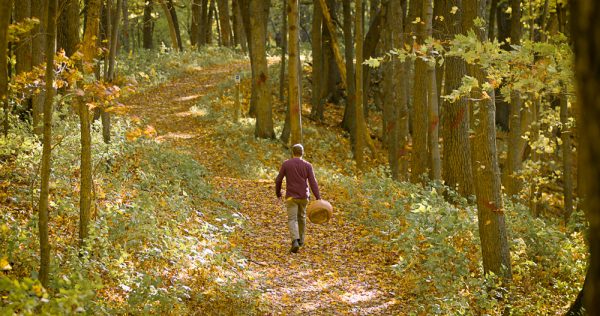 Special Thanks
Sam Thayer and Melissa Price of Foragers Harvest: Letting us film and harvest the most beautiful wild plums from their private orchard.
Forage North: Coming through with the champion hen in my time of need.
Bubbling Springs Farm: letting us film in the garden, and all over, all year long.
Andrea Gerasimo: Generous use of the 3rd Mountain Space for filming, storing props and equipment, and putting up with grill smoke during yoga classes.
Opinel: Collaborating with us on the episode.