I'm getting ready to make a winter trip down to Arizona to see my grandparents. One of the thngs that means, besides hiking up mountains with my Dad, is that I need to use up some of the ingredients I brought back with me last time so I can re-up on more. When I think of the American Southwest, I think of cactus paddles, prickly pears, and more recently, tepary beans-a now cultivated bean that grew wild in the Sonoran Desert, and seems to be kind of a culinary darling of many restuarants that want to tout local ingredients down there.
Using dried, smoked meat to flavor soup
I didn't want to go and purchase a bunch of stuff right before I left, so I kept the recipe really simple. For fun, and to build flavor, I channeled ancestral cooking techniques to get some protein in the soup and give it some backbone: dried, smoked goose breast.
Nowadays, with refrigeration, we don't have to dehydrate meat to preserve it from spoiling, but the deep, kind of haunting flavor that something dried and smoked gives to a brothy dish is a great pairing to any kind of bean. That being said, regular, smoked goose, or just a piece of ham scrap would be fine too.
Galinsoga shines in soup
From there, I knew there was only one more thing that it really needed: some foraged greens, but what kind? Nettles seemed a little out of place, as did mustard greens and waterleaf, all of which I've been trying to keep frozen for use in the winter. Galinsoga though, I knew would be perfect. Not only does galinsoga shine in soup, and turn into a velvety, gently herbaceous cooking green, but it's also traditionally used by people in South America. Mexico, not so much from my understanding, but it's probably the most important ingredient in the national soup of Colombia: Ajiaco.
Chef's Note
This is a very basic, beany soup. If you want, feel free to cut the beans down to ½ cup, and add some other vegetables, especially squash and/or hominy!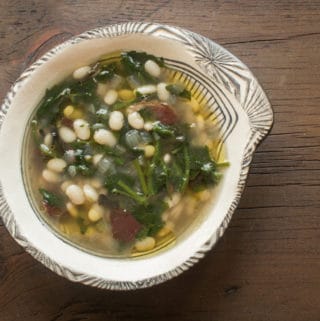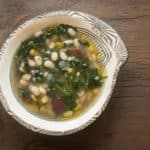 Print Recipe
Tepary Bean Soup, with Smoked Goose, Galinsoga and Hickory Nut Oil 
Native American-inspired soup with smoked dried goose, wild greens, and hickory nut oil
Ingredients
¾

cup

tepary beans

soaked in cold water overnight

Galinsoga

blanched, shocked and squeezed dry to yield ¼ cup, rough chopped

Kosher salt and fresh ground black pepper

4

cups

meat or vegetable stock

1

dried bay leaf

1

small yellow onion

small diced, ½ cup

12

grams

/ 6 slices of smoked

dehydrated goose breast, crumbled

1

tablespoon

cooking oil or lard

Hickory nut oil

or toasted sunflower seeds, to garnish, optional
Instructions
Sweat the onion in the fat until translucent, then add the tepary beans, bay leaf stock and cook for 45 minutes. Cover, add the crumbled goose and cook for 45 minutes more, or until the beans are tender and the goose has flavored the broth. Double check the seasoning and adjust as needed, then stir in the galinsoga and serve. Garnish with hickory nut oil or toasted sunflower seeds.