While we were in the ramp patch last week, we saw plenty of trout lilies. I learned about the trout lily last year, and knew that you could prepare and eat the leaves. Since they enjoy the same habitat as the ramps, it's pretty easy to pick a bunch of them at the same time so I made sure to take some of them home for experimenting.
A quick note on trout lily, if you are in Minnesota, make darn sure not to confuse trout lily with dwarf trout lily. Dwarf trout lily is a protected, endemic species, which means it grows in a couple counties in Minnesota and no where else in the world.
I had noticed the trout lily years ago when I first started hunting ramps, but I wrote it off as "that thing that looks like a ramp, but isn't". After playing around with them this week, I'll say that they have some fun potential in the kitchen, but you aren't going to be cooking them much, they are probably their best when eaten raw, lightly dressed in a salad, or simply sprinkled on top of something.
Trout lilies they are in the lily family, just like ramps, so it's fun to think of their familial grouping as a little suggestion from nature as to how they might be eaten. you can use them together in a dish, just like how you might combine cauliflower and broccoli. I remember years ago reading the Babbo cookbook by Mario Batali. In the book he has a pasta preparation called "five lillies" that I always liked. I used to just do like he did and combine different 5 different onions in dishes, but now I have some much more interesting lilies to cook with.
Since trout lilies have a subtle flavor, I wanted to pair them with a mild fish for an entree, some whitefish fit the bill. Since whitefish is mild, you want to pair it with mild flavored things. In this recipe all of the ingredients have mild, sweet notes: peas, carrots, trout lilies, and the sunflower seeds. None of those ingredients are going to overpower the flavor of each other. Substituting spinach or parsnips into this recipe would give fine results too.
Whitefish is hands down the most difficult freshwater fish I have cooked. The skin likes to curl as soon as it hits the pan, and you need to press down on it with your fingers or a spatula to really get a nice, crisp sear. The skin of whitefish also likes to stick to the pan if it isn't hot enough, and if the pan is too hot, the delicate skin can easily burn. Pressing ground sunflower seeds into the flesh before cooking creates a barrier between the fish and the pan, making it cook like a dream, and they taste great.
The "pea and carrots" portion of the recipe is fun. Every spring when there are a ton of peas around, it's fun to make a puree of peas flavored with a little mint, and pureed with some stock and grapeseed oil. The pea puree is velvety smooth and naturally sweet, just like the trout lily. The carrots are purple pumpkin carrots. You can use any variety of carrot you like, but know that purple carrots will stain other foods they come in contact with if used in a wet cooking method like braising.
Trout Lily Sickness
Some people are sensitive to trout lily., and by sensitive I mean it can and will induce vomiting minutes after eating. Absolutely do not serve it to anyone that hasn't eaten whatever species you've harvested for the dish before.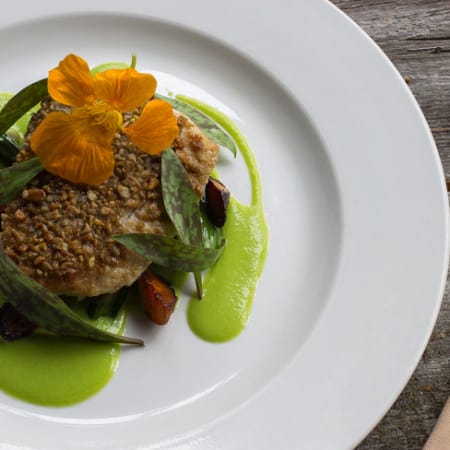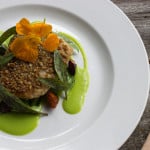 Print Recipe
Sunflower Crusted Whitefish with Two Lilies
Serves 4 as an entree
Ingredients
4

five ounce filets of whitefish

skin on and scaled

1

recipe english pea puree

follows

Kosher salt and fresh ground pepper

Flavorless oil like grapeseed or canola for sauteing

20

trout lily leaves

¼

cup

sliced bulbs from 4-5 ramps

leaves reserved and sliced into 1 in squares

Unsalted butter

a couple tablespoons for cooking the fish

2

cups

nice young carrots cut 1 inch on the bias

I used purple pumpkin carrots here, feel free to use any you like

2

cups

whole

un-toasted, un-seasonsed sunflower seeds, coarsely ground in a food processor (you will have some seeds left over)

Nasturtium blossoms or leaves to garnish

optional
Instructions
Season the whitefish with salt and pepper. Allow them to sit for a moment, the salt will draw out moisture that will help the seeds adhere. Press the fish, flesh side down into the sunflower seeds. Reserve the filets until needed.

Heat a pan with a couple tablespoons of the grapeseed oil, saute the carrots on medium heat, seasoning with salt and pepper. Cook the carrots until tender, covering with a lid and adding a little water to prevent burning. When the carrots are cooked, remove them from the heat and reserve.

In a small saucepan, heat the pea puree on low heat, whisking occasionally to prevent lumps from forming.

Heat a pan with ¼ cup of grapeseed oil and 2 tablespoon of butter, when the pan is hot and the butter is sizzling, but not browned, add the whitefish filets, seed coated side down to the pan. Reduce the heat to medium and cook until the seeds are browned, be careful they don't burn.  When the seed crust is browned, flip the fish and increase the heat to caramelize the skin. Cook for 3-4 minutes more until the fish is cooked throughout.

When the fish is cooked through, quickly reheat the carrots. Add the ramp bulbs and cook for 1 minute, until translucent. Lastly toss in the ramp leaves and remove the pan from the heat. Toss the carrots with the ramp leaves just to wilt them gently and remove their hot, raw taste.

Plate the dish by first putting ¼ cup of the warm pea puree on a plate, followed by the carrots and ramps. Top the carrots with a fish filet, then garnish with the raw trout lily leaves and a nasturtium blossom, if using. Serve immediately.
English Pea Puree
Yield: about 2.5 cups, plenty for garnishing 4 plates
Ingredients
3

cups

of shucked english peas

frozen can be easily substituted

1

tablespoon

chopped fresh mint

1

cup

vegetable

fish, or chicken broth

½

cup

grapeseed or canola oil

Pinch

of sugar or honey

to taste

Salt

for seasoning the blanching water
Instructions
Bring a pot of lightly salted water to a boil. Add the peas and cook for 2 minutes. Remove the peas and refresh in ice water to preserve their color. Transfer the peas, mint and sugar to a high speed blender. Add the stock or fish broth and puree. The puree will be chunky and coarse. Add the oil slowly, drizzling in a thin stream as if making homemade mayonnaise or aioli.

When all the oil has been added, the puree should be smooth and loose, if it isn't, add some cold water a tablespoon at a time until the mixture loosens and looks smooth. Afterwords, ladle the puree into a chinois strainer and pass through using a ladle or spoon. (Passing through the strainer, while optional, is preferable and gives a smoother texture.) Double check the seasoning, it should be just slightly sweet, adjust if necessary, then reserve the puree until needed.
Notes
English peas are the best for this, but they are expensive. I have worked at restaurants that used frozen instead, which makes it way cheaper. On a related note: for some reason pea puree ferments and goes bad pretty quick, I don't know why. It's best to make this the night before or the day of serving. It will keep for 3 days in the fridge.