A few years ago I did a dinner organized by my friend Mike Jozwik of Mushroom Mike LLC with James Beard Award Nominee Chef Dan Fox of Heritage Tavern in Madison.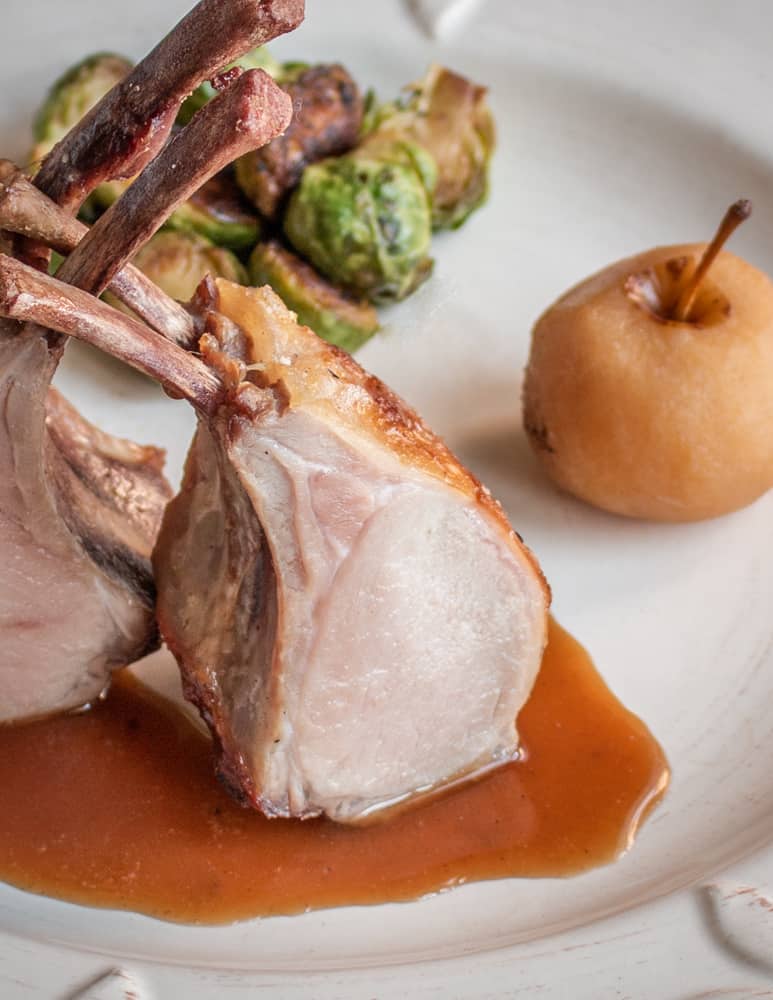 Heritage Tavern is a good restaurant, but one thing that really sets them apart is their farm they use to supply the restaurant with a variety of heritage pork breeds, as well as a number of other restaurants in the area.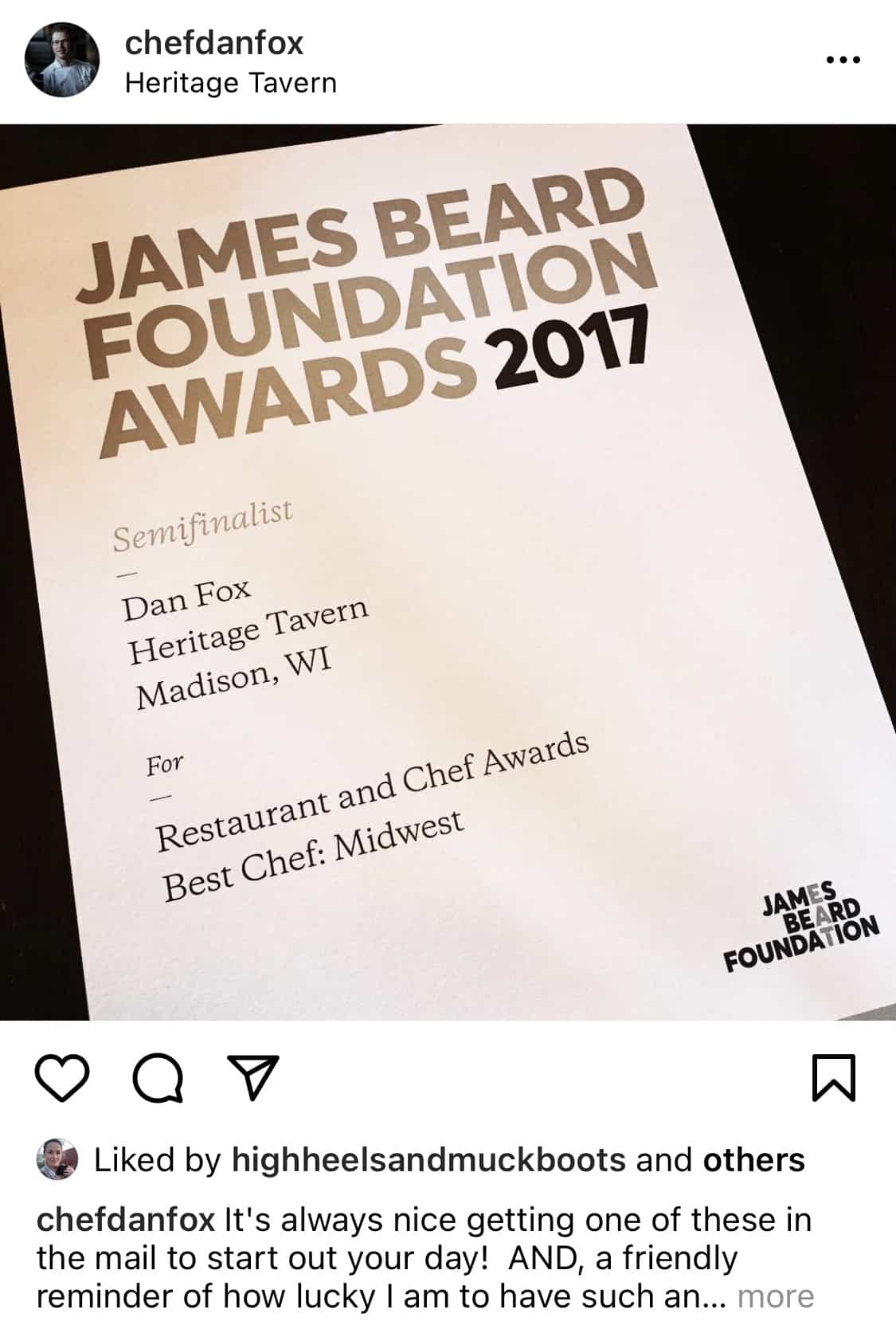 After the dinner, Chef sent me on my way with a parting gift of pork from the farm: a nice big shoulder, and a couple racks of their heritage breed suckling pig.
I love suckling pig but, there's plenty of people who think eating young animals is cruel or inhumane in some way. The reality is more complex though, and is the real nugget of truth here, although a rack of young pork with warm pickled crabapples and calvados sauce is fun too.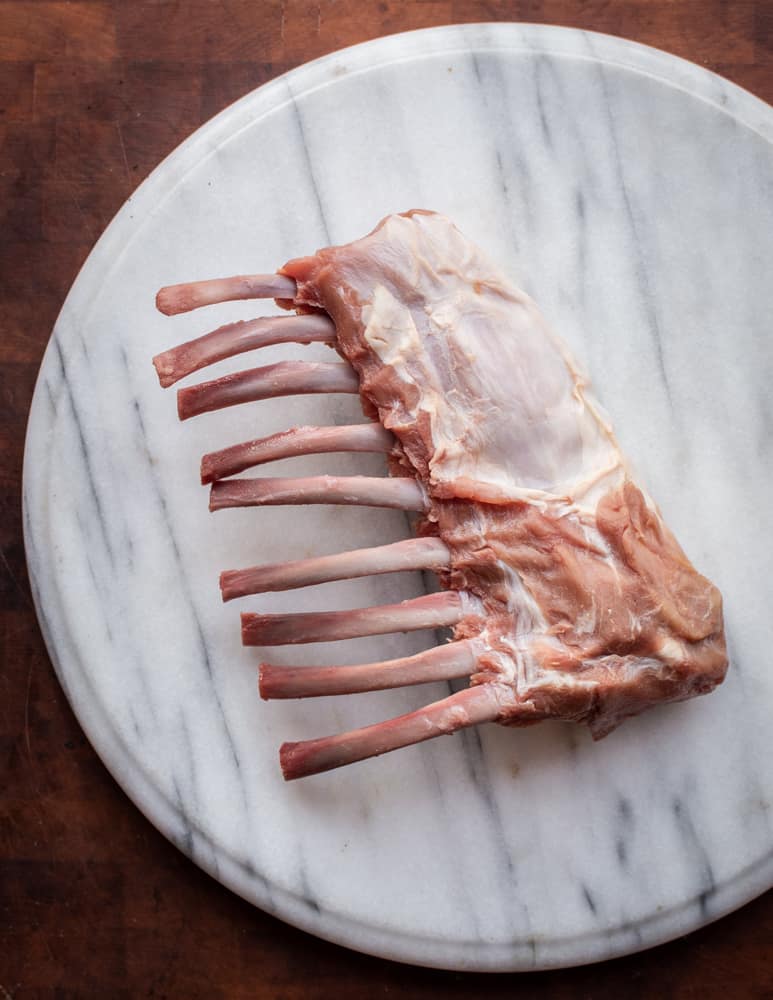 Mention eating suckling anything, as in veal, or, worst of all, use the word baby, and a lot of people I know will back away from the table slowly. Far from being some macabre ritual though, harvesting and eating "young" animals is relatively common around the world. Latin America has their cabrito (young goat) Italy has vitello (veal) and France poussin (chicken), to name a few.
What I found fascinating about my tour of Heritage Tavern though, was, at least when I was there, the restaurant served young pigs from Chef Dan's farm almost exclusively in the pork slots on their menu.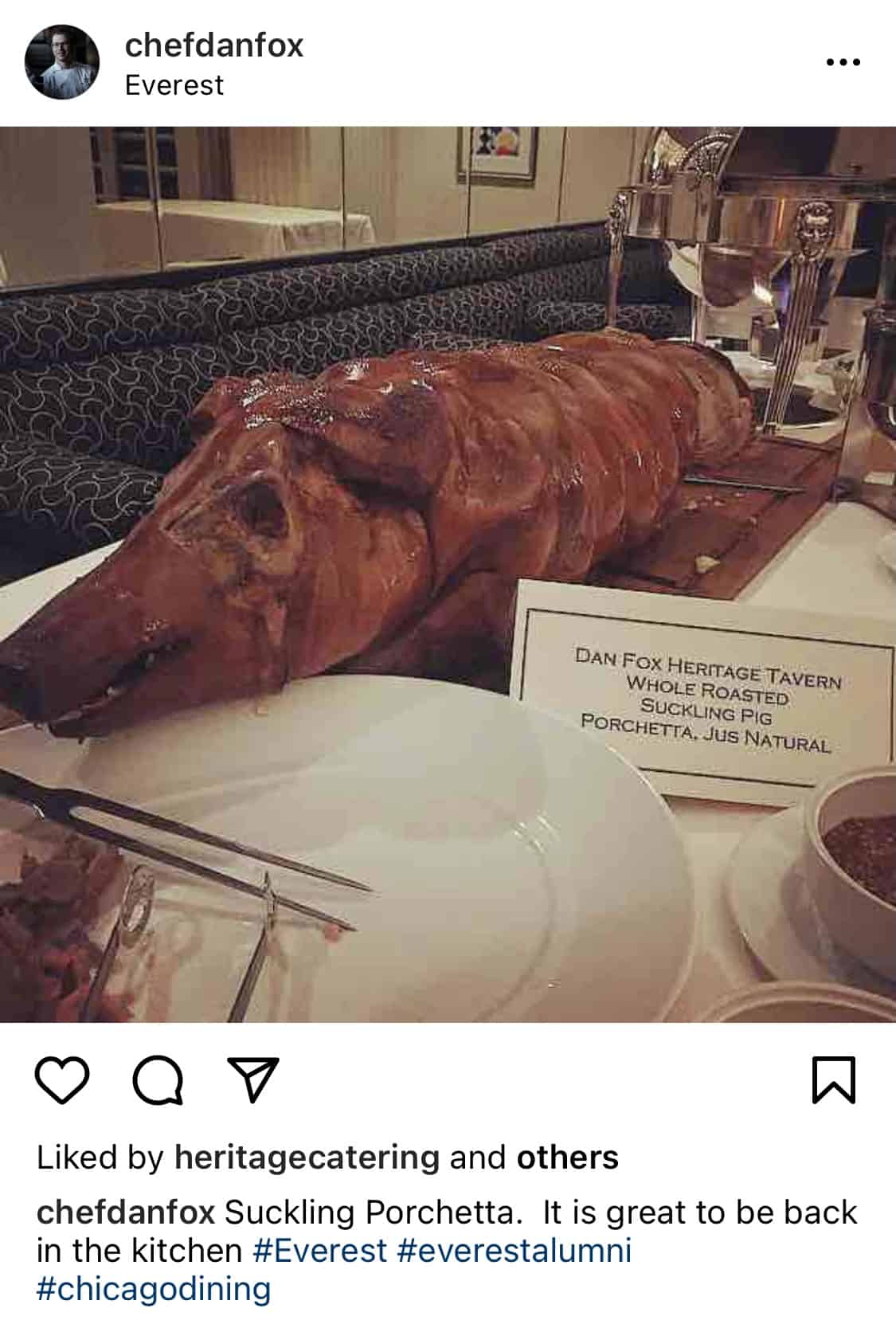 As Chef Dan explained it to me, he found the cost of feeding his pigs to a common weight for harvesting prohibitively expensive, so, he started having the pigs harvested at a younger age where the numbers would make sense (I'd wager the pigs were about 50 lbs a piece, about double the size of a technical suckling, but it's a moot point).
As anyone familiar with the restaurant industry knows, food cost reigns supreme, and if your ingredients are too expensive, they can throw the whole restaurant out of whack.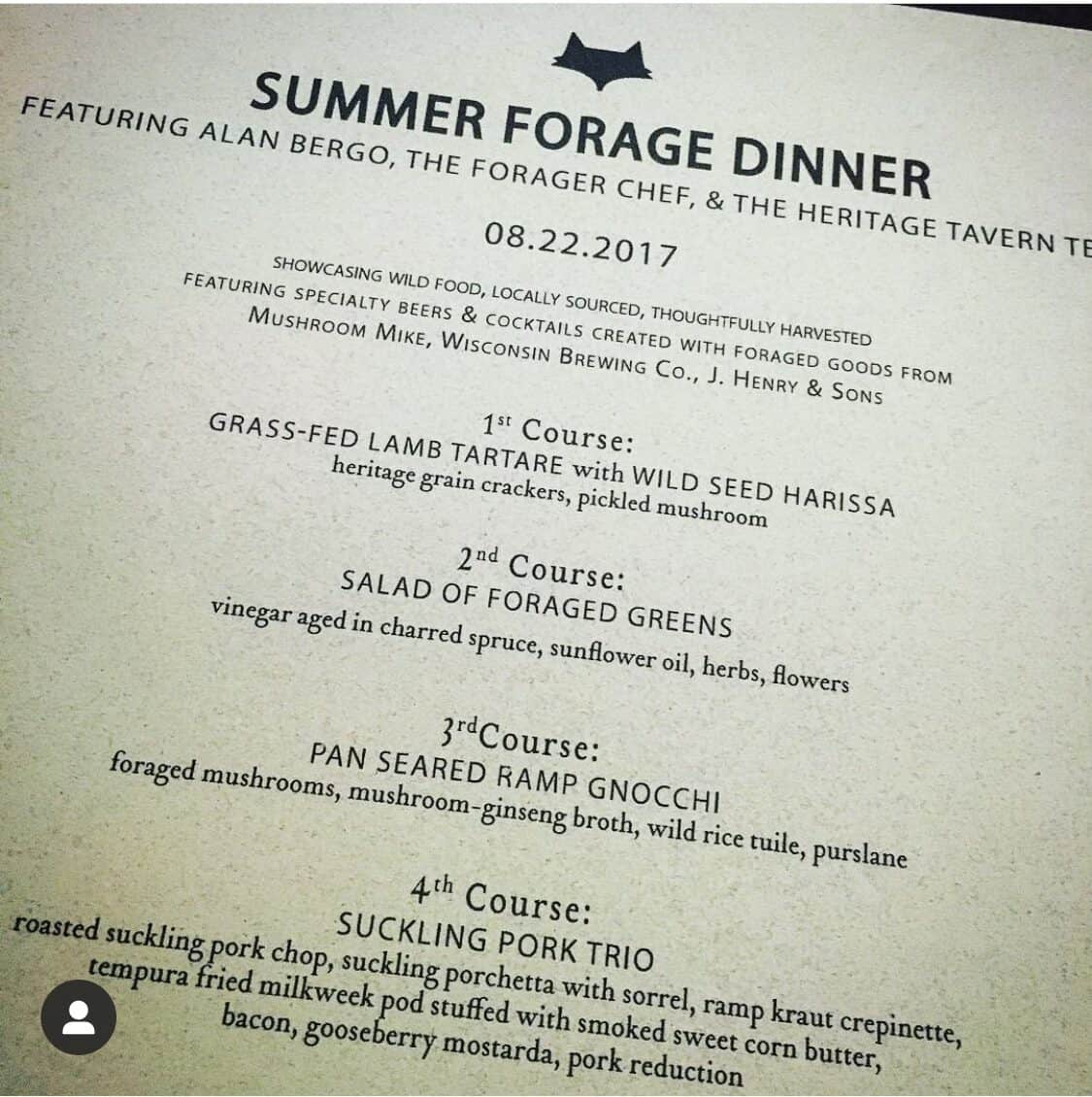 Heritage Tavern and it's supply chain integration offers a more complex example of efficiency than your average restaurant, since the operation as a whole juggles the expenses of a bustling eatery, as well as the costs involved in the care, feeding, housing, harvesting, and butchery of the animals.
As they're interconnected, both the farm and the restaurant need to have their costs dialed-in and fine-tuned for things to work.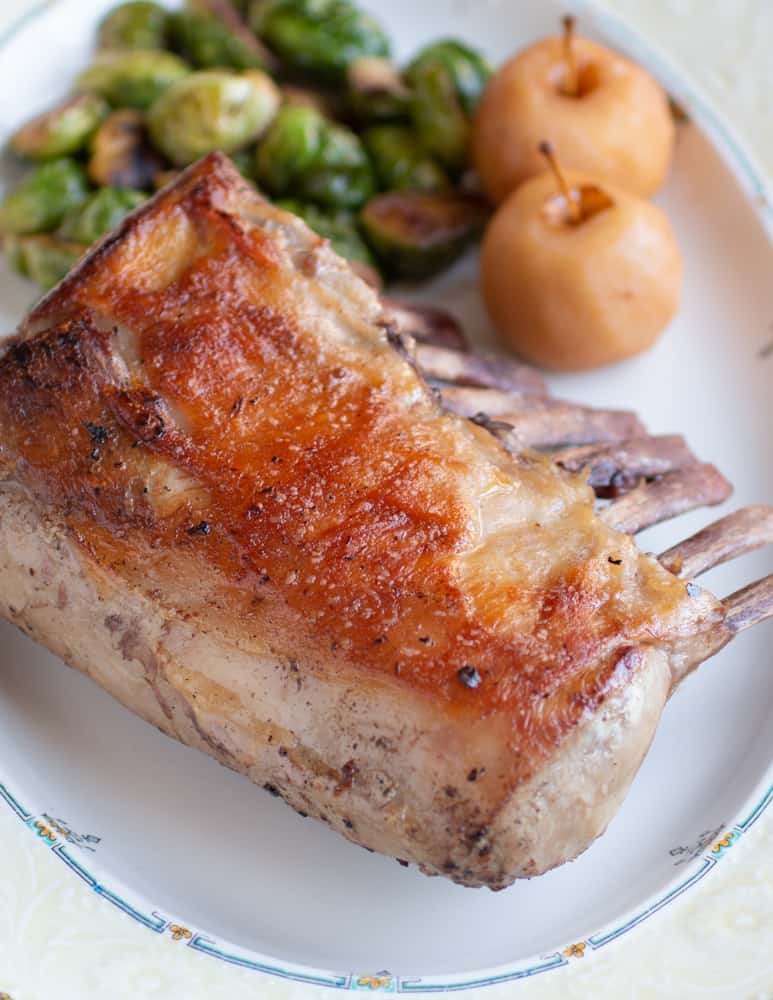 This sort of cost/benefit analysis regarding the age of animals is nothing new-people around the world have been doing it for a long time. The bigger you want a meat animal to become, the more you have to feed it, and food, like everything else, costs money, just ask any farmer who raises grass fed or pastured meat during a Midwestern Winter when they run out of hay.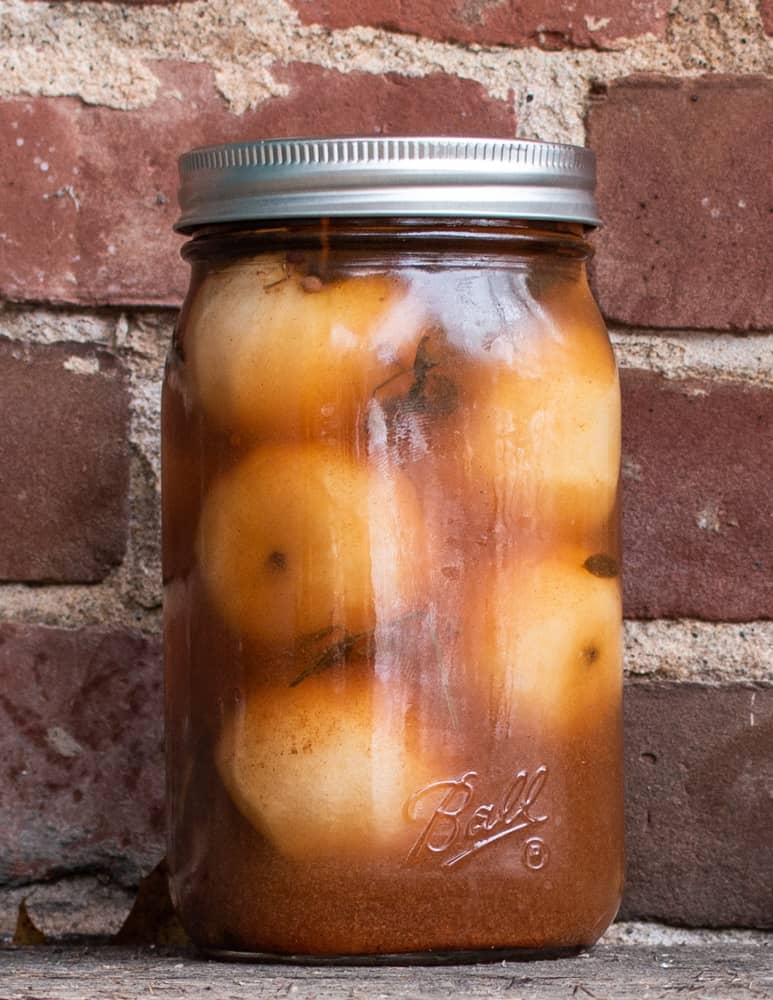 Pigs, as a general rule too, are a bit more greedy/needy when it comes to eating in that they're not going to eat grasses and young tree buds like a goat-just ask my friend Dana Burtness at Nettle Valley Farm who raises pastured pork (and is one of the best producers in Minnesota I know of).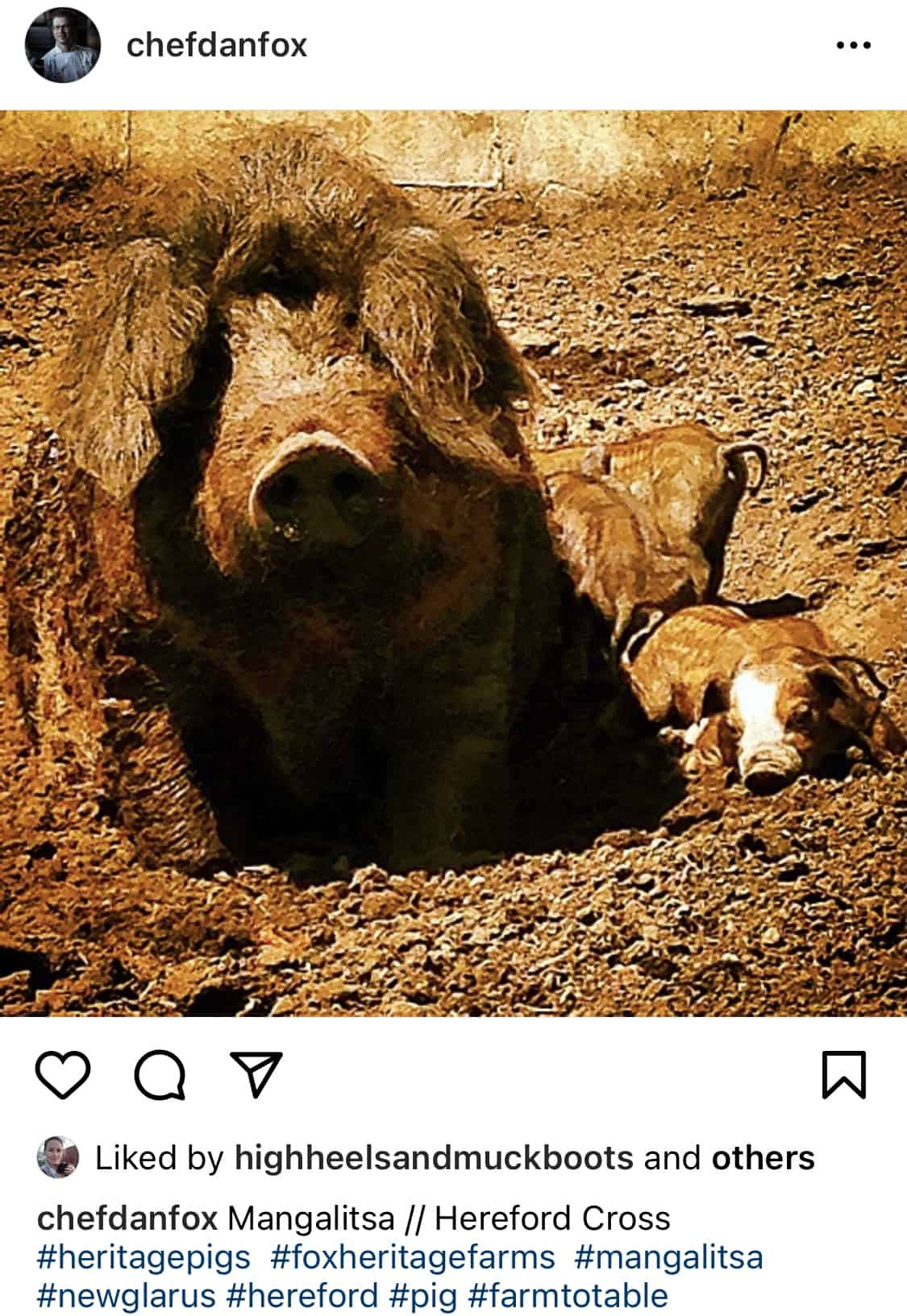 In America especially, we have a tendency to think that bigger is better: bigger vehicles, bigger salaries, bigger guns, bigger houses, bigger everything. I think the suckling pigs and Chef Dan's operation offers a lesson here that's applicable to more than just pigs.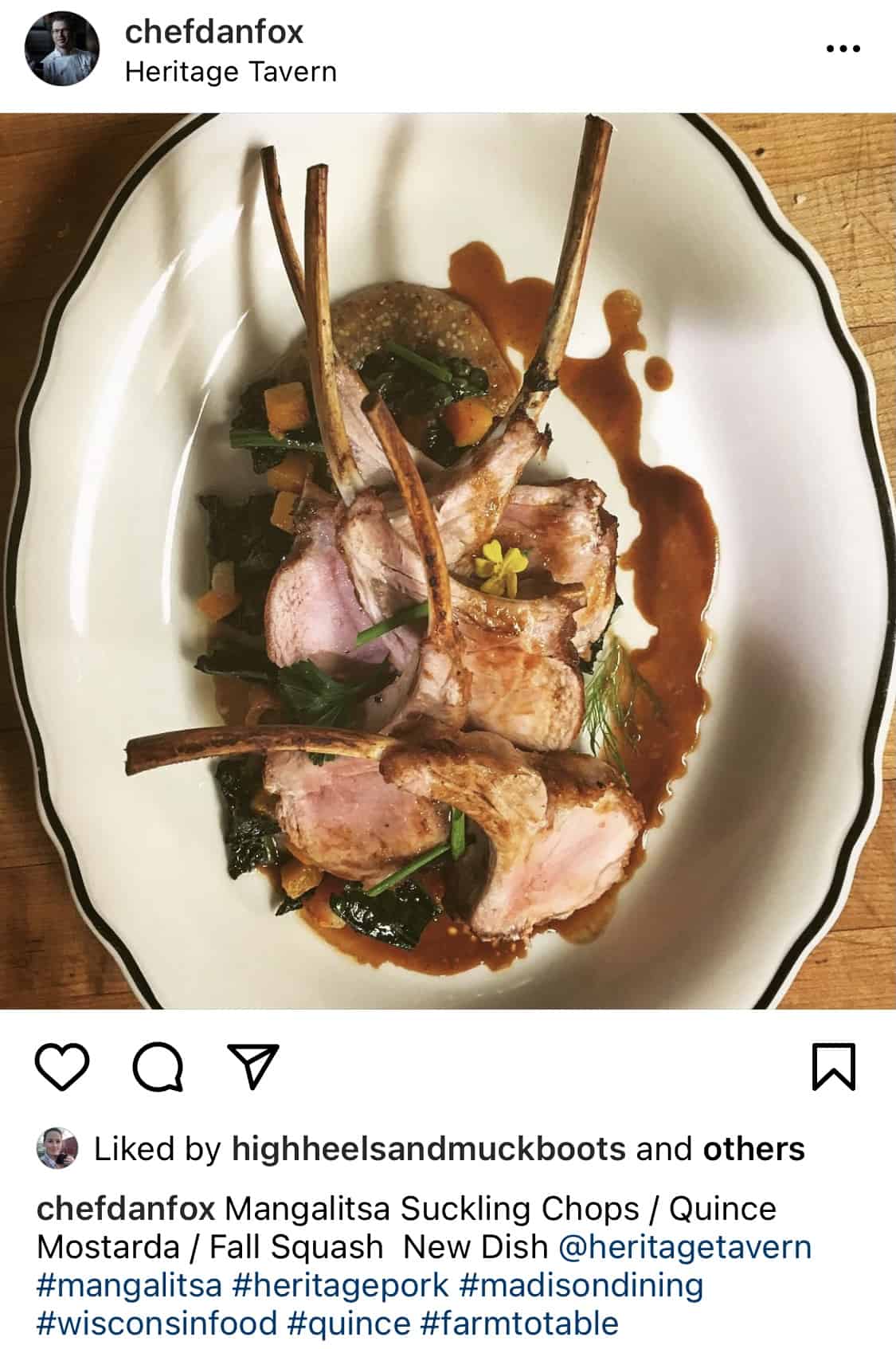 That lesson, at least to me, is that our world of industry and commodity would like to sell things that fit neatly into a box, the size and dimensions of which are probably dictated by what makes the most money for people in the supply chain.
As is so often the case with a one-size-fits-all mentality though, the ideal size of something, or in the case of food, the perfect stage of growth (pigs being only one example) can be up for debate.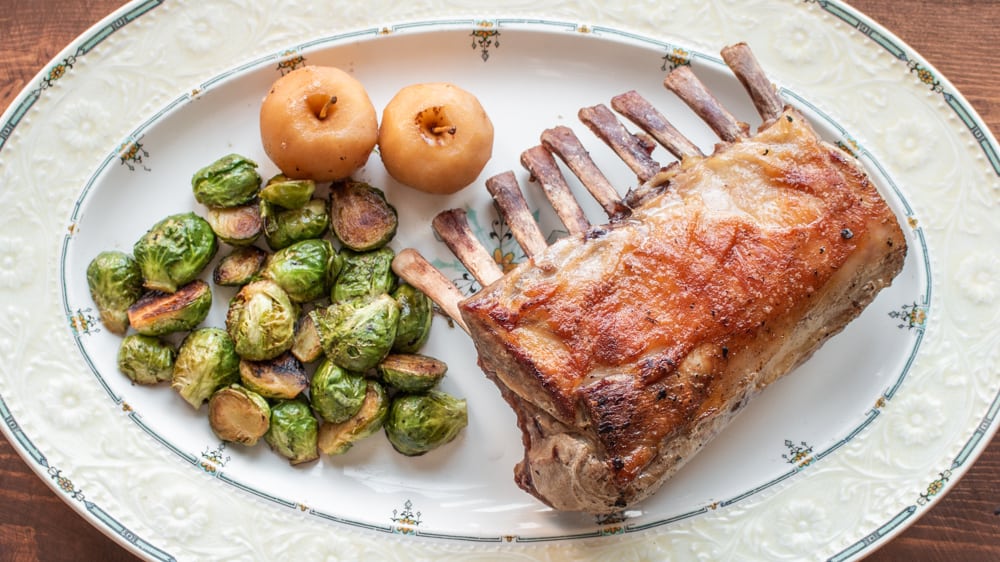 Lastly, I'll leave you with a rack of suckling pig with warm pickled crabapples and pan sauce spiked with calvados. The recipe is simple: season the meat and dry-brine it overnight, apply some heat, and let the quality speak for itself. The method here will work with a frenched lamb or goat rack too.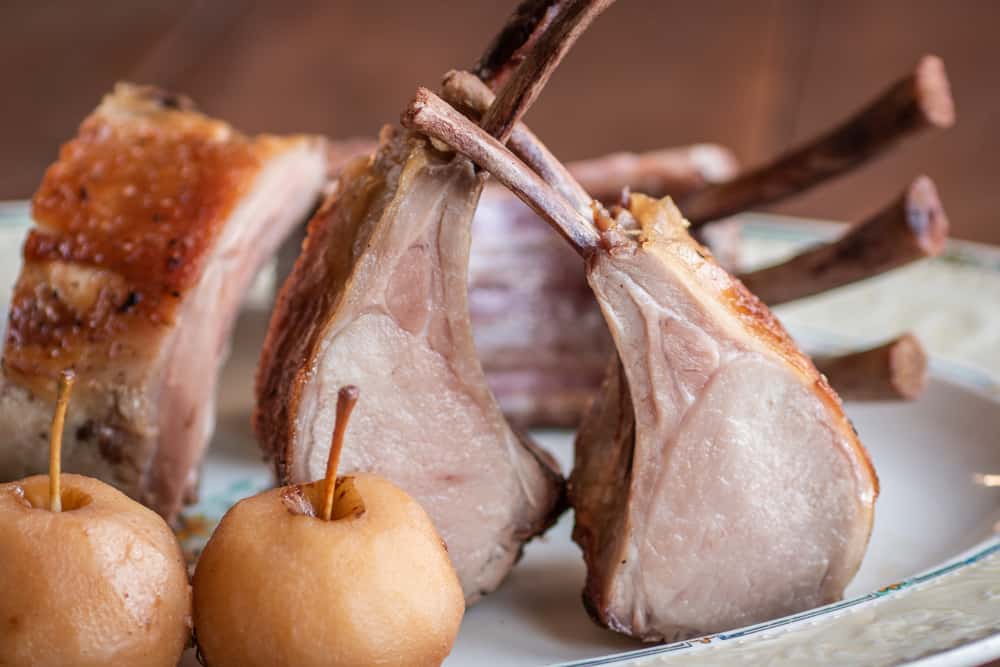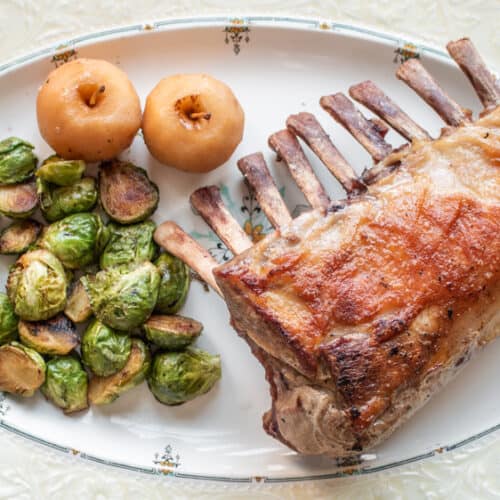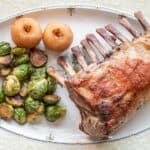 Print Recipe
Rack of Suckling Pig with Chestnut Crabapples
A classic preparation for pork. Look for chestnut crabapples at your local coop in the late summer.
Ingredients
Kosher salt and fresh ground black pepper

1

rack of suckling pig

or rack of lamb

2-4

preserved chestnut crabapples*(recipe follows)

you can also use fresh apples, just peel them, leaving the stems attached, and proceed as directed.

3

Tablespoons

rendered pork lard

unsalted butter, or cooking oil
Pan Sauce (optional)
4

cups

meat stock

(or use 1 cup of meat stock and ½ cup of demi-glace, which is what I used)

1

tablespoon

finely chopped shallots

¼

cup

cream

2

Tablespoons

apple pickling liquid

or apple cider vinegar

2

tablespoons

calvados or brandy
For serving
Pan Roasted Brussels sprouts
Instructions
Dry Brining the Rack
Season the suckling pig rack liberally all over with salt and pepper then allow to rest overnight in the refrigerator, covered. Allow the rack to come to room temperature before cooking.

Reduce the stock to one cup and reserve, or use demi-glace.
Cooking the Rack
Preheat the oven to 350, then heat 1 tablespoon of the fat in a heavy pan, turn on a hood vent or open a window, and sear the suckling pig rack fat cap-side down for a minute or two, then put in the oven to finish cooking.
Apples
Meanwhile, warm up the apples on the stove in the remaining tablespoon of fat, turning occasionally until hot throughout.

Cook the suckling pig rack until 140-145F, aiming for medium to medium-well, then remove from the oven and allow to rest in a warm place while you make the sauce.
Pan Sauce
Add the shallots to the pan with the remaining fat and cook until just lightly browned, then deglaze with the brandy, scrape up the brown bits, and reduce until the pan is nearly dry. Add the stock and cream and cook until the sauce coats the back of a spoon, about 10 minutes)
Serving
Double check the seasoning for salt and adjust as needed. To serve, cut the suckling pig rack into 4 two-bone portions, arranging two on each plate. Serve with the warmed apples, roasted brussels sprouts if using, and the pan sauce alongside.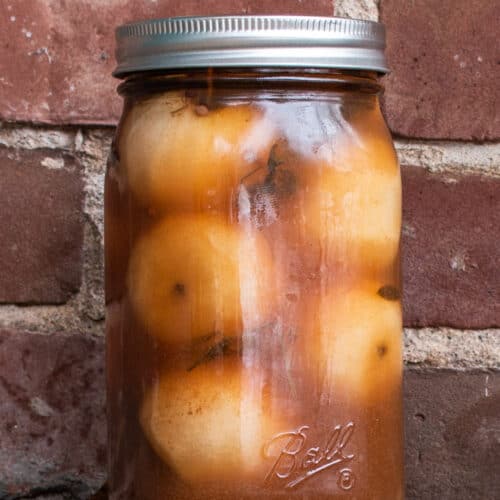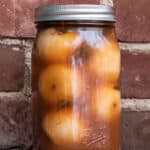 Print Recipe
Pickled Chestnut Crabapples
Pickled chestnut crabapples hot packed to keep their texture. In my restaurant days, we would submerge the apples in the pickle liquid cold and keep them in the fridge. Yield: 1 qt
Ingredients
1

cup

apple cider

1

cup

cider vinegar

½

cup

sugar

Galium leaves

½

inch

stick of cinnamon

5

cloves

10

black peppercorns

1

inch

piece of ginger

5

allspice

¼

nutmeg

crushed

2

teaspoons

kosher salt

Chestnut crabapples

as needed, peeled, stems attached, about 10 small apples
Instructions
Peel the apples, leaving the stems attached, dipping them in the cider vinegar as you peel them to keep their color.

Bring all ingredients to a simmer besides the apples, then add the apples and warm them through, but don't cook too much.

Arrange the apples in a quart jar snugly while hot, then bring the pickle mixture to a rolling boil, and pour over the apples, filling the jar nearly to the brim, jiggling it a bit to remove air pockets.

Screw on the lid and turn the jar upside down to cool and seal. As long as the jar seals, the apples will be good for 12 months, otherwise refrigerate them and eat within a few weeks.

You can process the jars in a water bath for 15 minutes, but the apples will soften a bit which gives you less control when reheating and cooking them.