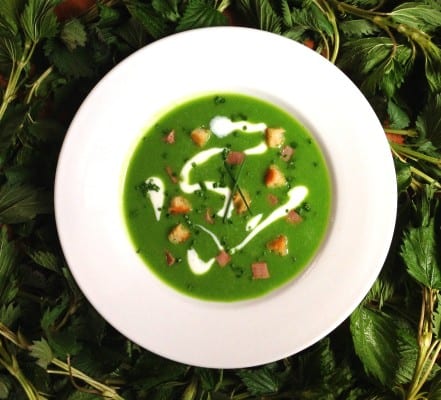 The second forage of the year didn't yield what we wanted this morning (morels), but it was still fruitful. Stinging nettles are up, so I decided take some home and make a fun soup. Nettle soup is a classic Scottish thing. I don't think that Scots would puree their nettle soup, but I like making pureed soups and garnishing them with various things.
The nettle soup itself is just a simple recipe, made from a base of stock and thickened with some potato to give it body. A nice trick hidden in the recipe is the use of flavorless oil when making a puree of any kind. Adding a bit of oil while pureeing makes the soup extra velvety, and helps it get extra smooth.
Passing the soup the through chinois strainer is the final step for the perfect texture, but you could use any old strainer you have at home if you don't have one, or even leave it un-pureed for a rustic look.
I like to use multiple garnishes on soups like these when I serve them. This is because they taste great, but served all alone pureed soups look a little like baby food. Here I used some beef tongue (you can substitute ham) fresh chives, creme fraiche for a sour note, and croutons for a little crunch and texture.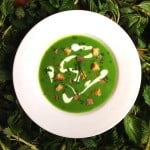 Print Recipe
Stinging Nettle-Potato Soup
Serves 4 as a 1st course
Ingredients
1

lb

singing nettles

clipped into small clusters of leaves, woody stalks removed.

4

cups

chicken or vegetable stock

preferably homemade

1/2

cup

diced russet potato

cooked soft enough for mashed potatoes.

1

clove

of garlic

1

cup

diced white onion

2

tbsp

unsalted butter

3

tbsp

flavorless oil

like grapeseed or canola

Kosher salt and fresh ground pepper

to taste

Garnishes

5

or six fresh chives

2

tbsp

creme fraiche or sour cream mixed with a tsp or two of water

2

oz

Ham or cooked tongue

diced 1/2 inch

1/2 

cup

croutons

diced 1/2 inch and toasted
Instructions
Sweat the onion and garlic in the butter, seasoning with a 1/4 tsp of salt. Cook until it is translucent and soft, then add the stock, potatoes and bring to a simmer. Cook until the potatoes are very soft, about 15 minutes.

In a large stockpot big enough to accommodate your nettles, heat some lightly salted water until boiling. Blanch the nettle leaves and tender attached stalks for 30 seconds.

Place the nettles, potatoes and broth in a blender. Puree, adding the oil to help make it smooth, then pass through a fine strainer into a bowl set over ice water to chill the soup and retain it's green color.

Season the soup lightly with salt if it needs it. The texture of the soup should be smooth and velvety.

Finishing and plating

Heat the soup in a pot until warm, check the seasoning for salt and pepper

In a separate pan, heat the tongue or ham.

Divide the soup between four preheated soup bowls, garnish with the tongue or ham, croutons, chives and creme fraiche. Serve immediately.