It's Sochan season, and while I was reminded of it in a big way while hunting morels in a flood plain forest. There were lots of familiar plants (no morels), but most of all I was struck by the Rudbeckia laciniata / Sochan—it was everywhere I turned. The colonies seemed to go as far as I could see. Struggling to keep my focus on morels (and struggling to find a single one) I called the days mushroom hunt a wash, switched gears, and packed my foraging backpack and the extra bag I was carrying full of Sochan.
I had a specific recipe in mind, a simple dish of wilted Sochan with all-local components. It was simple, but special: wilted sochan cooked in the rendered fat of my
venison bacon
with some wild leeks (ramps) the crowning glory being a good splash of homemade
maple vinegar
, which was a common acid Native Americans might use to season wild greens.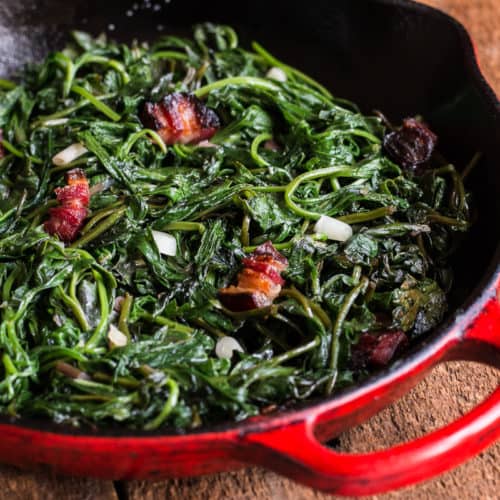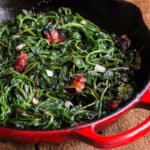 Print Recipe
Sochan with venison bacon and maple vinegar
Sochan with venison bacon and maple vinegar is an all-local take on a classic dish of wilted greens with bacon and vinegar.
Ingredients
8

ounces

Sochan

I used sochan, lamb's quarters, and galinsoga

2

oz

venison bacon

diced 1 inch

Kosher salt and fresh ground pepper

to taste

½

Tablespoon

cooking oil

(if your bacon is fatty you may not need this)

1

oz

Chopped wild onions, ramp bulbs, shallots or scallions

1

Tablespoon

maple vinegar, or to taste

Apple cider vinegar is a good substitute
Instructions
Trim the greens of any very hard stems, miscolored parts, bugs or insects. Meanwhile, bring a pot of salted water to a boil, it should be salty enough to taste like the sea.

Have bowl filled with very cold water ready.

Add the greens to the pot and cook until just tender and thoroughly wilted, about 30 seconds to one minute. Remove the greens to the cold water, swish them around to quickly chill, and function as a second wash to remove any debris.

Drain the greens and squeeze most of the water out, but not all. From here the greens can be frozen, or refrigerated for up to 5-7 days, as the salted water extends the shelf life of the greens. Coarsely chop the greens to break up stems, I like to do this in a cross-hatch pattern.

To finish, add the bacon to a pan, preferably cast iron, and begin rendering on medium heat with the oil. When the bacon is crisp to your liking, and some fat has rendered out, add the greens, reduce the heat to low just to warm the greens through.

Stir the wild greens to mix with the bacon and fat, then double check the seasoning, adjust as needed, season with the maple vinegar and serve immediately.
More