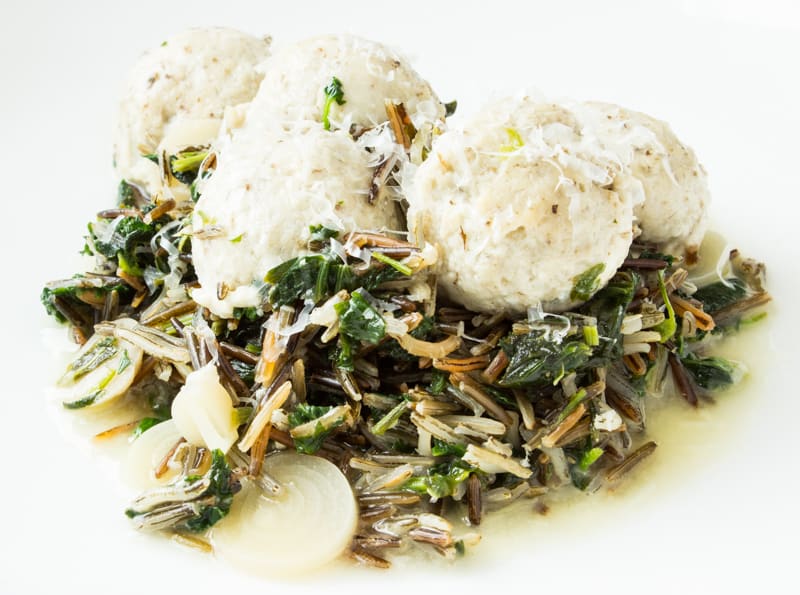 Here's a great recipe I donated to the non profit cookbook for the Cascade Mycological Society of Oregon. They were looking for recipes featuring slippery jacks, as well as a couple other underused species, like Lactarius. I've fought off Eastern European grandmothers a'plenty here in Minnesota for them, so you bet I have plenty of recipes.
It's pretty creative, as well as a good example of natural, seasonal cooking. This could be made in winter with frozen ingredients and dried mushrooms too, but here's how it came about for me:
During the beginning of Spring, I'm usually trying to get through my dried mushroom stash from the previous year before the morels come up. While I'm out scouting my patches, I'm not going to go home empty handed if the morels need another week or two, so I usually bring back some baby nettles, since they're one of the first things to grow, and a ramp or two if I can manage.
In a nutshell this was a segue between Winter and Spring: dried slippery jacks from last years harvest, and the youngest early blooming veggies I can scrounge up.
What's really creative about it though, is that the dumplings aren't made with your average ricotta, they're made with ricotta infused with dried, pureed slippery jacks.
You could definitely use a ricotta flavored with porcini or another bolete, since they all intensify so well after they dry.
Slippery jacks can be a little uninteresting fresh, and they come with a caveat as well: depending on the species, you may need to peel the slimy layer off of the cap to make sure you don't get an upset stomach. Suillus luteus is a perfect example of one to be careful with; it's moist coating peels off very easy.
There is one slippery jack that I haven't had to peel this way though, and that's the good old chicken fat bolete/Suillus americanus, which I like since they're easy to find, and plentiful.
Either way, I prefer slippery jacks dried to fresh for their improved shelf life and increased flavor.
Wait there's more!
Even if you don't have any mushrooms, ramps, or nettles at all, the proportions of this gnudi dumplings in this recipe shouldn't be missed. They're basically gnocchi made from cheese, and that's a beautiful thing.
I've put all sorts of things in gnudi, from pumpkin to pistachios, but remember that adding anything that's liquid (like spinach or vegetable puree) will mean the dough has to be adjusted with more flour or egg so that the dumplings don't dissolve in the water.
Know too that any over-kneading, will make the dumplings tough, they should be soft and yielding, but still hold their texture enough to be tossed in a pan with some sauce without disintegrating.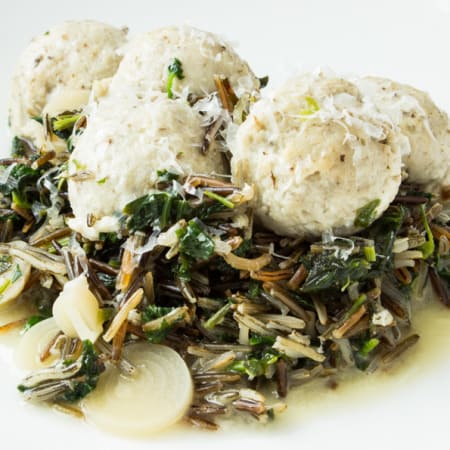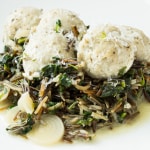 Print Recipe
Slippery Jack Gnudi, with Wild Rice, Ramps, and Nettles
Gnudi dumplings flavored with slippery jack mushrooms, served with wild rice, ramps and nettles
Ingredients
Gnudi
1

lb

slippery jack ricotta cheese

recipe here

1

egg

2

oz

grated parmesan cheese

plus more for grating

⅔

cup

"oo" flour

1

teaspoon

salt
Nettle-Wild Rice Garnish
¼

cup

chopped fresh ramp bulbs

2

cups

cooked wild rice

½

cup

packed blanched

shocked and coarsely chopped nettles

3

tablespoon

unsalted butter

½

cup

chicken stock

¼

cup

dry white wine
Instructions
Mix Gnudi
Mix the egg, parmesan, salt and a pinch of pepper until well blended. Mix in the ricotta. Sprinkle in the flour gradually while gently blending the cheese-egg mixture. Do not overwork it, or the gnudi will get tough.

Cover the dough with plastic wrap and allow it rest one hour

Bring a gallon of lightly salted water to a simmer.
Form Gnudi
Using two spoons and a floured work surface, scoop out heaping tablespoons of the mushroom cheese dough and form in to balls, rolling in flour to prevent sticking.

Drop the dough balls into the simmering water and cook until they float, then cook 5 minutes more.

Drain the dumplings and oil them lightly to prevent sticking. From this point the dumplings can be made ahead of time and reheated, or keep them warm and proceed as follows.
Plating The Dish
Heat 2 tablespoon of the butter in a saute pan with the ramps and cook for 2 minutes, stirring occasionally. Add the wine and cook until reduced by half. Add the stock, wild rice and chopped nettles and cook for 5 minutes more. Finally, add the remaining tablespoon butter and stir to combine.

Season the rice mixture with salt and pepper to taste, then divide the rice evenly between 4 bowls. Spoon some of the remaining liquid over the rice, top with 4-5 dumplings, garnish with parmesan and serve immediately.
Notes
You don't *have* to use 00 flour for this, but the difference in the lightness of the dumplings is noticeable, and worth it. Look online for the "Antimo Caputo" brand- it's what I use especially for these dumplings, and it's not expensive.