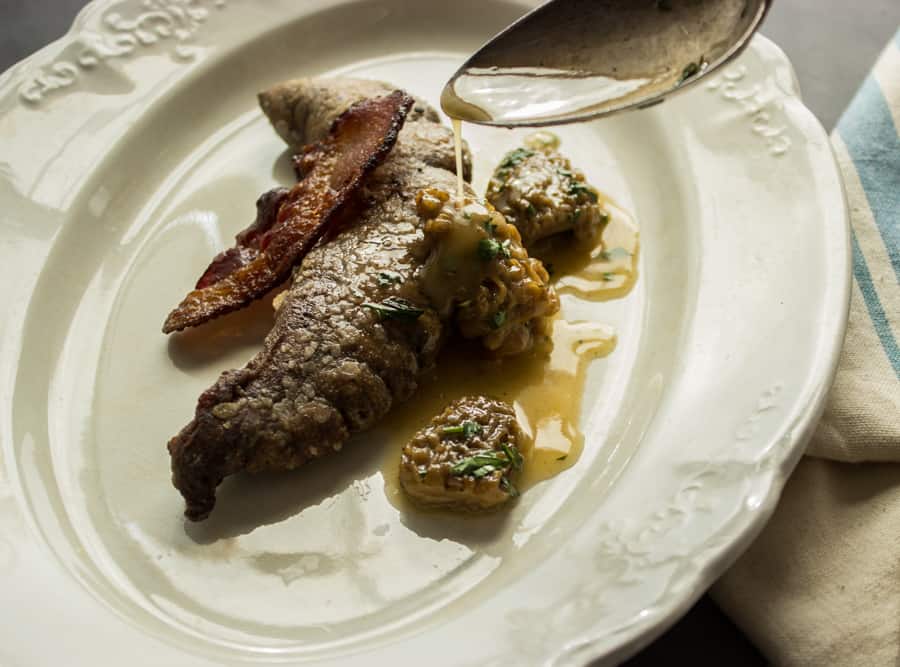 Want to impress your friends with a little known Spring delicacy? Well here you go, It's shad roe.
Basically this is the egg filled ovary of a fish related to herring, it's a Spring treat, and one of the forgotten treasures of our American culinary heritage. It was eaten seasonally by the Native Americans, then by the pioneers, even George Washington himself was said to harvest shad out of the streams near Mount Vernon as they traveled from the sea in the late Winter, back to the freshwater where they were born to spawn.
Like lobster, the roe used to be food seen only fit for slaves, or poor people, but eventually, people got wise to it. Sadly, shad roe isn't as widely available as it used to be, due to over harvesting and pollution.
Like plenty of "delicacies", it seems like most people are either ecstatic about it, or not into it at all. I know a few of my peers that don't like it, and I know plenty who love it too. I'm in the latter.
If you've never eaten it, you'd be surprised at the flavor. To the uninitiated, shad roe might conjure up the thought of eating a giant sac of fishy caviar, but nothing could be farther from the truth. It's more meaty than it is fishy, but there is an oceanic quality. It's almost like a sweetbread crossed with mild liver, and when made correctly and not overcooked, it's mild, but rich.
There's plenty of ways to use the roe. I've heard of people opening up the sacs and putting it on toast, mixing with scrambled eggs, or other ways you might have cured fish, but I think there's something decadently elegant about just eating a whole lobe.
Probably the most traditional I've heard of is with bacon, or with some capers and lemon. My version here is a riff on that. I used the usual bacon, but for the acid I reached for some pickled morels, since their texture is good with just about anything but dessert, especially if they're served warm like in the simple sauce here.
Lastly, I should mention that shad roe can be a little perilous if you're pan is too hot. If the egg sac breaks while cooking, the eggs can escape, bursting at your face like hot meteoroids, so don't have your pan smoking like your searing a skin-on fish filet, be gentle with the shad roe.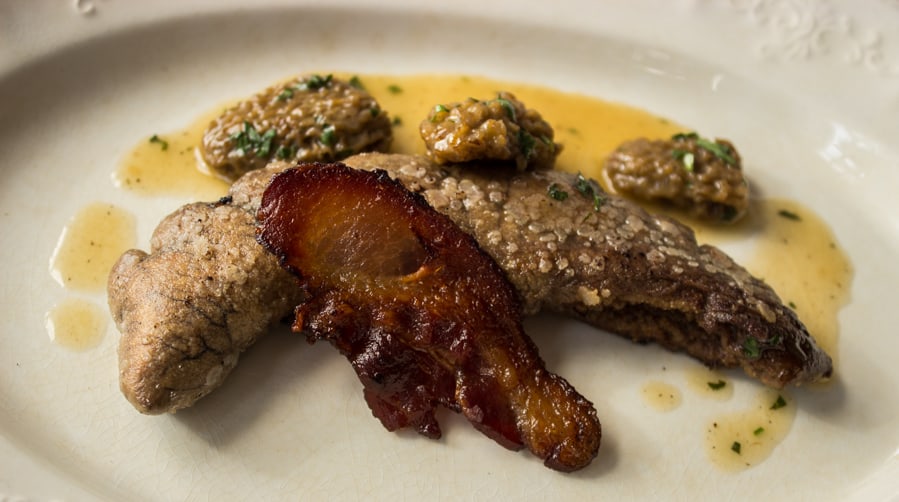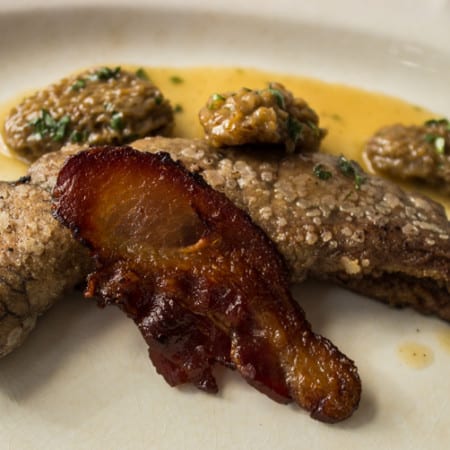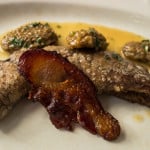 Print Recipe
Shad Roe With Pickled Morels And Bacon
Serves two as an entree
Ingredients
One double lobe of shad roe

about 4oz

2

oz

bacon

about 1 slice per person

¼

cup

dry white wine

½

cup

unsalted chicken stock

preferably homemade

6-8

pickled morels

depending on size, plus some of their pickling liquid for seasoning the sauce

One pinch

fresh chopped Italian parsley

Kosher salt and fresh ground black pepper

to taste

All purpose flour seasoned lightly with cayenne and paprika

for dredging the shad roe (cornmeal would also be great here)

1

tablespoons

unsalted butter

plus an additional 1 tablespoon for thickening the sauce
Instructions
Trim the shad roe, removing any excess connective tissue, and separate into two lobes.

Render the bacon in a pan on medium heat until crisp, remove the bacon and keep warm. Add 1 one tablespoon of the butter to the bacon fat, and melt on medium heat. Season the shad roes with salt and pepper, then dredge in the flour. Tap off any excess flour, then place the roe sacs in the pan.

Brown the roe sacs gently on each side for about two minutes, just enough to take the raw taste away from the flour and brown them gently. Do not overcook the shad roe. Cook the shad roe to medium, it should still be pink in the middle. Remove the roe from the pan to prevent overcooking and keep warm while you prepare the sauce.

De-glaze the pan with the wine and reduce by half. Add the chicken stock, pickled morels, and some of their pickling liquid to taste. Reduce the sauce by half again, then whisk in the remaining butter, increasing the heat to medium high and whisking to thicken the sauce. Double check the seasoning of the sauce for salt, pepper, and acid and adjust if needed. At the last minute before serving, stir in the parsley.

On two preheated plates, put down a fried piece of shad. spoon some of the sauce and morels over each shad roe, top with the bacon, and serve immediately.
Notes
The flavor of shad is almost more like something you might get from a land animal, that being said, if shad roe is out of season, some mild liver like chicken, duck, veal, or bison would be a great substitute for the roe.
The sauce has plenty of room for variation. It's a great example of using pickled mushrooms in a warm method-a technique that seems to surprise people when I mention it. Just because pickled mushrooms are cold doesn't mean they have to stay that way. Obviously substitute other pickled mushrooms if you like.
Last but not least, you need to know that if you overcook the shad roe, it will suck. Overcooked shad will tastes like some funky meatloaf, and the eggs tend to get a little crunchy. You can under-cook the shad and reheat in the sauce gently if it gets cool after you remove it from the pan.
See my recipe for pickled morel mushrooms here.
More
Forager's Guide to Morel Mushrooms