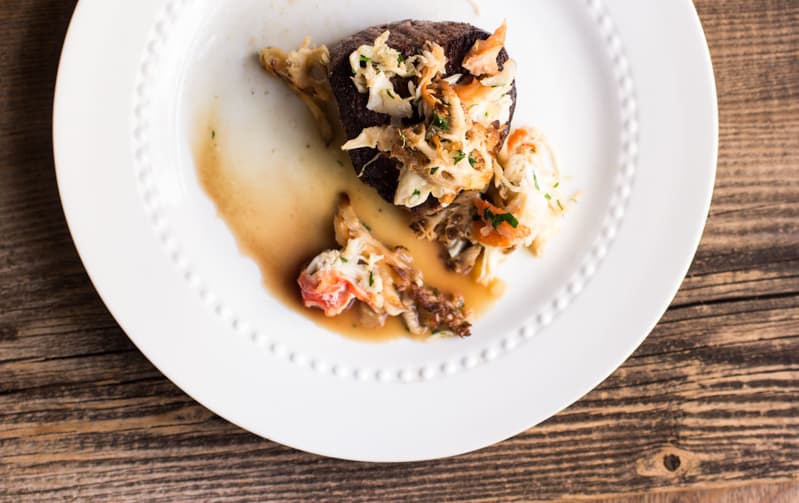 It's been a while since I've seen some good fruiting of hericiums in Minnesota-a couple years. It's not that I don't have anywhere to go and pick them, it's just that as is the case with hen of the woods and chickens, sometimes they skip a year or two and you won't see them at all.
Luckily I took some of my line cooks out to hunt a couple times this year and one of those hunts produced the biggest fruiting of hericiums I'd ever seen. Big pillows of soft, white coral on a rotting log, seeing their stark white against the background of putrid wood always makes me think about life, death, and our perception of it.
Aside from that, hericiums just look cool, other-worldy, and it doesn't hurt that they taste great fried up in a little butter with nothing more than a pinch of salt. Their texture and aroma hints faintly at crabmeat, and that's the idea for this great surf and turf combo here. Hericiums are cooked with garlic, herbs and wine, and left to marinate, then reheated in a little butter with some king crab meat, a splash of lemon, and tossed on top of a steak. Viola.
While you're here looking at steak too, another good option for using up hericiums to serve alongside meat are lions mane crab cakes.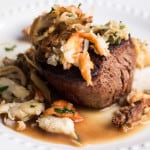 Print Recipe
Hericium Surf and Turf
Seared Tenderloins with Hericium Mushrooms and King Crab
Ingredients
12

oz

beef tenderloin steaks

4

ounces

king crab

¼

cup

marinated hericium mushrooms

see recipe below

Kosher salt and pepper

to taste

High heat oil or lard

as needed for searing, about 1 tablespoon

Squeeze of fresh lemon juice

to taste

Fresh chopped Italian parsley

to taste

2

ounces

unsalted

clarified butter
Instructions
Preheat and oven to 250. Heat the oil in a heavy bottomed pan such as cast iron. Season the steaks with salt and pepper on all sides, then brown them in the pan. When the steaks are browned, remove them to a cookie sheet with a resting rack and place in the oven for 10 minutes, or until just warmed through.

Meanwhile, melt the clarified butter in a pan and add the crab and mushrooms, heat them gently until just warmed through, making sure not to overcook the crab, which will toughen it. Season to taste with a little salt, pepper, and lemon juice, then finish with the parsley.

To serve, place a steak in the middle of two preheated dinner plates. Using a slotted spoon, top each steak with an even amount of crab and hericiums, then garnish with a drizzle of the butter. Serve immediately with a green salad on the side.
Notes
I found I really prefer king crab to most other types for this. My favorite comes from Bristol Bay in Alaska, and has a nice balance of sweet sea flavor, with a mild amount of salt. Not all king crabs are created equal though-some are way too salty for my taste, typically being the cheaper versions. As with most things, you get what you pay for.
For the recipe here, you can also de-glaze the pan you cooked the steaks in and make a simple pan sauce, there's plenty of options. 
For the mushrooms, I used my conserve recipe here.