Last year I got to cook for a chef from Italy I used to cook under for his anniversary. I wanted to showcase a couple wild ingredients to show my old chef what I learned, some super fresh scallops with a sauce made from wild Szechuan peppercorns and sprinkled with a little tangy sumac was one of my favorite courses.
Eating fresh scallops raw is a real treat. They don't need much though, other than a little acid in some form, which you get here from a sauce made from green Szechuan peppercorns/Zanthoxylum americanum.
The Szechuan peppercorns are a great ingredient to play with in the kitchen, albeit confusing at first. Even though one taste will tell you they taste nothing like a black, white or green peppercorn though (they resemble them only in shape). fresh Szechuan peppercorns function more as an herb in the kitchen, as opposed to their spicy namesake.
I also added a little shaved english cucumber for some freshness to the scallops, and to help repeat the circular pattern of the on the plate. it's a great little appetizer, try the sauce with some fish next time you get your hands on some of the fresh green berries (I prefer them to the red ones since the gritty seed isn't developed yet).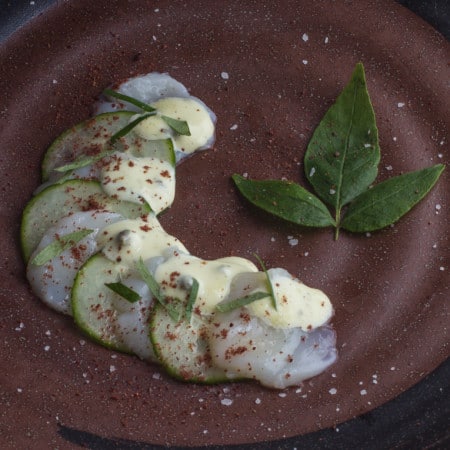 Print Recipe
Scallops Crudo With Wild Szechuan Peppercorn Sauce and Sumac
Serves 4 as an appetizer
Ingredients
4

large sea scallops

preferably u/10 size, although any size will work, provided they're very fresh

Kosher salt

to taste

1

large english cucumber

A few prickly ash/Zanthoxyllum leaves

cut into ⅛in chiffonade (thinly sliced), optional

1

recipe wild Szechuan peppercorn aioli

(follows)

1

Teaspoon

Ground Staghorn Sumac
Instructions
First, chill the serving plates, next put the scallops in the freezer for 20 minutes. You don't want to freezer the scallops, but having them tighten up a bit from being very cold makes cutting them paper thin easy.

To serve the scallops, using small 6 inch utility or slicing knife, slice the cucumber ⅛ in thick. Slice each scallops into ¼ thick slices, then lay alternating layers of scallop and cucumber on each chilled plate. Season the scallops lightly with salt, then drizzle a tablespoon of the aioli over the scallops and cucumbers, sprinkle lightly with sumac, garnish with the sliced kinome leaves, and serve immediately.
Notes
Only use the freshest scallops possible for this. You also want to make sure that they're "dry pack", which means they haven't been soaked in a solution to plump them up, which makes them taste watery.
Wild Szechuan Peppercorn Aioli

The Szechuan peppercorns are used here in two different ways: fresh, to give their biting, numbing quality, and quick pickled. The quick pickle transfers their flavor to the vinegar, which perfumes the sauce with their funky keffir lime like scent. In the end you get a sauce that has more of their aroma, and less of the bite.
Makes enough to sauce 4-6 portions of crudo
Ingredients
¼ cup mayonnaise, preferably homemade
1 teaspoon roughly chopped, fresh green Szechuan peppercons/prickly ash berries, plus 1 tablespoon of whole green berries
¼ cup water
¼ cup champagne vinegar
½ teaspoon fresh lime zest
¼ teaspoon kosher salt, or more to taste
Method
Bring the water, whole green berries, salt and vinegar to a boil in a small saucepan, then turn off the heat, pour the mixture into a container, and chill. Allow the berries to sit like this overnight, better yet, have some pickled and just take them out of the jar.
The next day, reheat the peppercorns in their vinegar liquid and reduce by ¾. Stir the whole berries and juice into the mayonnaise, add the raw, chopped peppercorns, then the lime zest, finally, double check the seasoning for salt and reserve.