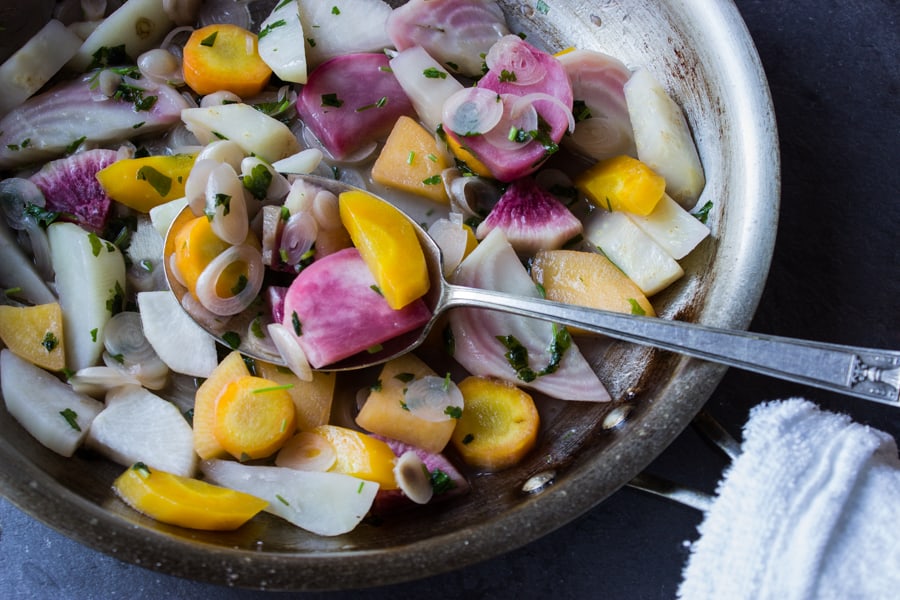 Nothing evokes thoughts of winter to me like a bowl of properly cooked root vegetables.
I can still remember the first time I cooked with real roots, and by that, I mean something that isn't a baby carrot from a bag. I was 18, and thought I knew plenty about food. I didn't know what rutabagas or celeriac were though, or how to cook them.
I got a crash course when my chef at the time introduced me to a new vegetable side dish we'd be making: a melange of roots glazed in butter, chicken stock, and parsley.
I can still remember how great it was to taste things I had never eaten before: turnips, celery root, parsnips, and rutabaga, all tossed in a rich sauce, with each root giving you a different flavor with each bite.
Over the years I've continued to make the roots at different places I've worked at and at home, they've become a bit of a tradition.
There's plenty of ways you could play with this recipe, but one of my favorite things about Winter is using up the pickles I've put up from the previous season, so when I came up with this variation one year using the past year's pickled ramps (a.k.a wild garlic or ramsons), I made sure to write down some basic proportions.
There's just something about pickled ramps and the liquid from their jar that is so good. Cooking it a bit to concentrate the flavor will reward you too-it's a technique I use almost anytime I'm working with them.
Even if you don't have access to some pickled ramps, there's a great nugget of kitchen wisdom here. The technique of pre-cooking the roots individually is essential for the dish to taste right. If even one root is over cooked, it will start to disintegrate and cover the other roots in crumbly, vegetal debris. If one of the roots is under cooked, there will be a pleasure halting crunch that ruins the experience of eating the entire thing.
Another important thing to mention is that roots like rutabaga and turnips need to be peeled more than most people think. It isn't enough just to peel the first layer of skin off, there is a second layer underneath that needs to be remove too, essentially those roots need to be peeled twice.
Roots like carrots and parsnips need special care too. Depending on the species you're cooking, and how long they've potentially been stored in a root cellar, the core might have an unpleasing, fibrous texture, which will need to be removed before cooking for the best result. I've run across some heirloom carrots that have completely inedible cores, they're like trying to eat fiberglass.
Like I mentioned, it's important to know that each root cooks at a different rate. Rutabagas, carrots and beets will take the longest to cook. Celery root cooks the quickest. Winter radishes can be tricky, getting much more difficult to work with as they age, as well as being an acquired taste cooked.
To really make this all that it can be, you need to find an interesting variety of roots and then cut each one into a different shape to show off their individuality to the diner. If you like cutting food into shapes, like I do, it's a lot of fun.
Here's some roots I'd suggest starting out with that are easy to cook:
Turnips: scarlet (the sweetest), white, gold
Round roots: celeriac, rutabaga
Carrots: white, red, yellow, pumpkin, parsnip
The type of vegetable usually dictates what shape it will be cut into. After trimming, rutabaga and celeriac are easy to cut into a giant square, and from there can be cut into a diamond, or cube, etc. Carrots can make good coins, depending on their size. Play around and create some shapes of your own sometime-there's no wrong way to do it.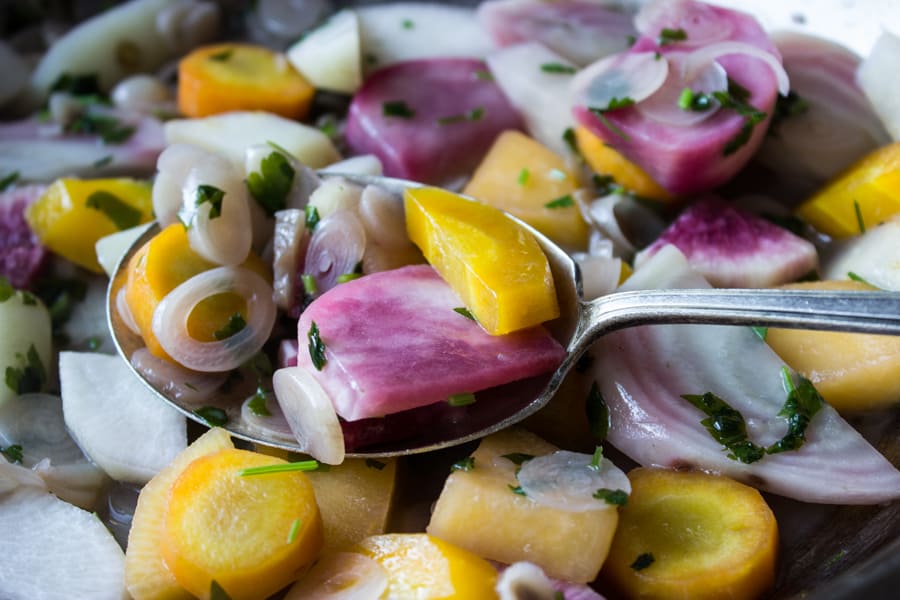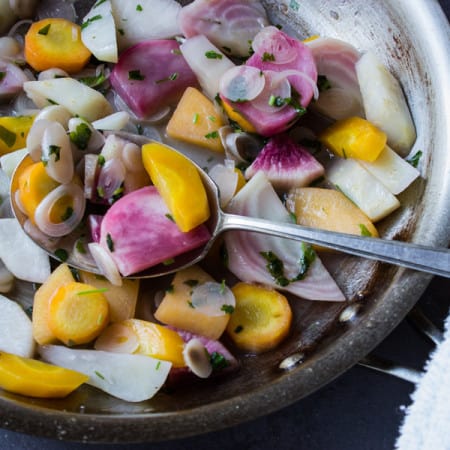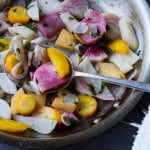 Print Recipe
Root Vegetables With Pickled Ramp Glaze
Serves 2 as a side dish. Scale as needed.
Ingredients
2.5

cups

a little over 1 lb mixed root vegetables, trimmed and cut into similar sized pieces

1

cup

juice from pickled ramps

6

or so pickled ramp bulbs

sliced

¼

t

sea salt

plus more for seasoning the blanching water for the roots

Fresh ground white pepper

to taste

1

t

sugar or honey

T

unsalted butter

1

T

fresh chopped mixed sweet herbs

like tarragon, chervil, flat leaf parsley, etc. (you can use just parsley in a pinch)

Ice water

for shocking the roots
Instructions
Bring a pot of salted water to a boil. Blanch each of the roots individually until cooked through, but not mushy (a couple minutes a piece) then shock in the ice water, remove, and reserve.

In a larger saute pan, bring the salt, sugar, ramps, and ramp juice to a simmer, then add the roots and heat through. Continue cooking the mixture until the juice in the pan reduces and begins to get syrupy, about 5 minutes.

Add the butter to the pan, toss to incorporate and thicken the sauce, it should coat the roots, and be shiny and thick when made correctly.

When the roots are coated in the sauce, quickly double check the seasoning for salt and pepper, add the herbs and then serve immediately. Be careful at the end, since overheating the sauce once you've added the butter can cause it to break and become greasy.
Notes
Sweet, sour, salty, buttery, this hits all the notes. It's fun to use a big blend of roots too, but if you only have some carrots, it will still taste great!
Serves 2 as a side dish. Scale as needed.
See my basic recipe for pickled ramps here.
More