One of my favorite ramp leaf recipes of all time. This green sausage made with ramp leaves is a play on French garlic sausage that will rock your world.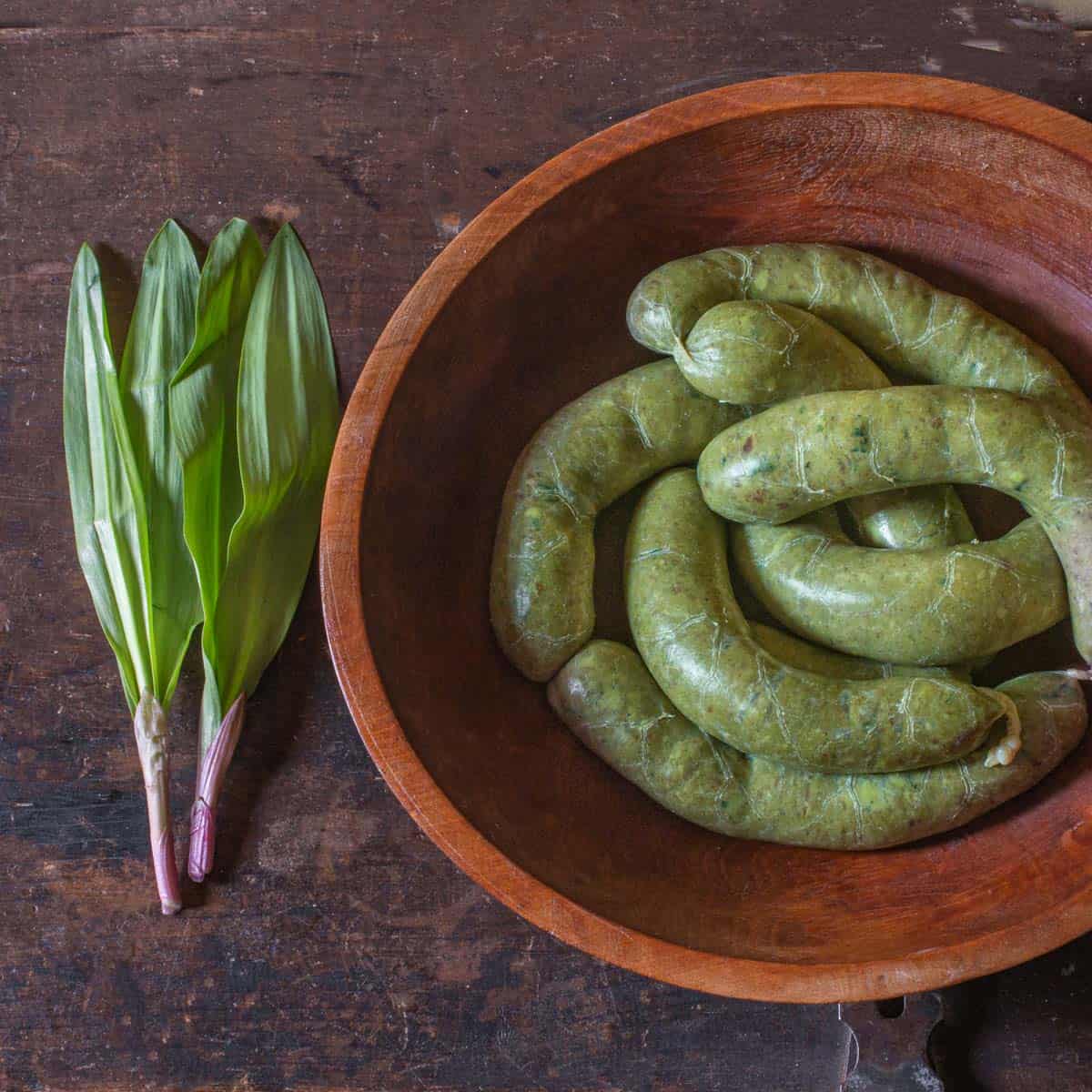 A couple years ago, my friend, chef, and mentor Andy told me one of his favorite ways to use ramp bulbs was to put them through the grinder with meat while he makes sausage or grinds burger meat.
I thought it sounded awesome and had to try making a version for myself: it was terrible. I used way too many ramps, and the burgers I made ended up being so garlicky-hot that everyone hated them. This year I finally felt ready to tackle a ramp-meat recipe again.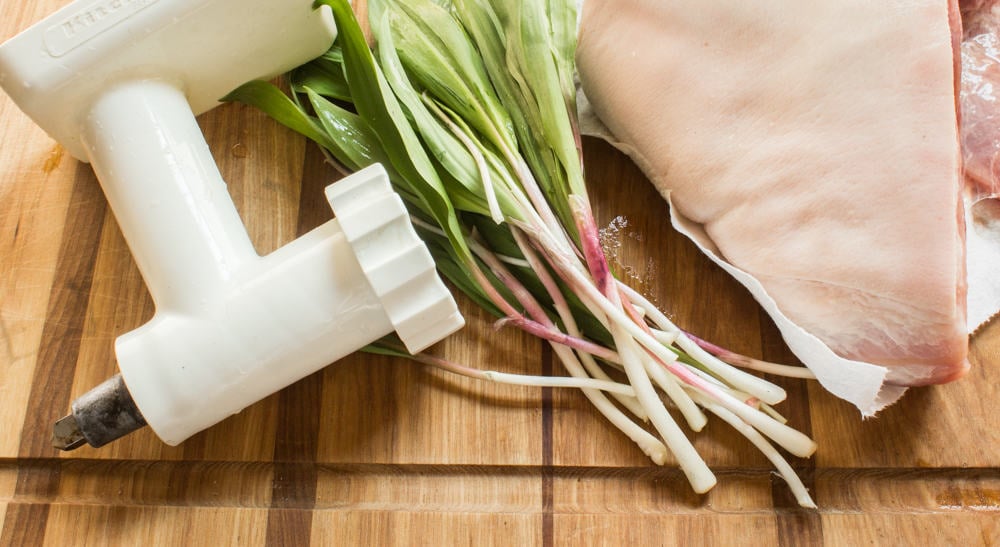 Recently I had a fun meal at the Butcher and the Boar in Minneapolis. One of the things I had was some green chorizo, it was a vibrant green, really, cool looking.
I thought it would be worth trying a green ramp sausage using the leaves, instead of the one I had messed up before using too many bulbs, since the leaves are a bit milder, and, I was right.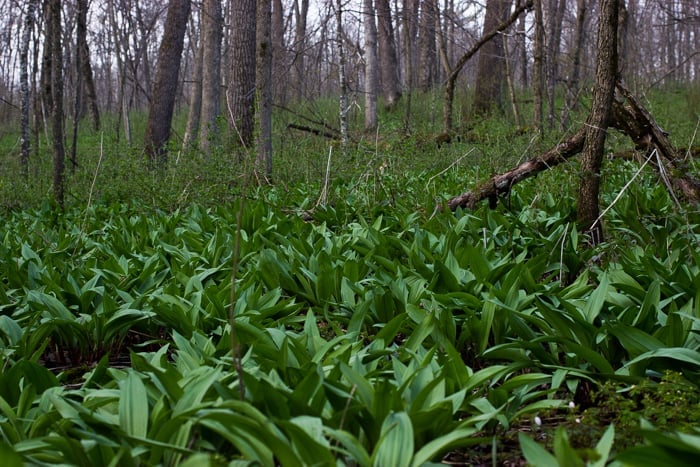 Another part of what inspired this is that I got a message from a reader last week mentioning ramps and sustainability. It's very true that over harvesting the bulbs of ramps can destroy a patch.
I'm ashamed to admit it, but before I knew how ramps grew I decimated a little place, and now regret it very much. With the picking of future ramps on my mind, I thought it would be an appropriate time to share a recipe that is a great use for lots of ramp leaves.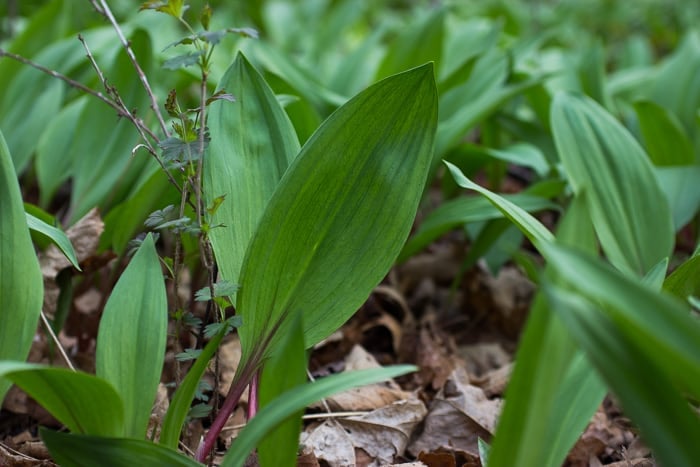 In an effort to turn over a new leaf, I now try to plant ramps for my own consumption at places where I have easy access, like my grandma and grandpa's house out in Stillwater. I've also made a habit of suggesting to everyone I know that if they like ramps, they should plant them on their property. When you see them with the taproots still attached in farmer's markets, grab them: they transplant like a dream, just put them in a shady spot, and wait a few years for them to multiply.
There are a couple bonuses to picking ramp leaves. First and foremost, harvesting only the leaves instead of the entire plant means that you are guaranteed more ramps next year, when you take the entire plant, it's much more disruptive to the ramp colony.
Clipping just the leaves of ramps is also a whole lot easier than stooping down to dig the bulbs out, you can gather a couple pounds of leaves casually in a fraction of the time it would take you to uproot the whole plant. It takes mere minutes to fill an entire bag with leaves.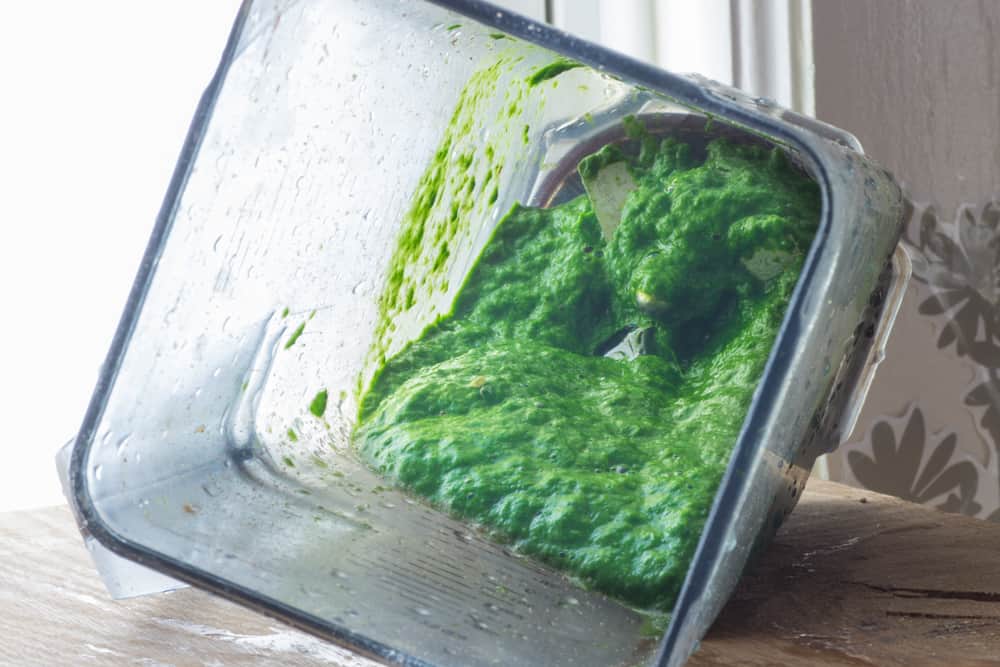 As far as the recipe development, it took me two tries to get the flavors dialed-in and tweaked for the sausage, but the end result is pretty special.
One of the tricky parts about sausage can be to get it pureed properly, which gives you that juicy, succulent bite. Ramps leaves contain water, and I wanted to put a lot of puree in the sausage to really alter it's color, so I knew that I might want to compensate for the extra moisture by adding something.
I remembered how bratwurst can be a wet sausage, sometimes made with a little cream and nutmeg. Along with the cream in bratwurst, egg is sometimes added to help it emulsify due to the added liquid. I hedged my bet by adding a single egg to the this recipe, and it worked out just fine: it's juicy and plump; everything a sausage should be.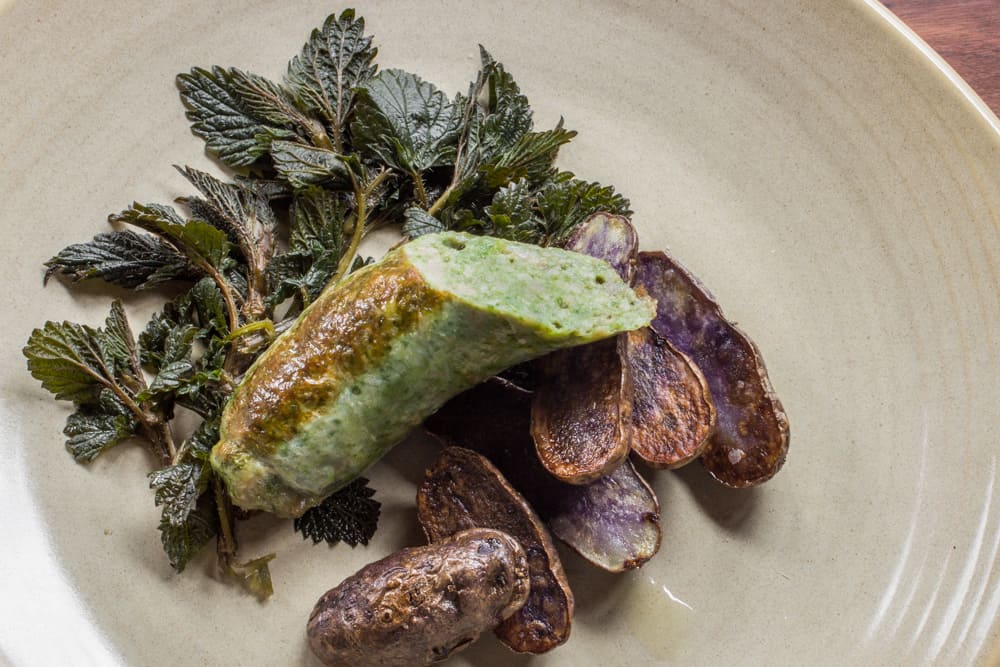 This isn't the sort of wiener you're going to sit down and eat with a bun hot off the grill, it's more of an entree piece of meat.
It's made with pure ground pork shoulder, salt, pureed ramp leaves, and just a touch of ramp bulbs to reinforce the flavor, but not too much. Think of eating one as you would a pork chop: it's very rich.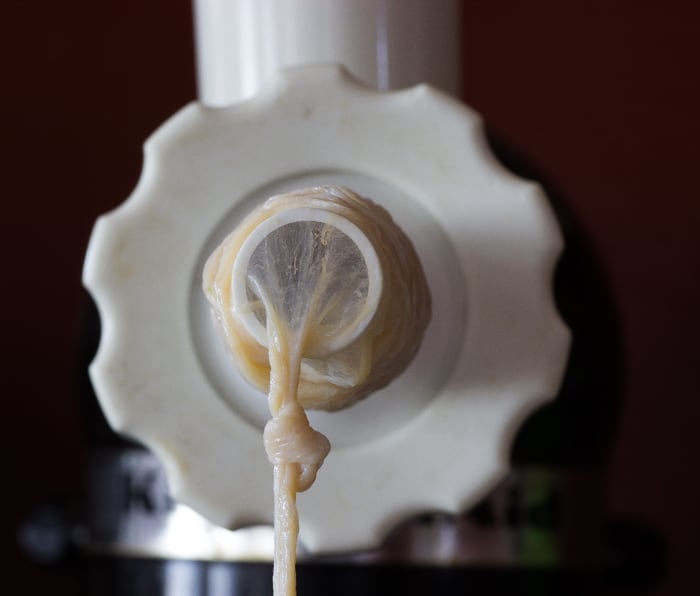 I seriously recommend using a kitchen aid mixer with a sausage stuffing attachment for any homemade sausage, but you can easily just combine this to make loose sausage or patties. If you make loose sausage, make sure to keep an eye on the sausage while it cooks since the ramp leaf puree will burn easily.
They could also be formed into small meatballs and dropped into a soup made with spring vegetables and greens, that would be really nice.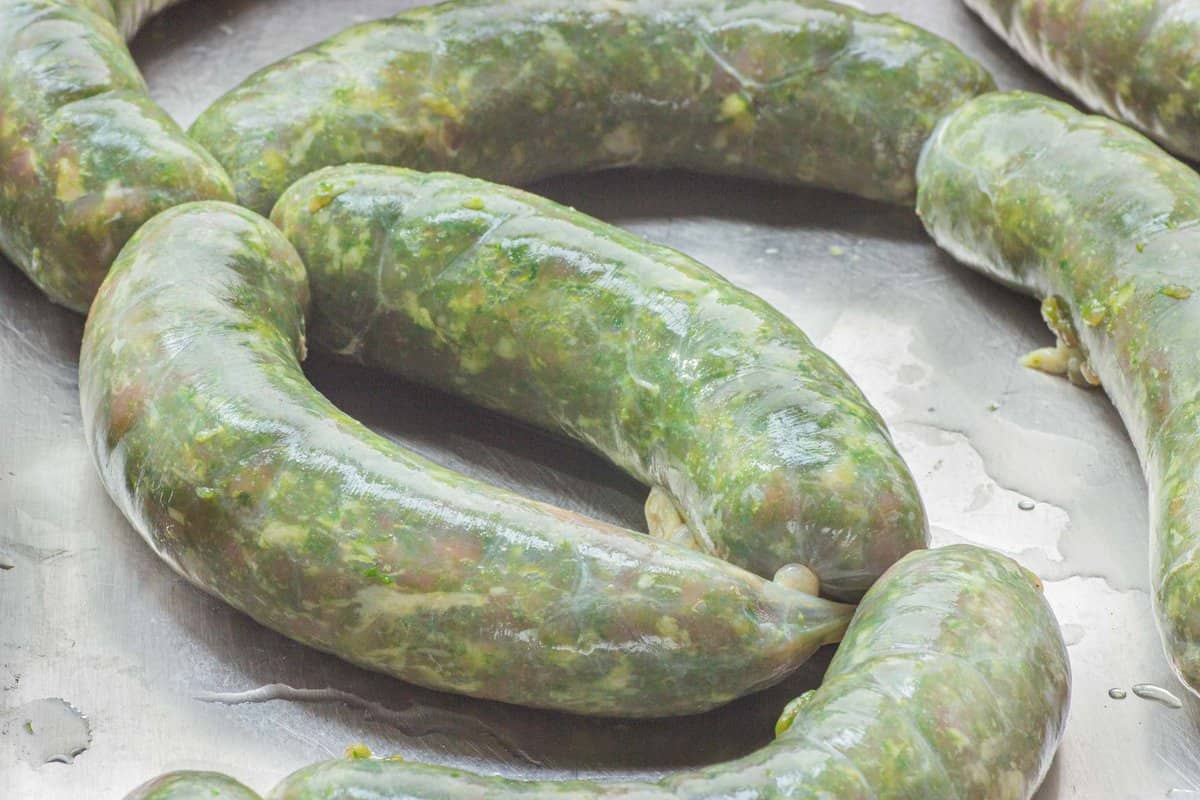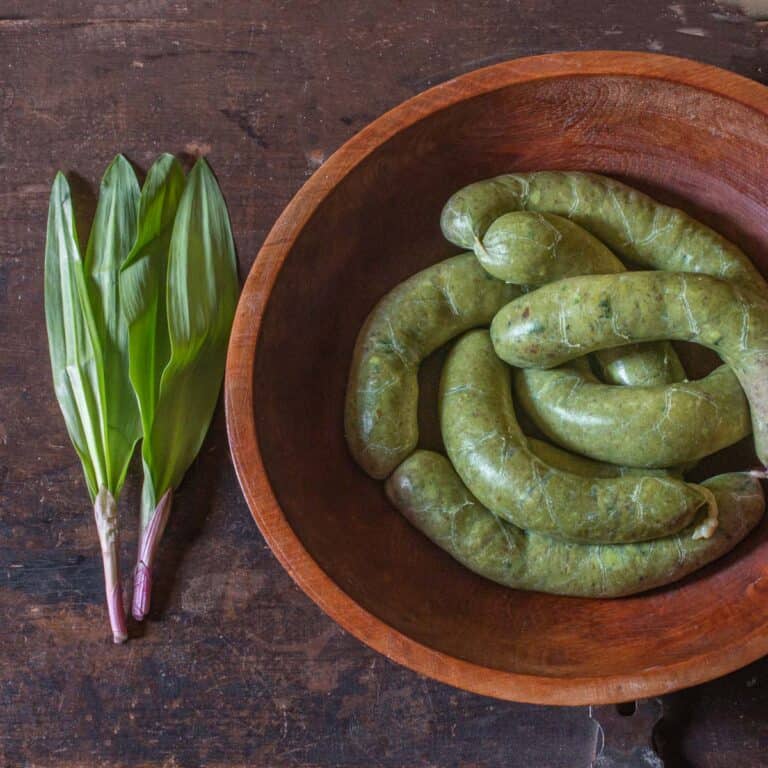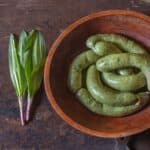 Print Recipe
Ramp Leaf Sausage
A green sausage flavored with ramp leaves in the style of French garlic sausage.
Equipment
Highspeed blender or food processor

Stand Mixer or Plastic Mixing Tub,

Meat Grinder with Sausage Stuffing Attachment
Ingredients
1

five lb boneless pork shoulder

You could use a "picnic-cut" shoulder, but It's more difficult since the bone is in it. I used one here in the pictures since I needed a soup bone for another recipe.

2

tablespoon

kosher salt

8

oz

ramp leaves

1

tablespoon

fresh ground black pepper

1

large egg

½

cup

chopped ramp bulbs

optional, add if you really like ramps and garlic

Hog sausage casings

as needed (optional-ask a butcher nicely for these)

Couple slices of bread or scrap meat

for cleaning the grinder
Instructions
Cut and marinate the meat
Cut the pork shoulder into ½ inch pieces, knife skills are not important here as it's getting all ground up. Toss the pork chunks with the salt, pepper, and mix well.

The next day, spread the pork out on a cookie sheet. Chill the marinated, diced pork in the freezer for 20 minutes, until half-frozen (this helps it grind easier and prevents smearing).

Soak the hog casings in a little water to make them easier to work with, and remove some salt.
Ramp puree
Heat a large pot of boiling, salted, water, add the ramp leaves and cook until wilted, about 30 seconds. Drain the leaves, shock in an ice bath, chop well with a sharp knife, and then puree with the egg in a highspeed blender until it's a smooth puree. In a pinch, you can use a food processor, but it won't be as nicely pureed.
Grinding the meat
Working in small batches, grind the meat through a medium die, adding the raw chopped ramp bulbs if using directly to the grinder. When you run out of meat to grind, run the bread or scrap through the grinder to push the meat forward and through the die, this cuts down on waste.

When the meat is ground, mix it thoroughly with the ramp leaf puree in a stand mixer, or in a mixing tub or bowl with your hands. You may have to work in batches. Work the meat mixture for a minute or two in the mixer, until everything is well mixed and the mixture is tacky and amalgamous.

Cook a small piece of the meat mixture once everything is combined. Check the seasoning for salt and pepper and adjust if needed, making sure to mix the sausage very well after each round of seasoning, then cook another piece and continue the process until it's just right.
Packing the sausages
Fit the sausage maker with the stuffer attachment. Tie off one end of the casings you are using. Place the open end of the casing on the kitchen stuffer, and gently push the entire casing on the stuffer, being very careful not to tear the casings.

Turn the sausage stuffer onto the lowest power setting and fill the casings with the sausage, twisting the casing to separate the ramp leaf sausage into whatever length you want.

When you're out of meat to fill the sausages, run another slice or two of bread or scrap through the stuffer to push out the remaining meat. When you're done filling sausages, tie off the open end, then twist each sausage a couple times to make them hold their shape.

From here the sausage can be frozen, otherwise they will keep for 3-4 days in the fridge raw.
Notes
Pureed ramp leaves or minced
You also can mince ½ of the ramp greens called for in the recipe and add them to the sausage after it's been ground, which won't yield a green sausage like the one I've pictured, but will still taste good. 
Nutrition
Serving:
6
oz
|
Calories:
440
kcal
|
Carbohydrates:
4
g
|
Protein:
56
g
|
Fat:
21
g
|
Saturated Fat:
7
g
|
Polyunsaturated Fat:
2
g
|
Monounsaturated Fat:
9
g
|
Trans Fat:
0.004
g
|
Cholesterol:
218
mg
|
Sodium:
3022
mg
|
Potassium:
1109
mg
|
Fiber:
1
g
|
Sugar:
1
g
|
Vitamin A:
616
IU
|
Vitamin C:
13
mg
|
Calcium:
85
mg
|
Iron:
4
mg
More
Ramps: Harvesting, Sustainability, Cooking and Recipes
Fermented Wild Onion Leaves (Cheremsha)