A rich compound butter made from ramp leaves is one of the best ways to preserve ramps for the off season. Read on and I'll explain the finer parts, and how to make the best version possible.
Lots of people make ramp butter from the leaves of the plant and there's definitely more than one way make a decent one. But, I was reminded the other day that not all ramp butters are created equal when I gave one of my line cooks a verbal ramp butter recipe, and failed to mention that I don't use all raw ramp leaves. It turned out too spicy.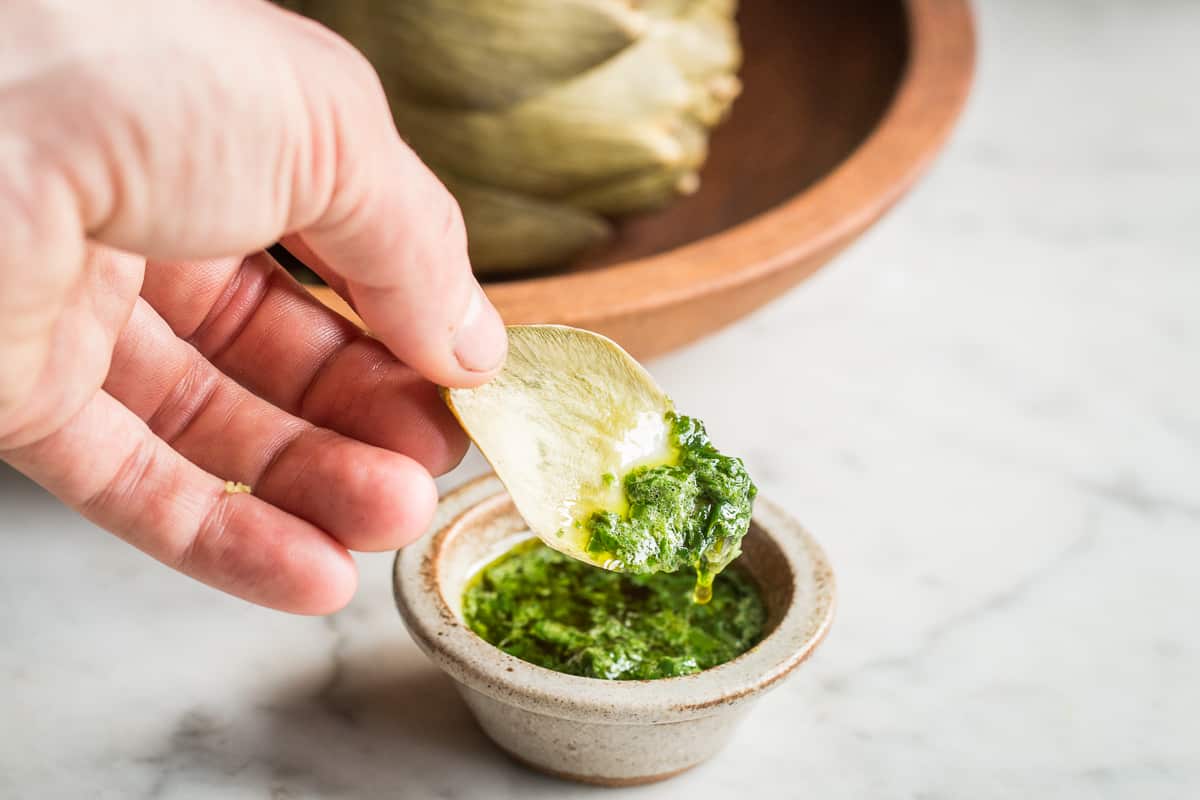 Blanch some of the leaves to balance the flavor
Writing recipes and weighing out different proportions of things can get tedious so it's important for me to find a balance of teaching cooks to create with their intuition, as well as having dialed-in mother recipes to ensure quality and consistency.
The next ramp butter he made was nice and green, but the ramp punch was barely noticeable. We usually blanch and puree the leaves to lock in the bright green color of the chlorophyll, but any ingredients will always be a little more mild after blanching and shocking in ice water as opposed to them being used fresh.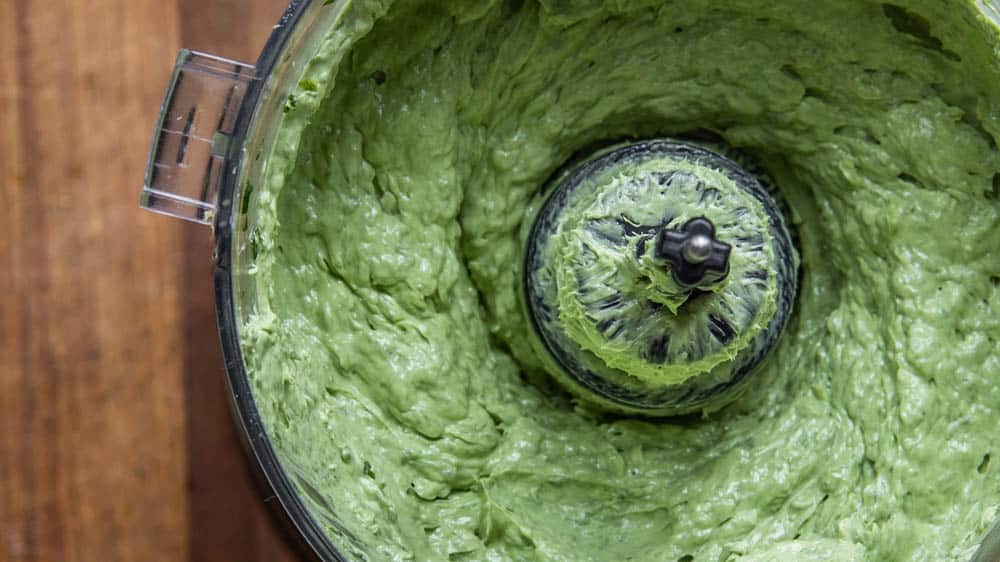 Not satisfied, I took half an hour or so to develop a mother recipe for the kitchen, the goal being that the butter had to be vibrant green, but also needed to have a strong ramp flavor.
Adding raw chopped ramp bulbs could work, but too many could push it to the verge of being hot and abrasive. I'll add that I've been focusing on using only the greens of the ramps in new recipes to gently nudge new and would-be foragers into a mindset of sustainable harvesting techniques.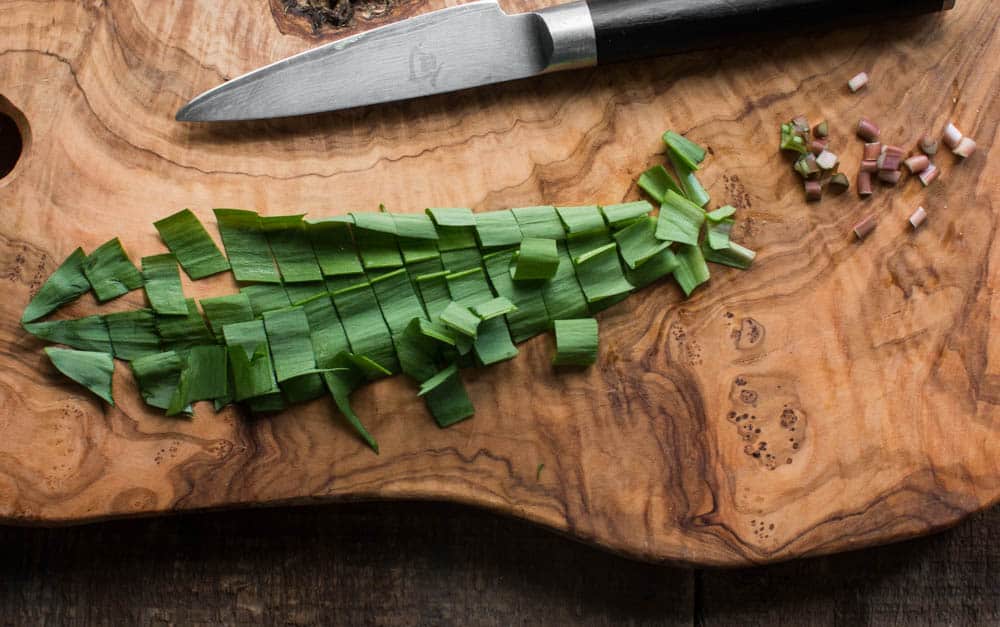 The butter I ended up with was great, but, unfortunately, it needed a smooth puree of ramps, which meant a highspeed blender and a food processor were used, and it made at the very least 2 pounds of butter--a little too much for most home cooks. So, what I eventually settled on is a hybrid recipe.
How to make it
You take some ramp leaves, blanch half of them, then spin them into a thick, creamy, rampy butter with some finely minced fresh leaves for the best of both worlds. You get a vibrant green butter, a solid (but not too strong) ramp flavor.
Note on the images
Make the recipe below and you may notice your ramp butter is slightly different than the ones pictured--don't worry.
Pictured in this post is the original restaurant batch-ramp leaf butter. If you're a chef, or if you have a vitamix or other highspeed blender and want to look at the recipe for making 2, 5 or 10 lb batches, let me know and I'll send it to you, otherwise, enjoy your rampy experiments.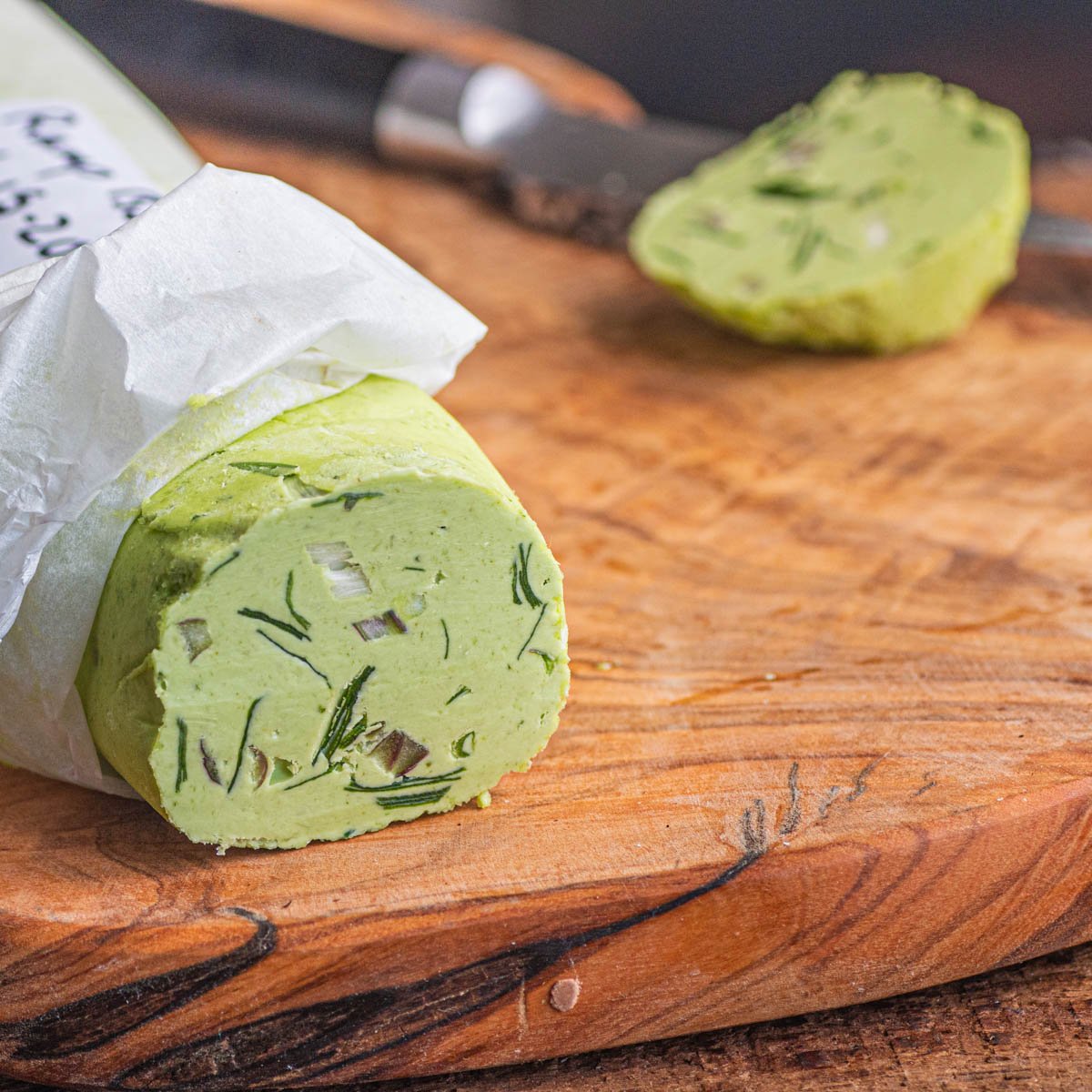 How I use it
I use ramp butter on all kinds of things. Here's a few examples to give you an idea-it's more than something to put on toast!
Garlic Mustard Shoots with Ramp Butter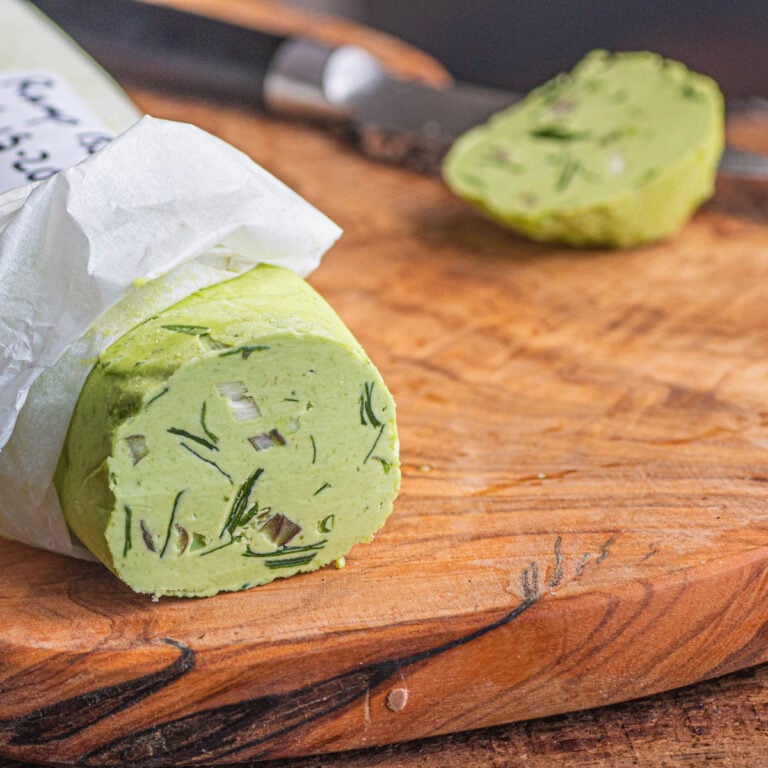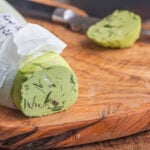 Print Recipe
Ramp Leaf Butter
A simple compound butter made from ramp or similar leaves. Makes 8 oz, scale it to your needs.
Ingredients
3

oz

(Roughly 3 cups) lightly packed ramp leaves

Use a scale for the best tasting result.

8

oz

2 sticks salted butter

½

tablespoon

cold water

A few cracks of the peppermill

½

Tablespoon

chilled lemon juice or water

plus a few scrapes of lemon zest, optional
Instructions
Cut the butter into tablespoon sized pieces and bring to room temperature.

Bring a pot of water to a boil and blanch half of the ramp leaves for a few seconds, just until they wilt, then refresh in cold water. Alternately, for a stronger flavor, steam the ramp leaves for a few seconds until just wilted.

Squeeze the leaves dry, then chop roughly on a cutting board with the fresh ramp leaves.

In the bowl of a food processor pulse the ramp leaf mash to smooth it out a bit, then gradually add the butter pieces 1 chunk at a time, along with the water, processing to make a smooth paste (it may take some time if your butter is cold-just be patient) continuing to process until the butter is light green and fluffy-make sure to watch the video as this is easier seen than explained.

If the butter, or ambient temperature of the kitchen is very cold, add a spoonful or two of boiling water to help the mixture move in the food processor.

Once the butter is emulsified, fluffy and brilliant green, add the pepper, and drizzle in the lemon juice, processing for a few seconds to lighten it.

Double check the seasoning, adjust as needed (if you want it stronger you can spin in some extra chopped ramp leaves).

Spread the butter onto a piece of parchment and refrigerate, or cut into portions and freeze.

The butter will keep for a week or two in the fridge, and a couple months in the freezer. I prefer to vacuum seal it for the best long-term storage.
Notes
How to use
Use your ramp butter anywhere you'd use another compound butter. It's wonderful melted and tossed with vegetables, pasta, or melted on a steak. 
Nutrition
Calories:
207
kcal
|
Carbohydrates:
1
g
|
Protein:
0.4
g
|
Fat:
23
g
|
Saturated Fat:
15
g
|
Polyunsaturated Fat:
1
g
|
Monounsaturated Fat:
6
g
|
Trans Fat:
1
g
|
Cholesterol:
61
mg
|
Sodium:
184
mg
|
Potassium:
36
mg
|
Fiber:
0.3
g
|
Sugar:
0.3
g
|
Vitamin A:
814
IU
|
Vitamin C:
2
mg
|
Calcium:
14
mg
|
Iron:
0.2
mg
More