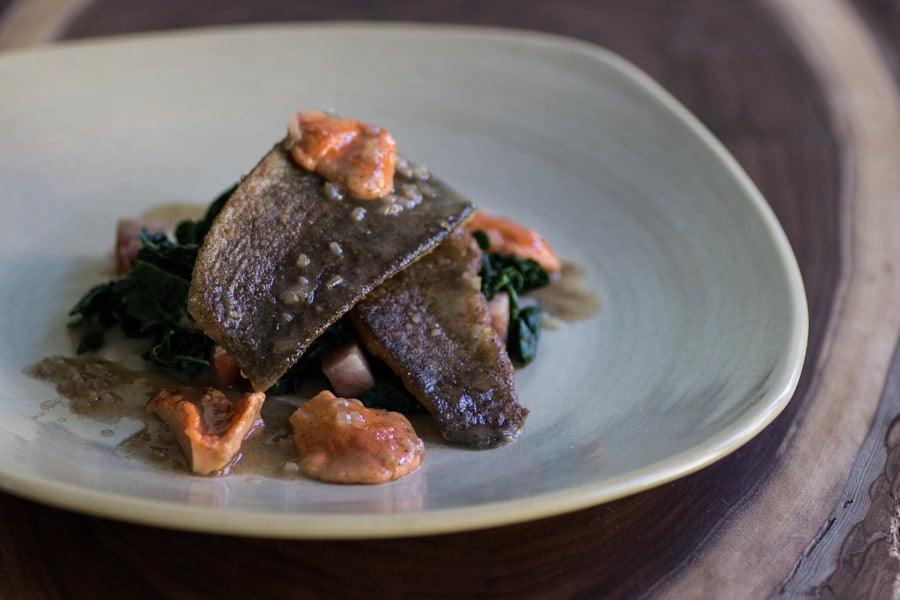 I came up with the recipe one day when I had a nice rainbow trout on hand. I wanted to start burning through my mushroom pickles too, since I tend to hoard them until the next season and wind up having too much, every year.
It's an easy preparation, and one that I would make variations of often on the line at Heartland. Sometimes the mushrooms are in a salad, sometimes there would be fumet or a vegetable broth under the fish-there are plenty of variations you could try.
Pickling wild mushrooms is one of my favorite way of preserving them, it's also one of the lesser used avenues as far as putting up your stash goes. Everyone likes to dry mushrooms, but even hunters much more experienced than my self have raised an eyebrow after hearing me espouse the possibilities of a shroom that's been pickled. Our little trout dish showcases them, and can be paradigm shifting if you think of pickles as something only to be eaten cold out of a jar.
It's about as easy as it gets, you take a piece of trout or another mild fish, dredge it in a little something, fry it, wilt some greens, and make a quick sauce with some pickled mushrooms, shallots and butter.
I like to dredge fish when I cook it in a pan, but I also get bored with using all purpose flour. Wild rice flour has a stronger flavor than other flours, so it can be tricky to use in baking, but it's a dream for something like dredging a fish. It's gluten free too, so I don't have to worry about making substitutions during service. Buckwheat flour and hazelnut meal work as great dredges too and either one would be a great substitute, although you could always use all purpose flour too.
You could use any type of pickled mushroom here, but sulphur shelf (Laetiporus sulphureus, or preferably the softer, more elusive Laetiporus cincinnatus) are really great, especially if you catch them at the right time when they're juicy little nubbins, just beginning to grow.
Chicken mushrooms are overlooked sometimes since they're so widely available, and get dry and off-puting as they age. When they're super young, there is really nothing like them though.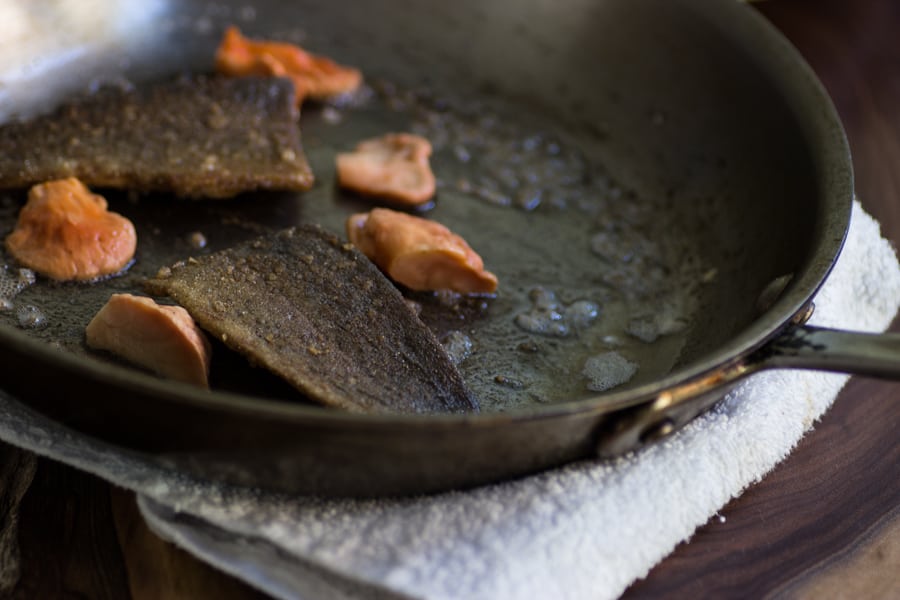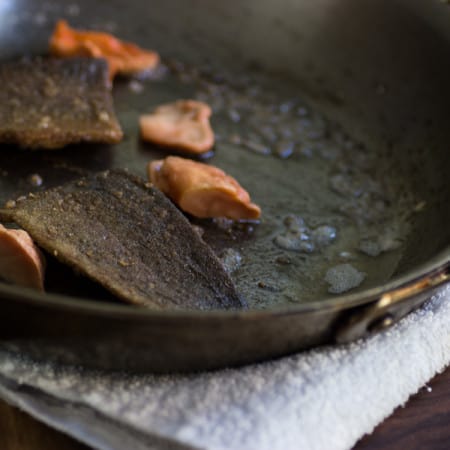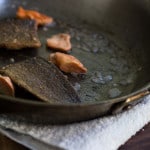 Print Recipe
Rainbow Trout, With Pickled Chicken Of The Woods
Serves 4 as an entree
Ingredients
4

whole filets of rainbow trout

skin on, or another mild fish, pin boned and trimmed of fins, etc

Kosher salt and fresh ground pepper

to taste

Oil for sauteing

like grapeseed or canola

3

T

unsalted butter

2

ounces

slab bacon

diced ¼ inch (optional)

2

cups

fish stock

preferably made from the trout frames (chicken or vegetable stock can be substituted)

8

ounces

kale

spinach, or another hardy green of your choice

Wild rice flour

as needed for dredging (you can substitute another flour if you like)

Youngest possible pickled chicken of the woods mushrooms

or another mushroom of your choice

2

T

shallots

diced ⅛ inch
Instructions
Heat the oil and 1 tablespoon of the butter in a very large saute pan. Season the trout filets with salt and pepper and dredge in the wild rice flour, tapping off any excess.

When the fat is hot, put the filets, skin side down in the pan and cook until golden brown. Flip the filets over for just a second to finish cooking.

Meanwhile, start rendering the bacon in a pan on low heat until lightly browned. Add the kale to the pan, season lightly with salt and pepper and then cook, covered, until wilted, about 3-4 minutes. Add a shot of water to the pan before you cover it to speed the wilting process, and to prevent the leaves from burning.

To prepare the pickled chicken mushrooms, melt a tablespoon of butter in a 10 inch saute pan, add the shallots and cook until translucent and lightly browned, then add the stock and reduce by half, about 15 minutes on medium high heat.

Add the pickled mushrooms and some of their pickling juice to taste. With the juice simmering, whisk in the butter and increase the heat slightly, stirring constantly and swirling the pan, which will cause the sauce to thicken and become glossy.

When the sauce is thick enough to coat the back of a spoon lightly, double check the seasoning, then reserve until needed. Before saucing the plate, whisk the sauce and reheat to emulsify and thicken if needed.

To plate, arrange some of the wilted greens and bacon evenly in the middle of four preheated dinner plates. Arrange two overlapping trout filets on each, then garnish with some of the mushrooms and sauce. Serve immediately.
Notes
I made this for myself for lunch one day, so I cooked the trout and mushroom sauce in one pan, which is easy to do. I'm writing the recipe for multiple people though, since the sauce can be made on the side, or a bit ahead of time.