Spring is here and with it all sorts of little tender buds will be here soon. After cooking root vegetables and sauerkraut throughout a Minnesota winter, I'm pretty ravenous to find any little green thing at all. Here's a recipe that celebrates that.
Your classic meuniere, or "in the style of the miller's wife" is a classic French recipe, and is nothing more than a filet of fish (traditionally it's an entire sole) with some butter, flour and lemon and parsley. It's a very simple dish, and there are plenty of variations around. My favorite it is to dress it up a little with some capers.
Of course there's always store bought capers, but I love pickling or lacto-fermenting any sort of little bud or young growth and making my own. Hands down the best ones are made from fermented, unripe nasturtium seed pods, but I also have another wild caper recipe here. For the trout I used a mix of different pickled buds I'd made: dandelion, chive, and spruce. You could make any sort of blend you like, or just one. Or, skip the DIY capers and just used regular ones with a nice piece of fish—you're call.
Emulsified or broken sauce
A point of contention with some chefs and Francophiles. There's different ways I'll make the sauce too, depending on how I'm feeling. Sometimes I emulsify it by whisking after I de-glaze with wine, and add more butter an make a little sauce. The simplest and most classic way is just to cook the fish in plenty of butter, then add a splash of lemon and pour the lemon butter over the fish. Either way is just fine. Pictured is the emulsified sauce version.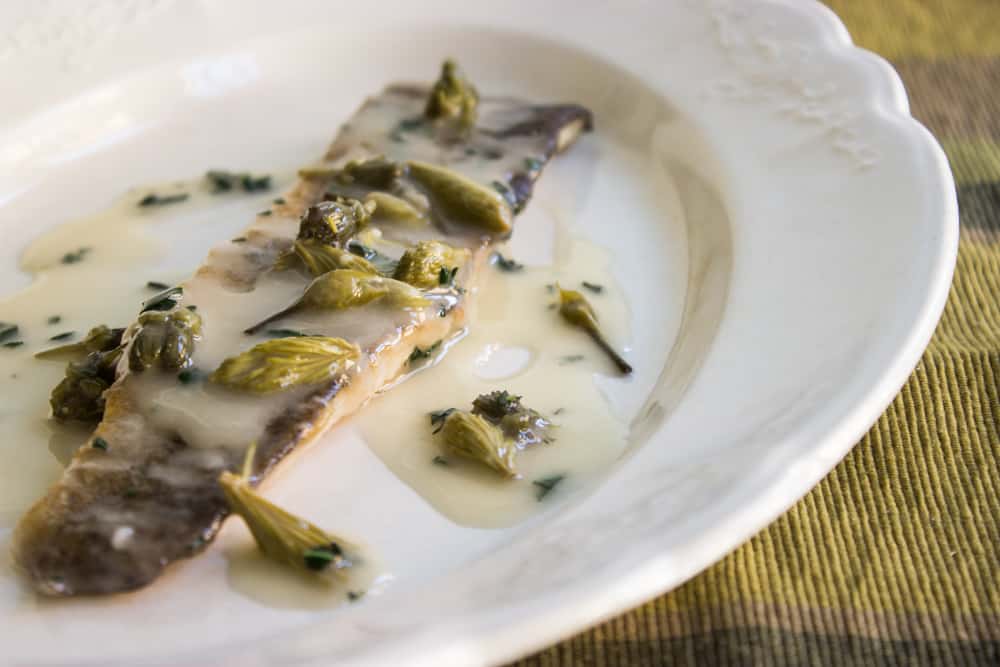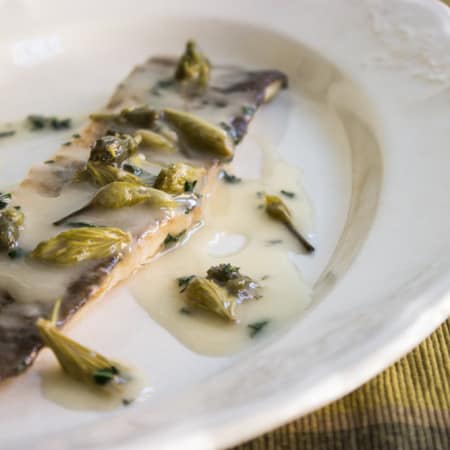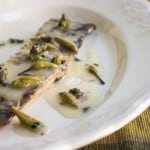 Print Recipe
Rainbow Trout Meuniere With Wild Capers
Rainbow trout sauteed with a simple butter sauce and preserved capers.
Ingredients
1

whole rainbow trout

fileted and pin-boned

Kosher salt

Fresh lemon juice

to taste

1

teaspoon

chopped fresh parsley

2

tablespoons

mixed capers made from plant buds

like dandelions, nasturtiums, chives, spruce, etc

2

tablespoons

clarified unsalted butter or ghee

1

tablespoon

unsalted butter

chilled

¼

cup

chicken stock

All purpose flour

as needed for dredging the fish
Instructions
Heat a large saute pan with the clarified butter.

Season the trout filets with salt and pepper, then dredge in the all purpose flour. Add the trout skin side down to the pan and cook until lightly browned and crisp.

Flip the trout filets quickly to cook the flesh side, then remove and keep warm on a pre-heated dinner plate. Add the capers to the pan, then de-glaze the pan with the stock.

Season the sauce to taste with lemon juice, then whisk in the cold, unsalted butter to form a creamy sauce, keeping the pan on medium-high and whisking constantly. Double check the seasoning for salt to taste, then spoon over the fish and serve immediately.