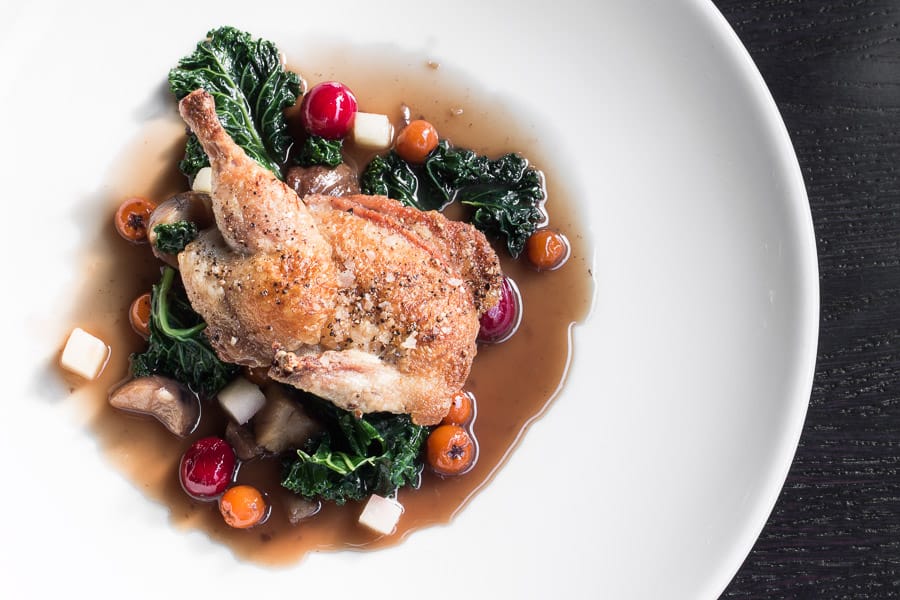 Using pickles is a hallmark of mine, I love the brightness they add to a dish. Pickled berries aren't really something you think about often, since most of the time they get made into jams and jellies. Typical jams and jellies use way too much sugar for my tastes though, and can overpower a sauce, or even a dessert if you use a heavy hand.
Another nice thing about pickled berries is that preserving them in a liquid allows them to keep their shape, they can be sprinkled here or there, and add color to our dishes at the Salt Cellar in the middle of winter, when melanges of root vegetables and onions become our mainstay.
Our quail dish here is a good example. The little bird here has two different preserved berries: rowanberries and cranberries. The berries give color, and a little acid to a dish that otherwise would be very rich, since the chestnut sauce is made from reduced stock and brandy mounted with plenty of butter.
I like to serve animals with things they would eat too, and little birds and berries make a natural pairing, as well as letting me vent a little frustration at the fact that most of the rowanberries I was going to pick last year got eaten off the tree by some unknown, winged thieves. Next year I'll beat them.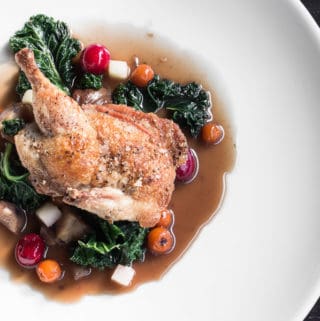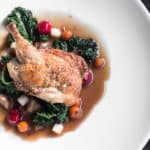 Print Recipe
Quail With Cranberries, Rowanberries, and Chestnut Sauce
Serves 4 as an entree
Ingredients
Ingredients

4

jumbo French quail

cornish game hen could be substituted

1

recipe chestnut sauce

12-15

pickled cranberries

8

ounces

kale or lacinato kale

stems removed, leaves cut into 1 inch pieces

Kosher salt and pepper

2

tablespoons

unsalted butter

2-3

tablespoons

rowan berries preserved in syrup

1

firm baking apple

like honey crisp, granny smith or braeburn

Pickled Cranberries

2

cups

fresh cranberries

2

cups

water

2

cups

white wine vinegar or apple cider vinegar

½

cup

sugar

1

teaspoon

salt

½

teaspoon

ground cardamom

1

teaspoon

ground ginger

¼

teaspoon

ground black pepper

Zest of one orange

grated

Pickled Cranberries
Instructions
Pickled Cranberries

Wash the cranberries, then poke each one through each side with a needle to help the liquid absorb. Meanwhile, combine the remaining ingredients in a saucepot with a 2-3 qt capacity, bring to a simmer and pour over the cranberries.

Cool the mixture, then transfer to a labeled, dated container and reserve until needed. The cranberries will keep for months, but only if held under their liquid. The cranberries could also be processed in a water bath in pint jars.

Quail

Lay the quail on a cutting board so that the breasts are facing up at you. Using a sharp paring knife, cut down close to the breastbone and remove one half of the quail in one piece, then repeat. Remove the thigh bones as well for easy eating (optional).

Season the quail with salt and pepper then heat some of the lard or oil until very hot, then put the quail skin side down in the pan and cook until crisp.

Meanwhile, heat the chestnut sauce and keep warm. In a separate saute pan, gently warm the apples and kale, then add the berries just to heat through. Double check the seasoning and reserve.

To plate, spoon the kale, apples and berries into the middle of 4 preheated dinner plates, then lay two cooked quail halves skin side up on top. Garnish each plate with a few tablespoons of the sauce and serve immediately.