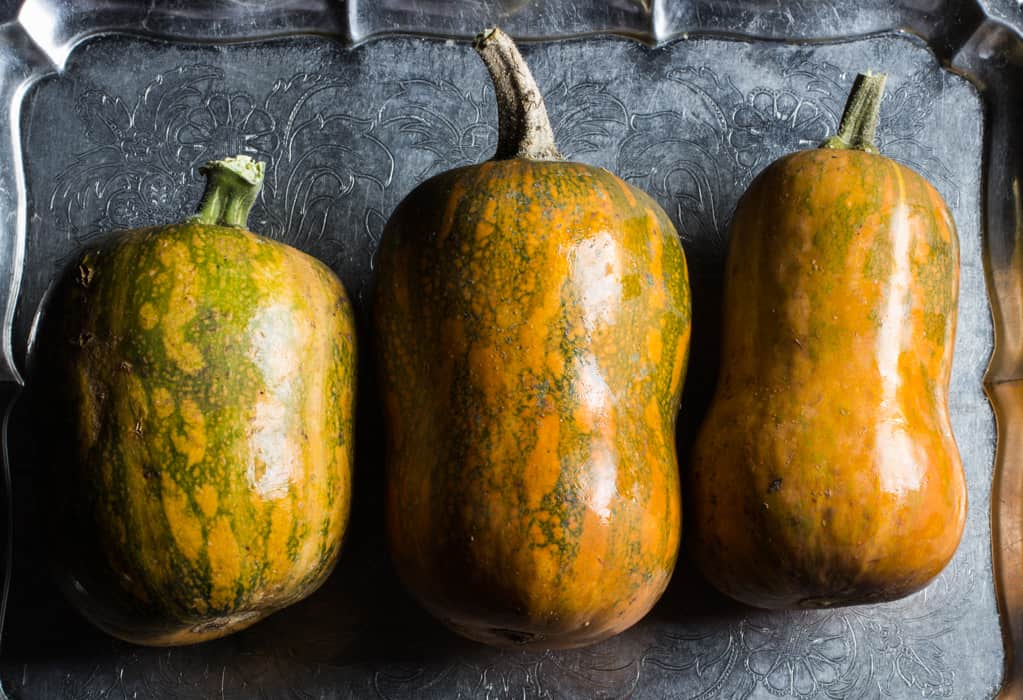 Recently I was watching the chef's table, a really great series on Netflix. It's a couple episodes focusing on some ground breaking chefs and the work they do. The episode I was watching that really piqued my interest was on Dan Barber, the chef/owner of Blue Hill and Blue Hill at Stone Barns Farm. One of the things that they talked about was varieties of heirloom squash.
I had a sous chef I worked with at Heartland who was Barber's Chef de Cuisine-he backed up Barber's reputation for amazing food, as well as his temper.
Chef personalities aside, Barber's work with heirloom vegetables and seeds is inspiring, and a particular squash he was working with a farmer to grow reminded me of my  newfavorite heirloom squash-the pumpkin butternut.
The problem with squash that Barber talked about, is that growers have been focusing on quantity, not taste. One conversation Barber has with a grower had a revelatory statement: the grower told Barber that he had never tried to produce a vegetable that tasted better, only vegetables that had larger size, and were resistant to ailments and diseases.
Squash is the poster boy for our cultures desire for quantity over quality, it's large, and full of water. To make squash actually taste like something, unless it's an heirloom, it needs to be pureed, then allowed to drip water overnight, or cooked with a bunch of seasonings and sweetener (marshmallows and brown sugar anyone?).
Heirloom squash like our beautiful pumpkin butternuts, or my other favorite, the galeux-d-eysines-squash are different though, they're often smaller, with less water and a deeper flavor. You don't need to do anything to them to make them taste good really, they're just better. The pumpkin butternuts themselves taste like a regular butternut, but with a pumpkin richness and deep color. The cooks and I at the restaurant were in love with them at first bite.
If you have a garden or access to one, try poking around for heirloom squash seeds and growing some interesting ones, you will be amazed at the results. Rareseeds.com is a great place to start.