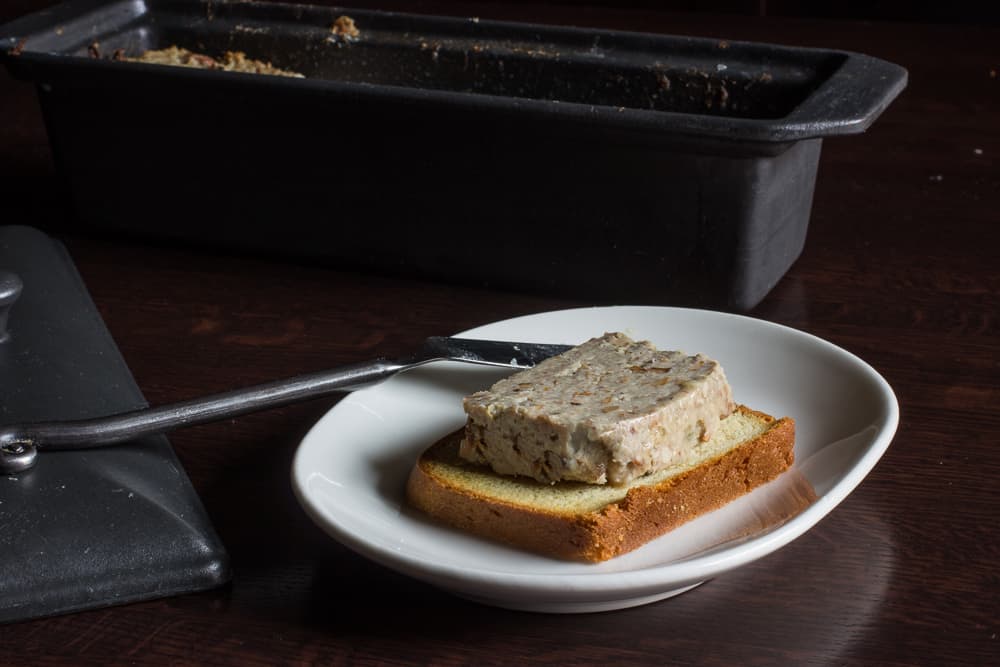 When I was in Provence on vacation a few years ago, some of the best food I had wasn't in fancy restaurants, it was in small places, you know, spots where locals hang out. The good spots, independent and run by families, most of them. One of the best memories I have of eating was strolling down the main drag in Aix-en-Provence, with a beautiful woman on my arm, stuffing my greedy face with a different pieces of charcuterie from a coma-inducingly large bag of meat products we were carrying to our hotel. I was in heaven. The Mediterranean sunshine and a hint of the coming mistral winds keeping us cool didn't hurt either, and I could tell I was going to thoroughly enjoy my next 2 weeks eating my way through the South of France.
More than anything else, I ate charcuterie. I mean, I was a chef who'd just opened his first restaurant, and knew the reputation for French cured meat prowess. It was something I'd read about, and fantasized being able to taste, just once, for my entire professional life.
There were plenty of delicious salted animal parts to be had, but of the charcuterie variety platter I ate over the trip, the "pate de girolles"-an unasumming grey loaf, free of pink salt, and slightly irregular (rustic), was far and away, the best. While I'm on the topic, it wasn't the taste of chanterelles (girolle is French for chanterelle) that made the terrine so good-they were barely noticeable. What I did notice was that the slice I was holding absolutely, positively, reeked of foie gras. I didn't notice any in the description, or maybe they didn't bother to mention it, but it perfumed every bite.
To be clear, there was foie gras in the terrine, but it wasn't a foie gras terrine, which is a bit like eating butter, texturally. It was firm, like a country pate, but almost soft enough to spread if you mashed it up onto a piece of baguette, another thing that usually denotes some liver in the mix to me, as far as terrines go.
The place serving it was a charcuterie shop run by a nice old Frenchman, who had obviously had been working his craft for a long time. In hindsight over the years since I catch myself coming back in my dreams to his tiny little shop in Aix en Provence may be the best charcuterie shop I've ever been to.
After I got back to the states and had a few weeks to mentally digest my first St. Marcellin, the piles of wild mushrooms at the markets, a few 3 star-michelin meals, sheep trotters, tripe packets, slabs of foie, moules frites, and soupe de poisson, I kept coming back to the fat slices of terrine and baguette we ate walking down the street-I needed it, craved and wanted to recreate it.
Luckily, I was running an insane charcuterie platter at the time, that, depending on my mood and if the line cook on the garde manger station hadn't pissed me off recently, might contain 6-13 different types of homemade, daily changing charcuterie. It was only fitting I work on backward engineering the old mans chant and foie terrine.
It took a couple hundred dollars in product, and 3 different batches, but this one, simple as it is, was my favorite formula. So here it is, my backward engineered version of that heavenly terrine. Without knowing the old man's recipe, this is pretty darn close.
Notes 
Don't worry, you don't need to shell out a bunch of money for a lobe of foie. since the foie is ground, it's just fine to use scrap foie chunks that many retailers sell, they work just fine.
This is a rustic terrine. After you cook it, there will be plenty of yellow foie fat hanging out in the dish (the old man had collected his and it formed a layer on the top, which was part of how I could gauge how much foie he used). Spread the fat on toast you're going to eat the terrine with as it's one of the best parts.
There's a lot of fat in this terrine with the foie, and it's fine to cook it rustic, but one thing to try, if you have the option, is to sous vide this to prevent some of the fat weeping out. To do that, pack the terrine mix into your mold, then freeze it half way solid. Remove the log of meat, vacuum seal, then poach at 150 for 2 hours or so-you're on your own there, but trust me, it would work wonders with this.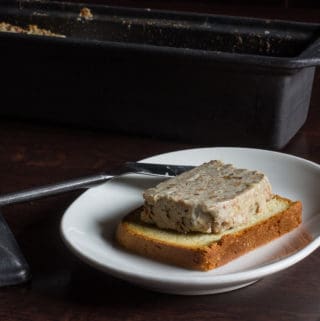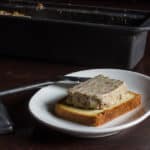 Print Recipe
Pork Terrine with Chanterelles and Foie Gras (Pate de Girolles) 
A rich terrine of pork with chanterelles duxelles and foie gras. One recipe will make roughly one 3 lb terrine
Ingredients
20

ounces

diced pork shoulder

½

lb

foie gras trimmings and scrap

½

lb

chicken or duck liver

trimmed of sinew, fat and veins

1

tablespoon

kosher salt

or to taste

½

teaspoon

quatre epice

equal parts freshly ground: ginger, cloves, nutmeg, and black pepper

Splash of cognac or brandy

1.5

cups

chanterelle duxelles

1

tablespoon

fresh chopped thyme

2

large egg yolks

2

cups

roughly 5 oz white inside of bread, or breadcrumbs

1

cup

whole milk

for soaking the bread
Instructions
Chill the meats.

Cover the bread with milk, then allow to sit for 15 minutes. Squeeze the milk from the bread and reserve the soaked bread pulp, it should be soft and smooth, without any hard lumps. Discard the milk.

Grind the pork, chicken liver and foie gras through the medium die of a meat grinder, then combine with the remaining ingredients except the brandy, bread and duxelles, and mix well. Next, grind the mixture through the fine die of a meat grinder. When all the meat has gone through, put the bread pulp into the grinder to clean the meat out of it. Add the ground bread to the terrine mixture, then combine thoroughly with the duxelles and brandy. Cook a small amount of the mixture to test for salt and spices (you don't want the spices too strong), then adjust as needed, then refrigerate overnight.

The next day, preheat an oven to 250. Pack the meat into a terrine mold with a piece of parchment cut to fit the bottom, then slam it down on a firm surface make sure it's packed in tight and remove air pockets-do that a few times. Allow the meat mixture to come up to room temperature, then cook the terrine in a water bath, covered, until it hits 150 degrees in the center, and not a moment longer. Afterwords remove the terrine from the water bath and cool on the counter, but don't chill it, as it needs to be pressed while it comes to room temp.

Put plastic over the terrine, then put a weight on it (I use a brick wrapped in foil) and allow to sit overnight in the fridge to compress, which gives it an even texture and ensures perfect slices. You can taste a little of the terrine after it presses, but it will ripen and reveal better flavor after a few days in the fridge.