After I found enough chestnut boletes to actually cook, I planned out a couple dishes they would go in with what I had in the fridge.
The first thing was half food/half humor: cooking them with a few other very small things as a sort of play on tiny animals in a tiny land, like one of the view/diorama boxes we used to make in elementary school.
I had a pigeon (squab) in the freezer, so I cooked it with a bunch of other minaiture looking things: tiny onions, green onions, and a few gooseberries I'd salt brined like capers, along with some purslane for freshness and snap, finally the boletes were sauteed in the pan with the pigeon breast to finish and soak up some of the juices from the pan. Maybe it can give you some inspiration.
Chef's Tip: Keep the bolete whole, or in large pieces 
There's technique hidden in the recipe method that might not be obvious at first glance. The biggest hidden gem for you being that the mushrooms are kept whole while cooking. Chestnut boletes are small mushrooms, so slicing them up could easily cause them to overcook and make them into tasteless morsels on a plate.
Cooking them in whole pieces (whole cap, whole stem) means that you get to bite into pieces of just the chestnut bolete, and it ensures that the aroma floats up to your sinuses, which is really something. They're an excellent bolete for the table, and I'd say just as good as my local Boletus edulis complex, to boot they have a solid resistance to bugs, which is always welcome when you're working with a bolete mushroom.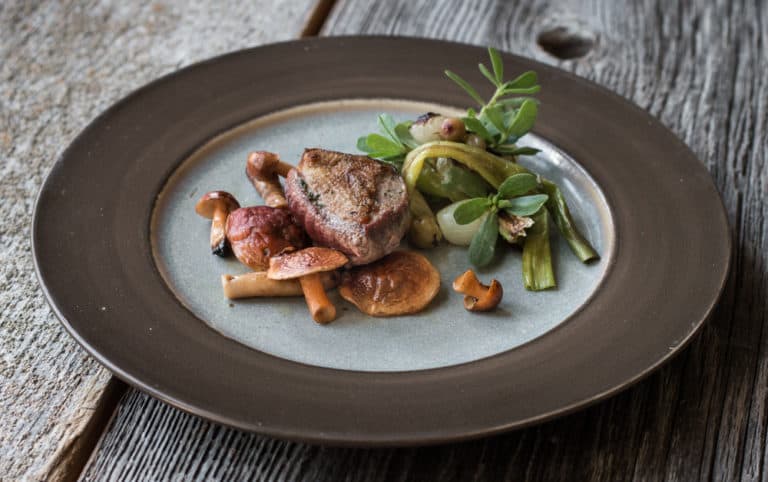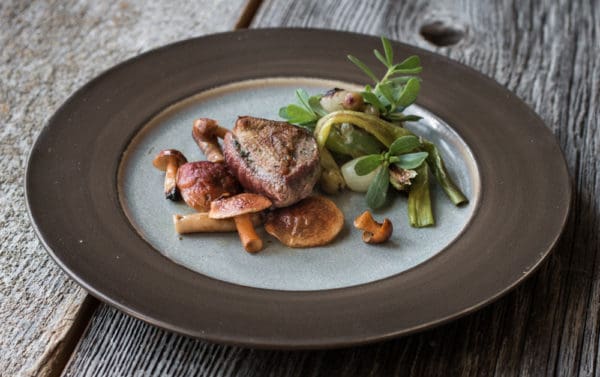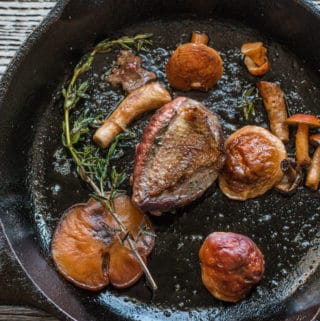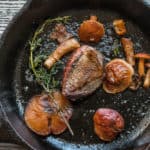 Print Recipe
Pigeon Breast with Chestnut Boletes, Onions, Gooseberries and Purslane
A simple dish of pigeon with mushrooms, tart gooseberries and crunchy purslane
Ingredients
2

pigeon breasts

skin-on (if you have skinless, wrap a piece of proscuitto or bacon around each one)

4

small green onions

6

pearl onions

Small handful of purslane tips

1

Tablespoon

salted or brined  gooseberries

capers can be substituted

Kosher salt and pepper

2

tablespoons

cooking oil

1

tablespoon

unsalted butter

1

sprig of thyme

1

clove

of garlic

lightly crushed
Instructions
30 minutes or so before cooking, season the pigeon breasts with salt and pepper to taste and allow to sit uncovered in the fridge. Trim the tops from the green onions, then oil lightly and grill or saute whole until wilted. Reserve the onions. Remove the end from the pearl onions and blanch in salted water, remove and cool to room temperature, then peel and saute slowly until just soft and allow to cool.

Heat a tablespoon of the oil in a small cast iron pan or saute pan, and add the pigeon breasts, skin side down. Cook on medium-high heat until the skin is caramelized and browned, then remove the pigeon breasts from the pan and add the chestnut bolete caps and stems, cooking the caps on the colored side. Season to taste with a pinch of salt and pepper, then quickly reheat the onions, toss in the gooseberries just to warm, and plate the dish.
Plating
Preferably allow the pigeon breasts to rest in a warm place for a few minutes while you plate the rest of the dish, to allow the juices to redistribute and tenderize the meat. Twirl the green onions together, then put down on the plate, nestling the pearl onions in with them. Sprinkle on the gooseberries and a few sprigs of purslane. Finally cut each breast in half to show off how perfectly you cooked them 😉 arrange them with the rosy sides facing the diner, scatter over a few chestnut boletes and serve  immediately.
Notes
This is just a sauteed bird with mushrooms and a couple onions. Don't let it scare you. Do get some inspiration and ideas for cooking small boletes. This is also a great example of how I like to use purslane: as a garnish to just about anything, it adds interest and depth to any dish.