Man has longed for the truffle since he first discovered it. Along with caviar, champagne and blah blah blah, they stand as an example of all that is expensive, and over the top. As to when they were first found by humans remains a bit of a mystery, but we know that the pharaohs had a penchant for them through hieroglyphs from Ancient Egypt. The Egyptians hunted the dessert truffle, also known as terfezia or terfez, which grow in greater quantity than European varieties, but have a more subtle flavor.
A couple thousand years later and truffles are being hunted commercially, they are available around the world. Chef's use them on all sorts of things, and truffle oil can be found in most super markets, although most of it is made from a synthetic process.
Truffles and truffle oil are used so much now that it's a bit annoying. From a home cook's perspective as well, seeing plates with truffles all over them can make recipes seem unapproachable and high brow, since it can be difficult to access to good quality ones.
This presents a bit of a conundrum to me: I live in a world of cuisine and I definitely like truffles, but the mere mention of them now has connotations of being stuck up and creating cliche food. It's a difficult thing to digest and reconcile.
These Pictures

Before you think of me as a neanderthal for taking pictures of a woman with mushrooms on her body, hear me out. These pictures came about because of two other pictures: one was a picture I took of a truffle, the other was a shot of a girl holding a coprinus species by a Russian man.
I posted a picture I took of a truffle a while ago and an old coworker commented about it. She said: "That looks like a turd". To the naked eye, they might not seem pretty. As with many things though, beauty is in the eye of the beholder. If I know one thing, it is that what is beautiful to one person, may not be so to another. I like that.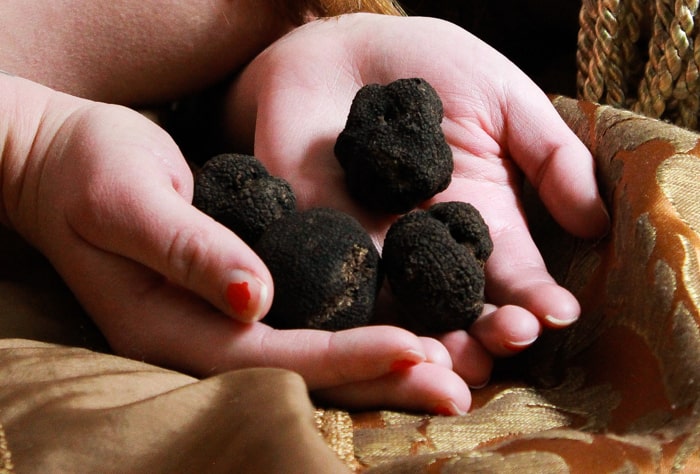 The other picture was one I noticed on a mushroom hunting message board on Facebook. A Russian guy posted a picture of a woman with her breasts exposed holding some sort of coprinus mushroom in an online chat forum. The person had intended it to be some sort of sexy-cave-man-mushroom photo, but the picture was taken on the fly, with no regard to composition or creativity in any way. It wasn't complimentary to the young lady at all. It came across as vulgar, a quick objectifying shot of boobs with a shroom, and nothing more. Now I'm a warm blooded male, but I'll tell you that I actually found it a bit insulting since it was right there on a world-wide message board for anyone to see, of any age.
Gender stereotypes and all that business aside, the female body has always been a sign of beauty and fertility, and has soft, smooth lines, whereas the male body is more a symbol of strength, rigidity and power. As a little juxtaposition of human and earthly beauty, I thought it would be fun to explore the female form in some pictures that are tasteful, as well as kill two birds with one stone and show that truffles, although different, can be attractive too. In the end it's a visual experiment with a message: I think truffles are pretty, and I think women should be photographed in ways that have purpose and meaning. What do you think?
Special thanks to my beautiful volunteer. You're awesome. I'm not a portrait photographer by any means, so we had a good laugh when I started to just move body parts around like they chicken drummies, or arms on an action figure. I remember her saying something to the tune of: "I can't move like that…I'm a person, not food!"