Of all the mushrooms pickle recipes I have, pickled hen of the woods are one of the best. Read on and I'll go over the finer points.

Like any mushroom, hens are best when picked very young. They're certainly edible in their old age, even after they have released their spores, but these are going to be more prone to bug damage.
From my experience, hen of the woods will not have maggots until very old, but they will be preyed upon by slugs, who will carve large tunnels in them, and other bugs who like to chew them and leave powdery debris all over the place as they go.
The very young ones are a special treat, and it is rare you will find them in this state; they are tough to spot since they blend in. Should you find one in a very young state, with it's leaves still tight together, hard as a rock..... there is only one recipe you need. You must try pickling them.
The hen of the woods that I am showing you here is a great specimen, wonderful for pickling, but even this one is not as young and succulent they can be.
That baby hen had not even formed it's leaves yet, they were only small buds poking out from a giant base. When I pulled the leaves apart, they looked much more like club or clavaria mushrooms than a hen of the woods.
It was a giant baby hen, the youngest one I had ever seen, and it was still around 8-9 lbs. It was brought in by the first forager I ever met, a bit of a recluse of an old man; I will call him L. A retiree, L is so fond of hunting mushrooms and selling them to restaurants that he purchased a plane so that he could fly around to different woods, bringing his scores back into the Twin Cities.
He is a bit of an unsung hero to me, a retired guy who likes to be in nature, and a man who has provided wonderful things to restaurants since before I was a twinkle in the eyes of my parents.
This year I spoke to him via phone with some unfortunate news. I had to inform him we can't buy mushrooms anymore. He was sad, and so was I, and he himself had just spent thousands of dollars flying out to Oregon to take a mushroom certification course so that he would be able to sell to restaurants. When he got to the course, he was informed that it was only for morels, and that no other mushrooms can be sold!
Anywho, don't sleep on pickling the hen of the woods, they are some of the best wild mushroom pickles you can make. As always, you can add other flavors and herbs to your pickle liquid, make the recipe your own and find combos that you like.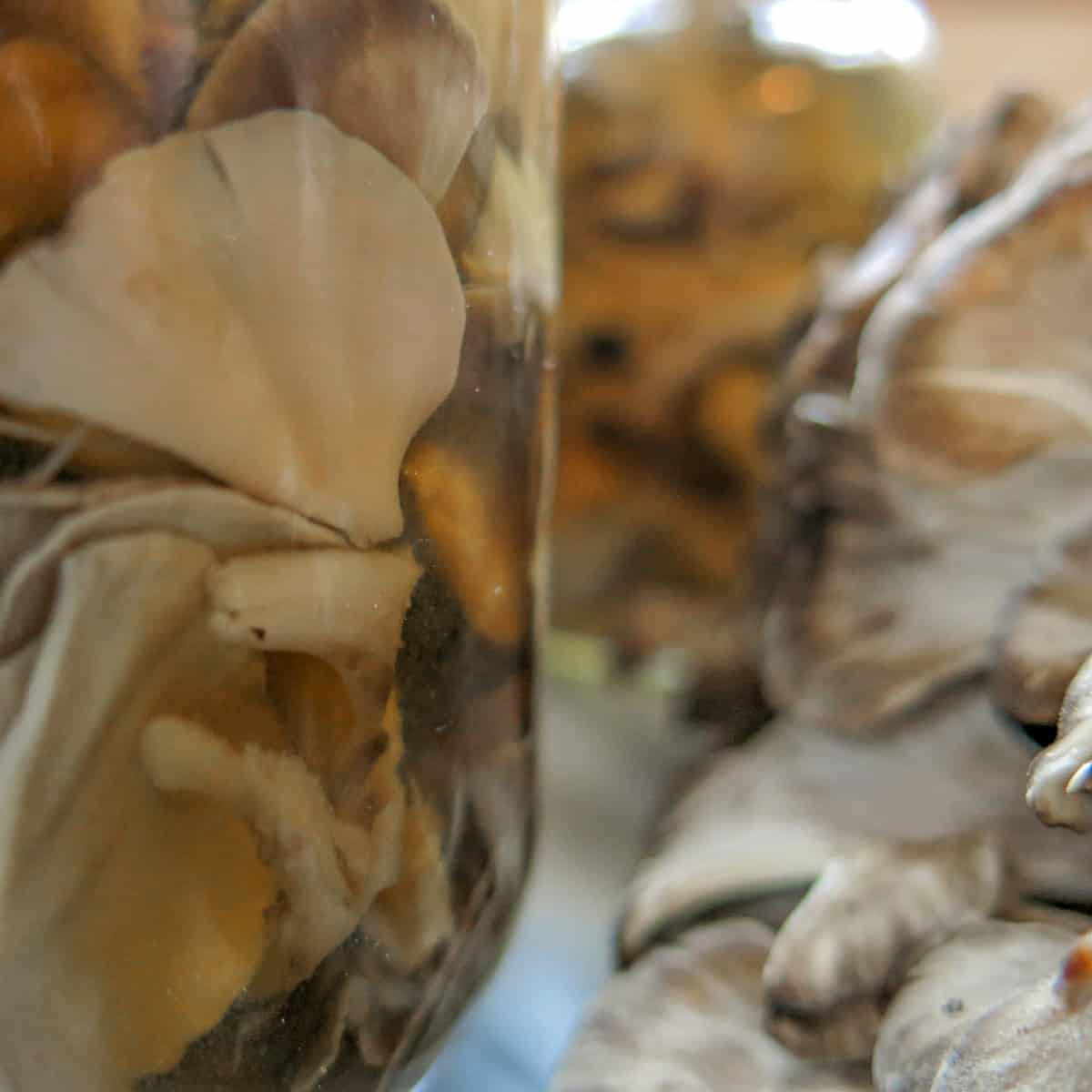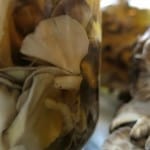 Print Recipe
Pickled Hen of the Woods
Basic pickled hen of the woods mushrooms. Makes two pint canning jars, scale as needed.
Ingredients
1

lb

very young hen of the woods

3

cups

water

1.5

teaspoon

salt

1-2

large cloves of garlic

A few sprigs of fresh thyme

Two dried bay leaves

1

cup

of champagne or white wine vinegar
Instructions
First trim and clean your hen of the woods, separating it into small leaves

Bring the water, salt, garlic, and herbs to a boil in a large pot. Add the mushrooms, cover and cook until the mushrooms are wilted and cooked through, about 5-10 minutes

When the mushrooms are cooked, add the vinegar

Lastly, pack your canning jars full of the mushrooms and then top the jars off with the pickling liquid

If you want to process them in a a water bath canner, you can do so for 15 minutes.
Notes
The best pickled hen of the woods will be young, clean mushrooms. Resist the urge to pickle giant hens as they're generally tough. Save larger hens for making Fresh Wild Mushroom Duxelles.
This is only a basic guide, play around with the recipe and make your own. That being said, if you're unsure about ph levels and pickling, use a ph tester and aim for a level below 4.2 if you change the water-vinegar ratio.
Nutrition
Serving:
2
oz
|
Calories:
20
kcal
|
Carbohydrates:
4
g
|
Protein:
1
g
|
Fat:
0.2
g
|
Saturated Fat:
0.03
g
|
Polyunsaturated Fat:
0.1
g
|
Monounsaturated Fat:
0.003
g
|
Sodium:
200
mg
|
Potassium:
100
mg
|
Fiber:
2
g
|
Sugar:
2
g
|
Vitamin A:
0.05
IU
|
Vitamin C:
0.2
mg
|
Calcium:
13
mg
|
Iron:
1
mg
More