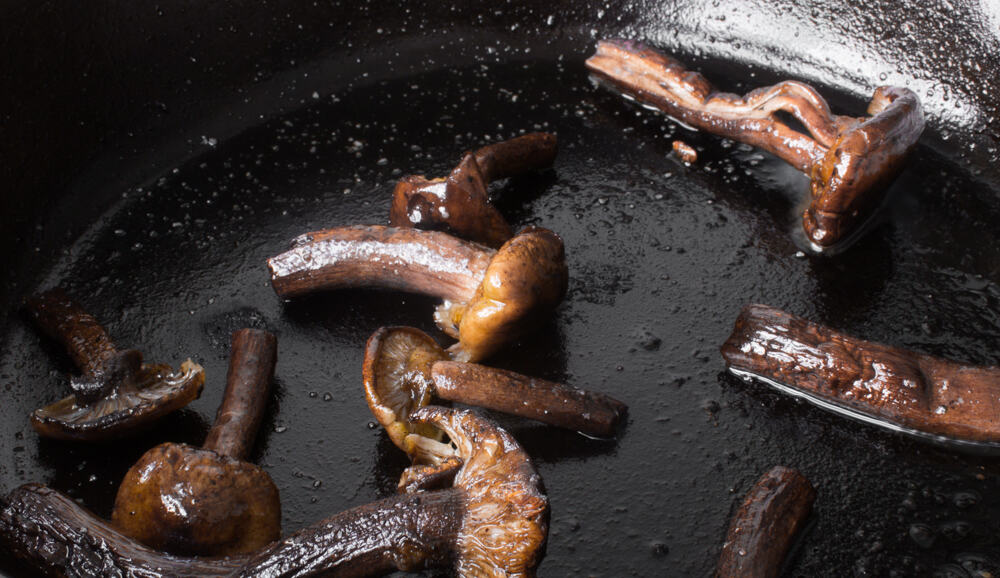 A couple years ago I shared a wild mushroom recipe I borrowed from David Arora for cooking honey mushrooms (Armillaria mellea and others) alongside their peeled stems, which is useful when you find a bunch of honeys that have grown to have large or long stems, assuming that the bugs didn't get to the stems before you, which can happen.
This past season I ended up finding a number of clusters that were really prime for eating: not too tall, and young, with a little time before their caps would be ready to open up and spore out.
I brought them home threw them in a pan whole like I do with most young mushrooms. I've noticed lots of people have the urge to always chop fresh mushrooms up to cook with them, but resisting that and cooking the entire mushroom, or large hunks of it it preserves unique texture and shows off individual forms.
At the restaurant when I finish mushrooms for a dish they might get a little shallot thrown in at the end or some herbs, but sometimes we just saute or pan roast them by themselves and put them on plates at the last minute, a lesson in simplicity.
Safety
Honey mushrooms need thorough cooking as undercooking can potentially make people sick. Most mushroom hunters know this, but I have to add it for posterity. Honey mushrooms are often blanched or par-boiled, but here, I cook them whole or in large pieces, which means that you need to be thorough with your cooking.
This is why the mushrooms in this recipe are cooked first in a pan, and then in the oven here. You want to aim for at least 10-15 minutes of cooking, and don't serve them to anyone who isn't aware of exactly what they're eating. If you want to serve honey mushrooms to your family, I suggest blanching them first, and making something like soup or my Honey Mushroom Gulyas to make sure they don't have a reaction. If they're ok, you can increase the portions gradually and eventually enjoy some of them cooked without par-boiling.
How to serve it
This is a perfect recipe for cooking mushrooms simply, and I encourage you to experiment with different variations. Here's a few ideas.
Add shallots and chopped herbs like tarragon or dill at the end.
Add a shot of lemon juice off the heat after cooking.
Cook a big pile of them and mound them on a big juicy steak.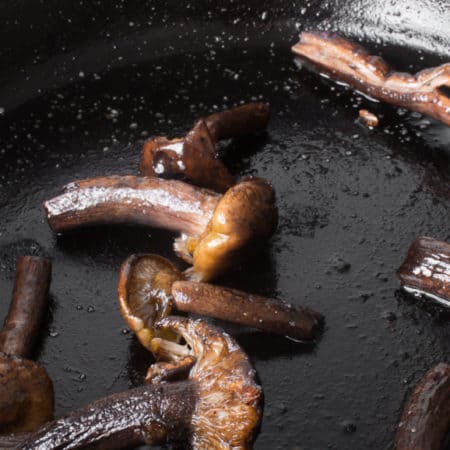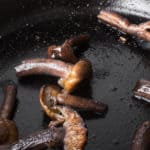 Print Recipe
Pan Roasted Honey Mushrooms
Honey mushrooms pan roasted, stem and all
Equipment
Heavy pan, like a cast iron skillet
Ingredients
2

ounces

fresh honey mushrooms

cleaned, with 1-2 inches of their stems remaining

A good pinch

½ teaspoon of chopped tarragon, parsley, and chives

1

tablespoon

lard

like duck fat, or flavorless cooking oil

1

tablespoon

unsalted butter

Kosher salt and fresh ground black pepper

to taste
Instructions
Preheat the oven to 350. Heat a pan with the oil or other cooking fat, add the mushrooms and cook for 5-10 minutes on medium-high heat until the mushrooms have released their water. Take your time here, as honey mushrooms need to be thoroughly cooked.

Season the mushrooms with salt and pepper and put the pan in the oven for 5 minutes or until the mushrooms are wilted cooked through and very hot throughout.

Remove the pan from the oven and put the mushrooms back on the burner on medium-high and add the butter to the pan, along with the herbs. Taste of the mushrooms, adjust the seasoning as needed, then serve immediately.
Notes
Make sure to use these in a dish you will eat with a knife and fork. Draped over a steak, friend up with chunky summer squash, or on top of some braised greens are sounding good right now.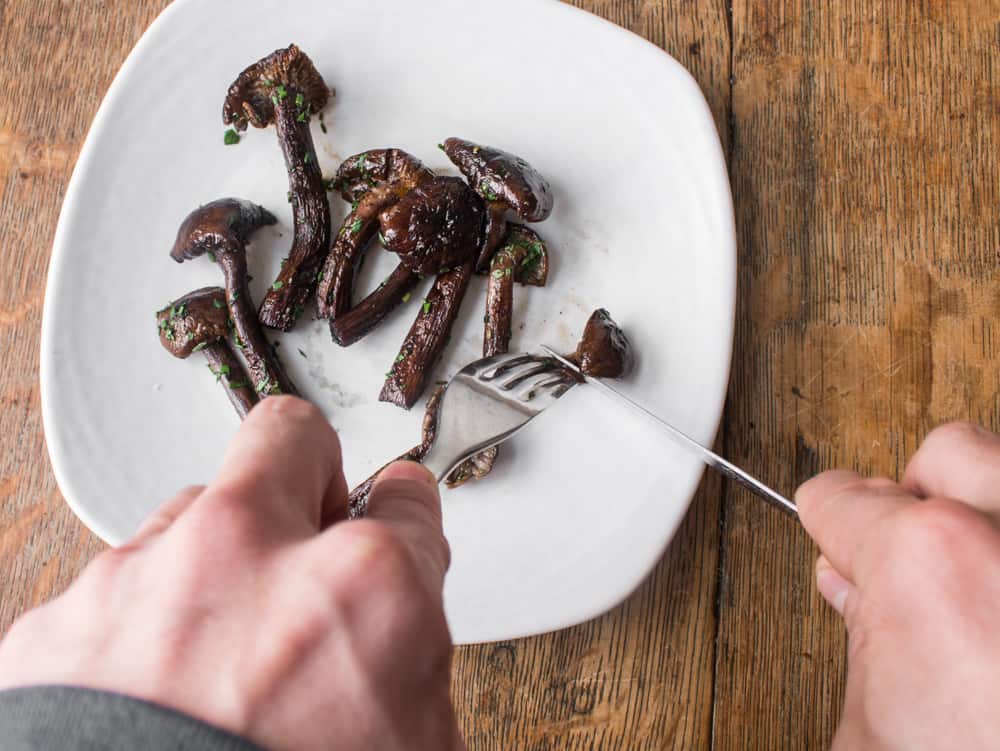 More