Orrechiette alla Barese translates to "little ears in the style of Bari". It's a cornerstone of Southern Italian cuisine, which means it's a cornerstone of Italian American cuisine, and everyone's Italian grandma has a specific way of preparing it. Here I use wild mustard greens instead of the traditional cime de rape, or broccoli raab.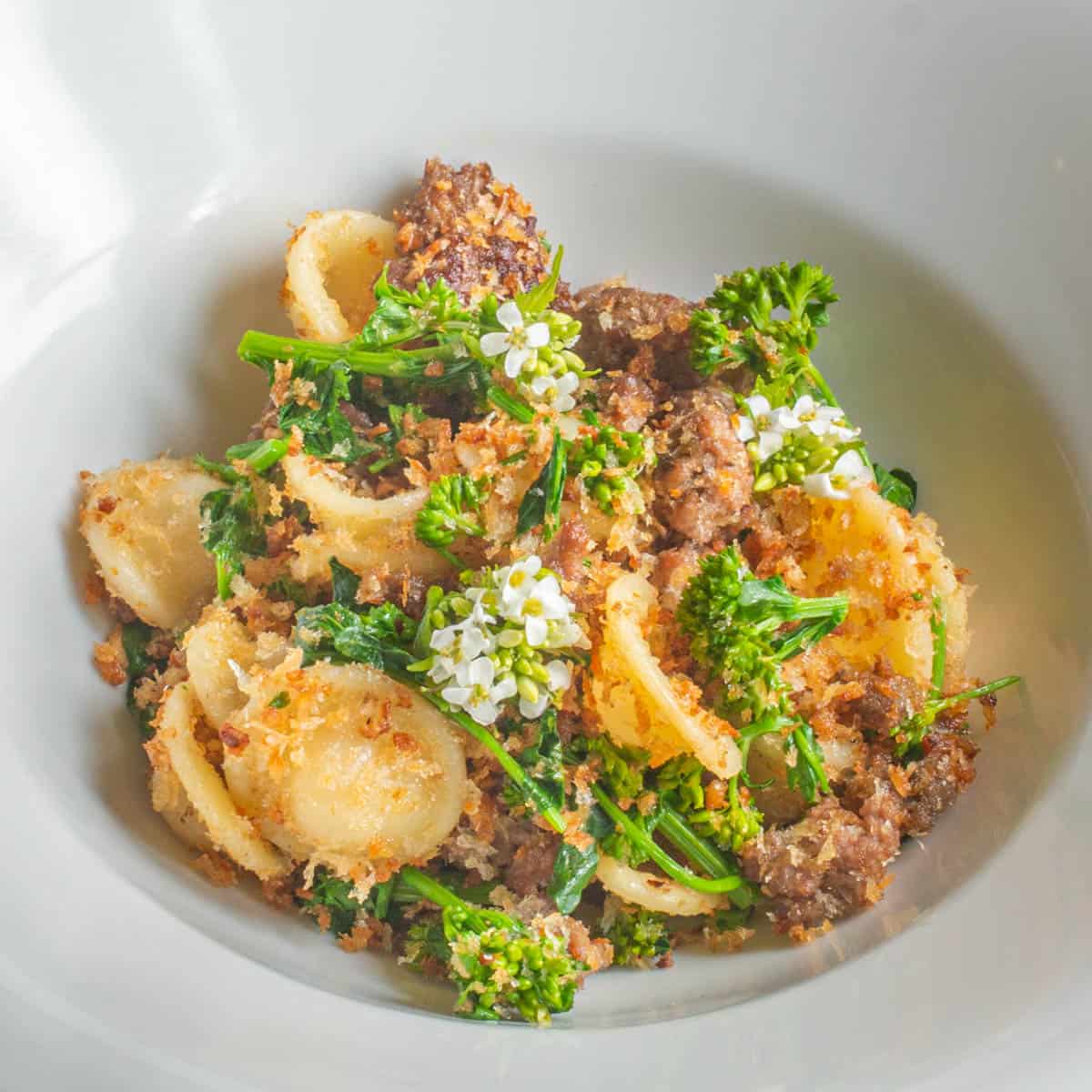 I've made orrechiette with broccoli raab a couple different ways in restaurants, but there is one method that will always stand out in my mind: the sauce-less version. Orrechiette and broccoli raab with anchovies in a butter sauce? Sure. Tossed with tomato, garlic and chilli? Thats good too.
But, when I started working under a chef from Milan he prepared it differently, and it was only after tasting his version that I finally understood how good it can be.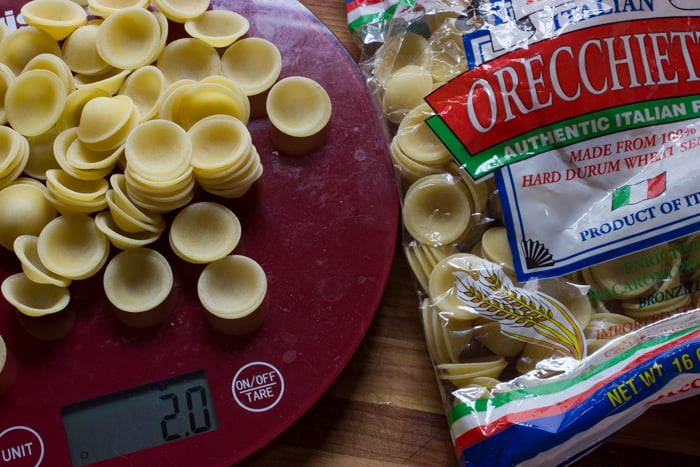 Instead of using wine to deglaze a pan anchovies were cooked in and make a sauce, he sauteed anchovies slowly in oil until they dissolved, then added breadcrumbs, sausage, rapini, and chilli flakes. I became a believer after a single bite.
This pasta is one of the greatest I have ever had, and the key is in it's simplicity. There is no sauce to this, no tomato, no butter, nada. At first glance, the orrechiette look like a pile of pasta with breadcrumbs and greens. After one taste though I guarantee you, it will change how you think about the possibilities of dressing pasta.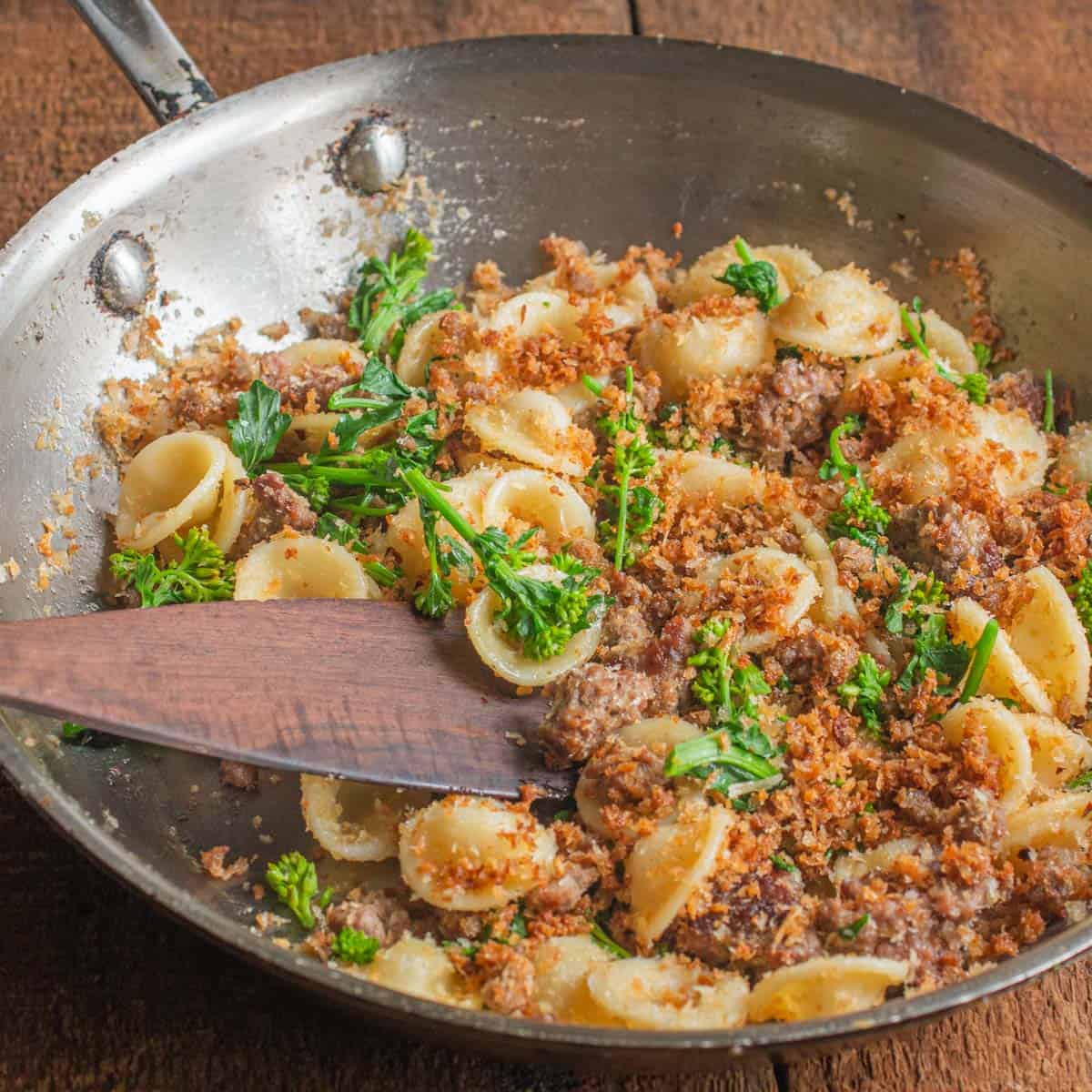 Keep the pan dry
Usually with pasta, you want to make sure the dish is juicy and moist by adding pasta cooking liquid, curiously, this pasta actually relies on the absence of moisture, which would ruin it's texture. The breadcrumbs that catch the oil and lubricate the pasta need to be crisp, any sort of liquid or prolonged resting after cooking will make it steam and destroy the crunchy wonderland that is spicy breadcrumbs cooked with anchovy.
A Bitter Greens Recipe
The bitter broccoli raab here are the young, unopened flower buds of mustard family plants. There's a lot of different mustards in my area, but some of the two easiest to find are garlic mustard, and wintercress.
They're bitter just like rapini--a little more actually, and the perfect foil for cutting through the rich taste of sausage and anchovy. In America, people are wary of bitter greens, but other cultures have appreciated them for centuries. I talked about the "wild rapini" over in this post here.
In the end, this is not only a dish important to Italian heritage, but an example of how lowly bitter greens can steal the spotlight for a second. Whether you have access to some wild raabs or just rapini from the grocery store, try this recipe sometime. It's may seem like an out of the box approach, but it's rich, savory, and spicy: something for a pasta connoisseur. Cheese is not served with this dish.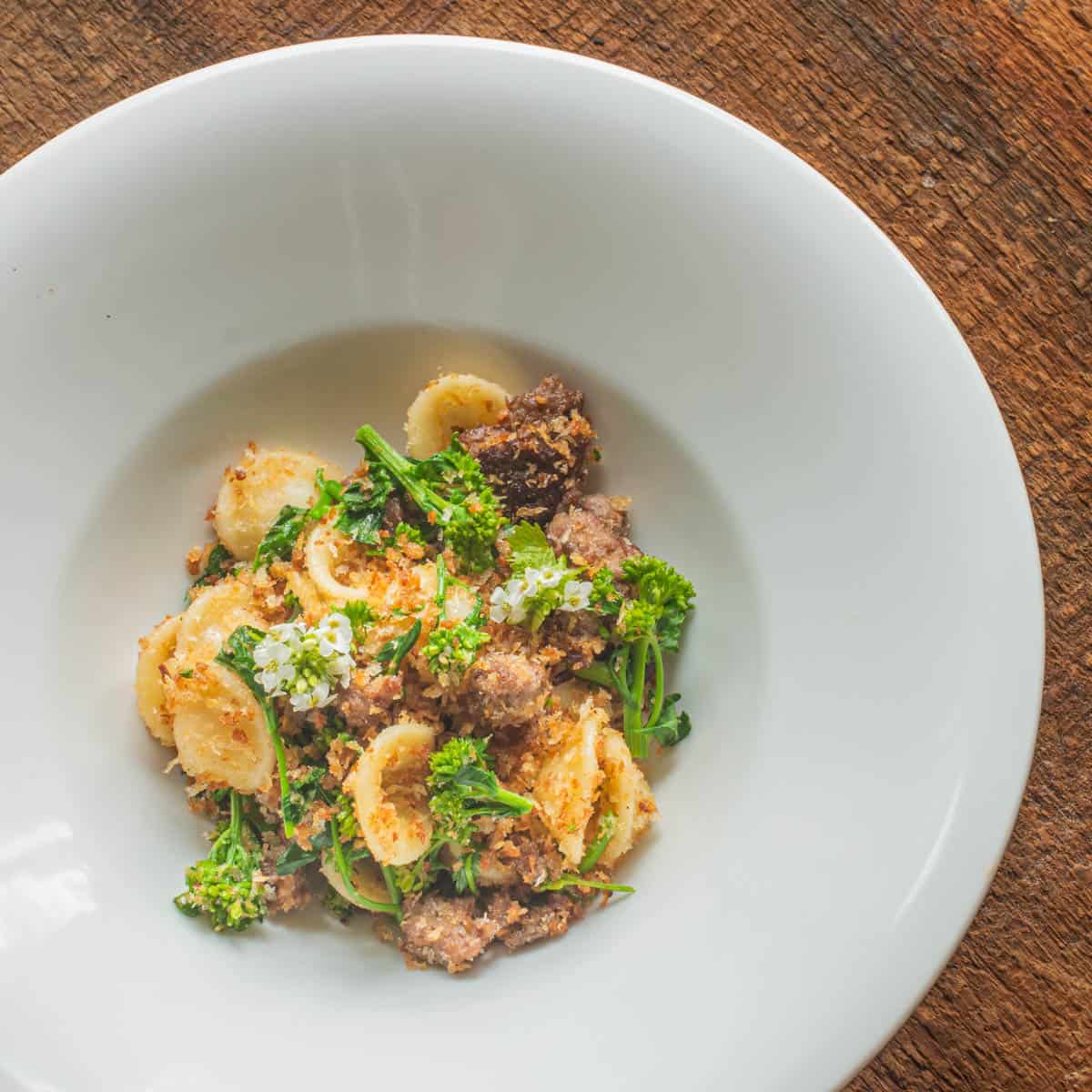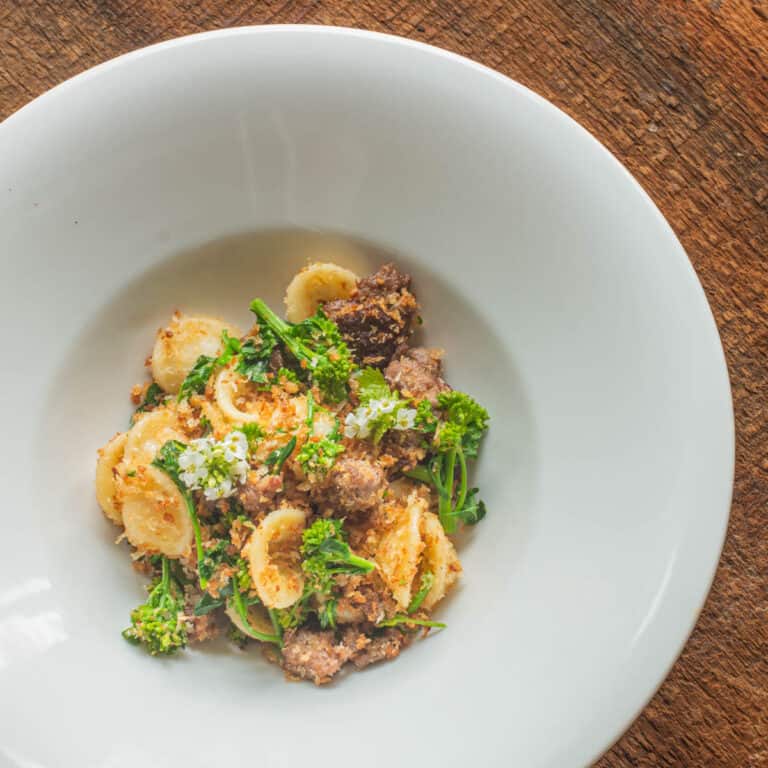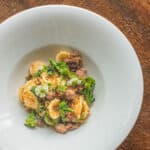 Print Recipe
Orrechiette Alla Barese with Sausage and Rapini
Serves 4 as an entree
Equipment
1 10 inch saute pan

1 Pasta pot
Ingredients
8

oz

dried orrechiette pasta

12

oz

Italian sausage

preferably a variety flavored with fennel seed

1

cup

panko breadcrumbs

½

cup

oil

I like to use a 50/50 blend of extra virgin olive oil to grapeseed

6

ounces

wild raabs

or rapini/broccoli raab

Crushed red pepper flakes

to taste (it should be quite spicy)

Kosher salt

as needed

12

anchovy filets preserved in oil
Instructions
Bring a pot of salted water to a boil. Blanch the raabs for 30 seconds, then remove and shock in an ice bath to preserve their color. Drain the raabs thoroughly and squeeze out any water, chop roughly and reserve.

For the pasta, begin by heating a large saute pan (12 inches is good) add a tablespoon of the oil and brown the sausage on medium heat, breaking it into small clumps with a wooden spoon. Remove the sausage from the pan, reserve the sausage.

Do not clean the pan. In the pan the sausage was cooked, add the anchovy, along with the rest of the oil on medium heat, stirring occasionally until the anchovy filets dissolve. Add the breadcrumbs and stir to coat with the mixture, cook on low-medium heat until the breadcrumbs are golden brown. Add the sausage back to the pan.

Bring a pot of salted water to a rolling boil, then add the orrechiette. Stir the pasta vigorously during cooking since orrechiette is notorious for sticking together, which causes it to cook unevenly.

When the pasta is cooked al dente, drain it completely, tossing in the colander to remove water, then add to the pan with the sausage and crumbs. Add the chopped rapini, chilli flakes to taste depending on how spicy you like things, (I would add about ¼ teaspoon for 4 people.) and some more olive oil if the pan starts to look dry.

Heat the mixture just to take the chill off of the rapini, then serve immediately. If this pasta isn't eaten right trapped steam will destroy the crunch, which is part of what makes it so interesting.
Notes
Using different bitter greens 
This is one of the best places to use bitter greens I know of. Broccoli raab is traditional, but dandelions, wild mustard greens, and wild chicory can all be cooked the same way. 
Nutrition
Serving:
8
oz
|
Calories:
821
kcal
|
Carbohydrates:
55
g
|
Protein:
23
g
|
Fat:
57
g
|
Saturated Fat:
12
g
|
Polyunsaturated Fat:
12
g
|
Monounsaturated Fat:
30
g
|
Trans Fat:
0.1
g
|
Cholesterol:
65
mg
|
Sodium:
749
mg
|
Potassium:
454
mg
|
Fiber:
4
g
|
Sugar:
3
g
|
Vitamin A:
1115
IU
|
Vitamin C:
10
mg
|
Calcium:
101
mg
|
Iron:
3
mg