Milkweed capers are a fun project I've been playing with for a few months. I've preserved plenty of unopened flower buds: nasturtiums, dandelions (personal favorite) chives, and day lilies to name a few. All of those make fun capers, but milkweed buds are fun since they can be harvested quickly, and in bulk.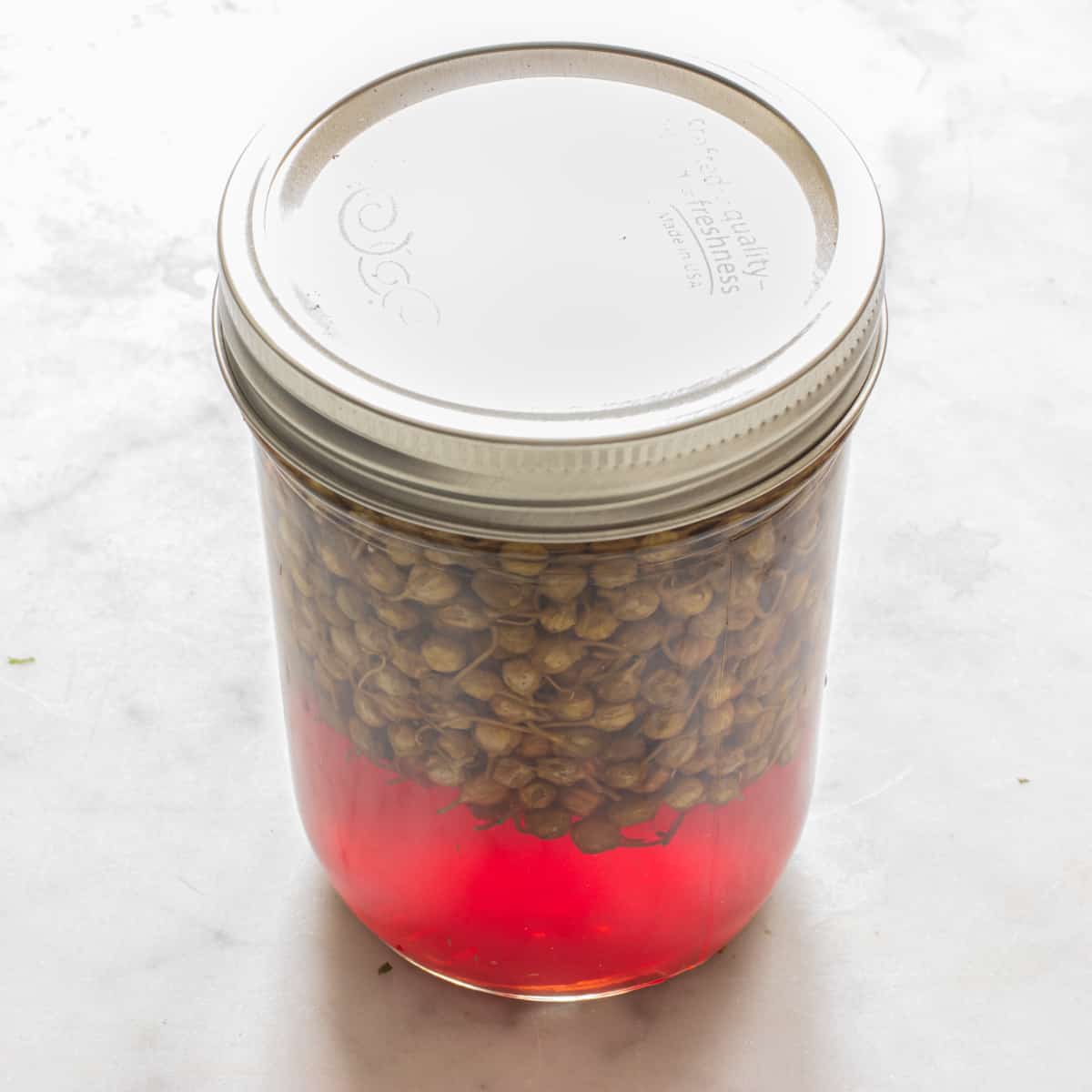 In the beginning of the season, milkweed is a little shoot, it grows, developing leaves along the way, eventually forming buds on the top, which I also refer to as "raabs"- pretty much a pet name for buds that will eventually turn into flowers.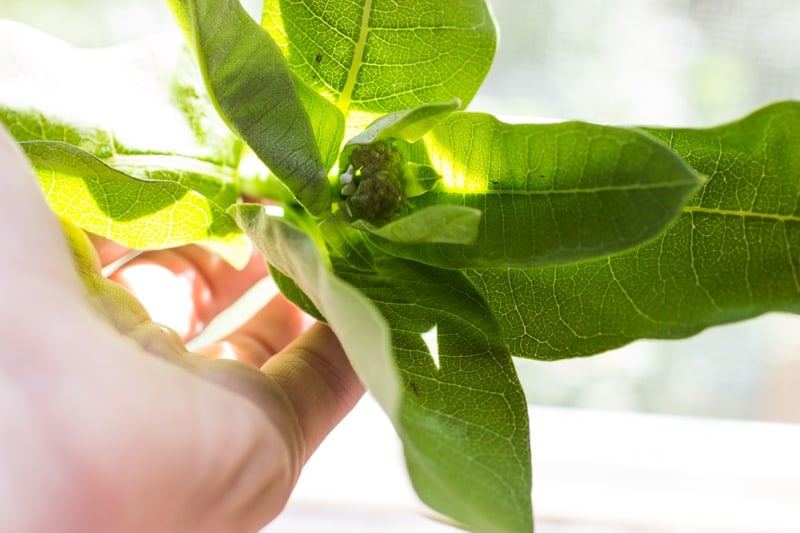 At first the buds are small, tight, and cook similarly to broccoli. As the season progresses, the buds change. The connective thread they grow from on the plant gets longer, making the buds look extra large, and bushy. After a while these change color, from green, to lavender/light purple. After the buds change color, they turn into flowers.
The bud's shape transformation and color change fascinate me, as well as the fact that they're edible at every single stage of their growth until the flowers dry in the sun, falling off the plant; each of these stages hold different possibilities.
The capers came about when I was picking the buds to cook this year and discovered certain patches of milkweed that were more exposed to sun than others. The ones in the sun were growing faster, and I had missed them at the green stage-all of the milkweed in the sunny area was purple and getting ready to flower.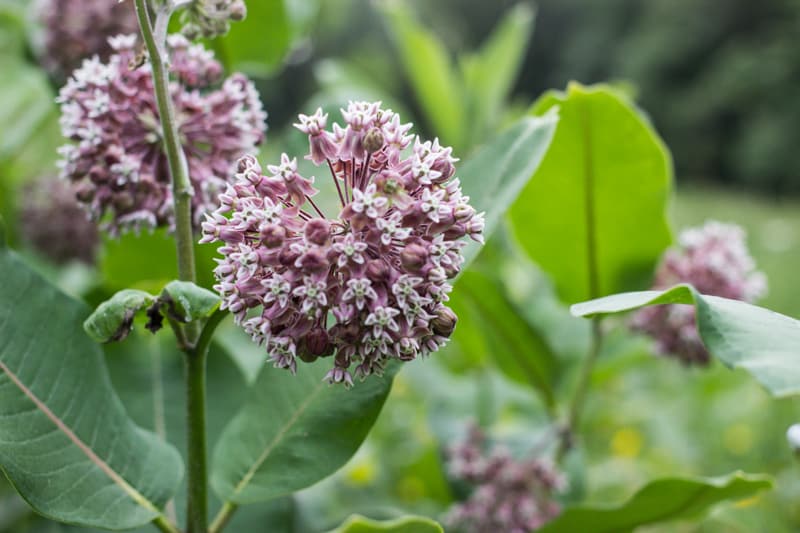 When the bud stems are longer, and changing color, they don't stay tight and firm like when they're green and immature, they cook up kind of flat (literally speaking) and have a tendency to soak up oil in the pan or absorb too much sauce and get soggy. It's easy to pick the buds off the stem at this stage though, yielding perfect little orbs, which make me think capers, so that's where the Idea came from: different stages of the plant's life=different cooking techniques.
You could definitely take the tight green buds and pickle them too, but I know If I have a bunch of fresh milkweed buds, they never seem to stay around long enough to warrant pickling when green.
The capers turned out just like I thought they would, but with one exception: the liquid turned vibrant red. I expected the buds to lose their purple hue after sitting in brine but many of nature's colors, especially those in flowers, can transfer to liquids they are stored or cooked in, especially when those liquids contain alcohol or vinegar. Marigolds, calendula, violets, and other edible flowers will do this too.
To ferment or pickle your capers?
I wrote another recipe last year for capers made from dandelion buds, and you might be wondering what the difference is here. It isn't too different, but these are made with a lacto-fermented method as opposed to hot pickling with vinegar. Both techniques would be usable here, but the cold method preserved the almost caviar texture of the small buds better than a hot pickling method would, it's also way easier.
It's really important to understand the difference in flavor you get from pickling with vinegar vs. lacto-fermenting the milkweed capers. Vinegar is a good, quick way to lower the PH of a liquid, but fermenting will give you a more traditional flavor, and is also a little more exciting.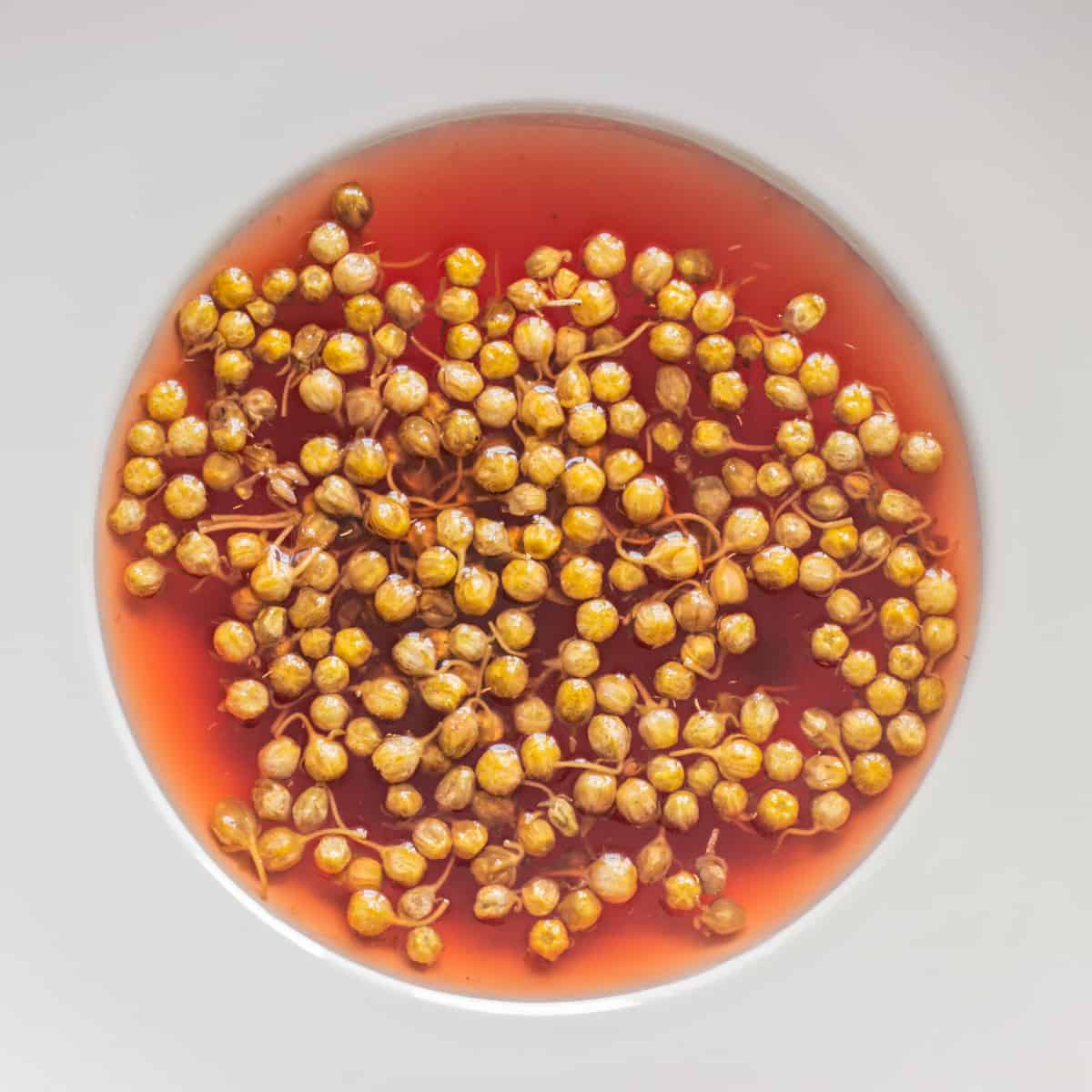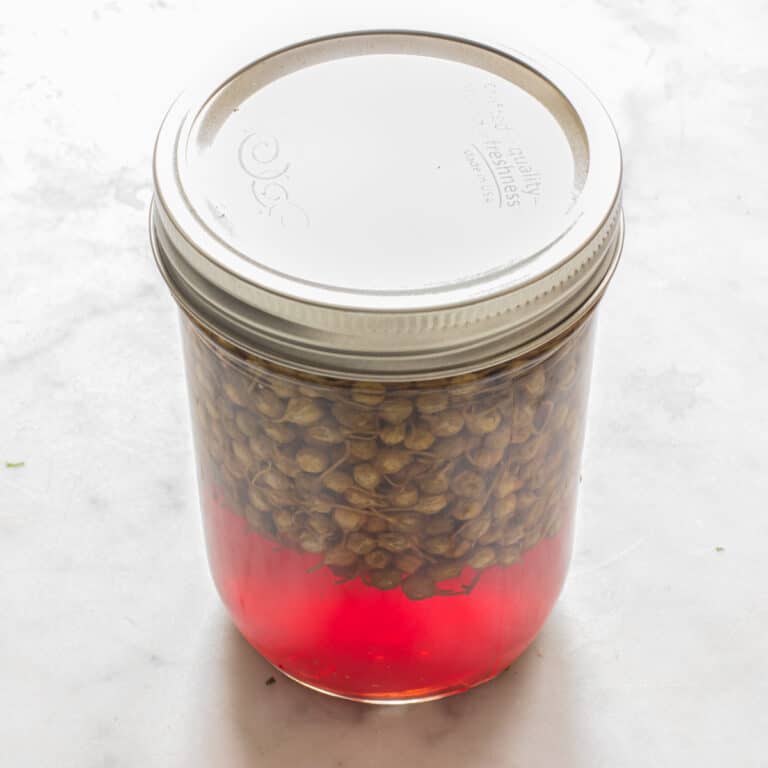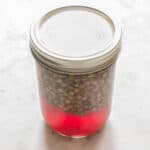 Print Recipe
Fermented Milkweed Capers
Simple lacto-fermented milkweed capers.
Ingredients
25

grams

kosher salt

1.5 tablespoon

500

grams

water 2 cups

3

oz

Milkweed unopened flower buds,

picked apart, stems discarded as much as possible, rinsed clean
Instructions
Combine the water and salt and whisk to dissolve. Pack the milkweed buds in a jar, and completely cover with the brine. If you can find a grape leaf or other leaf to hold them down, do it. I like to put a small stone in the top of the jar sometimes to hold things in place if they're floating. Screw on the lid.

Leave the jar on the counter for 2 days to start fermenting, or leave out a bit longer if you want them to sour more quickly, then transfer to the fridge.

Open the jar here and there to check on the capers and release carbon dioxide and to make sure water doesn't evacuate. If you've made other capers, know that milkweed capers can be more fickle and prone to mold, so keep an eye on them and stir often.

I often put mason jars of ferments in another larger container to catch possible drips.

After about 2 weeks the capers should have a nice flavor, but if you leave them in the fridge longer they will continue to age and develop until the pH is as low as it can go. More or less, the longer they sit, the better they will get, and you can let your palette be your guide.
Notes
Salt Ratios 
The proportions listed will give you a 5% brine if you use a either a scale or volume measurements (cups, etc). From there, you just need enough of the brine to cover the amount of nasturtium pods you have.
It's a good idea to make sure the seed pods are covered with more brine than you think you'll need. 2 cups of water will cover 1 cup of nasturtium capers just fine. Make sure not to pack the jars too full, since water can evacuate during the fermentation process. 
Alternate Method: Weighing everything and multiplying by .03 (%)
Another easy way to ferment the capers is to simply put your jar on a scale, tare it to zero, working in grams, add the capers and water to cover by a good inch or two, then multiply the total grams of the contents by .03, which will be a similar salt content to what I have listed above. Both ways work fine. 
Nutrition
Serving:
10
grams
|
Calories:
5
kcal
|
Carbohydrates:
1
g
|
Protein:
1
g
|
Fat:
0.2
g
|
Saturated Fat:
0.1
g
|
Polyunsaturated Fat:
0.1
g
|
Monounsaturated Fat:
0.01
g
|
Sodium:
3011
mg
|
Potassium:
9
mg
|
Fiber:
1
g
|
Sugar:
0.1
g
|
Vitamin A:
29
IU
|
Vitamin C:
1
mg
|
Calcium:
10
mg
|
Iron:
0.4
mg