Meat garum (just think soy sauce made from meat) was the first thing I planned to make after flipping through copy of the Noma Guide to Fermentation, by Rene Redzepi, a book I know plenty of my friends have been experimenting with. It is some seriously mind bending, technical restaurant ideas and experiments, and not for the faint of heart, or the inexperienced.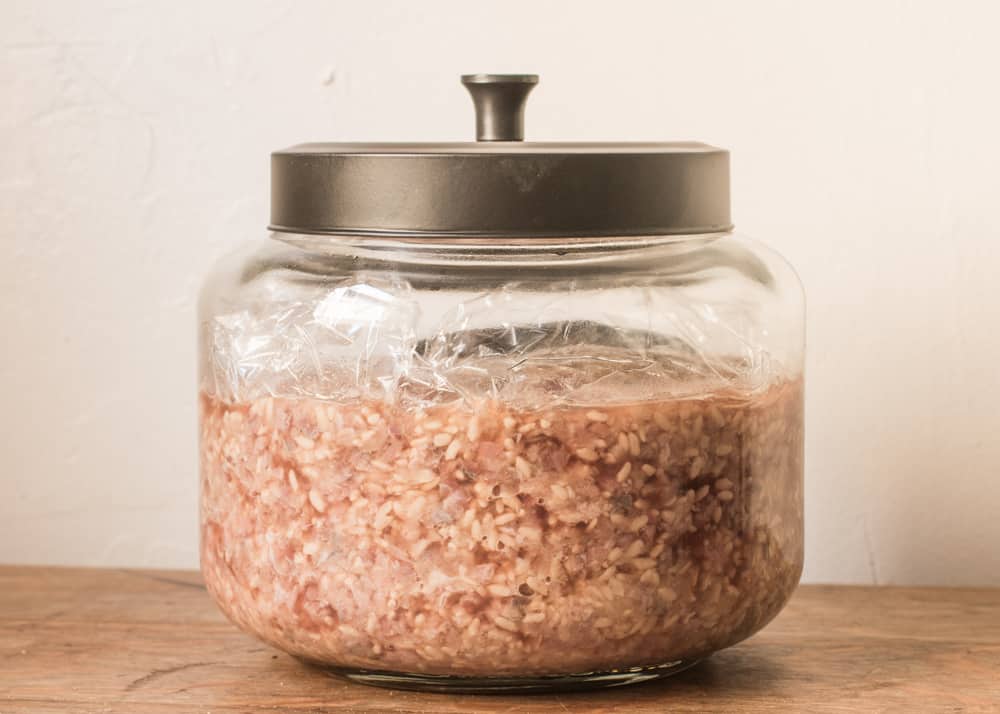 The good news is, just like any other book about cooking food, if you read carefully, you can find ways to attempt things that might seem unapproachable at first. With the Noma Guide to Fermentation, that might mean not making your own fermentation chamber out of a restaurant speedrack, covered with clear proofing plastic, with cords and all manner of robotics snaking out of it.
Or it might mean locating quality rice inoculated with koji spores to buy online, instead of trying to master innoculating your own at home, before you try any of the recipes. As you might guess, the above were two shortcuts I took making the meat garum.
If you're not familiar, garum is a fermented (kind of, technically the juices in the gut cause autolysis when they hit the meat) sauce made from small, whole, salted fish, or mixtures of fish and crustaceans, it was widely used and produced in the ancient world before the fall of Rome. I'd always wanted to make traditional garum, and I tried with Northern Pike last summer. That wasn't a huge success, but this garum I made with lamb definitely was.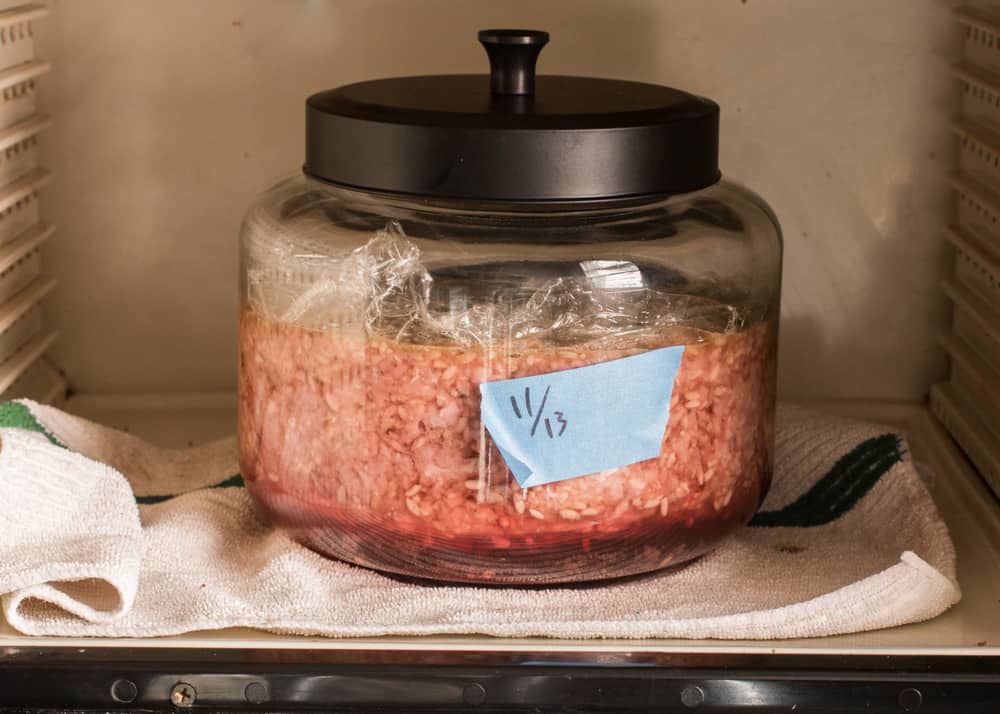 Meat Garum, the Jist
You take some ground meat (preferably a very lean cut as the fat needs to be skimmed) mix it well with salt, crumbled koji rice, and water, then put it in a non-reactive container (glass) and keep at a stable temperature for 30 days.
After 70 days, and skimming any visible fat here and there, the garum is done, and you strain it out, then strain it again, and again, until it's clear of impurities. The sauce will last a very long time, and, kind of tastes like soy sauce made from meat (which is a simplification, but a decent approximation).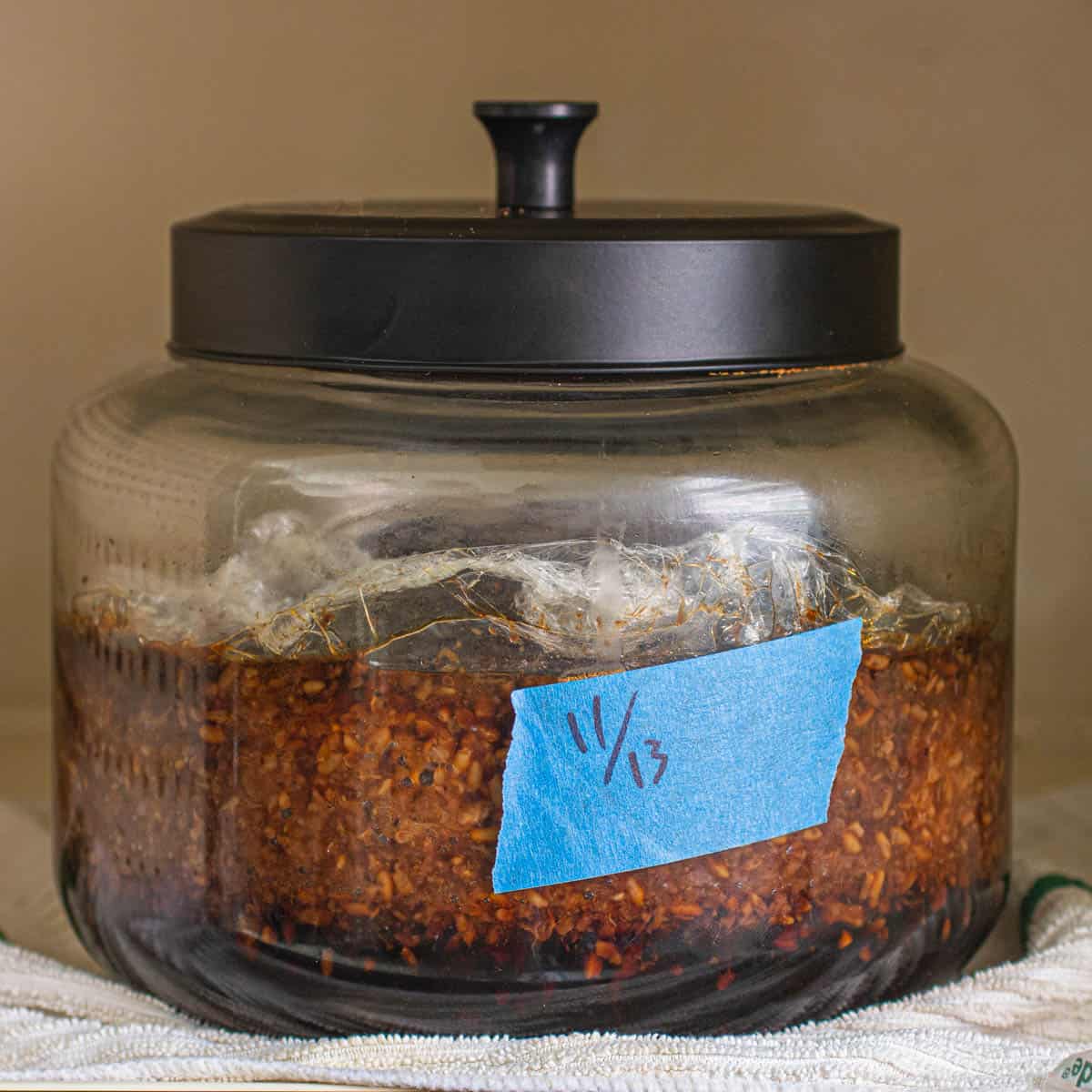 Using different meats
The Noma Guide illustrates their garum recipe using beef, but I was fresh out of it. With one of my current jobs being a consultant for a lamb and goat farm though, I had plenty of lamb, and perfect cut to experiment with: tongue.
Why tongue? Well, first, I had them. Secondly, I spend about half my time in between a farm and the city, where my apartment. I wouldn't have time to skim the fat from the garum as regularly as the recipe called for, so, tongue, being just about the leanest cut I knew, seemed like a great, low-maintenance choice.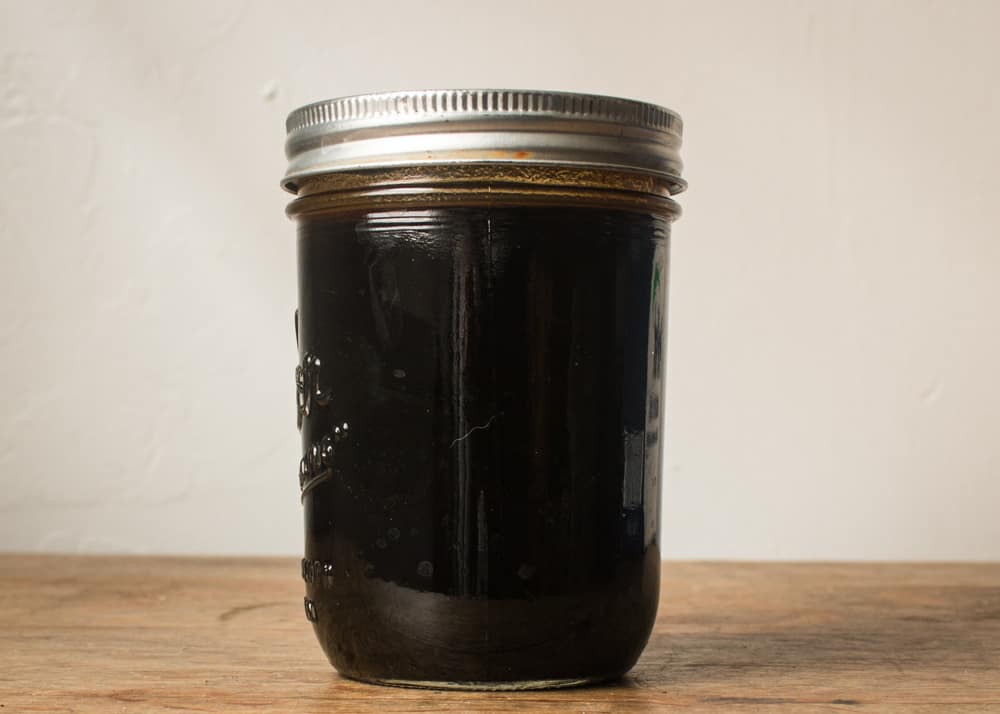 Improvising a fermentation chamber at home
This was the only thing that gave me pause in the original recipe: the meat slurry has to be kept at a stead temperature of 140 degrees, for 70 days. The book explains instructions for how to craft a fermentation chamber with a controlled temperature, but no one that without access to a good amount of kitchen equipment and know-how will attempt it, trust me.
Good thing is that my old Harvest Maid dehydrator goes up to 140, and I knew if I took all the shelves out I could fit some kind of fat, glass vessel in it, which are easily scored at a thrift store. Also, thrifting is what plenty of hunters I know do when craving a fix do in the off season.
Koji rice
This is rice that has been inoculated with a fungus used to make miso, in the Noma Book, they make their own out of barley, of course. I did a fair amount of research on this, first locally at a handful of Asian markets, then finally online.
One of the online products in particular seemed to get rave reviews for similar things I wanted to do with it, so I grabbed a few. Obviously I'm a koji newb, and the masters all ferment their own stuff, but starting out I didn't want to dedicate too much mental space to the experiment. Here's a link to the brand I've been using.
Finished product
Like I said in the at the beginning, this is cutting edge stuff. The flavor profile is like soy sauce, but the meat flavor is definitely there, and with mine, the lamb was there too, in a really pleasant way.
It's toasty, nutty, dark and rich. It's also salty, aggressively so, but it's supposed to be, and I've actually been surprised by how little I need to add to season something solely with the salt content of the garum. 5lbs of sausage would take more than ½ cup! Even then, as with anchovies, I still like to adjust the flavor with a pinch of salt here and there.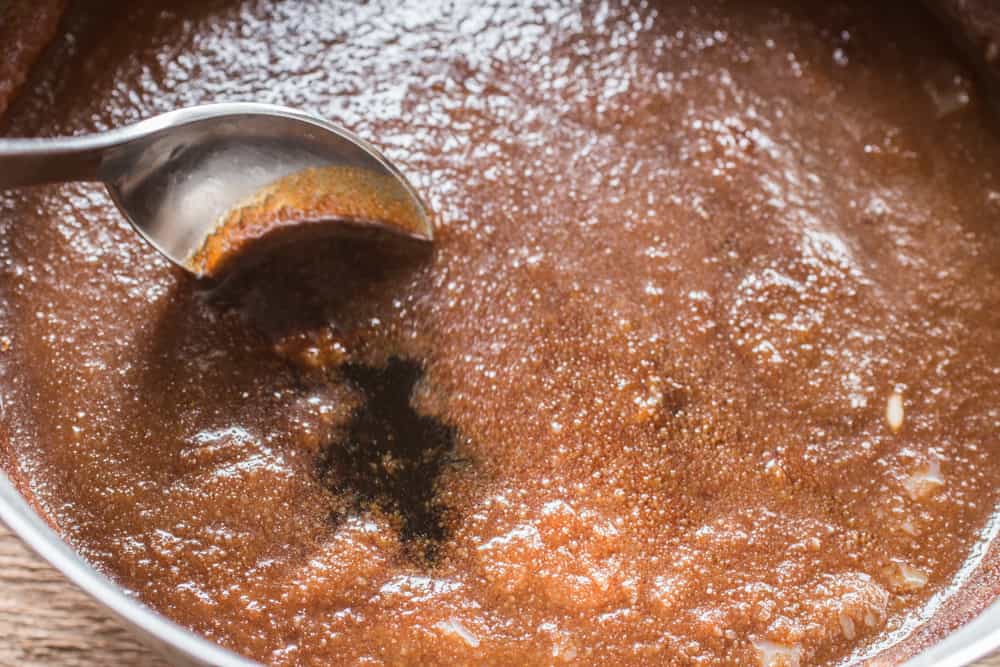 How do you use it?
Remember, this is a background seasoning, not necessarily something you need to taste overtly in a dish, just think soy sauce made from meat. A little goes a long way, (kind of) but, just like cooking with anchovies, Worcestershire, or fish sauce, it's ok to add a little salt after you add the concentrated liquid to adjust it.
With my garum, since I used lamb, the first things I thought to use it with included more lamb, the sort of way you'd start a lamb braise with lamb stock. Here's the first ideas I jotted down in my journal:
Good rice cooked in lamb stock, garnished with butter and lamb garum instead of soy sauce
Soup with lamb broth, lamb garum. Wilted greens. Some kind of herb? Noodles?
A garum based marinade for pieces of lamb that would be roasted or grilled
A marinade for jerky
Seasoning bratwurst and sausages that need to marinate in the fridge for a day or two before casing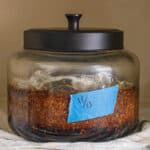 Print Recipe
Meat Garum 
A savory condiment similar to soy sauce, adapted from the Noma Guide to Fermentation
Equipment
Dehydrator or temperature controlled fermentation chamber
Ingredients
1000

grams

2.2lbs lean meat

(I used lamb tongues but that isn't economical for most people)

240

grams

Kosher salt

800

grams

Water

200

grams

Koji rice

1 package, see supplier in notes
Instructions
Sterilize and sanitize fermentation vessel, or put it through the dishwasher if possible. Cut the meat into pieces that will fit in a meat grinder.

Mix the cut meat with the koji rice, then put through the meat grinder. Mix the salt into the ground meat-rice mix, then carefully mix in the water. You can also buzz the whole mixture with a hand blender before putting in the fermentation vessel.

Carefully ladle the meat slurry into the fermentation vessel, press down firmly with plastic, put on the lid, then put it in the dehydrator and set the temperature to 140 degrees. Check frequently on the garum during the first week and skim any fat that rises to the surface, and refresh plastic if needed. Skim the fat weekly after the first week. After a couple weeks, I didn't have to skim mine.

After a couple days, you'll see a raft forming, and gentle bubbles in the mix letting you know the magic is happening.  Remove the garum after 30 days, carefully strain out the liquid, then chill the liquid until any fat has congealed on top and can be easily spooned off.

Strain the mixture again for good measure. Finally, tare a scale with a mason jar on it weighing in grams, pour in the garum, adjust the weight back to 800 grams with fresh water (or leave it as-is if you prefer it stronger), screw on the lid, label, date, and refrigerate until needed.
Recipes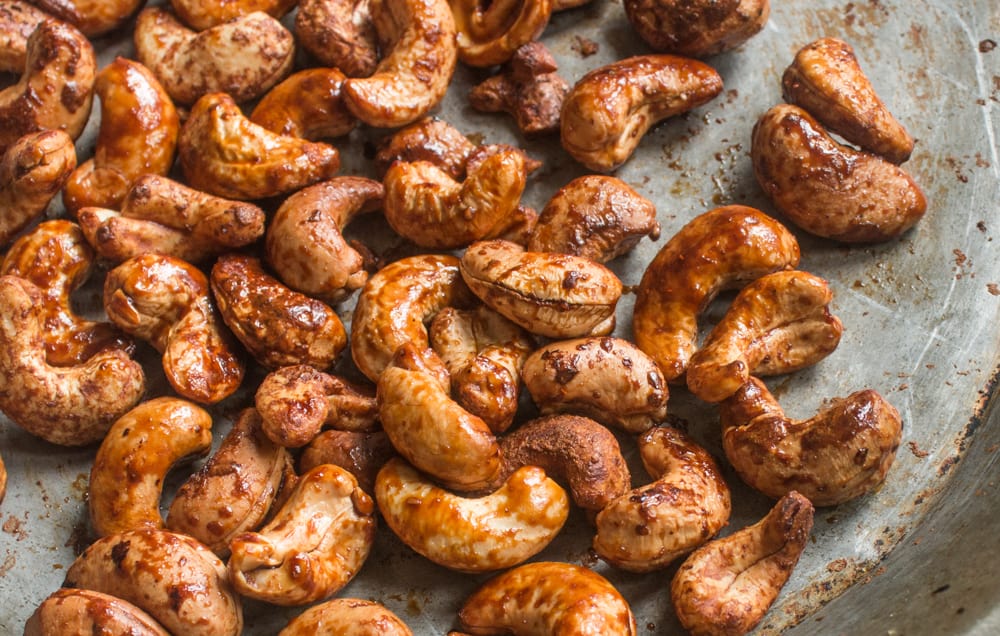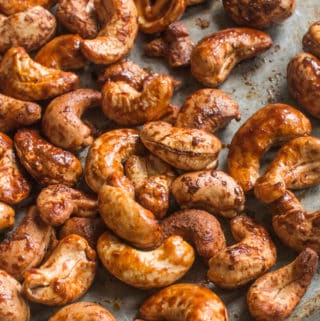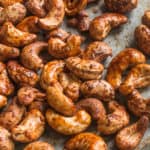 Print Recipe
Toasted Cashews with Lamb Garum
Adapted from the recipe described in the Noma Guide to Fermentation. The garum evaporates, leaving a crust of umami salt. You could also make these with mushroom catsup. Peanuts or hazelnuts would work too.
Ingredients
1.5

cups

whole cashews

2

tablespoons

meat garum
Instructions
Preheat an oven to 325. Put the nuts in a 10 inch saute pan, preferably a cast iron skillet or a non-stick pan with concave sides for easy tossing. Being able to toss and coat the nuts quickly is essential to completely covering them with the coating. Toast the nuts for 15 minutes, or until nicely browned. Turn the oven off.

Then, working quickly, and having the meat garum at the ready, put the pan with the nuts on a burner on high heat. Add the garum, it should sizzle and sputter.

Cook the nuts for a few seconds to quickly evaporate the liquid, tossing the nuts to coat them. When the liquid is evaporated, turn the heat off, transfer the nuts to a small plate or baking dish and allow them to dry in the oven ajar, with the heat turned off.

When the nuts are cool, they'll be coated in a crisp, salty covering. They were so good I ate all of them in a sitting. Mushroom ketchup would be an excellent substitute here for the meat garum, too.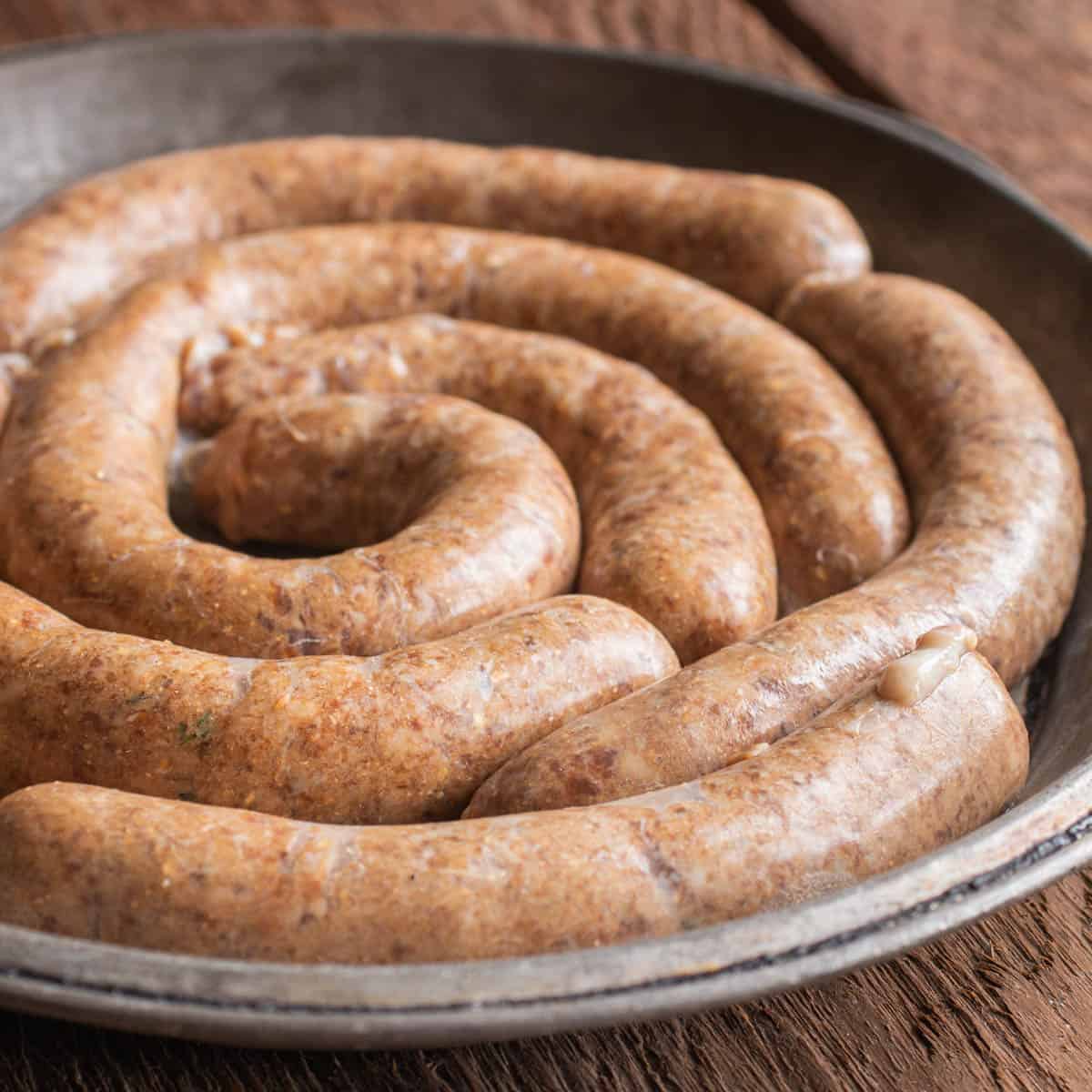 This was what my sausages seasoned with the garum turned into. I was worried about the relatively high amount of liquid monkeying with my sausage, so as binder, instead of milk powder, I used toasted puffball powder. They're fantastic.
More