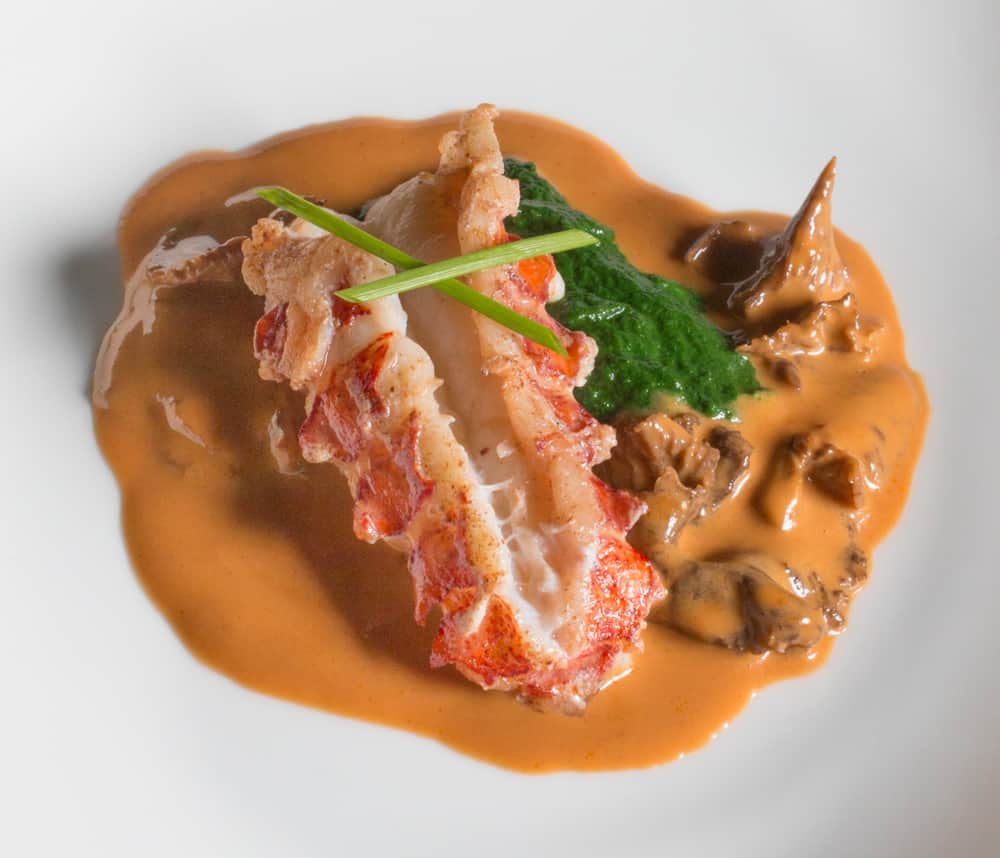 A few years ago my girlfriend asked me the type of question that lets you know someone loves you:
"Sweetheart, if you could eat anywhere in Provence, where would you go?"
I knew the answer right away, even though I had never really thought I'd be able to go: La Bastide St. Antoine in Grasse, the home of Jacques Chibois, a chef I've admired from across the ocean ever since I was in college. His restaurant is located on the site of an old Roman olive orchard, now the home of Chibois's collection of archaic herbs and plants he works with (he's the only chef I've heard of in France that uses Japanese Knotweed). After a little research, we found a driver who would pick us up and taxi us a couple hours from Aix-en-Provence to Grasse.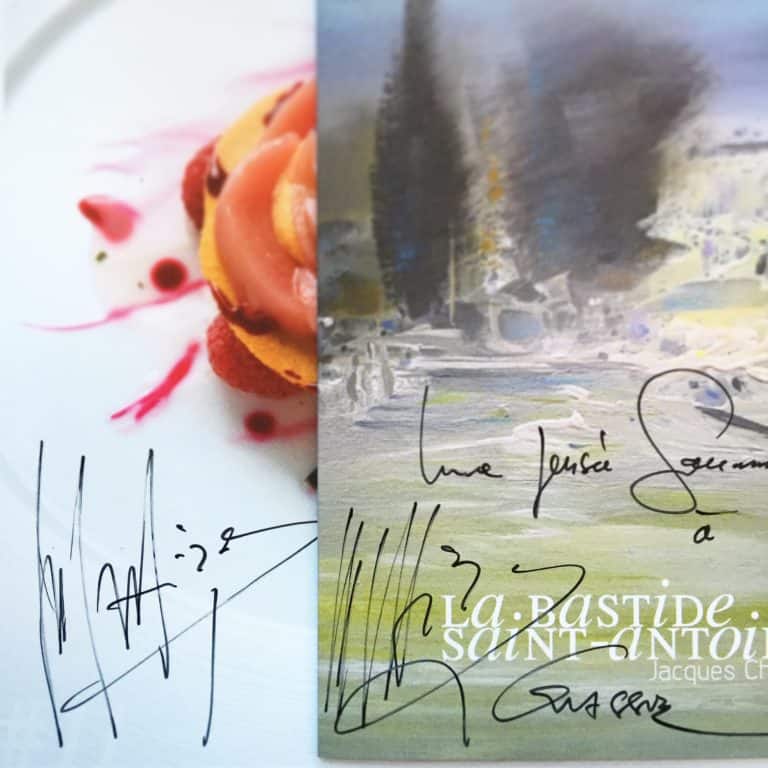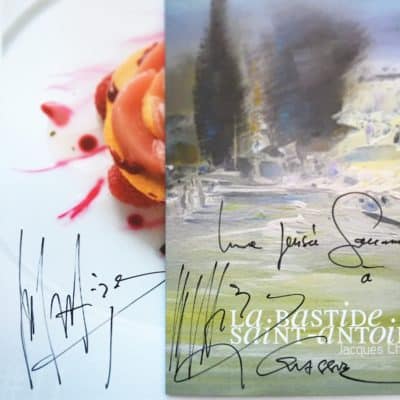 Lucky for me, we came during mushroom season in Provence, and the menu reflected it: it was a mushroom themed dinner.  I was over the moon, walking on air as we took a hike before dinner through the Roman orchard I'd dreamt of for years reading Chibois's books. At dinner, every course but one had a different species of mushroom: black truffles, Caesar's amanita, and fairy rings were in the first three courses we had. Even the dessert was mushroom themed: but there wasn't a candy cap in sight. The dessert plate was a selection of sweets and ice creams shaped to look like mushrooms on the forest floor, replete with oak leaf shaped chocolate tuiles and twigs made from sweet pastry dough. It was nothing short of mind boggling. The title of the dessert was what killed me though:
"Le Tableau d'Atonmne en Reve d'Enfant dans les Sous Bois" -The canvas of Autumn and the joy of a boy in the woods.
Other than the ridiculous forest floor dessert, my favorite course was a langoustine tail gently warmed in it's broth with fresh fairy ring mushrooms, served in a sauce made from langoustine shells. The recipe below is my version, using lobster and yellowfoot chanterelles, but any wild mushroom with a small stature, or that's in the button stage will work. I also made one other dish from this menu a few years ago, and it's a lot less intense than this one: Carbonara of Chanterelles and Black Trumpets.
The power of crustacean shells 
I order lobster bodies to make soups and sauces like the one Chibois served from in large amounts for restaurant use. There is pure gold hidden in the shells of shellfish like shrimp, lobtser, and crayfish: tons of flavor that only takes an hour or two to unlock. Try asking your fishmonger for spare lobster or shrimp shells, they both make excellent stock, and you could use either here. Most fish shops sell lobster bodies, and some are even selling shrimp shells now, which are a lot cheaper and great for the ol'food cost.
You don't have to use whole lobsters either for this, you could easily just use tails as per my pictures. Since you need the shells to make the sauce though, I've written the recipe using whole lobsters, but it can be improvised pretty easily: all you need are some lobster or shrimp shells, and then a tail or two, be it shrimp, lobster, or the Norwegian lobster/langoustine Chibois used.
The puree of green stuff is a nice counterpoint to the richness of the shellfish sauce, shellfish, and mushrooms. At the time I made this I was serving a puree of dandelion greens cut 50/50 with spinach, so I used that. The dandelion-spinach puree is a post in itself, and it's great, but frozen peas would make just as nice of a garnish too: the sweet from them, and fava beans is just so good with shellfish.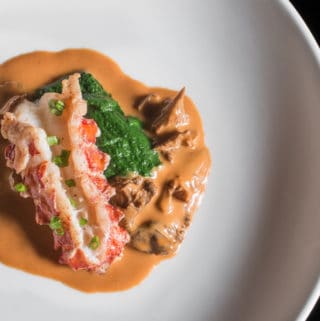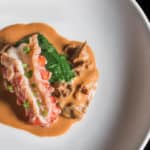 Print Recipe
Lobster With Yellowfoot Chanterelles and Dandelion-Spinach Purée
A dish inspired by Jacques Chibois using lobster and yellowfoot chanterelles
Ingredients
For the lobster stock
4

medium sized lobsters

roughly 1 lb each

Water

as needed

1

rib of celery

cleaned and roughly chopped

1

small leek

or just a few green leaves of the top of a leek, roughly chopped

1

medium sized carrot

peeled and roughly chopped

1

small yellow onion

peeled and roughly diced

2

cloves

of garlic

roughly chopped

½

cup

dry sherry

you can substitute white wine in a pinch

1

small dried bay leaf

2

teaspoons

paprika

1

tablespoon

tomato paste
For assembling and plating the dish
Kosher salt

to taste

2

ounces

smallest possible yellow foot chanterelles

red chanterelles, golden chanterelles or fairy ring mushrooms

1

heaping cup seeded and peeled tomatoes

roughly chopped (you can use high quality canned tomatoes too)

Flavorless oil

as needed, for sauteing

4

ounces

unsalted butter

plus 1 tablespoon

Fresh chives

to garnish (optional)
Dandelion-spinach puree (recipe follows)
Instructions
Break down the lobsters
If you like, have bowl ready to save all the juice that comes out from the lobster bodies to add it to the stock, since it adds natural salt and flavor.

To dispatch live lobsters, hold each lobster by the tail so they don't pinch you, place the lobsters on a stable cutting board, with a bowl or container handy to catch their juice. Kill the lobsters by plunging a sharp chefs knife in the head and cutting the head in two. I made a hilarious video of dispatching a lobster on you tube, here's a link (the comments are worth the visit alone).

Using a kitchen shears, remove the halves of the head, then remove the claws. Crack the claws with a mallet or the back of a chef's knife, remove the meat and reserve.

For the tails, lay the lobster tail on it's back so it's underbelly faces up. Cut down the middle of the belly shell with your kitchen shears to expose the meat. Remove the lobster tail meat and combine with the claw meat and chill. Reserve the shells separately.
The lobster stock reduction (can be done in advance if you purchase lobster shells)
Place all of the shells into a sturdy pot or similar container.

Pound the shells vigorously with a blunt object like a meat mallet until they're well pulverized.

Heat 2 tablespoons of oil in a stock pot, then add the pounded lobster shells, carrots, onion, leeks, and celery and cook for 5-10 minutes on medium heat, stirring occasionally. Add the tomato paste and paprika, stir, and cook for 5 minutes more. Add the sherry or wine to the pan and cook for 2 minutes more. Add enough cold water to cover all the shells and vegetables, then cook the mixture for 1.5 hours at a gentle simmer.

Strain the mixture through a fine chinois or cheesecloth to remove any possible grit, then transfer the stock to a wide pan and reduce the stock gently until roughly 1 cup of liquid remains, this will take an hour or more depending on your pan. (PRO TIP: the wider your saucepan, the quicker the evaporation will be).

Add the tomatoes to the pan, cook for 10 minutes on medium heat, then taste, it should be nice and lobster-y, if it isn't, reduce it a little longer. Transfer the mixture to a blender and add the 4 ounces of cold unsalted butter. Puree the sauce on high, then transfer to a sauce pan and reserve. Double check the seasoning for salt and adjust as needed.
Cooking the lobster and plating the dish
Heat 1 tablespoon of the butter in a saute pan, add the mushrooms and cook until caramelized and lightly browned. Add the lobster/butter sauce and cook, making sure to whisk it occasionally, which keeps it creamy and prevents it from breaking. Reduce the sauce gently, whisking as needed until it lightly coats the back of a spoon. Double check the seasoning and keep the mushroom-lobster sauce warm.

Meanwhile, Heat 2 tablespoons of oil and the butter in a saute pan. Dry the lobster tails, and claw meat if using then season lightly with salt and white pepper and fry in the oil and butter until just cooked through.

Place two tablespoons or so of spinach puree into each of 4 preheated, wide dinner bowls (also known as coupes) or small soup bowls with a flat bottoms, then spoon in a 2 tablespoons or so of lobster sauce and mushrooms. Arrange a lobster tail and some claw meat on top of each dollop of spinach puree, garnish with a few snipped chives and serve immediately.
Notes
Abbreviated recipe: crush a couple lobster bodies with a mallet, roast them and make a good stock then reduce the stock to 1 cup. Puree the stock with 1 cup of cooked tomato puree and in a blender with 4 ounces cold unsalted butter. Saute some small yellowfoot chanterelles or another mild, small mushroom, add the sauce, adjust the seasoning and serve with the lobster tail fried in butter and the thick dandelion-spinach puree recipe below, or just some sauteed spinach or even mashed frozen peas.
This is a dish designed to be part of a large multi-course meal. To make a light meal out of this, serve with some steamed rice alongside, a little saffron would be a nice touch in it.
You can substitute 5-6 grams dried mushrooms if fresh is not available. If you do, I would re-hydrate them in the lobster broth then remove, strain the broth and reduce, roughly chop the mushrooms and proceed with the directions under cooking and plating.
Spinach-Dandelion Puree
A vita-mix or other high speed blender is essential for this, if you don't have one, substitute sauteed peas.. Combining spinach 50-50 with the dandelions helps calm their bitterness, a little butter never hurt either.

½ lb each, dandelion greens and spinach
Salt
water
cold unsalted butter, for serving
Method
Blanch the dandelion greens and spinach in boiling salted water, then shock in an ice bath. Remove, drain, chop finely and puree in a highspeed blender preferably using the accelerator attachment, then pass through a chinois strainer.
To serve, heat the puree with a knob of unsalted butter to emulsify the water that may separate from the puree. Whisk, double check the seasoning for salt, adjust as needed, and serve immediately, it should be thick, resembling smooth applesauce. The puree can also be frozen.