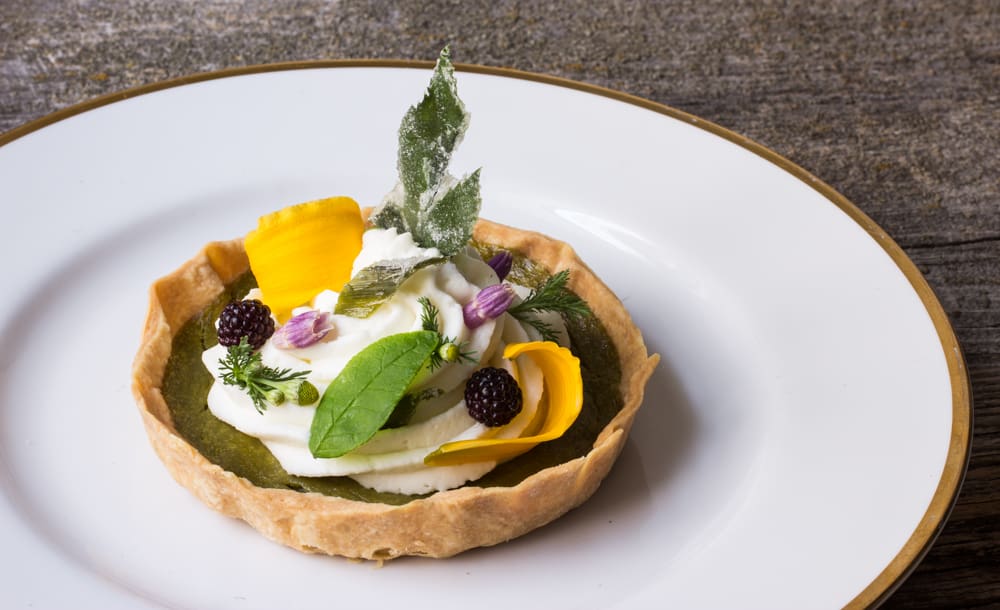 Knotweed season has passed, but here's a great way to use the sweetened puree of the shoots I mentioned a while ago.
The puree is just a blank slate for whatever you want, eggs can be added like in the recipe here, but there's really infinite possibilities, for example the knotweed leather (recipe here) as well as some other fun ones I've been making I'll share with you another time.
For these tarts, all you need is a few eggs, a crust, and your choice of topping, like meringue, or the goat cheese mousse recipe I'm going to give you.
The fun part is garnishing. The mousse is stiff enough that you can stick all sorts of fun stuff into it without worrying about it's shape. I used some of the first berries of the season, herbs, flowers, candied angelica stem and leaves.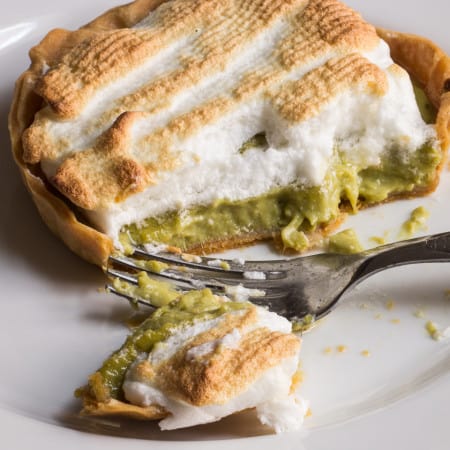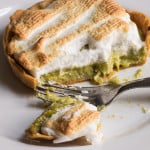 Print Recipe
Knotweed Custard Tart, With Goat Cheese Mousse
Ingredients
Sweet tart crust makes enough for 6-8 small tarts
2 ⅓

cups

cake or pastry flour

⅓

cup

white sugar

½

pound

2 sticks unsalted butter, chilled and diced ½ in

2

egg yolks

Ice water

as needed

Pinch

of kosher salt

Rice

beans or another pie weight
Knotweed filling
2

cup

sweetened knotweed puree

2

large eggs
Goat cheese mousse yields about 3 cups
1

cup

chevre

quark, sheep ricotta, or cream cheese

2

leaves

of gelatin

you can substitute 1 packet or ~ 2.5 teaspoons powdered gelatin

¼

cup

granulated white sugar

1

cup

cream

+¼ cup

Pinch

of kosher salt

Fresh lime juice

just a splash
Instructions
Goat Cheese Mousse
gently heat the cream and sugar until the sugar is dissolved, then chill, and whip to stiff peaks. Do not over-beat. Bloom the gelatin in ice water for 5 minutes, then add to the cream and heat until melted. Mix in the goat cheese, season to taste with a dash of lime juice, chill and reserve. After the mixture is thoroughly chilled, remove it from the fridge, whisk it gently to loosen the gelatin, then gently fold in ⅓ of the whipped cream, and then the rest. Reserve the mixture, placing it in a pastry bag fitted with a star tip. Keep the mousse refrigerated.
Tarts
blend the butter, flour, salt and sugar in a food processor until the texture looks like coarse meal. Lightly beat the egg yolks with a tablespoon or two of the ice water, then add to the flour mixture and mix until just incorporated. Do not overwork the dough, but make sure it's smooth and not crumbly. Form the dough into a 1inch tall square, wrap in plastic and refrigerate to stiffen it until ready to roll.
Baking
Preheat the oven to 350. Take a piece of parchment and cut it into a square big enough to fill whatever mold you'll be using to cook the tarts. Roll the dough out until thin, about ¼ in, then line your tart mold(s) with it, pressing the dough into all the nooks and crannies.

Put the on top, then fill the mold with the rice or other pie weights. Bake the tarts shells until browned and crisp, about 15-20 minutes depending on size, then remove and cool.
Knotweed Filling
Whisk the knotweed puree with the eggs, then pour into the pre-baked tart shells and cook at 325 until just set, about 10-15 minutes depending on size. Remove the tarts and chill.

To serve the tarts, Pipe some of the mousse onto each tart, then garnish with fresh sweet herbs like mint, flowers and berries of your choice, and serve immediately.
Notes
I designed these to be elegant little tarts, enough to serve one or two people each after a meal. You could definitely make a larger tart if you wanted, just remember that the filling and tart shells will need to cook longer, and you make have to lower the oven temperature, or tent it with foil to prevent browning.
The tart molds I used to make these are 6 inch tart shells. You could use whatever you want though, a creme brulee dish, a ramekin, etc, they're all just a means to an end.