The neck of lamb, also known as the collar depending on how it's cut, is one of the most amazing cuts of meat on any animal.
In this post I'm going to tell you everything you need to know about cooking lamb, goat, or venison neck, along with sharing some of my favorite videos and recipes from over the years.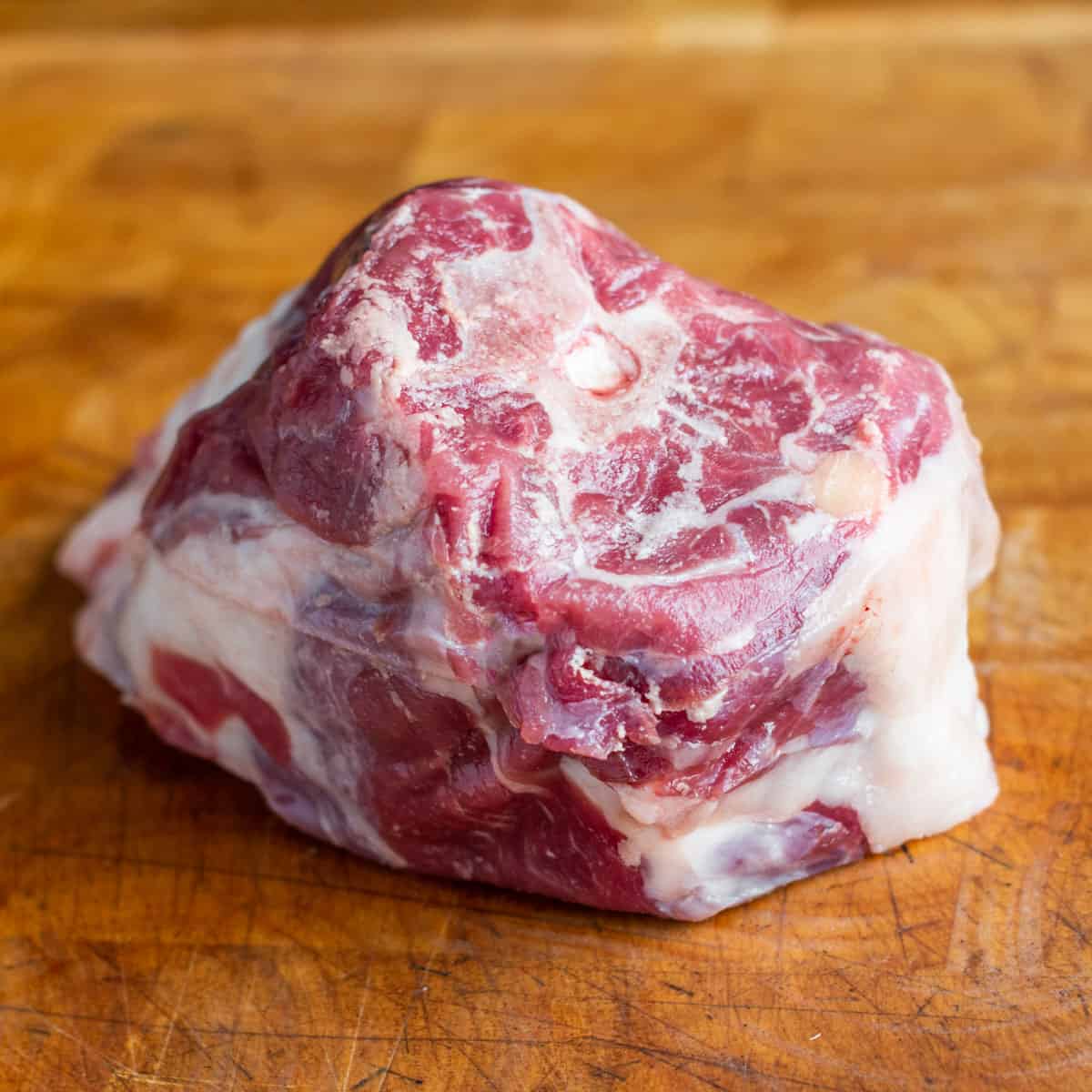 Necks are still a bit of a chef's secret, and have been a favorite of restaurant and culinary professionals for a long time, but, home cooks are starting to catch on with high quality lamb and goat meat being available online.
General Information
What's so great about a lamb neck? First, lets dispel some myths. Neck isn't an organ meat, so it doesn't have a gamey taste or strange flavor.
It's a working muscle similar to shoulder, and the two are connected. Do you like pot roast, pulled pork or pulled beef? Well, neck meat is going to remind you of that, just on steroids.
Where to buy
If you want to buy the healthy, 100% grass-fed lamb and goat neck I cook with, you can get it from Shepard's Song Farm.
Average Weight
A typical lamb or goat neck will weigh about 3 pounds. If it's from older animals like a sheep neck, mutton or hogget it may be as large as 5 lbs.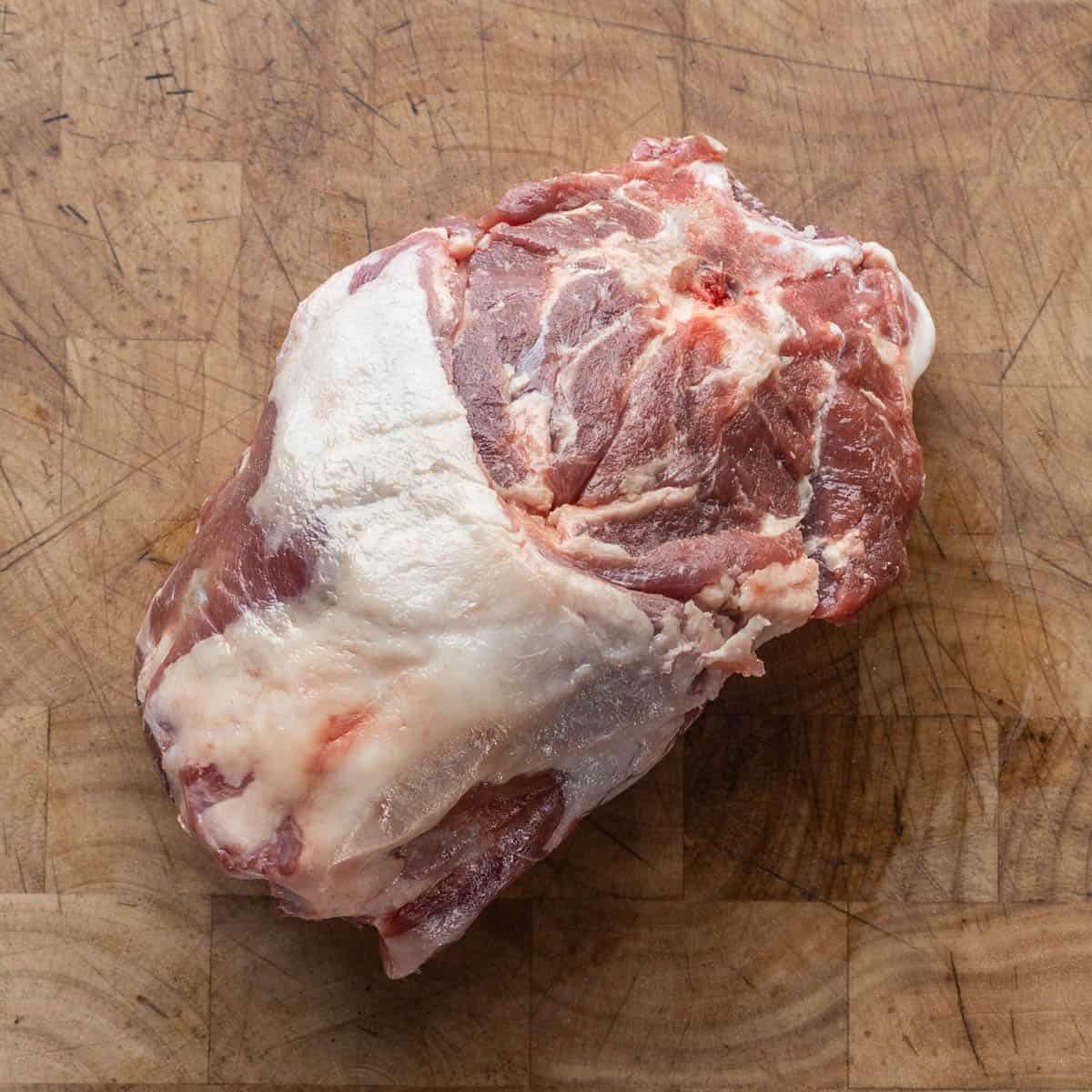 Different cuts
Neck Roast
This will be a whole neck on the bone. They're great for roasting, smoking and general slow cooking like soups and stews.
Neck Fillet
A long, slender cut that resembles a filet and includes part of the shoulder. It should be slow roasted until fork-tender.
Neck Bones
These are usually quartered, including a portion of the spine. They're great for making curry lamb or curry goat if they have meat attached. If they're mostly bone, they should be roasted and used for soup.
Slices
Sliced neck makes for convenient, easy cooking at home.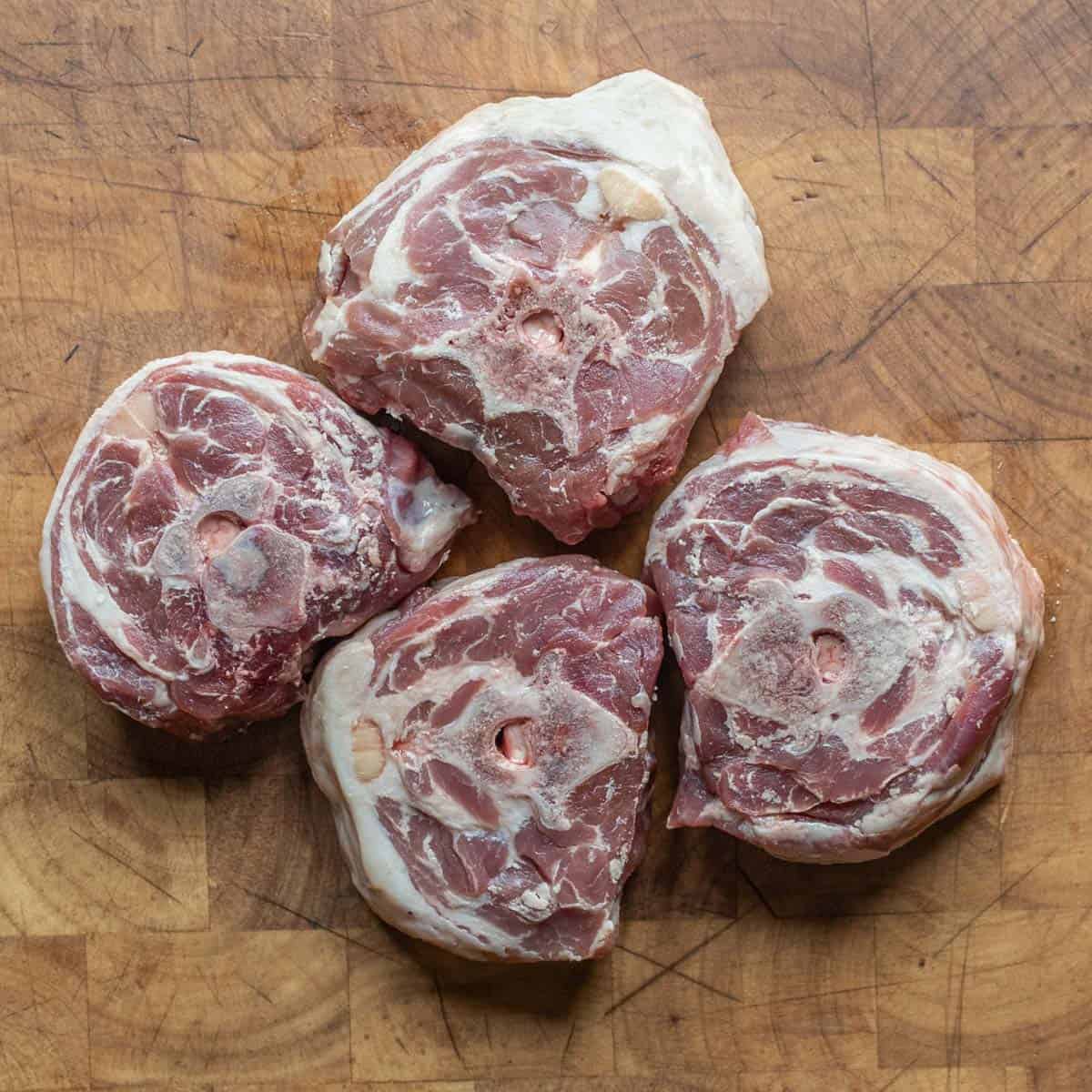 How to Cook
Like oxtail, neck is designed for slow cooking. Think of it as a tender meat, or pot roast, surrounded and insulated by bone that keeps it moist while it cooks.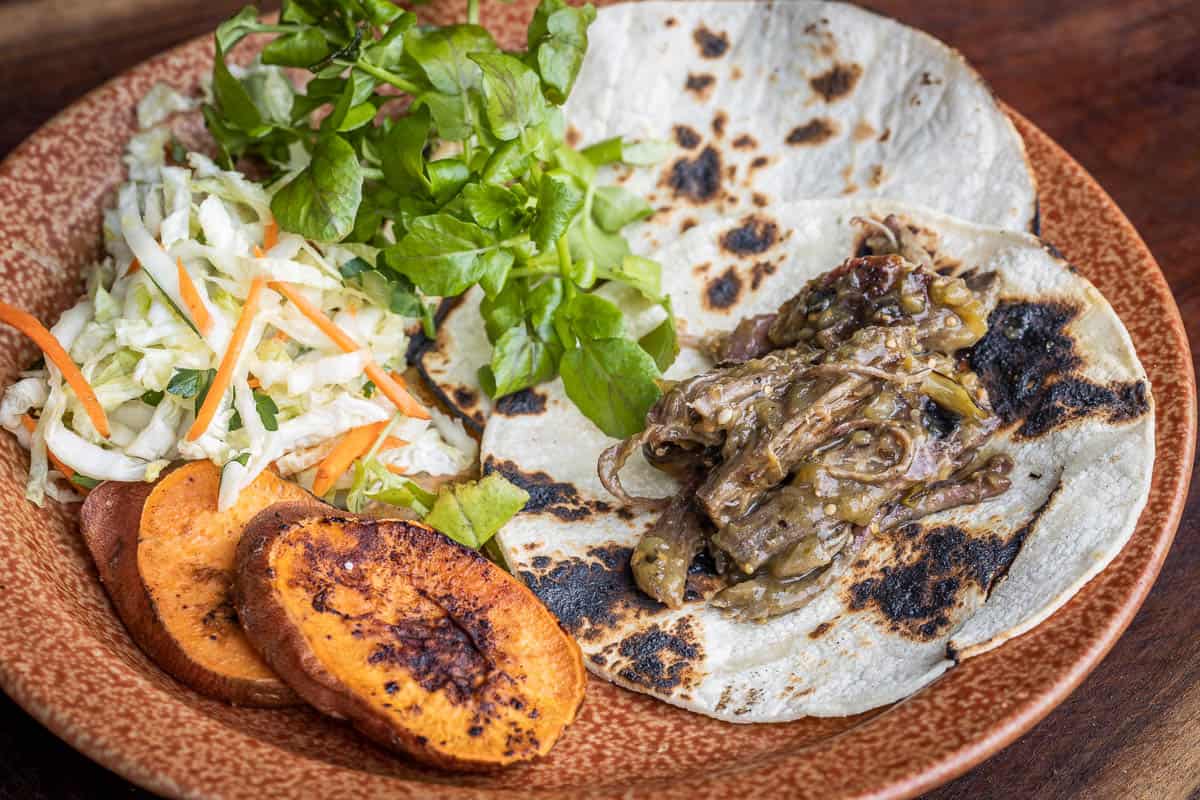 Necks are a great substitute for any recipe calling for pork shoulder, beef chuck, or a slow-cooking cut, especially soups and stews. You can substitute neck meat from beef, venison, pork or bison for any of the recipes I describe in this post.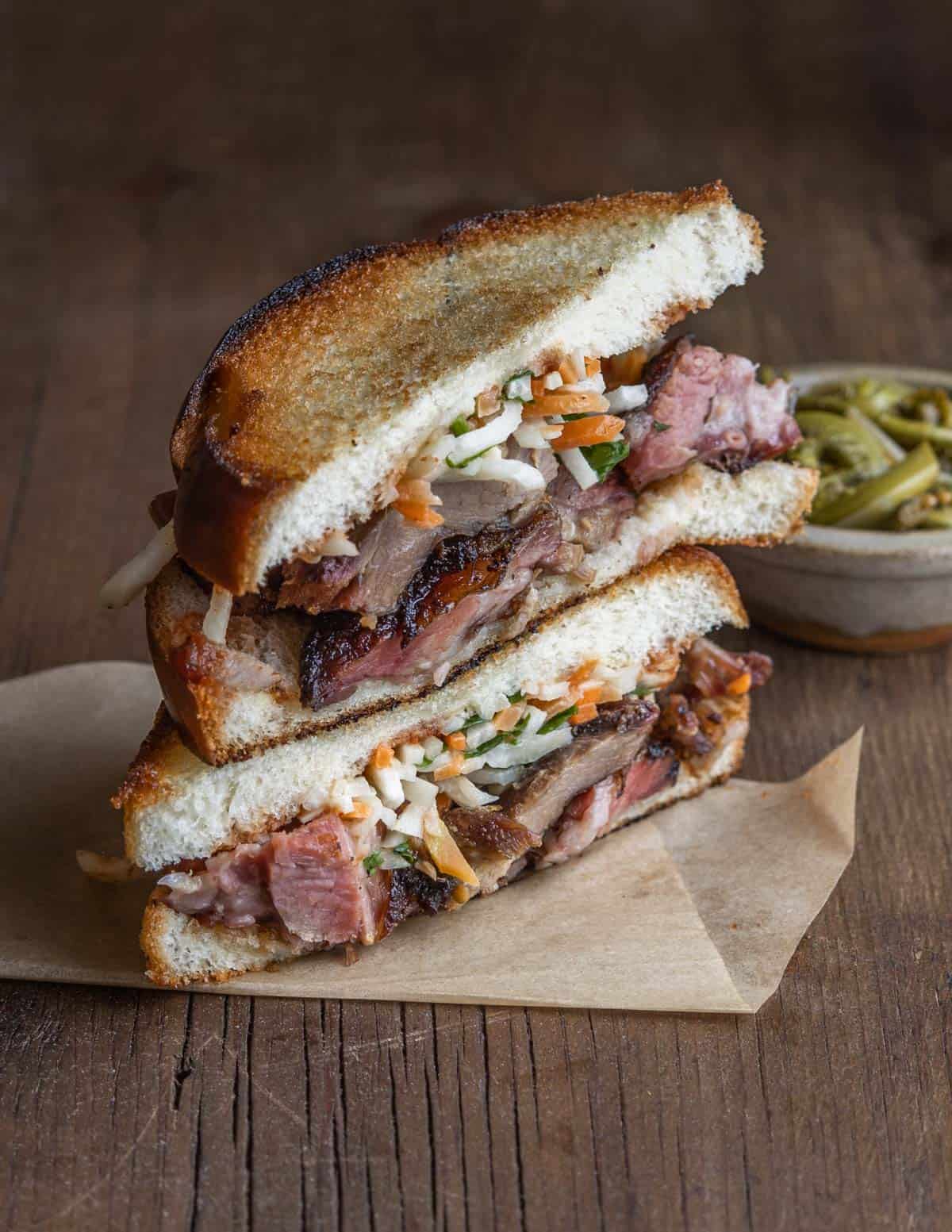 Removing the tendon and trachea (if attached)
There's a large percentage of bone proportionate to meat. Depending on where your meat came from, you may need to remove the trachea and the long tendon that runs along the back.
If you prepare the neck whole you can remove the tendon after cooking along with the bone / spinal column.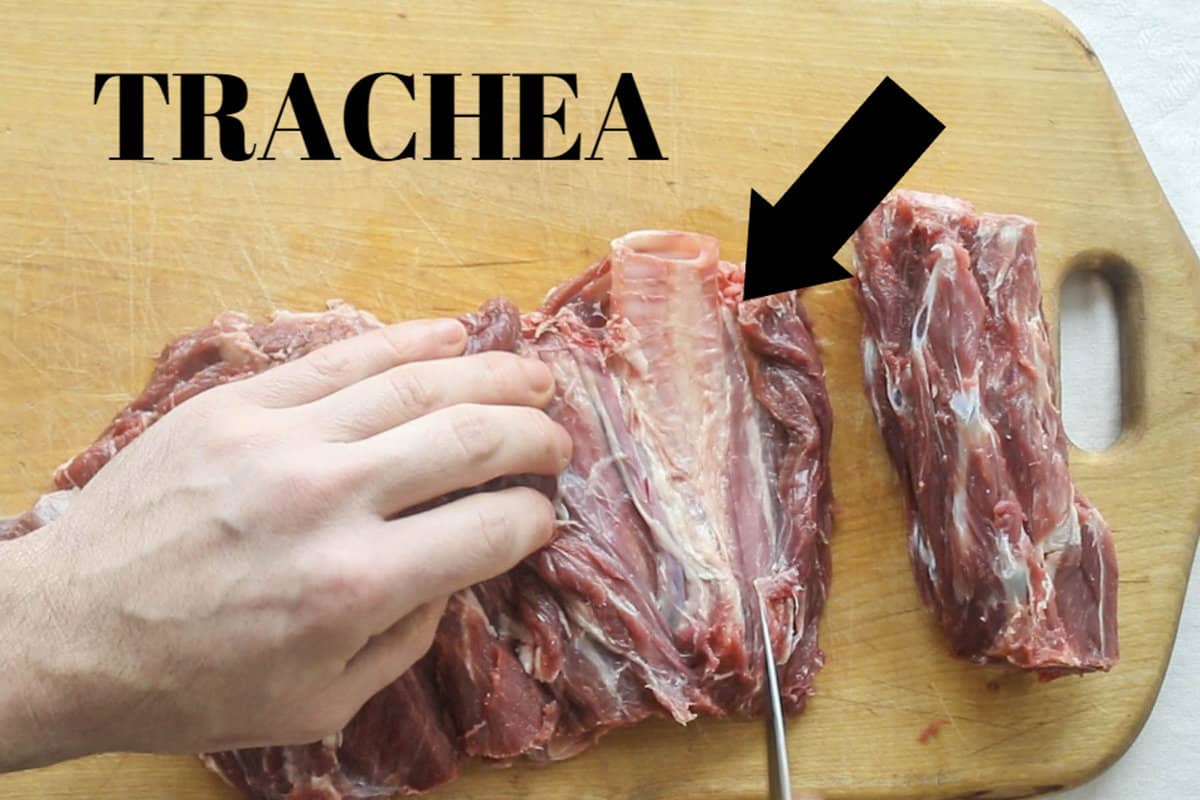 If you harvested the animal yourself you'll want to make sure the trachea is clean and there isn't a last meal inside.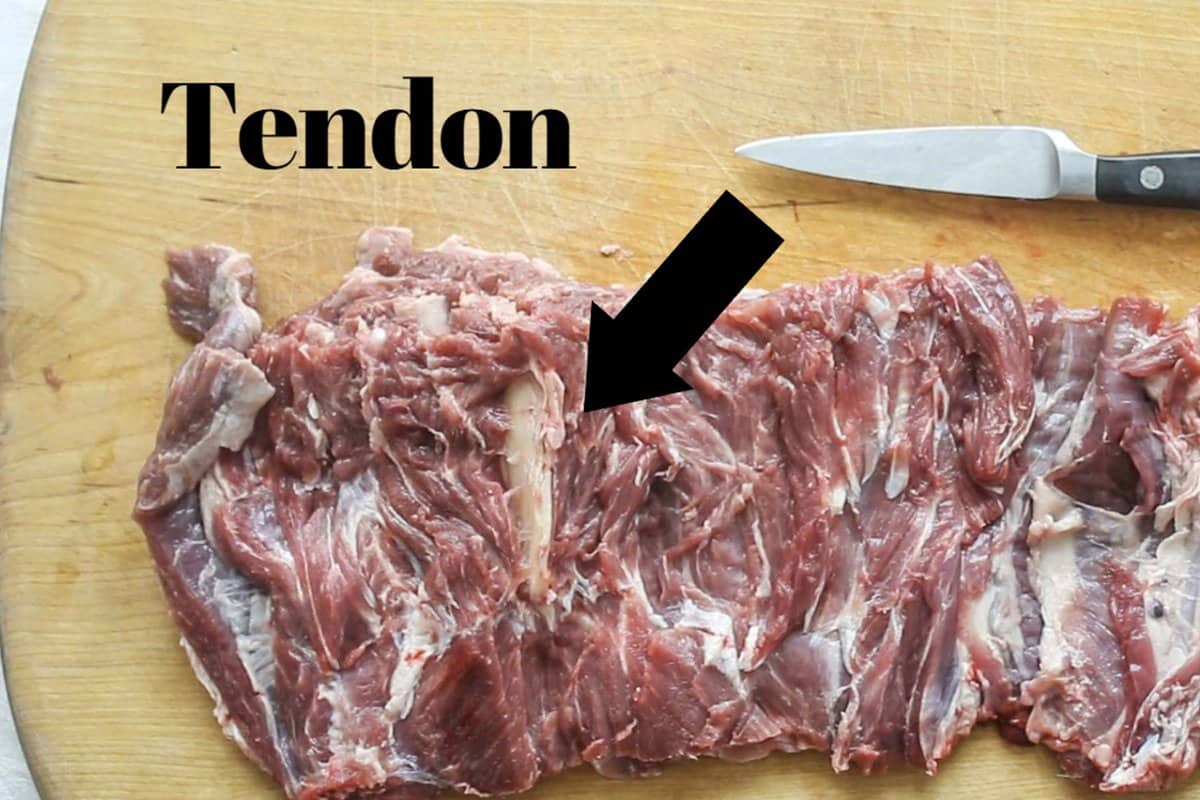 Slow cooking is the way
Whole necks are great for slow cooking. It's easy to do with a Dutch oven or a deep roasting pan.
Crock pots and slow cookers work well. For a simple neck roast on the bone, season it with salt, heat some oil in a heavy pan and brown meat all over on high heat.
Put it in the slow cooker, add a little liquid and forget about it for 3 to 4 hours. Once the meat is fork-tender it will be like tender pot roast.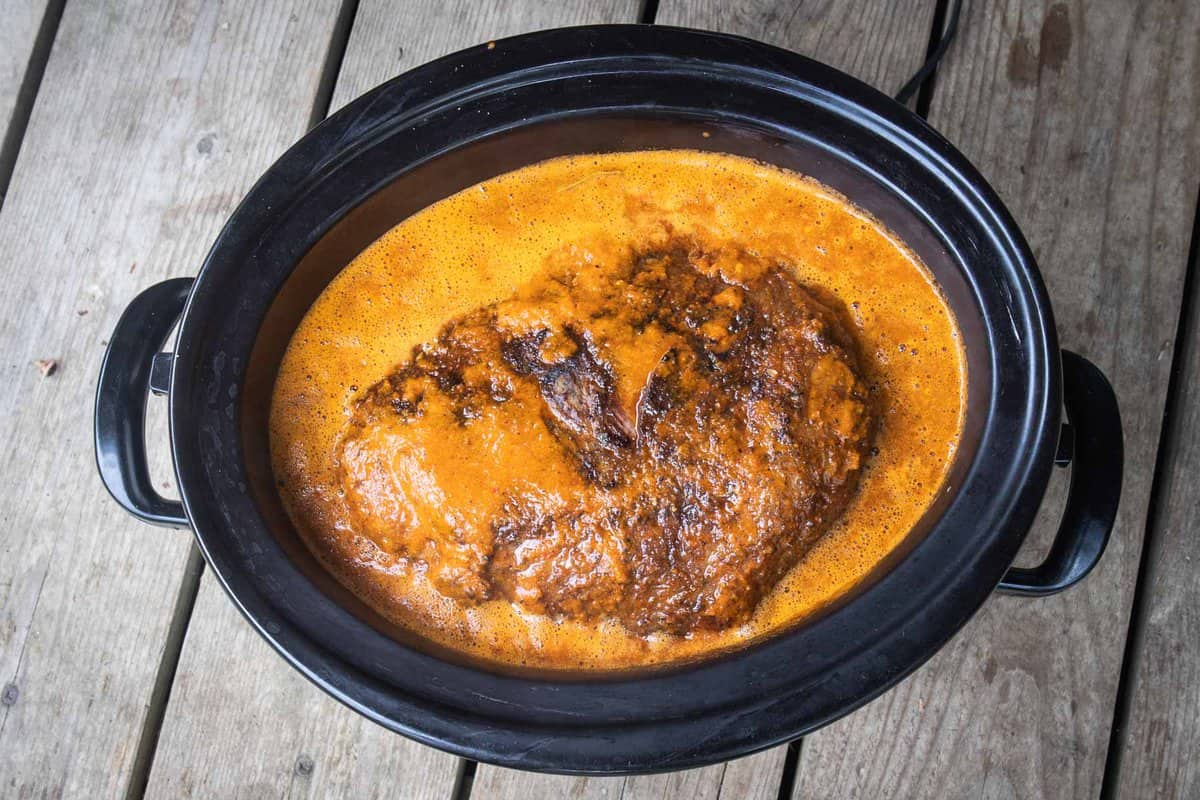 Overcooking
Since the meat is ready to serve once it's picked from the bone, if you cook it longer by adding it to a recipe like a stew the meat can dissolve into muscle strands. Be gentle with the meat and fold it into your sauce or stew in the last minutes before serving to heat it through.
Deboning
Deboning is a great way to cook if you don't want to cook the whole thing or if your neck is large, there's links to videos with recipes below that illustrates the de-boning process.
Removing or pick the meat after cooking
Once the meat is tender and almost falling off the bone, you can remove it and pull the meat. The images below illustrate the process using a smoked neck.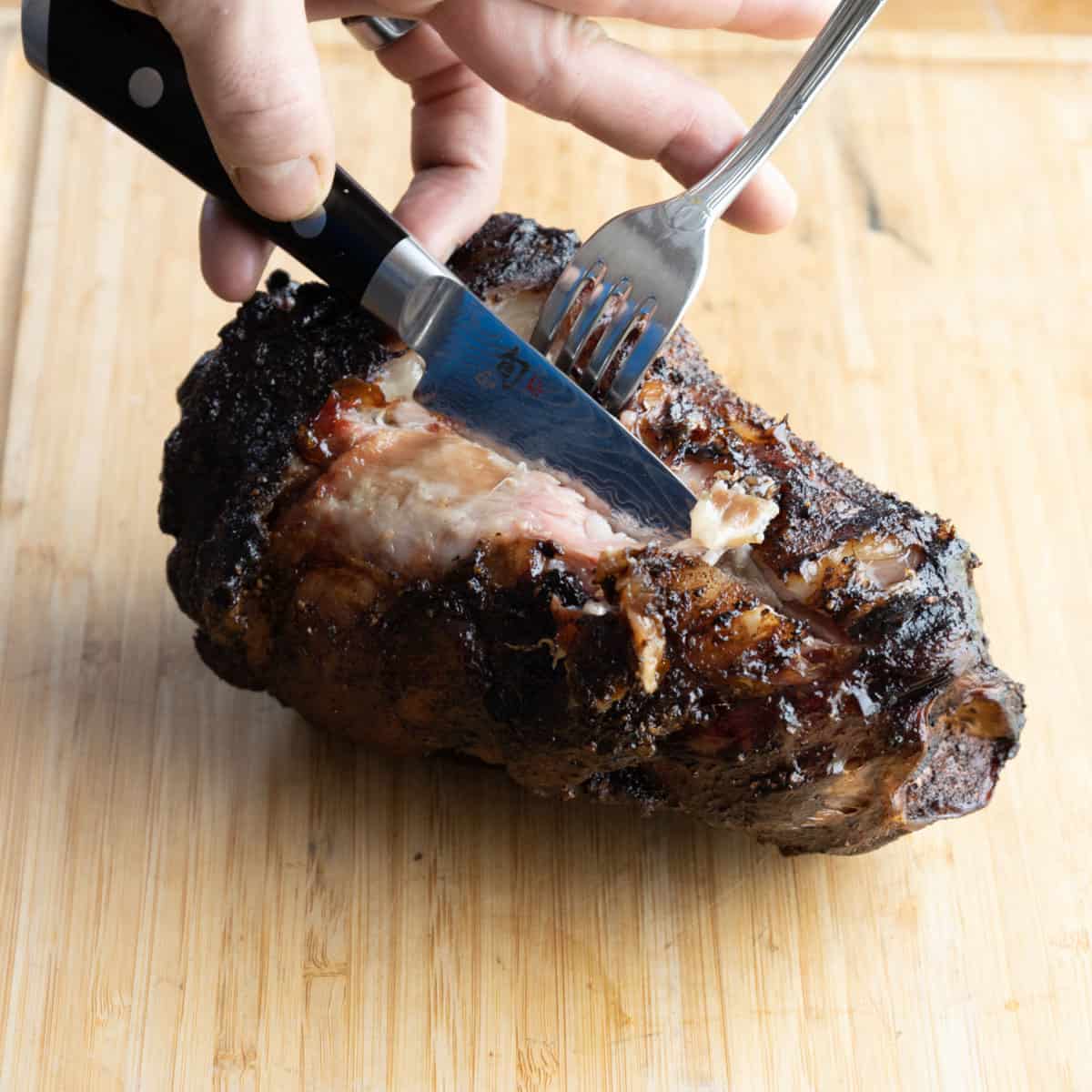 Recipes
Here's a few of my favorite recipes with lamb neck, I think you'll agree that there's a lot of unique things you can do with this special cut of meat.
Simple Lamb Neck Stew
Substitute neck meat in your favorite stew recipe. Below I've made one with different root vegetables like turnips.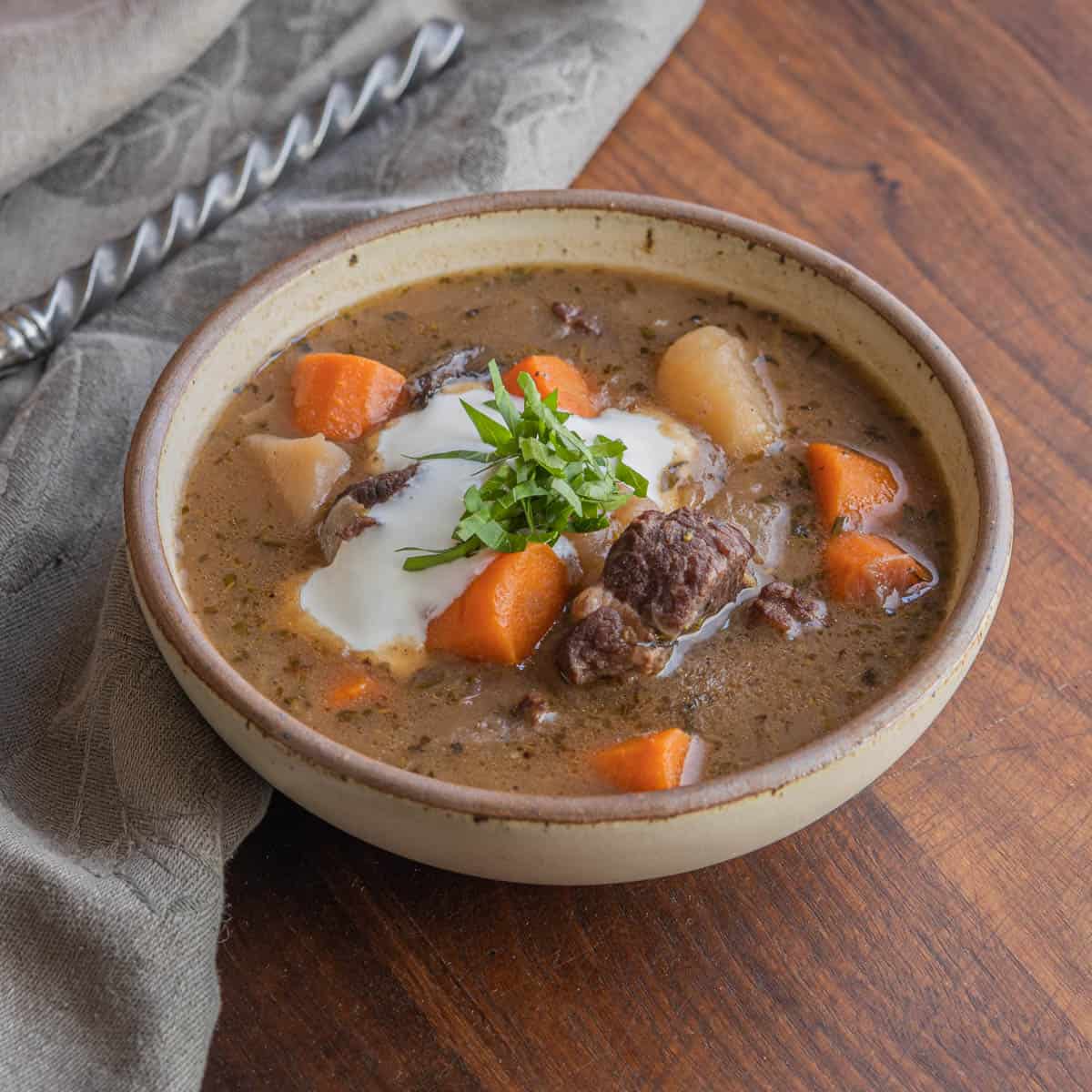 Goat Neck Birria Tacos
Birria is one of the most traditional goat neck recipes I know and is from Jalisco, Mexico. This version is smoked and simmered with guajillo chilis until falling apart. The meat shredded and served in cheesy tacos with dipping consommé or broth.
Braised Venison Neck Roast with Mushroom Sauce
A recipe I make with whitetail deer and morel mushrooms. Venison neck is interchangeable with lamb and goat. The video below illustrates the de-boning process.
Braised Lamb Neck with Harissa and Chickpeas
Similar to the recipe above, here I de-bone a neck, roll and tie it, sear, braise, cool, and cut into slices. It's ridiculously tender and makes a great dinner recipe.
Pulled Lamb Neck with Berbere Spice, Injera and Lentils
A spicy Ethiopian-themed dish cooked for hours until the meat can be pulled off the bone.
Smoked and Pulled Neck Roast
Fantastic barbecue can be in your future. Just like a pork shoulder, you can brine and slow-smoke a neck, then pull the meat for sandwiches and tacos.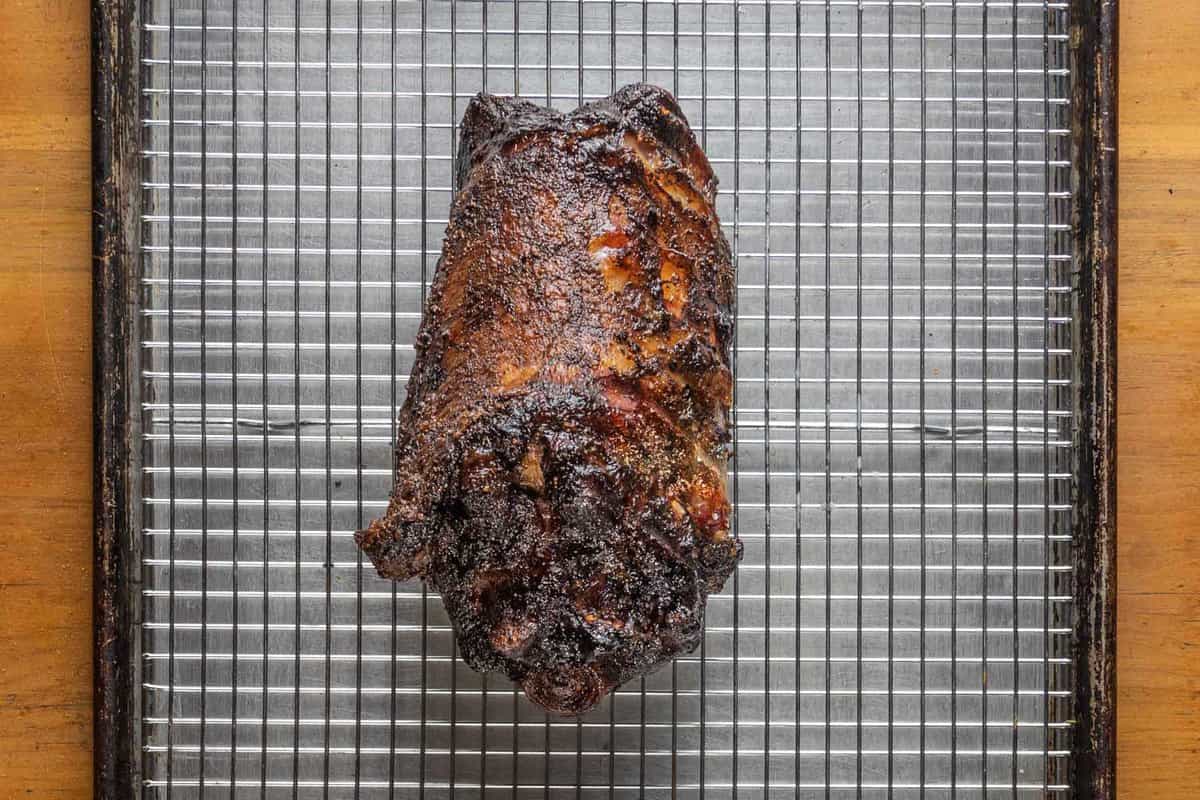 Smoked Goat Neck Barbacoa
The perfect recipe for a slow cooker. It's a great choice if you like tender pulled meat and barbacoa tacos.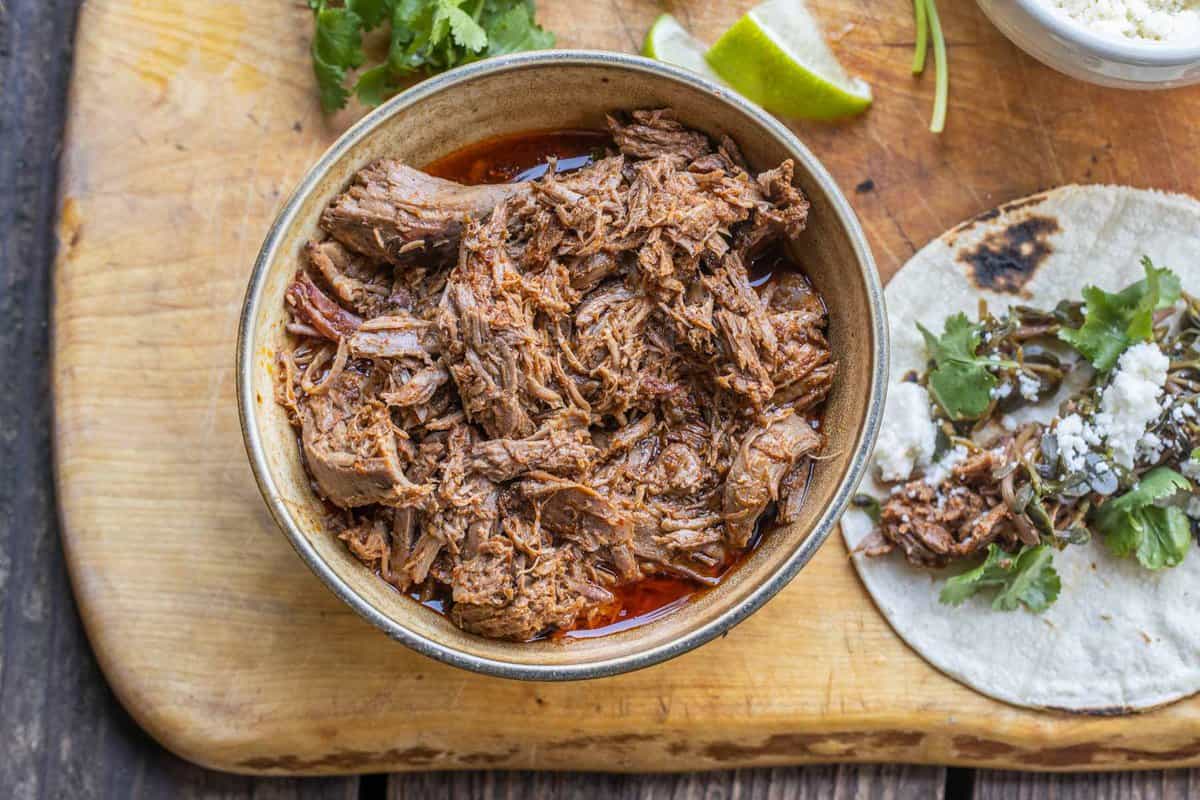 Smoked Neck Chili
Chunks of smoked neck meat can be simmered until tender just like beef. It makes a fantastic chili that will stick to your ribs.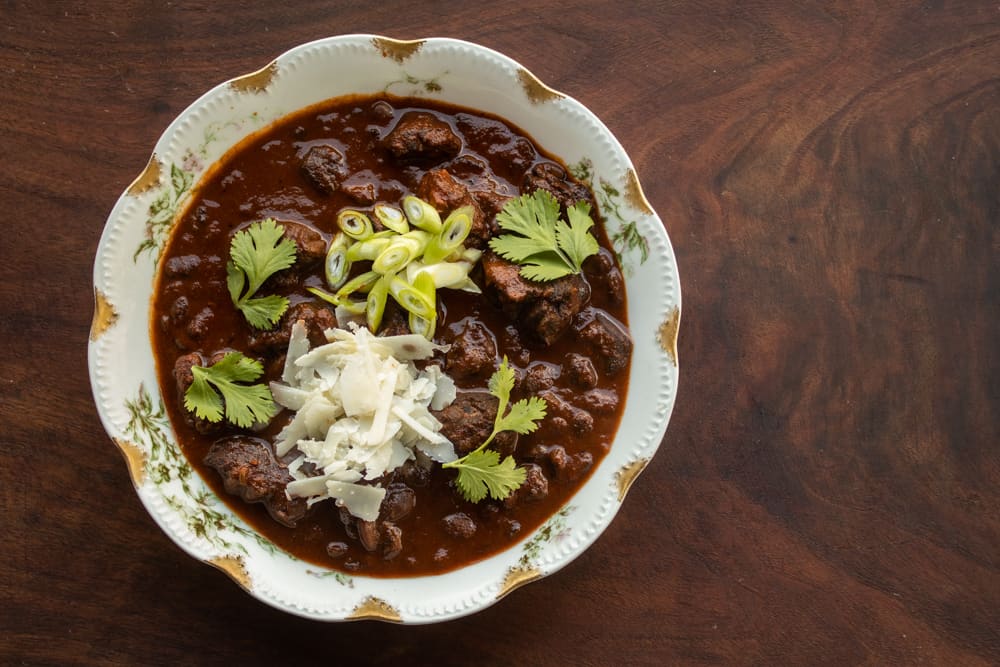 Curing and Smoking (Pastrami)
Necks are similar to shoulder meat with all their intramuscular fat, so they can also be cured, smoked and sliced just like shoulder hams and other charcuterie. Below is a pastrami I make using venison neck, but any neck of a similar size can be used.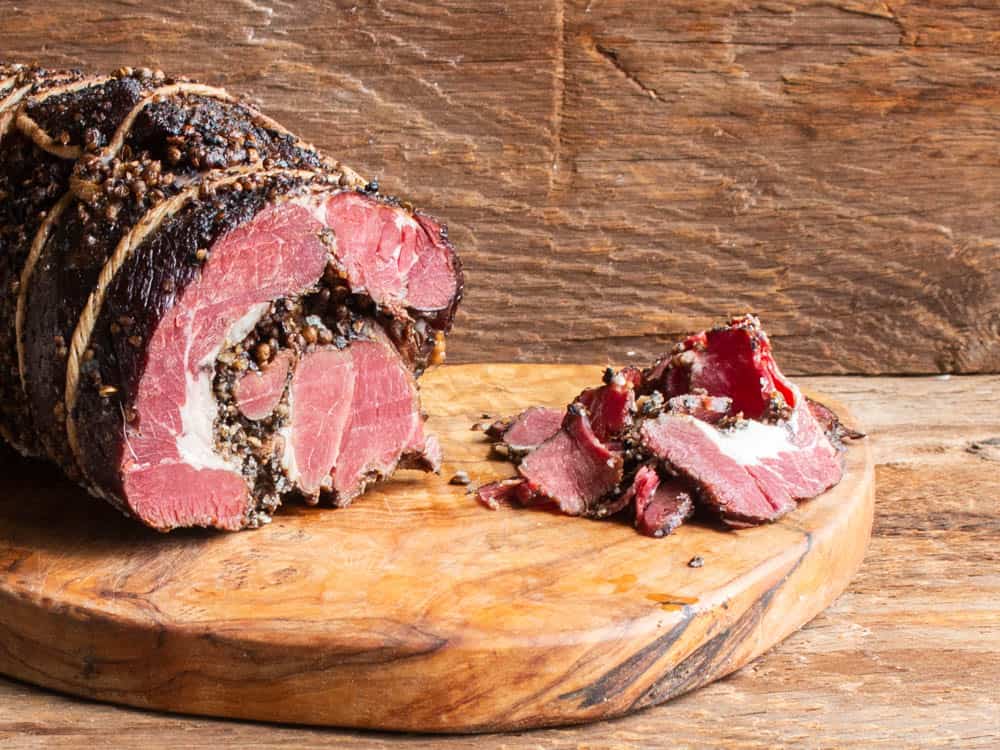 Confit and Rillettes
Meat, seasoned with salt and herbs and slow cooked in rendered tallow until spoon tender (confit), then made into a rustic spread or pate (rillettes).