Once the cold weather hits, a good Bourgignon with mushrooms is one of the first things that I usually make each year. If you're wondering what it is, it's just beef Burgundy. Here I use venison neck but another stewing cut will work. You take some stewing meat, soak it in decent red wine overnight, then brown it and stew it in the wine.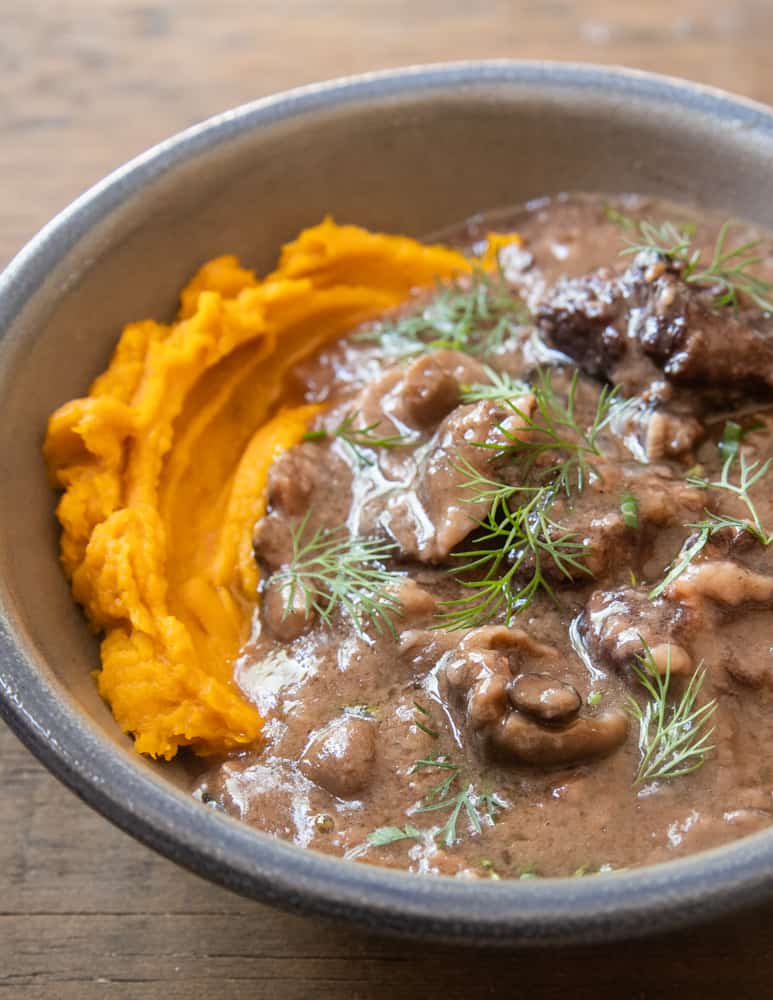 As I used to make this in 50 pound batches twice a week, I know a thing or two about how I like to make mine. This one is different though, with a focus on the honey mushrooms, since they're great in soups, stews and sauces.
Back at my restaurant, we made this a little different than the traditional ones where all the vegetables are in the braise. Here, I cook the meat, onions, and, most importantly, a bunch of honey mushrooms together, and serve it with mashed kabocha squash, although you could use your favorite starch like mashed potatoes or rice instead.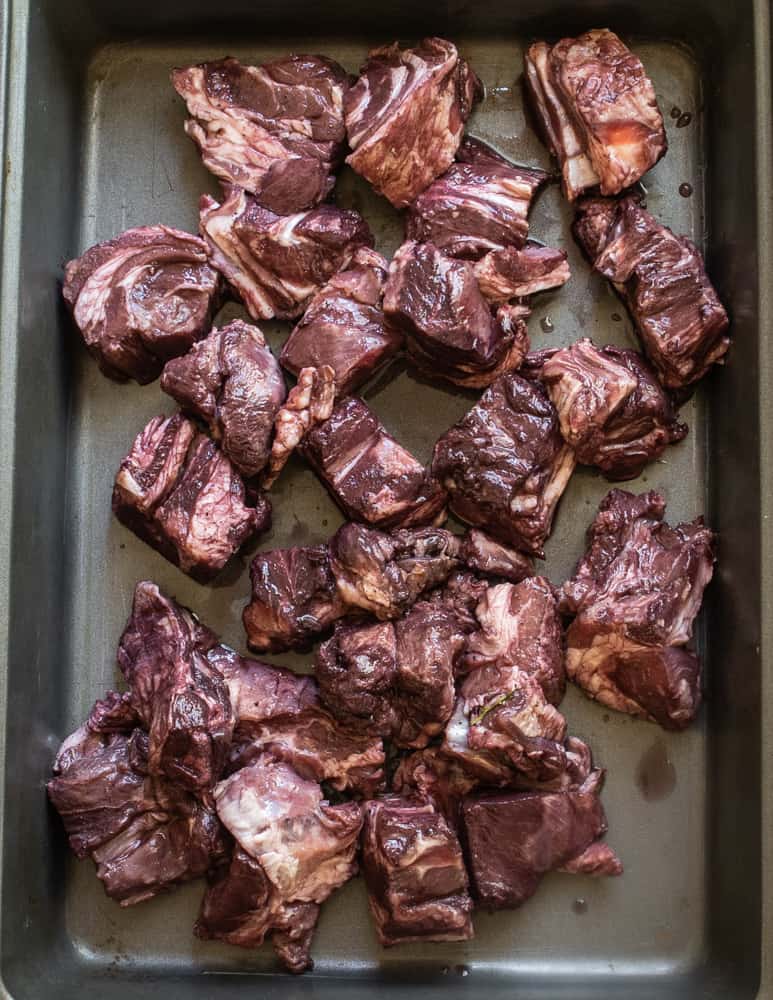 Soak the meat in wine
For the protein, you want a stewing cut, preferably from the shoulder or the surrounding area. Here I used one of my venison necks, cut into large chunks, but you could use beef chuck, lamb shoulder-whatever you want.
The key, I repeat, the absolute key for great flavor here, is soaking the meat in the wine beforehand. Ideally you'll do this at least overnight, but longer is fine and won't hurt it.
Adding an orange component for color and taste
For the veggie component, I use kabocha squash specifically here as it's orange, and has a taste of carotene that works well with the wine. Typically a decent amount of carrots are used in bourguignon, so the sweet, silky squash (they cook more like a potato than watery butternut squash) makes a good stand-in, and functions as a vehicle for all the winey juices, as well adding a needed splash of color to the winter palette.
Honey mushrooms
Soups and stews are some of the best honey mushroom recipes. Honeys will gently thicken a stew or sauce as they cook, but another great reason to use them is that their chewy little buttons are a more flavorful, interesting substitute for button mushrooms that are often used in this.
Of course, you can always use your favorite shroom, but, as it's a dark stew, I'd stick to mushrooms that are dark when cooked, which basically means save the chanterelles for something else.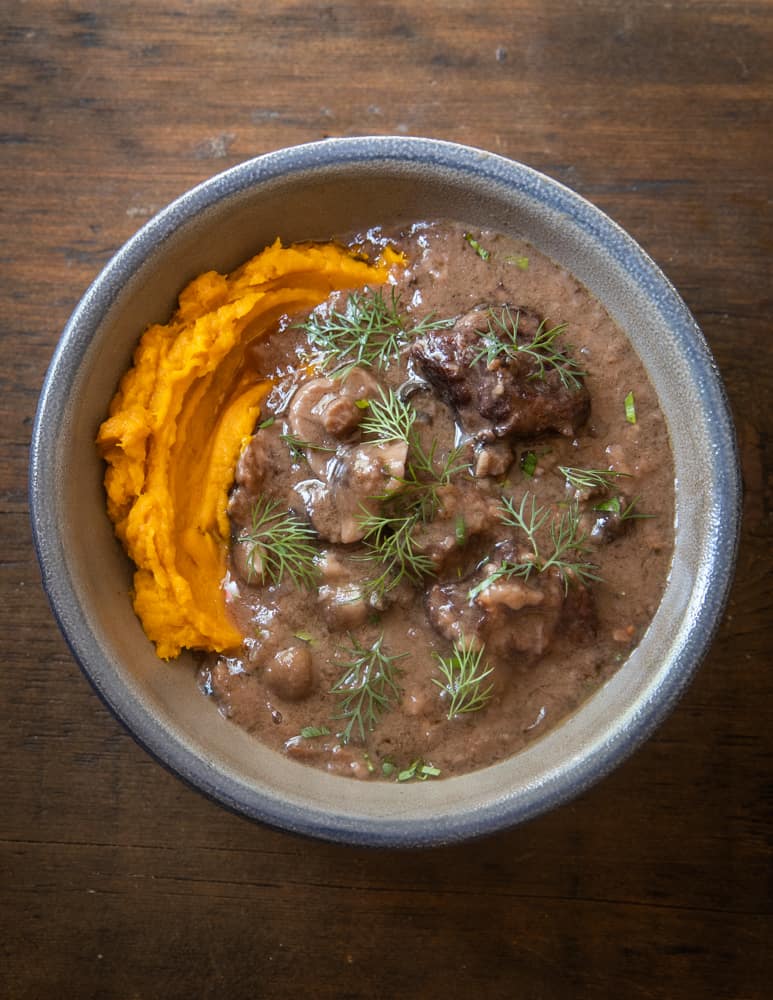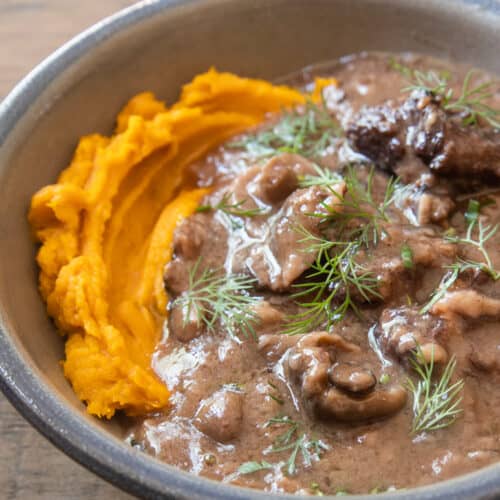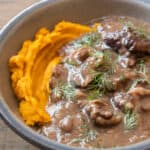 Print Recipe
Venison Bourguignon with Honey Mushrooms
Chunks of venison neck or another stewing cut marinated in red wine and honey mushrooms and cooked into a rich stew. Serves 6
Ingredients
Stew
2

lbs

venison or lamb neck

or stew meat such as chuck, cut into large 1 oz pieces

1.5

teaspoons

kosher salt

½

teaspoon

fresh ground black pepper

3

cups

red wine

¼

cup

All purpose flour

¼

cup

brandy

1

cups

good meat or mushroom stock, or coffee

2

teaspoons

fresh thyme

or 1 teaspoon dried thyme

8

oz

yellow onion

diced ½ inch

2

large cloves garlic

minced or grated

1

dried bay leaf

Cooking oil

as needed, about ⅓ cup
Serving
Mashed kabocha squash

mashed potatoes, or your favorite starch (see note)
Instructions
Marinating the meat
Season the meat with all over with salt and pepper in a container that can accommodate liquid completely immersing the meat. Pour the wine over the meat to cover, cover with a lid and refrigerate overnight and up to 2 days.
Building the stew
Drain the meat, reserving the wine, and pat it dry as best you can with paper towels, then pat it dry again, pressing down to get the chunks of meat dry.

In a dutch oven or similar vessel, heat half of the oil on high heat. Brown the meat well in the oil, working in batches if needed, adding the additional oil if you need. Remove the meat from the pan.

When the meat is browned, add the onion and garlic to the pan, reduce the heat, cook for 2 minutes, then add the flour, stir, and cook for a few minutes more. Add the brandy to the pan and cook until the pan is nearly dry.

Add the wine and stock to the pot, along with the honey mushrooms, thyme and bay, cover, bring to a simmer, turn the heat to low and cook for 2 hours or until the meat is tender.

Allow the stew to cool, then refrigerate overnight for the best flavor before reheating. If it gets thick, thin it with a splash of water to adjust the consistency. If you want it thicker, simmer it uncovered until you like the consistency.
Finishing and serving
Reheat the stew, adding a splash of water or stock as needed to keep it nice and loose, it should not be too thick. Double check the seasoning for salt and pepper, adjust as needed, and serve.
Notes
Kabocha squash puree 
To make a puree of kabocha squash as pictured, cut a kabocha squash in half, remove the seeds, then wrap in foil and bake, cut side down, at 350 F or until a knife can pierce the flesh. Scoop out the squash or cut away the skin, then puree in a food processor with plenty of unsalted butter and a good pinch of salt until smooth and delicious. You can reheat the puree in a covered pan in the oven or microwave.
More