If you give me a big leaf, I can probably find something to roll up in it and call it a dolma, roulade vert, or, as with this version loosely inspired by Turkish rolls: sarmasi (Romanian sarmale is a synonym). They're probably my favorite vegan stuffed grape leaves recipe.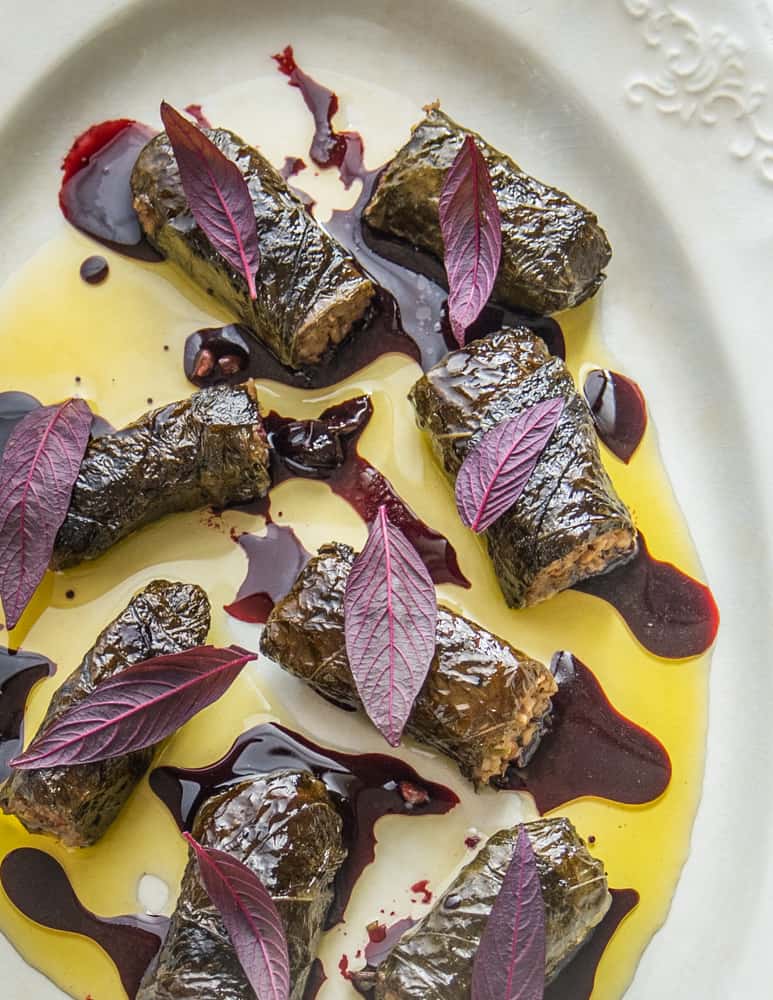 I have a couple recipes for food rolled up in leaves on this site, but, I like this one so much that it was the first thing I served to the Today Show crew when they showed up to film a couple months ago.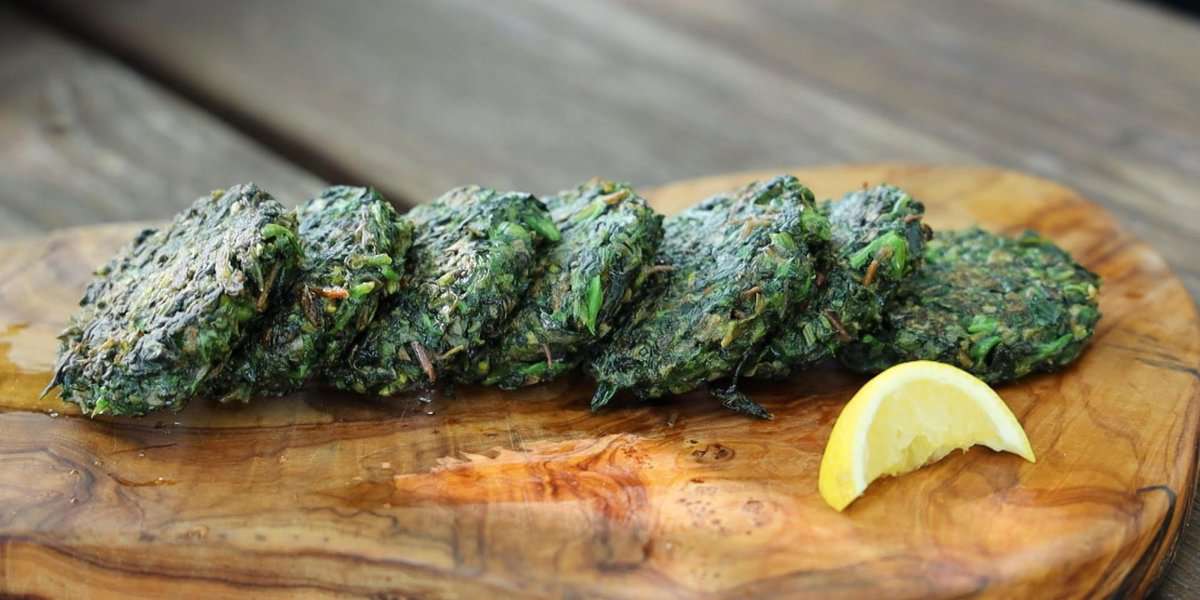 The Today Show segment was a companion piece to Dan Buettner's new Blue Zones book I contributed to. As the book encourages a plant-based diet, all the food needed to be meat free. Now, I just wrote an entire book dealing with mostly plant-based and plant-inspired food, but I am anything but a vegetarian.
I eat a wide variety of different meats and offal, much of it I process myself or source from my favorite grass-fed lamb and goat farm Shepherd Song. My goal is to spread the message of all wild food, and, although it's a little confusing in that the segment cast me a bit as a plant-based chef by omission, the overall message of eating whole foods is good.
Back to the rolls, most people know sarmasi as being made with grape leaves or cabbage but there's lots of different leaves that you can roll things up in. I go over a number of them in my book, but one that I didn't mention (as I hadn't tried them yet) were hollyhocks.
Hollyhocks: a good substitute for grape leaves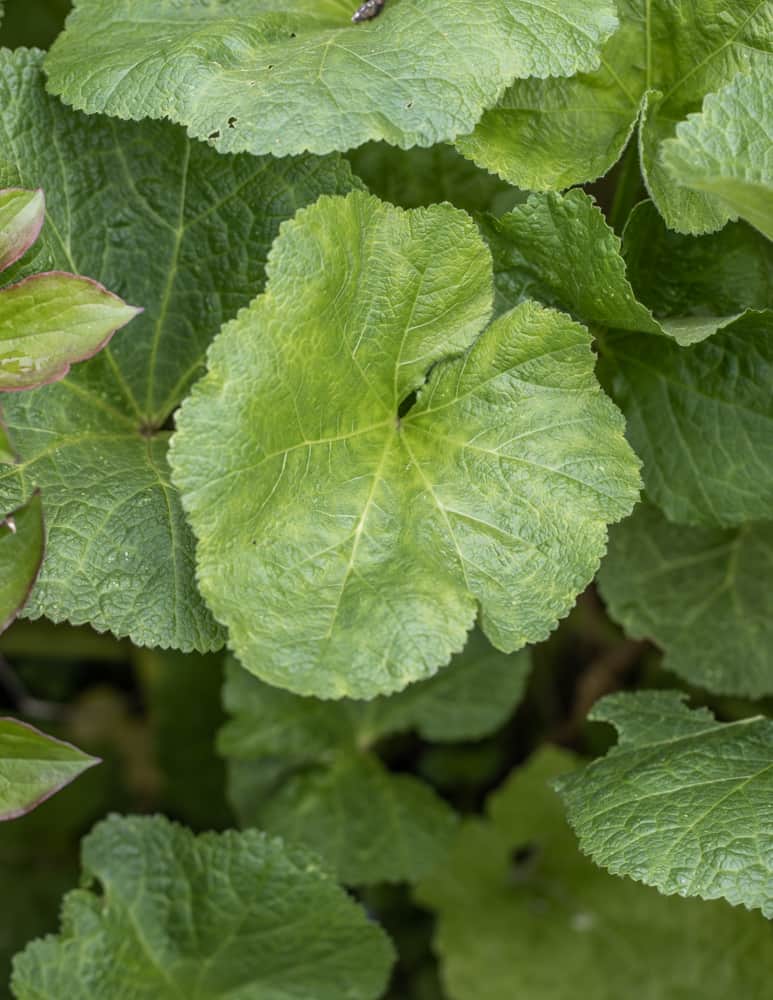 Hollyhocks are a good garden plant many will know. If you look closely at them, you might see the shape and texture of their leaves (flowers too) resemble another commonly eaten wild green: mallow.
The resemblance to mallow is more than passing, as hollyhocks are in the Malvaceae, making them related also to violets, okra and other plants in the Hibiscus family, many of them known for their slippery, mucilaginous texture when cooked.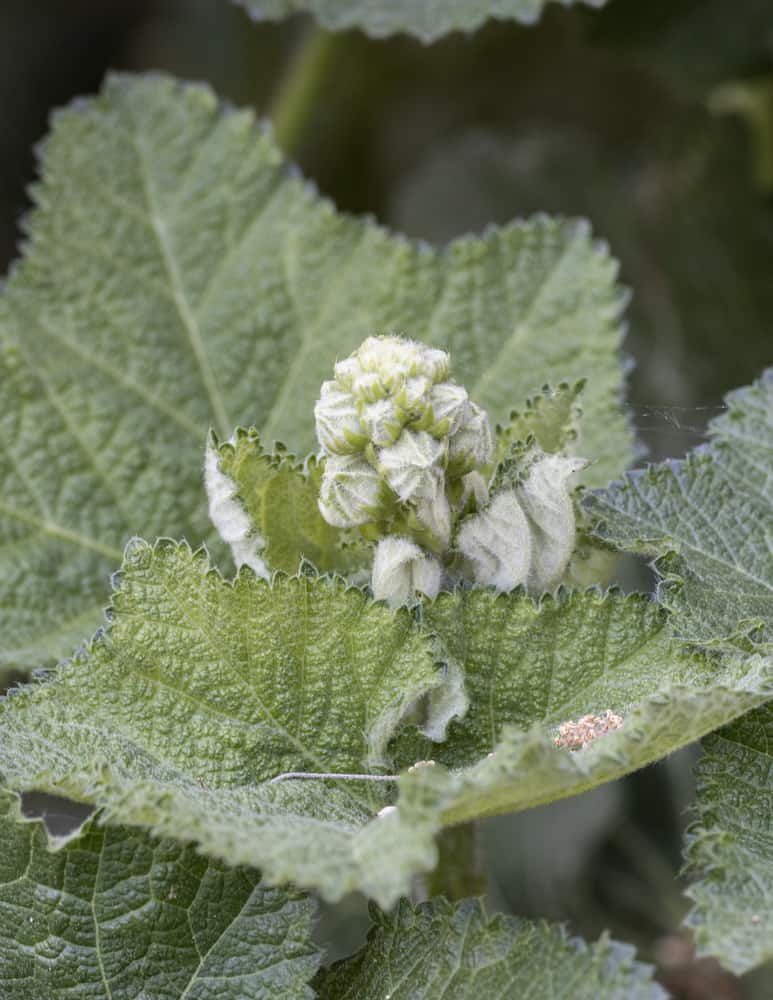 Compared to other related plants, hollyhock leaves are superior great candidate for having their leaves used as a wrapper, since they're larger than common mallow in my area (although some others are quite large, like the malva I see out west, as well as our local glade mallow) and they have a tender texture after cooking.
Violets can be a little tough if any portion of their stem remains on the leaves. Like plenty of other wild greens, hollyhocks make a flush of fresh leaves in the fall once the weather gets cold, so now is a good time to use some of them before the season ends, or if you haven't tried them yet.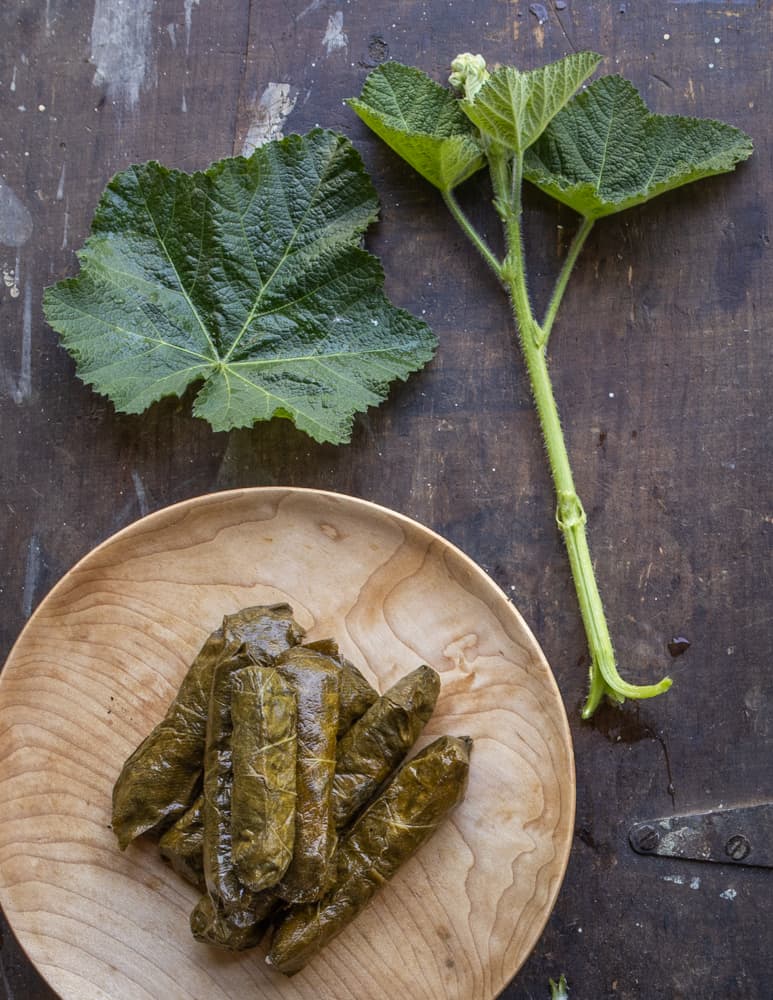 The recipe is pretty straightforward: roll mushroom stuffing up in leaves, cook with a thin layer of water, steam or sous vide (my preference) cool, slice and eat, but there's a couple key points I wanted to drive home to the film crew and the public that really makes it special (unfortunately, only a fraction of the 10 hours of film we shot got used for the segment, which is partly why I'm detailing things here).
Mushrooms, wild rice and nuts as a meat substitute
As with dolma, meat-free sarmasi are traditional, but, from my experience, typically include a mixture of starch and fruit, dried sour cherries being the most common I seen. Putting duxelles in them isn't a typical wild mushroom recipe.
I wanted a rich, woodsy version, so I reached for some duxelles made from honey mushrooms, some wild rice, wild rice flour, and, for extra heft, coarsely ground black walnuts.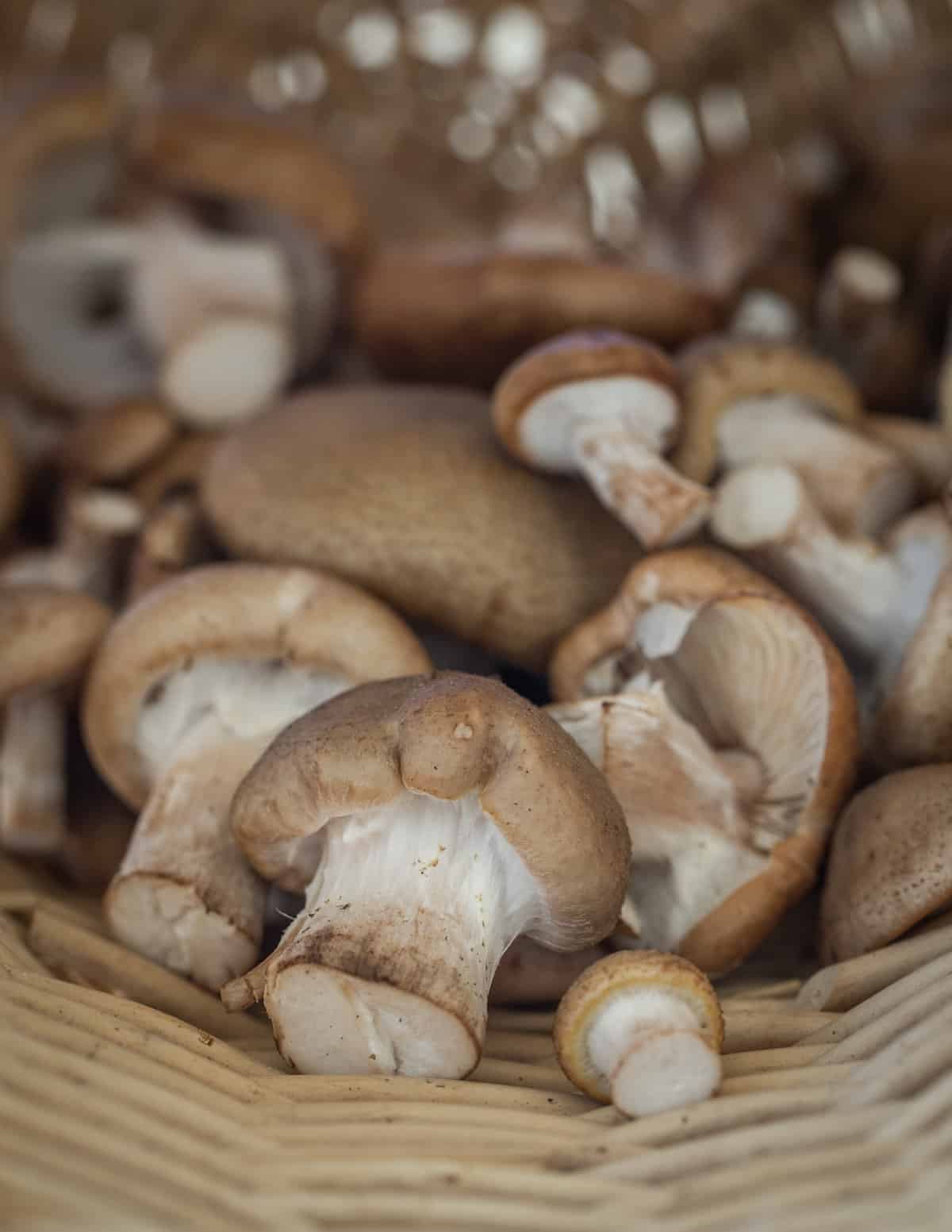 Wild Grape Juice: A Naturally Tart Condiment
If you take nothing more from this post, it should be this. The mushrooms and nut rolls are good, but for national television (read as the civilian visual palette) they needed some makeup.
The day before the show, I fiddled around with some flavors to see what could help bring them up a notch. As pomegranate molasses is often used in similar traditional dishes, I reached for my favorite local equivalent.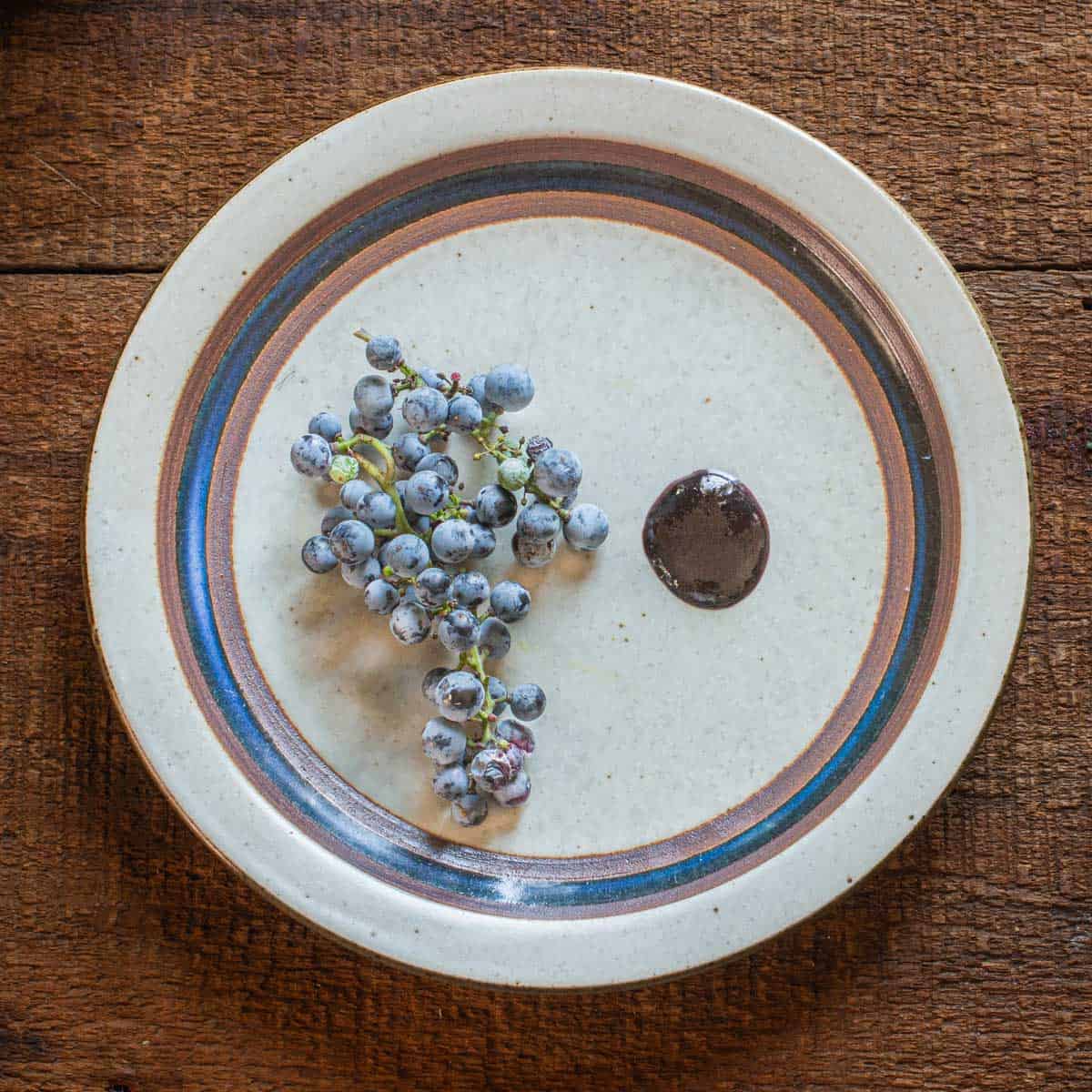 I had a nice haul of wild grapes from my Grandmother's vine asking to be used, and I often make a reduction of wild grape juice or use it as a cooking medium instead of wine, so I cooked some juice down until it coated the back of a spoon as a garnish. It was really good, a great acid punch that mimics the fruity-ness of pomegranate molasses, just with less sugar.
The color contrast of the thick, tart juice, mingling with a pool of olive oil to evoke the old Italian bread plates so prevalent in restaurants when I was growing up, made this my favorite dish I did for the whole shoot. It's tastes a bit old and new at the same time.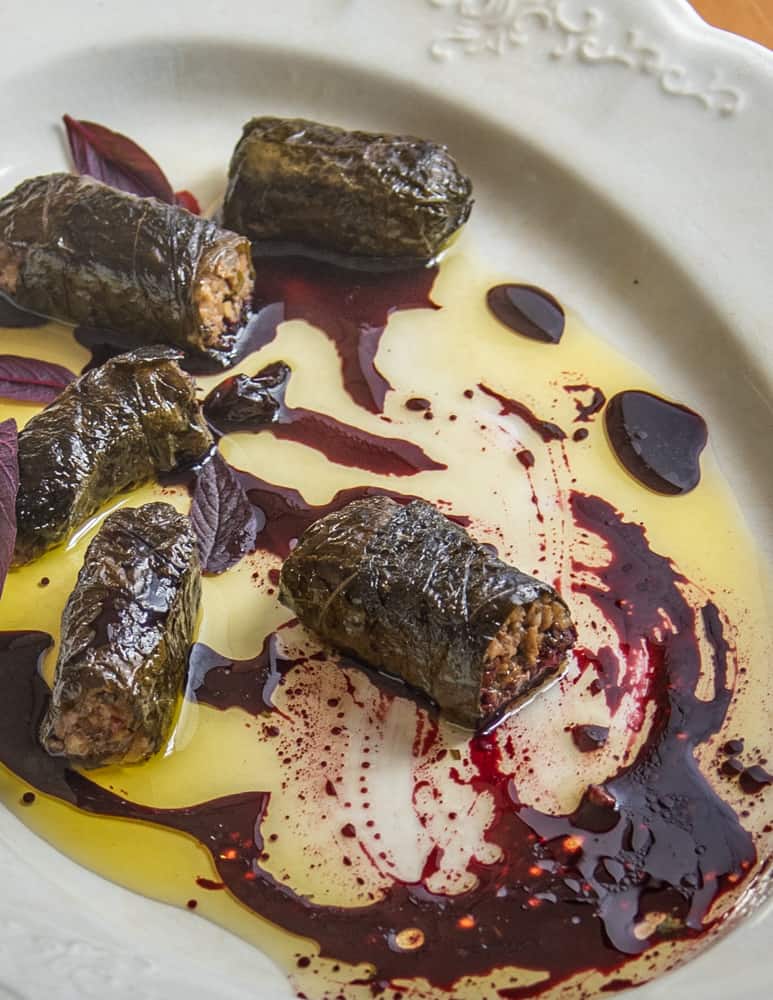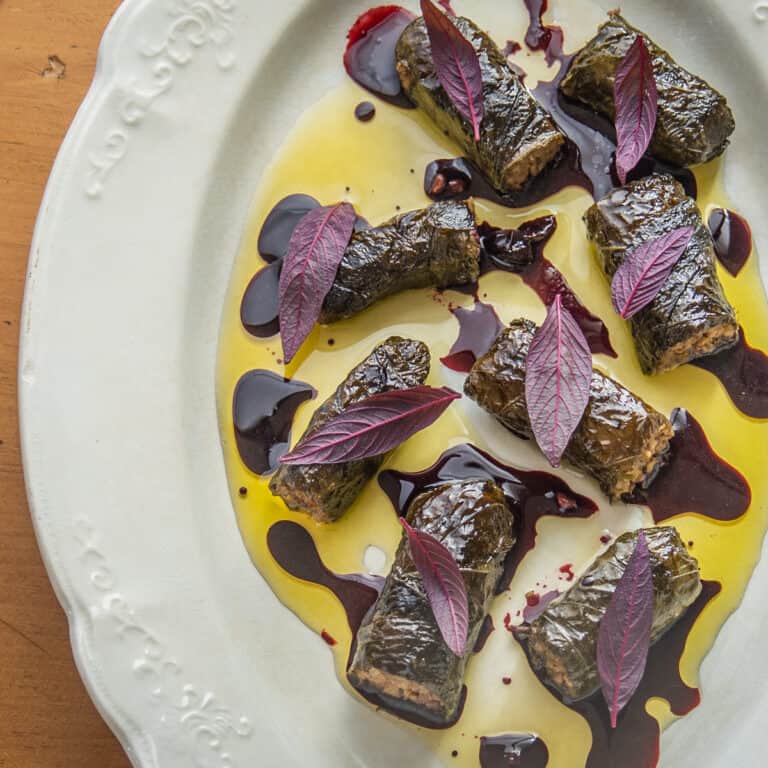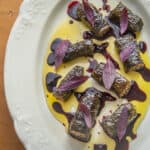 Print Recipe
Hollyhock Sarmasi with Mushroom-Walnut Filling
Hollyhock dolmas with a filling of honey mushrooms, black walnuts and wild rice, drizzled with sour grape juice and olive oil. Serves 6-10 as an appetizer
Ingredients
Hollyhock dolmas
8

oz

prepared mushroom duxelles

or 8 oz finely chopped, cooked mushrooms

½

cup

natural wild rice

or white rice, soaked overnight in water to cover

1

large clove garlic

to be grated on a microplane

½

teaspoon

kosher salt

or to taste

2

oz

scallions or shallots

finely chopped

Small handful chopped Italian parsley

a few Tablespoons

½

teaspoon

fresh ground black pepper

about 10 twists of the mill

4-5

Tablespoons

wild rice flour

or another flour, such as all purpose

1

teaspoon

fresh ground cumin

or to taste

⅓

cup

finely chopped walnuts

I used black walnuts

A few scrapes of fresh lemon zest

to taste

2

tablespoons

dried mushroom powder

optional

Small amount of vegetable stock or water

less than a cup (omit if you steam or sous vide the rolls)

Large hollyhock leaves

as needed (about 15-20)
Serving
½

cup

Wild grape juice (see note)

or balsamic vinegar

Extra virgin olive oil

or another good tasting oil, a generous drizzle
Instructions
Rice
Soak the wild rice in twice it's volume of cool water overnight, or for at least 3-4 hours.

Heat the wild grape juice in a very small pot until half of the liquid has evaporated and the juice is slightly thickened, then pour into a container, cool, refrigerate and reserve.
Hollyhock leaves
To prepare the holly hock leaves, soak them water seasoned with a splash of vinegar and salt to taste until they wilt. Soaking in brine helps mimic the tart flavor of preserved grape leaves. The leaves can also be pickled weeks in advance by immersing them in cold pickle liquid and holding in the fridge.

The next day, combine all stuffing ingredients in a bowl except the hollyhock leaves. Taste the stuffing for seasoning, adjust as needed until it tastes good to you, then reserve.

Wash and rinse the hollyhock leaves, then pat dry.
Filling the leaves
Fill your largest cutting board with holly hock leaves with their veins facing up, put a couple tablespoons full of filling (or as much as will fit) and wrap the packets up into packets.

Line a pay that can accommodate the packets with extra leaves, then fill with the packets (the leaves on the bottom prevent help to prevent them from scorching.
Cooking
Add enough water or stock to come up about ½ inch in the pan, then put the pan on a burner, turn the heat to high, bring to a simmer, then cover and cook for 30 minutes on low heat, or until the rolls are slightly plumped and the rice is tender.

If the pan threatens to dry out, add a little more water or stock a tablespoon or two at a time, continuing to cook on low heat until the rice is tender. This is the traditional method, and, while it works, may yield rolls slightly less firm than steaming or cooking in a water bath.
To sous vide the rolls
I use this often. Leaf rolls are excellent vacuum sealed and cooked in a water bath, which makes them easy to transport, freeze, etc. To do that, cook the leaves at 175 F for two hours. The rolls may also be steamed for 30 minutes.
Chilling
When the rice is tender, remove the lid and allow some of the liquid to evaporate, then remove the pan from the heat to cool. Transfer the cooled packets to a refrigerator, they'll hold for 4-5 days.
Cutting and serving
To serve, cut the dolmas into thick, bite-sized round, put them on a serving plate, drizzle with the wild grape juice (warm it a bit if the juice seizes from it's natural pectin to loosen it) and EVOO and serve. I garnished mine with a few burgundy amaranth leaves. Smear the cut sarmasi in the oil and sour grape sauce as you eat for the full effect.
Notes
Making the grape juice reduction 
I use a reduction of hot-extracted grape juice here, but you can also use a cold extraction as I outline in my post on wild grape reduction. 
If you don't want to make a reduction sauce, you can also use some pomegranite molasses thinned with warm water. 
Nutrition
Serving:
4
sarmasi
|
Calories:
12
kcal
|
Carbohydrates:
2
g
|
Protein:
1
g
|
Fat:
0.1
g
|
Saturated Fat:
0.02
g
|
Polyunsaturated Fat:
0.1
g
|
Monounsaturated Fat:
0.003
g
|
Sodium:
197
mg
|
Potassium:
148
mg
|
Fiber:
1
g
|
Sugar:
1
g
|
Vitamin A:
94
IU
|
Vitamin C:
3
mg
|
Calcium:
9
mg
|
Iron:
0.3
mg
More
The Forager's Guide to Wild Grapes