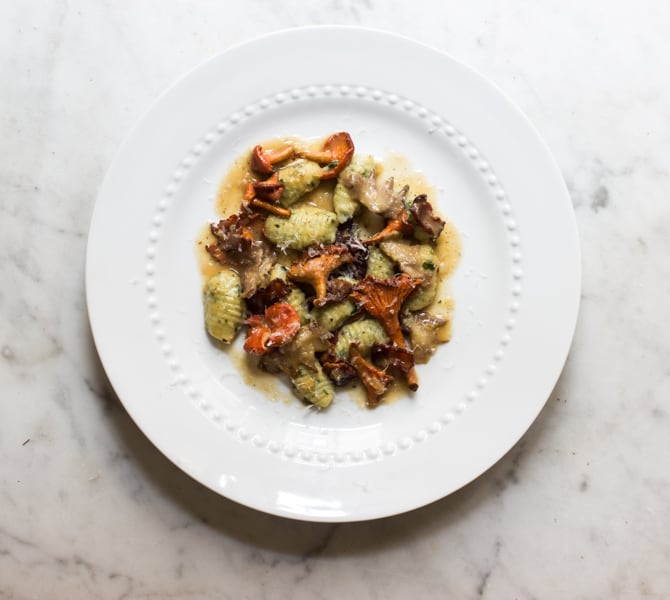 So far, my favorite way to enjoy cockscombs has been with pasta. There's just something about the soft texture of cockscombs that begs to be in a juicy ragu. When you throw a couple tasty mushrooms and some cured pork in the mix, it's an excellent dish. I made some gnocchi here that are great, but it would be a shame if I didn't at least suggest my favorite gnocchi recipe too, which is egg-less. See a recipe for my egg-free gnocchi here.
More or less, this is just a fun recipe inspired by the first dish I read about using cockscombs, which was in the book L'talier of Alain Ducasse.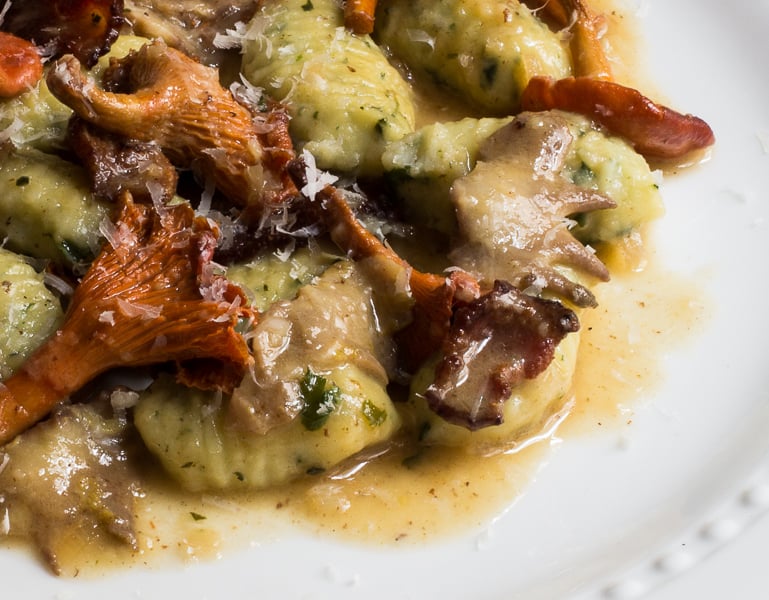 Herb Gnocchi with Cockscombs and Red Chanterelles
Serves 4 as a light entree
Ingredients
1

recipe herb gnocchi

cooked (follows)

Kosher salt and pepper

6

ounces

braised cockscombs

see recipe here

3

cups

chicken stock

preferably homemade

4

strips of bacon/4oz

sliced into ½ in pieces

3

tablespoon

unsalted butter

plus 1 tablespoon (optional)

High quality parmesan cheese

to garnish

¼

cup

dry white wine

6

ounces

red chanterelles

washed, cleaned and dried

¼

cup

shallots

diced ¼ in
Instructions
Render the sliced bacon on medium heat until crisp. Reserve the bacon until needed, and reserve the bacon fat for another purpose, like cooking eggs or potatoes.

In a large saute pan, heat the butter. When the butter is hot, add the red chanterelles and cook until browned, about 4-5 minutes. Season with salt and pepper, then add the shallots and cook two minutes more. Deglaze the pan with the wine and cook until nearly evaporated. Add the chicken stock, gnocchi and cockscombs to the pan and cook until the the sauce thickens slightly from the gnocchi.

Stir in the bacon and butter if using, heat for a moment more, swirling the pan to emulsify the butter and lightly thicken the sauce, there should be a few tablespoons of sauce for each plate. Divide the gnocchi between 4 heated plates, garnish with the remaining sauce from the pan and the parmesan, then serve immediately.
Notes
This is a rich pasta, serve it with a salad of bitter greens. You could easily substitute braised gizzards for the combs, and yellowfoot chanterelles, trumpets, or small golden chanterelles for the reds. If nothing else, the gnocchi recipe by itself is solid too, but make darn sure to use a hand held ricer so the dough isn't gluey.
For the gnocchi recipe, use my recipe here, adding 2 tablespoons chopped mixed tarragon and parsley when you add the egg to the potato.