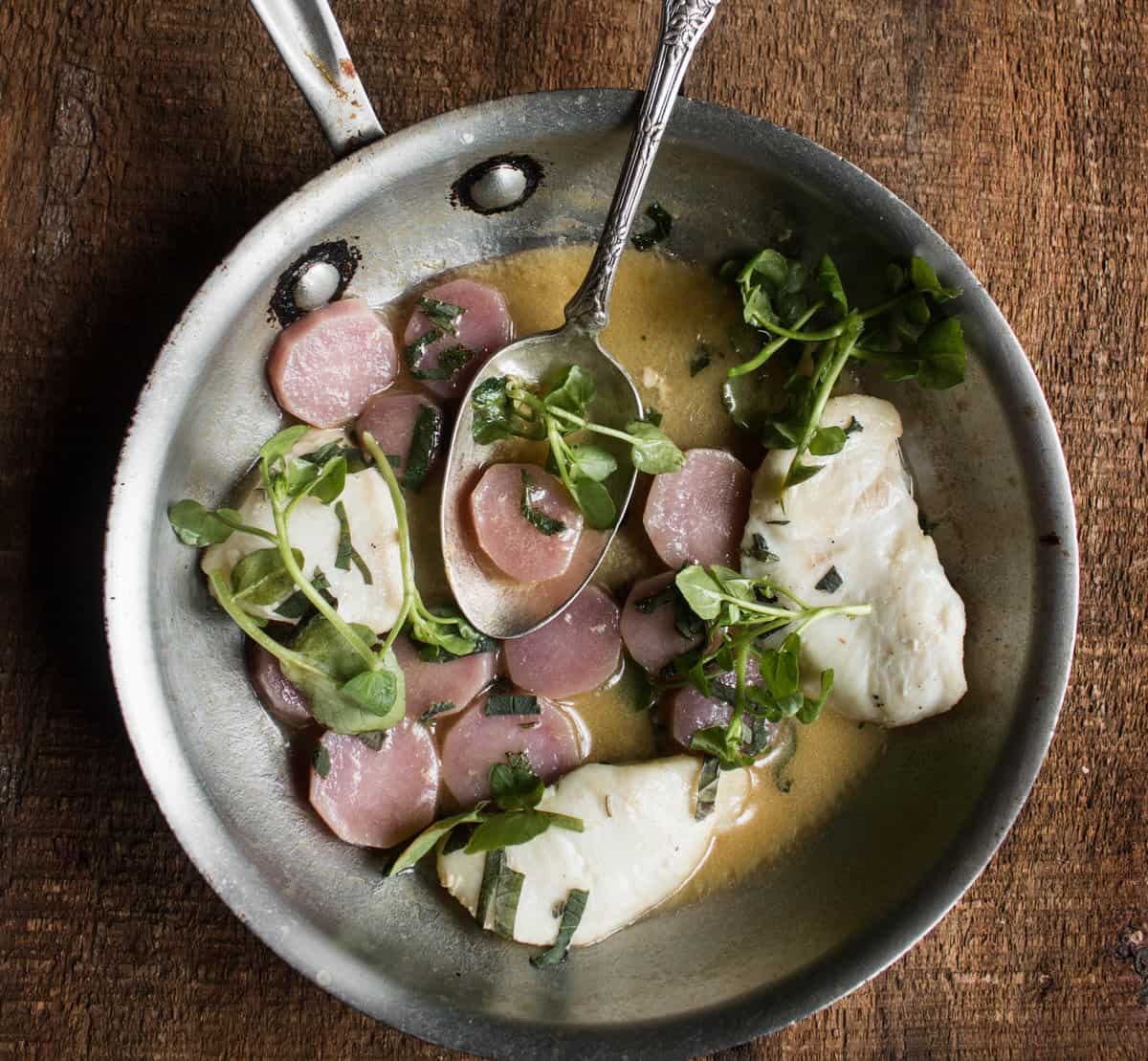 A few years ago I was reading a book on Venetian cooking when I came across something interesting: a dish of scallops cooked in a simple pan sauce with peppermint. Along with watercress and teeny nettles, peppermint is the first wild herb I start to see in the Midwest.
The mint seems to cry for Spring, coming up while the snow is still on the ground, when the weather is still cold and freezing at night. Interestingly, the cold gives some herbs I've seen (and nettles) a purple color, although I can't speak to the science of it (chime in if you can).
Usually when I pick the local peppermint (Blephilia hirsuta), or as I call it, the toothpaste herb, (for it's bracing cold that makes gum of the same name taste bland) It's going in desert. Peppermint is a strong flavor, and, being a red-blooded American, I have a childhood dotted here and there with memories of large bowls filled with mint chocolate chip ice cream, so It tends to make me thing sweet, before savory.
If I've learned anything though, it's that cultural references can be a scrying stone for revealing the potential of wild foods and ingredients I haven't worked with, helping me to think out of the box, and put my European-centric culinary training aside.
So, with that in mind, I made this little braise of Spring fish cheeks (Halibut), and some of the first green things I can pick, like waterleaf, cress, or nettles back when I was still running Lucia's. We served it as a small appetizer, meant to be a few exciting bites before the main courses came.
Quick little braises like this are a favorite way of mine to cook pieces of delicate meat or fish. When I have lean meat, (rabbit, pheasant) or pieces of fish trim or nibblets leftover from cleaning a filet, they can be used to throw together a small plate/appetizer, and it's a great way to supplement more expensive offerings on a menu, for you chefs out there.
I was feeling a little ambitious on the week we ran them, and the halibut cheeks shown in the recipe are great, but they're expensive. If you want to get your hands on some you'll probably need to call your fishmonger and order in advance, but it's almost unnecessary as little scallops or pieces of a flaky whitefish are a great substitute, or small pieces chicken, rabbit or poultry. Fish cheeks are a great treat though, and if you're in the Midwest, some places will carry walleye cheeks on request, and they're great too, although they cook in a flash since they're small.
So, if you have some peppermint growing around your area, the next time you step on some and smell that icy cold scent shoot up in the air, for a change of pace, you might reach for a few nuggets of white fish, a glug of wine, and a knob of butter, instead of a tea ball.
Notes
You can easily increase the proportions here and make this an entree. Make sure to have some bread around to mop up the sauce.
Note too that the pan sauce is made from chicken stock. I prefer to make pan sauces to serve with fish from chicken or poultry stock as opposed to traditional fumet made from fish frames. This is because fish stock is, fishy, and can be a little strong for people, whereas chicken stock can compliment just about anything.
The higher amount of collagen in chicken stock makes it easier to incorporate the butter into the sauce at the end too, very important if you opt to not dredge the cheeks or pieces of fish in flour before cooking.
Watercress is great in quick sautes like this, but other greens like arugula would be fine too.
Blephilia hirsuta is not going to be to everyone's taste here, so if you have access to other wild mints or common spear mint, use them.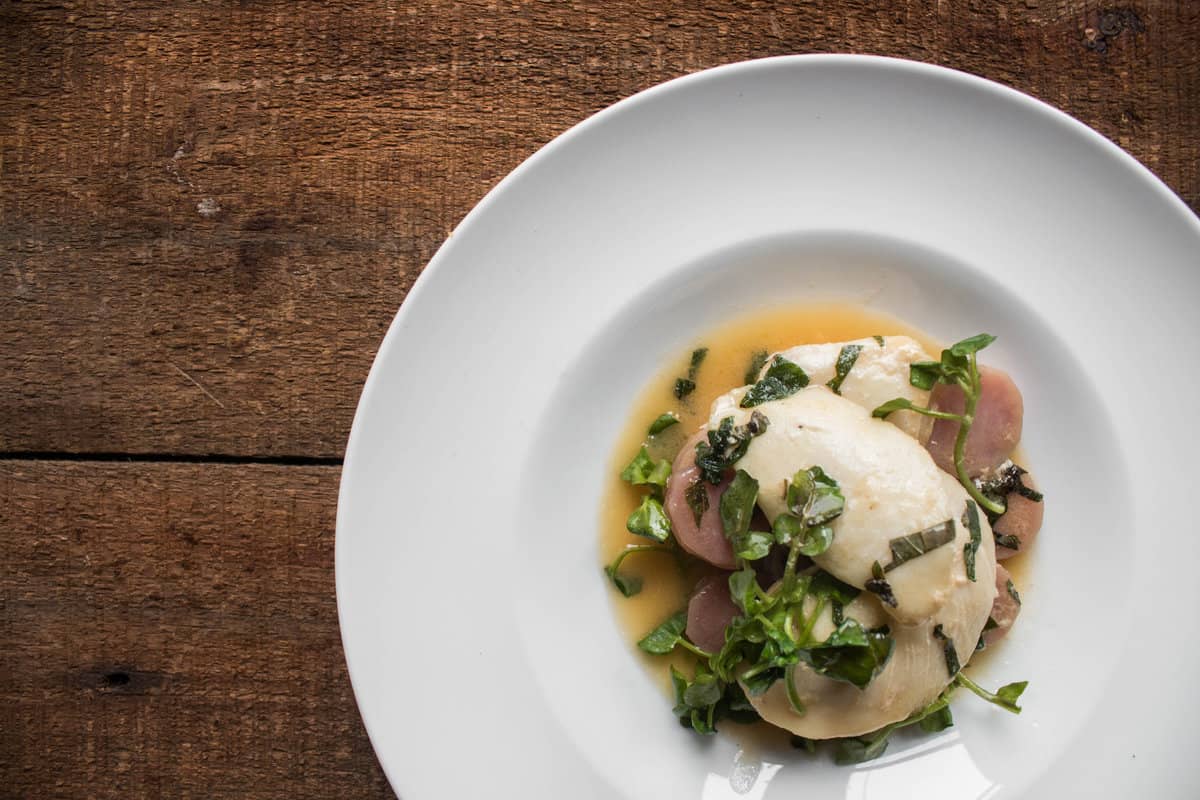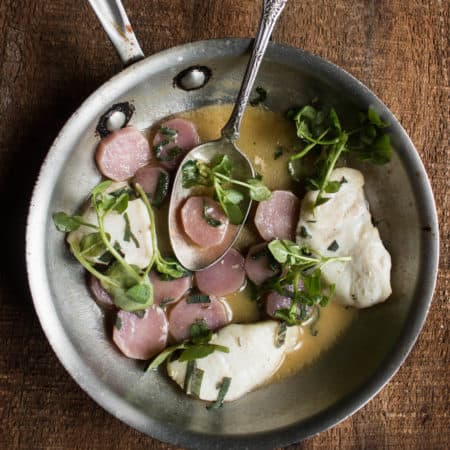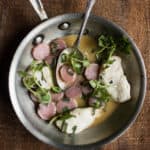 Print Recipe
Halibut Cheeks with Heirloom Potatoes, Watercress, and Wild Peppermint
Halibut cheeks, potatoes, and watercress in a butter sauce flavored with wild peppermint
Ingredients
9

ounces

halibut cheeks

scallops, or other small pieces of white fish

All purpose flour

as needed for dredging (optional)

½

cup

fingerling potatoes

peeled and cut into ¼ inch coins

Fresh wild peppermint

or another mint, to taste, a tablespoon or so, sliced

Fresh watercress

a generous handful, washed and cleaned and picked apart into small clusters

1

cup

chicken stock

preferably homemade

3

tablespoons

unsalted butter

Fresh squeezed lemon juice

to taste

Kosher salt to taste

¼

cup

dry white wine

2

tablespoons

flavorless cooking oil
Instructions
Bring a small pot of salted water to a boil, drop in the potatoes and cook until just tender, then remove and shock in an ice bath, drain and reserve.

Heat the oil in a large saute pan. Season the cheeks with salt and pepper, then dredge in the flour, tap off the excess, and brown lightly. When the cheeks are lightly browned, remove them and keep warm to prevent overcooking.

Discard the oil in the pan. Deglaze the pan with the wine, then reduce by half. Add the potatoes and stock to the pan and simmer for a few minutes. Keep cooking until the stock is reduced by about half, then return the cheeks to the pan, warm through and add the butter. Be careful not to overcook the cheeks.

Swirl the pan on medium heat to incorporate the butter into the sauce and help thicken it. If the sauce gets too thick, add some more stock or water to thin it out. When the stock is a nice consistency and can coat the back of a spoon, add the lemon juice and mint to taste, double check the seasoning for salt and adjust as needed, then finally throw in the watercress at the last minute.

Plate the dish by spooning the potatoes into 4 preheated small soup or pasta bowls, then arrange a few cheeks on each pile of potatoes and drizzle the sauce equally over each portion and serve immediately.