A rich, sweet and tart sauce made with raspberries and duck stock, perfect for saucing crispy duck confit. You'll need legs of confit, a couple handfuls of berries, a splash of vinegar. But, the most important is rich, homemade duck stock or demi-glace.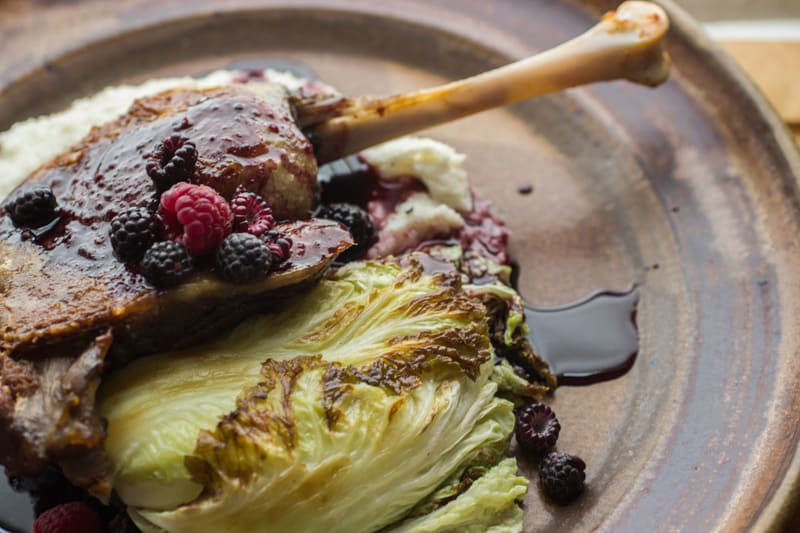 Confit, or meat seasoned with salt and then cooking slowly in fat is my go-to method for using game bird. The confit method also works with poultry legs that have a lot of tendons, like pheasant, duck and goose.
Black Raspberries
In my search for interesting and funky fruit, sometimes I forget about the things I've known about all along. Even if you don't pick wild berries, you probably know the black cap.
They're easy to find, and most people don't need a field guide to know what a raspberry looks like.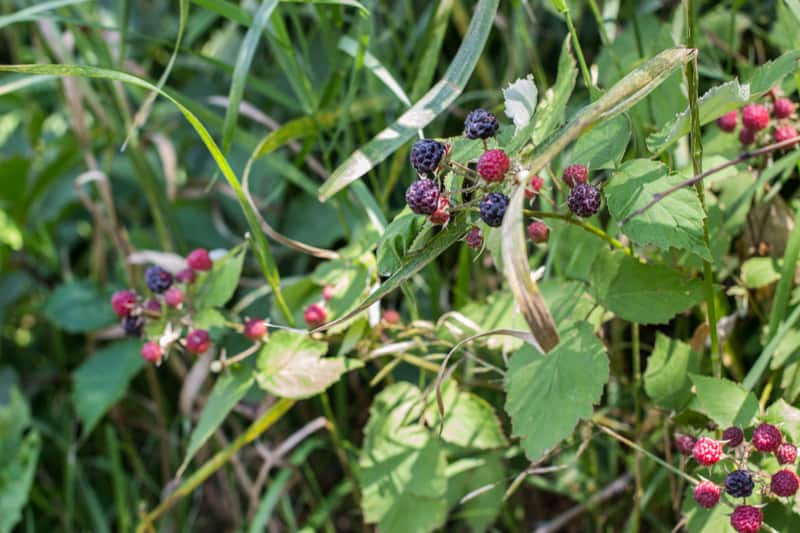 There's a lot of competition in the Twin Cities where I live for these. Hmong families will pick them all. I love seeing families in the woods with baskets picking berries, even if I don't get as many.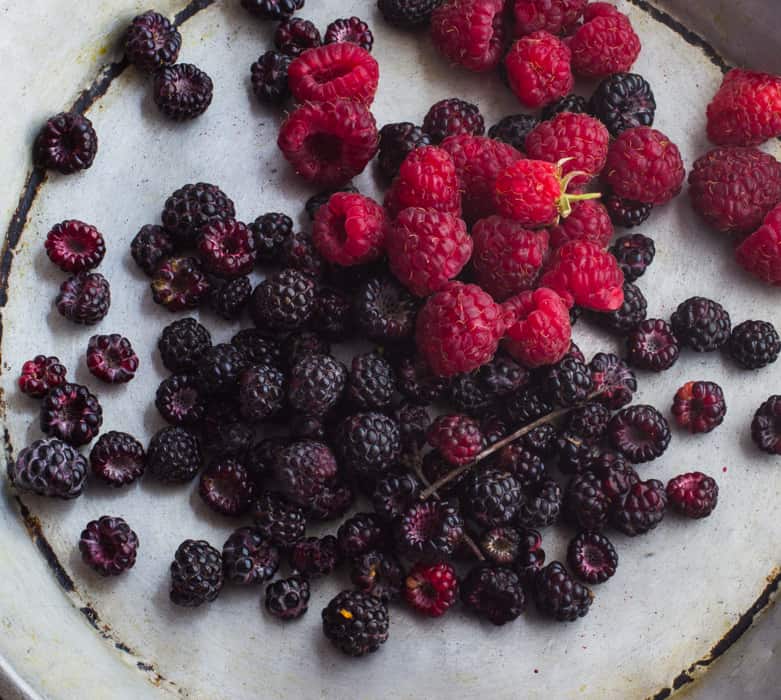 I love the berries on ice cream, but I also use them to make sauces for game. Birds like duck and other poultry are my favorite. If you don't have black raspberries this recipe can be changed to use a jam or preserve you've made.
To do that, add some preserves homemade meat stock with a little sugar and vinegar, reduce it until only half remains. Strain the sauce to remove the seeds and continue cooking until it looks syrupy. Finally, whisk a little cold unsalted butter in to thicken it.
Frenching and trimming
Frenching is trimming the leg bones to give the confit an attractive look. Depending on if you make your confit or buy it, you may not need to do this.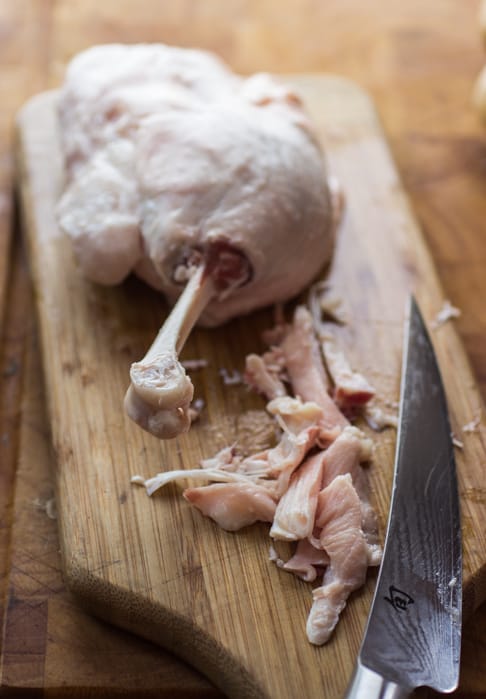 To French confit, you'll need to trim around the bone, removing excess fat, skin and tendons. You can save the scraps for rendering duck fat, or toss them.

Other Sauces I like
You can make similar sauces with different fruits. Use a few spoonfuls of jam or marmalade to make cherry sauce or orange sauce. You can also deglaze the cooking pan with balsamic vinegar and cook until reduced by half.
What to serve with this
As far as serving the duck, the perfect accompaniment will depend on what's in season for me. Mild, starchy vegetables like roasted potatoes or mashed potatoes are great. For a change of pace, I like to serve it with wilted cabbage.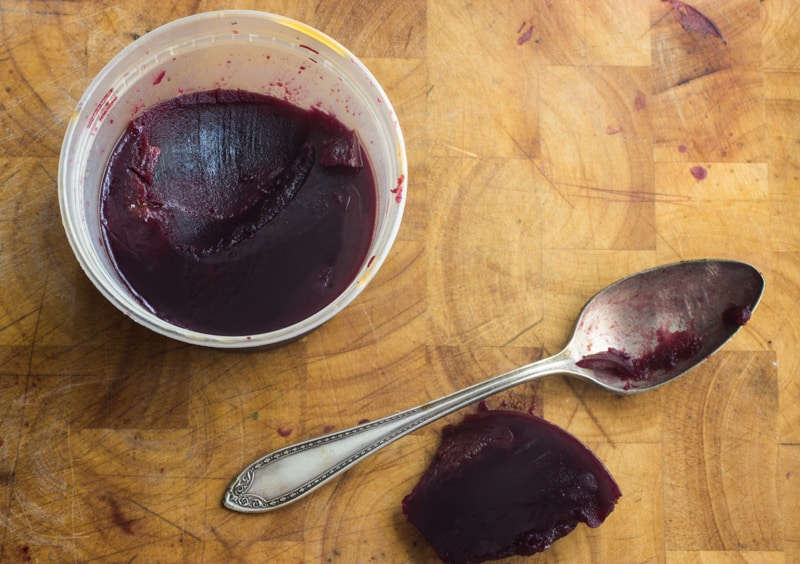 Using demi glace
At my restaurants, I would serve this sauce made with demi glace, or stock reduced by half its volume. The recipe here is a short-cut. As homemade stock doesn't have as much collagen as stock made in an 100 quart stock pot, it's important to use good homemade stock. Canned chicken stock will not work and will be loose.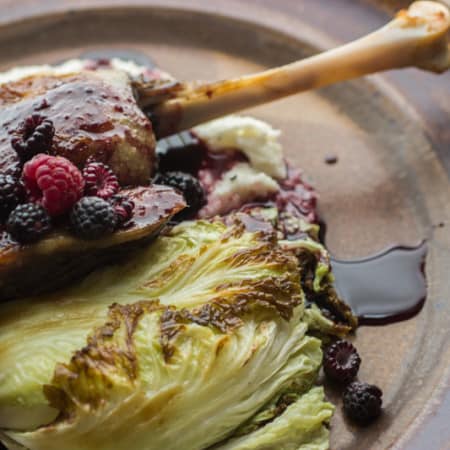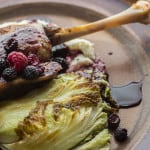 Print Recipe
Black Raspberry Duck Confit Sauce
I had this with some soft polenta and braised baby napa cabbage, it would be great with just some buttered wild rice too though.
Equipment
1 two quart sauce pot

1 ten inch stainless steel or cast iron pan

for browning the confit-use whatever you have
Ingredients
Black Raspberry Duck Confit Sauce
1

qt

duck stock

preferably homemade

2

tbsp

sugar

or maple syrup

¼

cup

red wine vinegar

1

cup

fresh black raspberries

or regular raspberries, you can increase this to up to 2 cups if you can manage.

1

teaspoon

chopped fresh ginger

2

tbsp

unsalted butter
Finishing the dish
4

legs

duck confit

recipe follows

1

tablespoon

duck fat or lard

Fresh raspberries

to garnish

seasonal vegetables of your choice
Instructions
Black raspberry sauce
Heat all ingredients in a non-reactive saucepan on medium-high heat for 20-30 minutes, or until reduced by half. The length of time will vary depending on how wide your pot is.

Pass the sauce and all the berries through a chinois or fine strainer, then return to the pot and keep warm, or refrigerate or freeze until needed.

You should end up with about 1 cup of sauce. To serve, continue reducing a bit on medium heat, then whisk in the cold butter, and continue cooking until the sauce is thick and glossy. double check the seasoning for salt and sugar, adjust as needed, then serve immediately.
Confit
Preheat the oven to 300 F.

In a large saute pan, heat the duck fat or lard until hot. It's good to use a nonstick pan here like cast iron. Add the duck legs, skin side down. Cook in the pan over medium heat for a few minutes, then place in the preheated oven for 5-10 minutes or until hot throughout.

Remove the duck legs from the oven and put back on the burner on medium heat until the duck skin is crisp and golden brown.

You only want to cook the confit on the skin side, don't cook the flesh or it will toughen. Remove the pan from the heat oven and put it back on the burner to make sure the skin is crisp and browned, then remove to a plate and serve with the sauce, and garnish with the fresh berries.
Notes
I don't like my sauces overly sweet, but if you taste it and think it's lacking for you, add a little more sugar.

I had this with some soft polenta and braised baby napa cabbage, it would be great with just some buttered wild rice too though.
Nutrition
Serving:
1
oz
|
Calories:
137
kcal
|
Carbohydrates:
11
g
|
Protein:
2
g
|
Fat:
10
g
|
Saturated Fat:
5
g
|
Polyunsaturated Fat:
1
g
|
Monounsaturated Fat:
3
g
|
Trans Fat:
0.2
g
|
Cholesterol:
24
mg
|
Sodium:
881
mg
|
Potassium:
96
mg
|
Fiber:
2
g
|
Sugar:
8
g
|
Vitamin A:
190
IU
|
Vitamin C:
8
mg
|
Calcium:
20
mg
|
Iron:
0.5
mg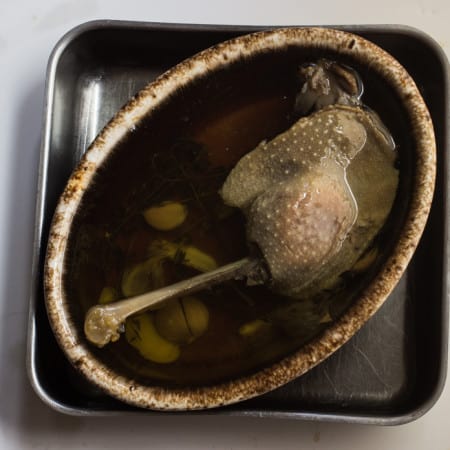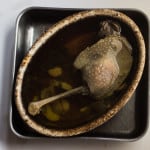 Print Recipe
Duck Confit
A simple confit recipe, you could also use it for other things of similar size, like ducks, turkey, chicken, etc.
Ingredients
4

duck legs

1

qt

rendered duck fat

or another animal lard, melted

4-6

small bay leaves

10

sprigs of fresh thyme

Handful of unpeeled garlic cloves

Kosher salt and fresh ground black pepper

to taste
Instructions
Make a circular cut on each leg where the bone meats the thigh. Scrape away the tendons and skin to remove the bone underneath.

Season the trimmed duck legs liberally with salt and pepper. Squeeze the thyme and bay lightly in your hand or bruise with the back of a knife, then massage with the confit and put in a dish, like a casserole.

Whack the garlic cloves with a back of a knife and add them to the goose legs and mix.

Lay the legs out in the dish so they aren't overlapping, then refrigerate uncovered overnight to tighten the skin.

The next day, put the pan with the duck legs in another, wider pan to catch any possible fat that could spill out, then cover the legs with melted fat and cook in the oven, covered with foil or parchment at 250 for 1.5 hours or until tender. Remove the duck legs and cool.

Allow the confit duck legs to wait for at least a few days before using. The confit will keep for months as long as they're completely covered with fat, but they never seem to last that long.